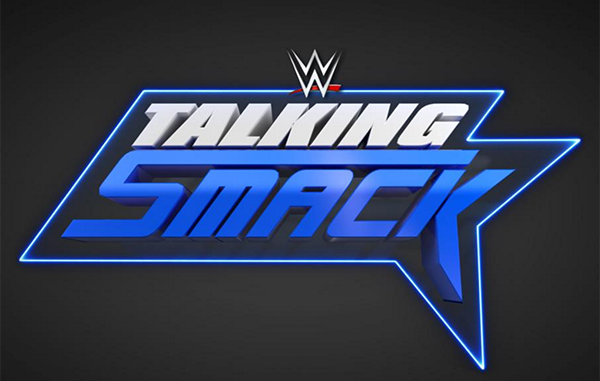 ---
SPOTLIGHTED PODCAST ALERT (YOUR ARTICLE BEGINS A FEW INCHES DOWN)...
---
TALKING SMACK
DECEMBER 20, 2016
AIRED ON WWE NETWORK
Report by Brandon Beauchamp, PWTorch contributor
INTRO
Renee Young and the most gentlemanly cowboy (according to Renee) John Bradshaw Layfield welcomed us to this week's Talking Smack. JBL said, "No, Daniel Bryan did not get a makeover." JBL added it was much better to be here with Renee than Mauro Ranalo. Renee asked JBL about tonight's WWE Smackdown Tag Team Title match. JBL said it was an incredible victory for American Alpha. John Cena walked onto the set.
GUEST: JOHN CENA
Renee welcomed the returning John Cena. Renee asked how it feels to be back. Cena said it was great. Cena said he has a special place for the Allstate Arena as this is where he had his very first match. Renee asked Cena his opinion of the landscape of the WWE since he was gone. Cena said WWE has a whole new influx of Superstars. Cena compared todays talent roster to his era when Randy Orton, Batista, and Brock Lesnar all came in.
JBL said that Michael Cole said Cena is the greatest Superstar of all time and he agrees. Cena questions the credibility of that statement coming from Michael Cole. JBL asked Cena about what he said about the Rock a few years ago and he's a part timer. JBL then asked, "Do you see yourself in that role now." Cena said he thought that what he said about the Rock back then was the stupidest thing he has ever said. He said anytime a star can transcend WWE, it's good for everybody. Renee said speaking of transcending WWE congratulations on your SNL appearance.
Renee asked Cena how he feels about what went down in the title match now that he has a title shot at the Royal Rumble. JBL added that Cena will also be going for his sixteenth title for a record we thought would never be broken, speaking of Ric Flair's sixteen title wins. Cena said he's sick of all the crap, the way people look at him backstage. Cena said he's not going anywhere, but if he gets the opportunity to do something outside WWE, he's going to do it.
WWE Champion A.J. Styles walks onto the set, asking Cena: "You know what's crap? What you did to me out there."  A.J. said Cena tried to big league him by shaking his hand. Cena said he will big league  A.J. at the Royal Rumble.  A.J. said that's not what happened at Survivor Series. Cena said he had a hurt shoulder at Survivor Series and  A.J. didn't get his best shot.  A.J. said there was nothing respectful about Cena coming out there after he wrestled to punk him out, but  A.J. made sure to mention he still won the match because "I am a winner."  Cena said, "If I wanted to punk you out, I would do it and it would be easy." Cena said that he would take his title at the Royal Rumble.  A.J. said he will do what he does best. Cena asked, "What's that?  Beat up John Cena?"  A.J. said that's right and walked off of the set.
JBL asked about the awkward looks from other Superstars he mentioned earlier and asked John if he wanted to name names? Cena said  A.J. just now was an example. Cena said people think he's washed up and that fuels him. Cena said, "This is what I do and I've yet to beat A.J., but I'm really good about not giving up and getting the job done." Cena said as far as becoming a 16 times champion, he's not focused on that, he's focused on getting the job done.
Cena said he's not done and not going anywhere. Cena said you might see him take a few months off for a movie, but that's what they do, mentioning other WWE Superstars who have taken time off for movies. Cena said his shoulder is healed, no excuses.  A.J. beat him fair, but he's fed up with hearing about the New Era. Cena said he's not done, he doesn't have one foot out the door, and the Royal Rumble is his chance to prove that.
JBL said Cena physically looks good, but asked Cena inside if he is the same guy that faced Edge or beat him. Cena said no, he's different. Cena said he has the same ruthless aggression, but more match experience. Cena said physically and mentally he's on top of his game. Cena said, "If you don't think for one second I'm not going in there to win the title, you got another thing coming." Cena said he's got to move A.J. out of the way as Cena is the underdog and A.J. is the champion. Cena said if  A.J. thinks he took Cena's best shot, that's hysterical. Cena said the Royal Rumble is going to be a fantastic time, and he's not done yet. Cena said if you think he can't do it at this age, he has something for us. Cena added It's a good position to be in to have something to prove. Cena said. "It's not the new era it's the my time is now era." Cena left the set.
Renee asked JBL how important it is to have the attitude Cena has. JBL said it's so important. He faced the Ruthless Aggression era Cena and he thinks that is the Cena we're seeing now; he has a chip on his shoulder.
GUESTS: AMERICAN ALPHA
Renee welcomes the new WWE Smackdown Tag Team Champions, American Alpha. She said it was a big night and asked how they are feeling. Chad Gable said he feels great and tired. Chad said they have been looking forward to this opportunity and looking forward to capitalizing on it. Renee asked if now that they were on top, do they feel a sense of relief?  Chad said, "We know how good we are. We're not cocky we're confident.
JBL asked how many free tickets American Alpha gave away. JBL said he has seen them hug so many people out there. Jason Jordan mentions his mom, dad, and niece were all in the crowd. Chad said his whole family including his one-year-old daughter. JBL asked if his daughter paid for her own ticket as he laughed.
JBL said now that American Alpha beat the Wyatts, does it mean a lot to beat such a great team. Jason said absolutely it's a pleasure to get in the ring with names like that and to hold himself to their standard. He said it helps with that chip on their shoulder, it solidifies the journey they were taking. Chad said they want to be one of the first teams people think of when they think of tag teams. Chad said he and Jason are tag team specialists and the Wyatts are not. He said they are not on the same level as American Alpha.
JBL asked when they are dropping the "ridiculous 'Ready, Willing, and Gable thing." JBL said American Alpha is the modern day existence of great teams. JBL said they need to come out as the bad asses they are and drop the stupid towels. JBL said American Alpha are as good as he & Ron Simmons were. Both Chad and Jason said it was done and appreciated the compliments as they exited the set.
Renee asked JBL about who La Luchadora was. JBL said it was Mil Mascaras's great grandpa, then he said he thought it was Becky Lynch, but now who knows. JBL added that we had two different Sin Cara's before and they always thought Mil Mascaras was like eight different people. JBL and Renee then discuss Alexa Bliss and her arm popping out of socket. Renee wonders if she's double jointed and just did it to make it look like it was broken.
GUEST: DEAN AMBROSE
Dean Ambrose walks on to the set. Dean said he thought he looked good in a collared shirt. Renee said Dean should start wearing suits. Dean said its too hot for suits he would sweat right through it. JBL said maybe Dean should get a makeover and not look like he just crawled out of a dumpster. Dean asked if JBL is making fun of him? Dean said "I will slap the piss out of you right now." JBL was a bit intimidated. Dean said it was just Like The Miz jumped him last week and takes a cheap shot. Dean said he's always liked Miz and is not sure what he's got against Dean but will knock Miz's veneers out.  Renee asked Dean to sit down.
JBL asked Dean how he feels about his girlfriend slapping Miz. Dean said he doesn't care she can do what she wants. Dean said if Miz got embarrassed that's his fault. JBL asked Renee if she thinks it's a conflict of interest. Renee said no and begins to elaborate but Dean cuts in said he would rather be in a fight with Bray Wyatt than be locked in a room with an angry woman. Dean told an off topic story about the time he spilled a popsicle in his grandma's refrigerator and she sicked dog on him. JBL asks if the dog bit him. Dean said he couldn't show him the scars on TV
Renee said she apologized to Daniel Bryan for slapping Miz. Dean said, "Why apologize? You gotta do what you gotta do." JBL continued to stir the pot. Dean said he doesn't see the problem. Dean said, "Renee got mad and slapped Miz." Then Dean said to JBL, "You're pissing me off, I'll slap you." Dean stood again. Renee thanked Dean for joining the show and plugged his match against the Miz for the WWE Intercontinental Championship next week on WWE Smackdown Live.  Dean paced around, intimidating JBL. Dean continued to ramble while standing over JBL. Renee asked Dean to talk into the mic. Dean said you've got to respect the Miz but said he is going knock him off. Dean teased an attack on JBL. JBL said, "Take it easy, I'm old" as they fade off air.
CHECK OUT LAST WEEK'S RECAP: 12/20 WWE TALKING SMACK: Renee Young addresses briefly Miz outing her relationship with Ambrose, creepy Santa visits the set, plus Natalya, Corbin, Lynch