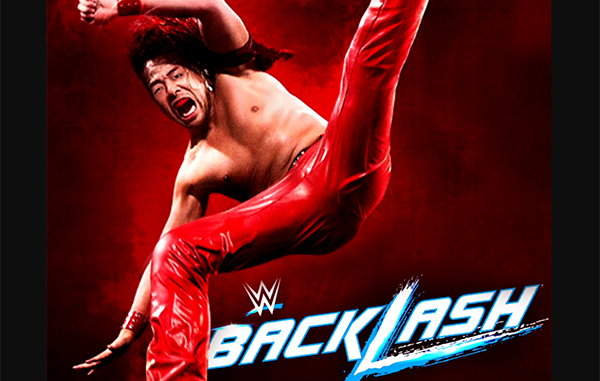 ---
SPOTLIGHTED PODCAST ALERT (YOUR ARTICLE BEGINS A FEW INCHES DOWN)...
---
KICKOFF SHOW: TYE DILLINGER VS. AIDEN ENGLISH
This will be quite the straightforward, 8-10 minute showcase for Tye Dillinger as he still finds his place on the Smackdown roster. With all of the titles and significant mid-card wrestlers on the blue brand tied up at the moment, look for Tye to execute all of his signature moves after taking some offense from English and pick up a nice momentum building victory. While WWE probably does not see Tye as a future world title contender, it will be important to make him look as strong as possible to send mid-card heels tup the totem pole.
Lets consider for a moment that English could pick up a victory. WWE is giving Aiden some time to get his singing/theatre gimmick over, before taking a beating of course. If English were to defeat Tye it would have to be by deception or cheating to protect Dillinger, who would then likely get a win back on Tuesday. I just hope it is a good opener that can get the crowd going and set the tone for the rest of the night.
LUKE HARPER VS. ERICK ROWAN
As much as I would love to try and pump this match up to be something of significance, I am not exactly sure the outcome has any real implications. This isn't the first time these two have squared off and I am certain it won't be the last. That being said, I am sure both Harper & Rowan are fully aware that WWE fans aren't exactly clamoring for this match, so look for them to step their game up and help one another to both leave the ring stronger than when they entered.
SAMI ZAYN VS. BARON CORBIN
Unlike the match above, this non-title match between Baron Corbin and Sami Zayn means quite a bit. Both men have had bad blood in recent weeks but the underlying story here is each wrestlers' place on the card and what a win would mean for them.
Sami is building up a resume in WWE similar to Dolph Ziggler. A tremendous wrestler that just cannot win the big one. In a main event scene including the likes of Kevin Owens, AJ Styles, and Randy Orton, Smackdown is primed for fresh matchups leading into the summer and a victory here could put Zayn in line for a future title opportunity. Victory for Sami here is extremely important because while Corbin could just destroy someone on Tuesday and explain away a loss effectively enough to make us forget about it Sami will have nowhere to hide.
With the way Baron Corbin has been portrayed and protected on television, it would extremely out of character for WWE to have him lose now after months of building him up. Sure, he lost to Dean Ambrose at Wrestlemania when most thought he would come out victorious, but has bounced back nicely with the help of good booking and some effective video packages. Much like Sami, a win for Corbin could also propel him into a title picture. The Lone Wolf will need to be impressive enough to turn some heads with Rusev's return looming large.
This match may not jump off the page, but if there is a clean win for either wrestler will be very telling as to how WWE views each one moving forward.
CHARLOTTE FLAIR, BECKY LYNCH & NAOMI VS. NATALYA, CARMELLA & TAMINA
It is surprising that the WWE Smackdown Women's championship isn't being defended on this PPV. With Naomi being a babyface champion, I expect this match to be about one woman on the heel team going over on her to set up a future title match.
Straight away I'll take Tamina out of this equation considering she still hasn't even spoken on a mic, leaving Natalya and Carmella. Both women present a different type of threat to Naomi and would also be a matchup we haven't seen yet on television. I think this match sees Natalya picking up the win, launching her into a title reign down the line, culminating with WWE trying to recreate magic between Charlotte and Nattie at Summerslam.
Looking into the future, it looks like Lana will be redebuting on her own. It is still unknown whether or not she will be a babyface or heel, but if she does covert to the good side this could leave an opening for Charlotte to turn on her newly found friends and look to regain gold in a much more devious fashion.
SMACKDOWN TAG TEAM CHAMPIONSHIPS: THE USOS (C) VS. BREEZANGO
While Breezango's babyface turn wasn't exactly headline news, fans have really started to get behind them and it presents a new challenge for the increasingly aggressive Usos. You would think that this is an open and shut case with Jimmy & Jey walking out victorious, but in a thin tag divison on Smackdown with seemingly no one else propped up enough to challenge for the titles it, it might not be so simple.
While the fashion police gimmick might not be the best route to stardom, Tyler Breeze and Fandango have made the absolute most of their opportunity and are both formidable workers. Much like Jinder Mahal, this duo's thrust into the title picture came after being a comedic pin cushion for babyface on the blue brand, but WWE has done a good job getting them more TV time in recent weeks to endear themselves to to fans. A victory here would allow these teams to continue feuding while WWE figures out who could be next in line for a championship opportunity. On the flip side, Breezango won't come out of Sunday looking too bad given their history if defeated, but it would be a shame to see them drift back into oblivion. From a character development standpoint, I would like to see these two take this match much more seriously. Ditch the selfie stick and march to the ring like this is the biggest match of their lives.
The Usos have quietly done a tremendous job since their heel turn and are absolutely deserving champions. Unlike their opponents, The Usos will absolutely need to be protected if the plan for them is to drop the belts at Backlash. They are the only established and decorated team on Smackdown and WWE needs them to carry the load as other teams are built up. Since I am speaking so much about this thin tag division, it is also worth noting that this could be the beginning of a New Day-like title run that spans the better part of this year. Backing up their promos with a decisive victory could propel them to being the gold standard on Tuesday nights and could continue to run through everyone that stands in their way.
SHINSUKE NAKAMURA VS. DOLPH ZIGGLER
I wrote quite a bit in my All Stars & Under Achievers column about how much this storyline had turned around after its cringe-worthy start. Now both men head into Backlash with something to prove. Nakamura is looking to leave an impression on his WWE main roster debut while Ziggler is trying to remind everyone that he is still one of the elite wrestlers in WWE, regardless of who the company brings aboard.
Following the dumpster fire of a promo Ziggler cut when he compared Nakamura to Michael Jackson, WWE leaned on him heavily to sell the idea that this match's importance spanned far beyond the in-ring debut of Shinsuke. I feel like I have said this about the last 4 or 5 of Ziggler's previous PPV matches, but he cannot afford another loss on a big stage. Dolph has now been riding this story that the "New Era" goes through him and that he is one of the most accomplished wrestlers on the roster. With how many losses he has racked up, at what point does this just become white noise? if it hasn't already. It has been interesting to see how much WWE has been propping up Dolph in this build, so don't be too quick to rule out a sneaky victory for The Show Off. If WWE plans to keep Ziggler somewhat relevant, this could be a great way to draw some heat by ruining Shinsuke's evening. His only saving grace in defeat here is a massive performance that really reopens interest in Dolph Ziggler matches again.
Make no mistake about it, while ardent fans know exactly what Shinsuke Nakamura is all about, this match is crucial to endear him to the mainstream audience. Without being allowed to talk much Nakamura will have tell most of his story in the ring with his charisma and devastating knee strikes. I am almost certain that Shinsuke will go over here but it will be interesting to see how the match plays out. Nakamura could really benefit from executing his greatest hits, finish Ziggler off with a Kinsasha in under 5-7 minutes and make a real statement. A long match wouldn't necessarily hurt here as both men would be very much up to the task, but it runs the risk of giving off the impression that Shinsuke is on Dolph's level which at the moment is the mid-card. Either way, this should be entertaining.
UNITES STATES CHAMPIONSHIP: KEVIN OWENS (C) VS. AJ STYLES
My goodness, are we in for a treat or what? Arguably two of the best wrestlers in WWE today will square off for the United States Championship in what could most certainly be a match of the year candidate. I think it is fair to say that regardless of who comes out the victor in this matchup, neither man could leave this match in a bad position.
WWE has really been pushing this "New Face of America" moniker for Kevin Owens recently, making it seem like he could be in for a long reign as US Champ. While both men competing in this match could most certainly be in the world title picture at any time, the United States Championship could use a lengthy run featuring an established star and programs that are prominently showcased every week. It most certainly worked with John Cena, and Owens is more than capable of something similar, or even better. If he does beat AJ on Sunday the plan could be exactly that. A loss wouldn't be the worst thing in the world here either, as these two would then be guaranteed to square off at least once more.
Most fans seemed surprised to see AJ in this spot following his victory against Shane McMahon at Wrestlemania. It felt inevitable that he would slide right back into the world title picture and be champion soon after. Given that WWE has number of second string PPVs coming up before Summerslam, it makes sense to go this route while they play out the Jinder experiment against Orton. Even if AJ were to lose, his popularity and ring work would absolutely allow him to pursue the winner or Randy vs. Mahal, especially after he teased doing so last Tuesday to a huge ovation. Following up on my earlier comments, a win here for AJ would provide for at least one rematch that could play out all the way through Summerslam. That certainly wouldn't be a bad thing.
Regardless of who wins and loses, this match features two men who will be the cornerstone of Smackdown for the foreseeable future. It will just be interesting to see how this match unfolds because it will show us who WWE wants to hold down the US Title picture and who goes after the World Champion.
WWE WORLD HEAVYWEIGHT CHAMPIONSHIP: RANDY ORTON (C) VS. JINDER MAHAL
As much as I do enjoy the idea behind the story featuring Jinder Mahal and Randy Orton, it is hard to invest in it while watching how disengaged Orton seems. Mahal has done his best to garner some heat and had more hits than misses, but it is hard to perceive Jinder as a threat when Randy simply doesn't even react to what he says or does.
Orton is essentially bullet proof in WWE at this point, so if he were to lose his title on Sunday do not expect it to be clean in the middle. The creative team did a great job involving the Singh Brothers as much as they have within the story to sell the idea that they can absolutely influence the outcome of this match.
You really have to give Jinder some credit here, he's doing the best with what he is given. If he were to lose and put in a good effort there is absolutely good that can come out of it. He can prove that he can hang with a top wrestler and have gained enough credibility to earn a meaningful role on TV moving forward. But what if he wins? Jinder Mahal, the WWE World Heavyweight Champion? Don't be so quick to write it off. WWE has shown that they like to surprise people and get them talking. Ratings have been down and while Mahal isn't exactly going to move the needle much, WWE could take a chance and see if it shocks people enough to tune in on Tuesday.
The question here is – Is this push really intended to heat up Jinder enough to be a credible champion, or was this just a case of building someone up for the champ to knock them down?
Thanks for reading, enjoy Backlash everyone!
NOW CHECK OUT THIS BACKLASH PREVIEW: WWE BACKLASH PREDICTIONS – Tom Gets It Wrong: Orton vs. Mahal, Styles vs. Owens, Nakamura vs. Ziggler, Usos vs. Breezango
---
Follow Mike on Twitter: @TheWrestlingFix