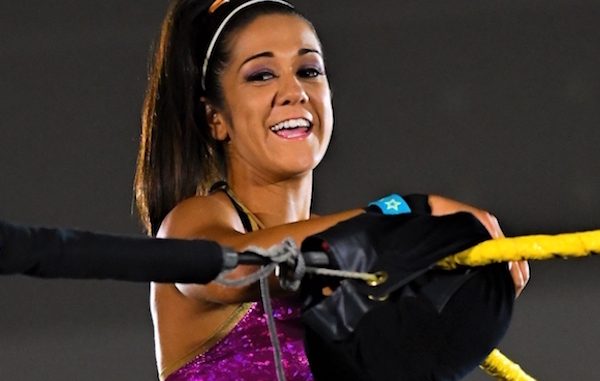 ---
SPOTLIGHTED PODCAST ALERT (YOUR ARTICLE BEGINS A FEW INCHES DOWN)...
---
That's right; it's time to talk about Bayley.
Lately, the question surrounding Bayley has gone from being "How will she recover from this?" to "Will she ever recover from this?" Bayley has been destroyed, regularly, for almost a year now and, after what seemed a promising start, everything has fallen apart.
Now, I can't blame Bayley for this whole thing. The direction of her character, and several key choices, went against her. At the same time, Bayley is not as devoid of blame as a lot of fans are making out. She is an extremely talented wrestler, but her promos? Not so much.
That said, we're running before we can walk right now. Let's roll it back and talk about just what went wrong.
By the time Bayley made her debut, she had been an NXT veteran since January 2013. It took her three-and-a-half years to debut in WWE but, at the time, NXT was a much quieter affair. Imagine what will happen if they keep someone like Bobby Roode in NXT for three-and-a-half years now, given all of the extra eyes on the product and the eagerness of the fans to see the next big thing. And the current thing. And The Rock. And Heath Slater. Yeah, a lot of people are very popular right now.
I'm not the biggest NXT viewer, personally. I watch it in fits and starts except for the Takeover shows, which I usually catch. The first Bayley match I saw was Bayley vs. Asuka for the NXT Women's Championship. As such, I missed the feud with Sasha Banks.
Now, I've been told off for this on numerous occasions, which is hilarious. When I ask people to list highlights of Bayley's NXT run – a run that spanned three-and-a-half years remember – I am told that her feud with Sasha is one of them.
I then ask for another and, to my great surprise, I don't get one. Maybe I'm asking the wrong people.
The main reason people tell me off is because they claim that I don't understand Bayley. I've been told that I should go back to NXT and watch everything that happened in that feud in order to understand Bayley. After this feud I am supposed to then support Bayley naturally.
This is obviously silly. I shouldn't have to research someone to be a fan of theirs. As a non-NXT viewer, I understand completely how a casual fan feels when they turn on WWE Raw and see Bayley competing. They don't get what the big deal is.
Let's fast forward to her WWE debut, shall we?
Hear that anticipation? See those signs? Hear that pop? Bayley was hot as hell when she arrived, with her NXT popularity becoming hugely marketable and making her hugely appealing to all involved.
Bayley walked straight into a feud with Charlotte. She debuted in August 2016 as the hottest free agent on the planet and was put straight into the ring against the champion. It was momentous. It was a huge deal.
When she finally won the title almost six months had passed. Six months. What did she do in that time? Well, her debut PPV match was a triple threat with Charlotte and Sasha, a huge match that she had little-to-no real chance of winning given the storylines going in. After that? She had a mini feud with Dana Brooke – who no one cared about. She fought some jobbers? I have to wonder if she was only called up because Sasha Banks was suspected injured after Summerslam.
Let's just call a spade a spade, shall we? She did nothing for 6six months. Easy to get behind, right?
Then came the moment when the trigger was finally pulled. Bayley got a number one contendership match, because Sasha Banks distracted Nia Jax for her. She fought that match at the Royal Rumble and lost as clean as you get. So, she lost to a major heel, clean.
Then, another chance.
Bayley, crazy hair and all, showed what she could do. She didn't just win a match, she pulled that hair tighter, she threw out some great offence. She was inventive. She got the crowd behind her. The heels were cheating, like heels should. Everything was set for her to get a big win, all by herself and for that trigger to be firmly pulled.
That didn't happen. Sasha Banks helped her win, and not in a positive way. Banks and Bayley out-heeled the heels. And, despite her character being the most white meat babyface in the company right now, she was fine with the cheating.
She had a much-forgotten opportunity afterwards to hand the title back. To be a true babyface and to gain some enormous sympathy for the fans. She should have been screwed out of the title. Everybody would then have been behind her. Instead, she pulled a swerve. She refused to give back the title.
And people just didn't know what to think.
Two conclusive wins followed, at Fast Lane and WrestleMania, the biggest show of all. It seemed like the trigger had finally been pulled, that Sasha Banks would now fade to the background a little so that the era of Bayley could begin. The fans anticipated a Sasha Banks heel turn, a reliving of that glorious moment from NXT. It was teased. It was teased.
Then, WWE gave the fans a shiny new favorite. Alexa Bliss walked down to the ring in the Superstar Shake-up and changed everything. A major heel like Bliss being added to the roster simply eliminated the possibility of a Sasha Banks heel turn. The story that everyone wanted simply didn't materialise.
But it wouldn't be a long delay, right? Alexa Bliss would get a match in her typical opportunist way, but Bliss was big enough already to be able to afford a loss.
And that one minute clip is basically everything that's happened between then and now. Repeatedly. Again and again.
Is Bayley done? No. How can she recover? Well that's a bit tricky. In Alexa Bliss she had a great heel opponent that she could have earned a lot of heat from. That isn't how it played out. I was thinking that maybe a Miz/Maryse feud, with Bayley teaming up with Seth Rollins or Dean Ambrose, could have worked out. That doesn't seem likely any more. Things are seeming to conspire against Bayley.
Unfortunately, the problem for her now is that the division isn't welcoming to her. The Raw Women's Division has shifted from being built around a Charlotte-Sasha feud to being built around the impending Bliss-Sasha feud. The rest of the division is beyond flat. There's no one for her to feud with.
Over on Smackdown, Becky Lynch, Charlotte Flair, Natalya, Naomi, and Carmella all have a decent popularity level, with Carmella a recent talent to be pushed. Move Bayley over and there's a Natalya feud ready and waiting. There are great matches with Charlotte and Becky to be had, even face against face, and a slow feud with Carmella has immense potential.
Unfortunately, that ship has sailed. What should they do? Well, what can they do?
NOW CHECK OUT THE PREVIOUS COLUMN: FRIDAY FEATURE – Tye Dillinger – The Perfect Ten? I just don't get it… yet
---