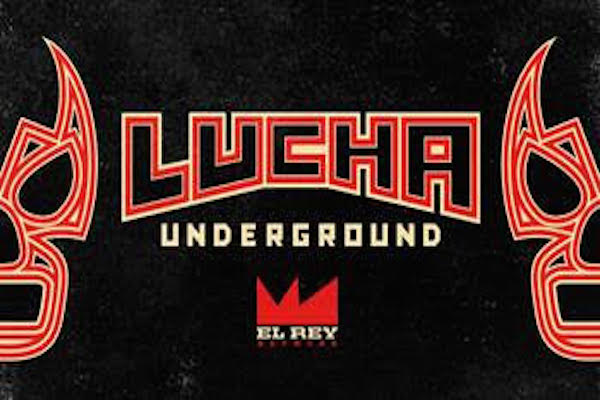 ---
SPOTLIGHTED PODCAST ALERT (YOUR ARTICLE BEGINS A FEW INCHES DOWN)...
---
LUCHA UNDERGROUND – "Fade to Black" (Season 3 Episode #29)
AUGUST 2, 2017
LOS ANGELES, CALIF.
AIRED ON EL REY NETWORK
REPORT BY JOEL DEHNEL, PWTORCH CONTRIBUTOR
The show opened with a recaps of the Cueto Cup, Mundo-Mysterio, Matanza-Dario, and Black-Mysterio.
-Dario walked into Matanza's cell. Dario said that Matanza has become a slave to his hunger and it has consumed him. Dario told him that he has the power of a God, but he needs to control himself. Dario put a tray of raw meat in Matanza's cell. Matanza went for the meat, but restrained himself.
-Title Card
Announcers: Striker welcomed the audience to the show. Striker and Vampiro built up the Cueto Cup matches for later tonight.
In ring: Santos introduced Pindar followed by Fenix.
1 –  Trios Tag Champion PINDAR (w/Kobra Moon) vs. FENIX – Cueto Cup quarter final match
Pindar landed a big boot followed by a spinning back breaker. Fenix reversed Pindar and hit a drop kick. As the referee was distracted with Pindar, Kobra Moon chocked Fenix in the corner. Pindar leaped into Fenix in the corner then hit a sunset flip. Pindar caught Fenix mid arms and manuevered him into a slam onto his back. Fenix came back with a spinning kick then hit a German suplex. Pindar climbed the top rope, but Fenix caught him and knocked him off then drove his knees into Pindar's chest for the win.
WINNER: Fenix at 5:18 to avance in the Cueto Cup.
[Break]
-The Worldwide Underground met with Dario in his office. Dario said that time and time again they have received opportunities, but failed. Dario said they are forbidden from interfereing Mundo's match tonight or they will lose their opportunities to fight for Aztec Medallions next week.
In ring: Santos introduced Dante Fox followed by Prince Puma.
[Break]
2 – DANTE FOX vs. PRINCE PUMA – Cueto Cup quarte final match
Fox hit a drop kick on Puma then landed a suicide dive Puma then kicked ox out of the ring and hit a dive. Both men back in the ring and Fox hit a spinning kick followed by another dive to the outside. Puma then knocked Fox to the outside yet again and dove onto him. Fox then climbed onto the ring apron then leaped off to hit a DDT. Fox shoved Puma into the barricade then back into the ring. Fox had the advantge ith a chin lock. Puma broke free, but Fox was able to turn it into a suplex. Puma came back with a springboard attack. Puma hit a neck breaker followed by a standing shooting star press. Fox Hit several moves onto Puma then went for a pin. Both many exchanged near falls followe by a series of kicks. Puma was finally able to catch Fox for a power bomb. Puma hit a forearm followed by a knee strike. Fox stopped the barrage and hit a clothesline of his own followed by a slam. Then Puma countered Fox's splash. Puma hit a few strikes followed by a suplex sequence for another near fall. Fox kicked Puma while he was on the turnbuckle. Fox jumped on the turnbuckle, but caught him and slammed him off the turnbuckle followed by a power bomb. Puma then hit a 630 splash for the win.
WINNER: Prince Puma at 11:03 to advance in the Cueto Cup.
Post match: Killshot attacked Fox after the match. He grabed the microphone and told Fox things were not over between them.
[Break]
-Captain Vasuez watched Cage's match on a small TV. She told Castro that she wants the gauntlet from him. Castro told her there isnt a man alive who can tke that away from Cage. Ater he left the room, Vasquez grabbed the broken medallion from her drawer and said that he may be right.
In ring: Santos introduced Mundo followed by El Dragon Azetca, Jr.
[Break]
3 – Lucha Underground Champion JOHNNY MUNDO vs. EL DRAGON AZTECA, JR. – non-title match
Mundo tossed dragon across the ring to start. Dragon came back with a kick. Mundo clubbed Dragon. Dragon coutered Mundo and knocked him to the outside. Mundo caught Dragon mid air and hit a spine buster. Mundo rolled Dragon back into the ring and kneed his face. Mundo hit a hard kick on Mundo then went toward the top rope. Dragon tried to roll him up, but Mundo gained contrl back quickly. Dragon lifted Mundo out and over to the floor then hit a dive. Dragon rolled Mundo back into the ring for a two count. Dragon hit a combo of strikes followed by a leg drop.
Mundo poked Dragon in the eye. Dragon flipped over Mundo and ttempted another pin. Mundo hit a standing C4 for a near fall. Dragon kicked Mundo while he was on the top rope then flipped him over for a pin attempt.  Dragon climbe the turnbuckle, but Mundo knocked him off and hit an End of the world for the win.
WINNER: Johnny Mundo at 8:58.
Post match: Mundo grabbed a chair and placed Dragon's neck in the chair. Rey came out for the save as Mundo fled the ring.
Rey left the ring to hug his family. Rey left the ringside area. Mundo walked back towards Rey's family and taunted Rey's son Dominic. As Rey came out to help his son, he was ambushed by The Worldwide Underground. Mundo hit Dominic with the title belt. Rey chased Mundo, but after realizing Mundo was gone Rey came back to Dominic's aid.
-Fenix met with Santos outside the temple. Santos asked Fenix if he always wears the mask. He said on special occasions he takes it off. The cmera then revealed that Marty was watching them. Marty told himself that she will see how ugly he is after h takes his mask.
---
NOW CHECK OUT LAST WEEK'S REPORT: 7/26 Lucha Underground TV Report: PJ Black vs. Rey Mysterio Jr., Drago vs. Pentagon Dark, The Mack vs. Texano,