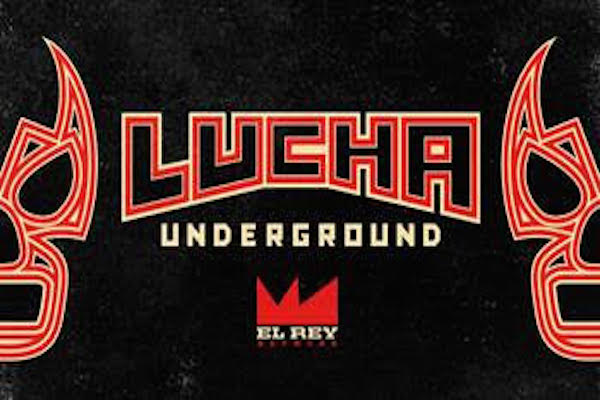 ---
SPOTLIGHTED PODCAST ALERT (YOUR ARTICLE BEGINS A FEW INCHES DOWN)...
---
LUCHA UNDERGROUND – "BLOODLINES" (Season 3 Episode #30)
AUGUST 9, 2017
LOS ANGELES, CALIF.
AIRED ON EL REY NETWORK
REPORT BY JOEL DEHNEL, PWTORCH CONTRIBUTOR
The show opened with a recaps of the Cueto Cup, Worldwide Underground, Texano-Famous B, Mil Muertes-Catrina and Jeremiah Crane.
-Title Card
Announcers: Vampiro welcomed the audience to the show. Striker and Vampiro built up the matches for tonight including 3 Aztec medallions on the line tonight.
In ring: Santos introduced The Rabbit Tribe followed The Worldwide Underground.
1 – THE RABBIT TRIBE (MALA SUERTE & SALTADOR & PAUL LONDON) vs. THE WORLDWIDE UNDERGROUND (RICKY MANDEL & TAYA & P.J. BLACK) w/Jack Evans – match for three Aztec Medallions
Taya started the match with Saltador. Shotly there ater, Black enter the ring to exchange a few moves with Saltador. Suerte entered the ring for a double team. Black gained control then tagged in Taya. Taya dominated for awhile then Saltador and London came in the ring and sat in front of Suerte. Taya then drove her knees into all of them in the corner. Mandel came in the ring an was triple teamed by The Rabbit Tribe. Mandel and Taya fell to the outside allowing Saltador to leap onto them. In the ring, Suerte and London took advantage of Mandel allowing London to hit a shooting star press for the victory.
WINNER: The Rabbit Tribe at 4:35 to win 3 Aztec Medallions in their first win as a team ever.
[Break]
-The Worldwide Underground's manager was grilling them for losing the match. Johnny told everyone that they need to step up otherwise he will go to greener pastures.
In ring: Santos introduced Jeremiah Crane. Mil Muertes attacked him from behind at the top of the temple.
[Break]
Announcers: Striker explained that Dario Cueto has now made this match DQ
2 – MIL MUERTES (w/CATRINA) vs. JEREMIAH CRANE –  No DQ Cueto Cup quarter final
Crane came crashing througha wall back into the temple. They continued their brawl at the the top of the temple and into the audience. Muertes dominate throughout tossing Crane around the ringside area. Mil brought the action back to the ring. Mil fell to the outside. Crane dove through the ropes onto Muertes but it had no effect. Mil tossed Crane into a section of chairs. Crane fought back with some strikes of his own. As Crane ran around the ring, Mil stopped him then tossed him over the announcer's table. Mil pulled out a bunch of chairs from under the ring. Mil dropped Crane's back onto two chairs. Mil continued the beat down until Crane broke free and tossed Mil's head into a chair. Crane grabbed another chair an hit Mil in the head multiple times. Crane slammd a chair onto Mil then grabbed a table. Crane stood on the ring and Mil came charging for a spear onto the table. The table didn't break so Mil power bombed him. Crane locked in a submission in the center of the ring. Mil broke free and hit a slam for a two count. Mil set up a table in the corner. Crane leaped onto hm to break part of the table. Mil caught Crane off an attack and hit the Flatlinner forthe win.
WINNER: Mil at 13:00?. The bell never rang.
Post match: Mil layed in another attack on Crane.
[Break]
Dario's Office: An FBI agent came into meet with Dario. He said that he has similar interests. He said that he is Del Gado's replacement. He then explained that his head was smashed in by Cage. The agent complimented Dario on LU. He said that the FBI is everywhere and will do whatever they can to make sure that the Gods rule again.
In ring: Santos introduced Texano followed by Pentagon Dark.
[Break]
3 – PENTAGON DARK vs. TEXANO – Cueto Cup quarter final match
Texano striked right away then Pentagon hit a super kick. Texano hit a big leg then fled the ring. Pentagon attacked him on the outside.Texano came back with a dive of his own. Famous B and Brenda made their way towards the ring. Pentagon capitalized on the distraction hitting a series of slingblades.Texano got up and hit some strikes. Texano locked in a leg submission, but Pentagon broke the hold by getting to the ropes. Texano caught Pentagon's leg on the ropes. Texano hit a drop kick followed by a rough rider. Brenda climbed the ring apron to the distract the referee. Famous B accidentally tossed a horse shoe to Pentagon who then striked Texano and got the pin.
WINNER: Pentagon Dark at 6:08.
Post match: Before Pentagon broke Texano's arm, Famous B came in for the save. Pentagon then super kicked him and broke his arm.
Pentagon then came back to the ring and broke Brenda's arm.
-Catrina entered into Captain Vasquez's office. Vasquez said she needs her help. She said that Cage's gauntlet is an entry way for the gods. Catrina revealed that she has the other part of the broken medallion. She explained that she is stuck between two realms like a ghost. Vasquez said that if she can bring her the gauntlet then she will have both side of the medallion which will make her normal. Catrina said that they have a deal then refered to Vasquez as her mother.
FINAL THOUGHTS: Put aside the fact that Brenda's and B's selling was awful. The imagery of Pentagon who is wildly cheered by the fans attacks an "breaks" the arms of Famous B and Brenda is pretty disgusting. The fact that LU can't decide whether he is a face or heel is sad. I get that they say he is a mix of both, but I don't know how that works to serve anyone. Fans cheer him and want to see him do cool things, but he consistently does stupid things that make him look like a pretty awful person.
The supernatural storyline feels pretty flat. I think a lot of people including myself wanted to watch Lucha Underground to see wrestling. Not the main storylines revolving around reviving people from realms. I like when LU puts their efforts towards what is happening in the ring then having their supernatural stuff in the background as a mysterious thing. It's like in The X Files, the idea of extraterrestrials is cool, but when they started actually showing it, it was lame.
---
NOW CHECK OUT LAST WEEK'S REPORT: 8/2 Lucha Underground TV Report: Dante Fox vs. Prince Puma, Johnny Munda vs. El Dragon El Azteca Jr.