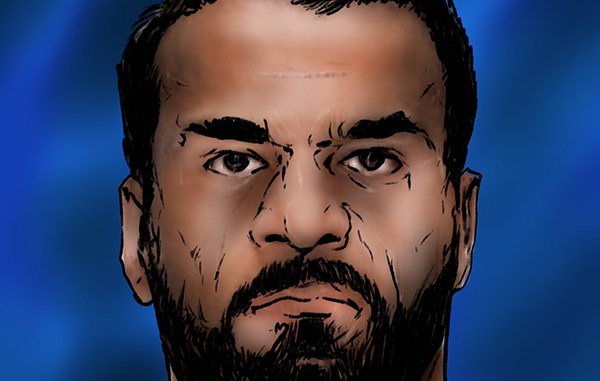 ---
SPOTLIGHTED PODCAST ALERT (YOUR ARTICLE BEGINS A FEW INCHES DOWN)...
---
Ever since WWE's Superstar Shake-up earlier this year, Smackdown Live has gone from being the "land of opportunity" to the land of foreign menace heels. Something about Smackdown's acquisition of Rusev, Kevin Owens, and Jinder Mahal spurred the company's creative team to run essentially the same anti-American storyline in three different programs on the same two-hour show. Kevin Owens declared himself the "new face of America" upon his blue-brand arrival and Rusev declared America a joke during his. However, it's Jinder Mahal's spin on the anti-American bad guy that's the most problematic.
In contrast to the other two, Jinder Mahal has decided that he doesn't hate America, but rather it's the American people who hate him because of the color of his skin, the way he talks, and his Indian heritage.
At the time of his coronation as WWE Champion, the company needed an easy way to cover for the fact that fans were upset with his hasty ascension from perennial jobber to WWE champion. Instead of focusing on that or developing new character dynamics to goad the audience into booing him, WWE decided it best that Mahal claim to be the victim of racism in America so that he could also play hero in India.
In light of recent events in America, however, Mahal's portrayal as a victim of American racism is a lot harder to swallow this week than it was last week.
On this week's edition of Smackdown, Mahal declared the American people racist and jingoistic to a chorus of boos, which again, due to recent events isn't ideal for the purposes of entertainment or escapism. Because he's an anti-American heel, the audience also booed his announcement that it was Indian Independence Day and his celebration of the occasion.
WWE has a rich history of arguably tasteless storylines at the height of American cultural conflicts, but as of this past Tuesday, Smackdown Live's top heel claiming to be a victim of American racism is more Muhammad Hassan-Undertaker right now than it is even Sgt. Slaughter-Hulk Hogan.
After the events in Charlottesville, encouraging fans to boo a guy claiming to be hated because of the color of his skin probably isn't the way to go. Smackdown Live is a perfectly fine show most weeks. There were several wrestlers on this past week's episode like A.J. Styles and Shinsuke Nakamura who received enormously positive reactions. If WWE is guilty of anything here, it's simply propping up a character who wasn't ready to hold the company's top championship in order to make strides in the Indian market.
WWE's attempt to recapture the magic of Bret Hart's late-'90s run where he was a babyface in Canada and public enemy #1 in America was understandable, but that aspect of the Jinder Mahal character needs to be over and done with. It's time for WWE to put in the work to get Jinder Mahal over with their domestic audience in a way that doesn't draw attention to some of the ugliness that's all over American news stations. If Mahal is to continue as the company's top champion, or even as a featured act, WWE needs to either ditch the character's cries of racism or evolve the character in a way that doesn't make the audience think twice before playing along and booing him.
---
(Jason Amadi has written Takes for both PWTorch and MMATorch for many years. Follow him on Twitter @jasonamadi.)