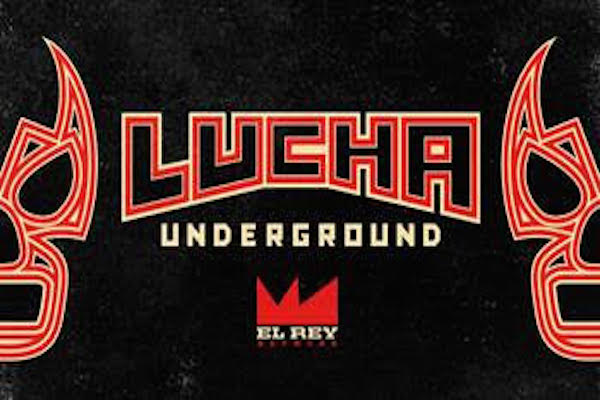 ---
SPOTLIGHTED PODCAST ALERT (YOUR ARTICLE BEGINS A FEW INCHES DOWN)...
---
LUCHA UNDERGROUND TV REPORT – "Ultima Lucha Tres, Part 1"
SEPTEMBER 27, 2017 (Season 3, Ep. 37)
TAPED IN LOS ANGELES, CALIF.
AIRED ON E REY NETWORK
REPORT BY JOEL DEHNEL, PWTORCH CONTRIBUTOR
-Show opened with recaps of the Killshot-Fox Famous B-Texano feuds
-Title Card
In ring: Santos welcomed the crowd to Ultima Lucha Tres.
Announcers: Striker welcomed the viewing the audience. Vampiro previewed Killshot vs. Fox. He said that it is essentially a best two-out-of-three falls match. The first fall is first blood, second fall is a no DQ match and third fall is a Medical Evac (ambulance match). Striker threw to Santos to begin the show.
In ring: Santos explained that if Famous B defeats Texano then Texano must sign a contract obligating him to be represented by Infamous Inc. She then introduced Texano followed by Famous B. B grabbed the mic from Santos and said that with his broken arm there is no way he can beat Texano. B said that he made an agreement with Dario Cueto where he could have a partner to make the match an actual handicap match. He introduced his partner to the ring, Dr. Wagner, Jr.
1 – TEXANO vs. FAMOUS B and DR. WAGNER, JR. w/Brenda – Handicap match: If Texano loses, he must sign a contract to be represented by Infamous Inc.  
Wagner began the match with Texano. Texano beat down Wagner to begin the match. Texano attacked B outside of the ring and tore off his cast then tossed him off of the stairs. Wagner caught Texano with a garbage can and continued the beat down inside of the ring. Famous B tagged in and Texano gained control back. Wagener interfered and Texano hit a powerbomb, but the ref would not count because B was still the legal man. Brenda distracted Texano on the ring appear by giving him a kiss. Famous B then rolled up Texano for the win.
WINNER: Famous B and Texano at 4:23.
[Break]
Announcers: Striker and Vampiro ran down the rest of the Ultima Lucha card which is as follows:
(a.) Son of Havoc vs. Pentagon Dark – Gift of the Gods Ladder Match
(b.) El Dragon Azteca, Jr. vs. Matanza Cueto – Steel Cage Match
(c.) Sexy Star vs. Taya – Last Luchadora Match
(d.) Cage vs. Jeremiah Crane vs. Mil Muertes – Gauntlet of the Gods 3-Way Match
(e.) Prince Puma vs. Johnny Mundo – Career vs. Title
(f.) Ivelisse vs. Catrina
(g.) Paul London vs. Saltador vs. Mala Suerte vs. Argenis vs. Cortez Castro vs. Son of Madness vs. Vinnie Massaro vs. The Mack vs. Joey Ryan vs. Ricky Mundo vs. PJ Black vs. Mascarita Sagrada vs. Pimpinela Escarlata – Unique Opportunity Battle Royal
(h.) Fenix vs. Marty Martinez – Mask vs. Hair
In ring: Santos introduced Killshot followed by Dante Fox.
[Break]
2 – KILLSHOT vs. DANTE FOX – Hell of War match
(a.) First Blood Match
Killshot took control early in the match. Killshot set up a ladder between the barricade and ring. Fox hit Killshot with the ladder then set Killshot onto the ladder then hit a moonsault. Fox tossed a chair at Killshot knocking him over. Fox continued the onslaught. Fox placed two chairs around Killshot's head then hit a leg drop from the barricade. Fox grabbed a conveniently placed slab of window glass. He set it on two chairs outside the ring. Fox and Killshot fought on the ring apron until Fox hit a rock bottom on the apron. Fox flipped Killshot off the ring apron then brought the chair and glass into the ring. Fox set the glass onto the chairs then lifted Killshot onto the turnbuckle. Fox flipped over Killshot onto the glass to draw first blood.
WINNER: Dante Fox at 10:31. Fox leads 1-0
[Break]
(b.) No DQ Match
Fox beat down Killshot in the corner of the ring. Fox then brought a ladder into the ring. Fox then dropped Killshot onto a chair for a two count. Fox put Killshot onto the ladder then flipped onto him. Killshot came back with a combination that resulted in a DDT. Killshot found a barbed wire board from under the ring. He placed it into the corner of the ring. Killshot hit multiple kicks to the head and followed it up with a kill stomp for a 1 count. Fox sat up but just fell into a powerbomb onto the barbed wire board. Killshot then hit a storm cradle driver for the pin.
WINNER: Killshot at 6:13 to tie the series at 1-1.
[Break]
(c.) Medical Evac
Two military personnel brought out a gurney. They brawled with each other in the ring then fell to the outside. Killshot lifted Fox onto the turnbuckle then flipped him off and onto the gurney outside of the ring. Killshot strapped Fox onto the gurney and rolled him towards the ambulance. Fox started to kick back. Killshot climbed the barricade and hit a kill stomp. Fox then hit a dive onto Killshot. Striker pointed out that Dario had another glass window placed onto chairs in front of the ambulance. They both climbed upstairs to the band stage. On the stage, Fox strangled Killshot with the amp cord. Killshot grabbed a beer bottle and hit Fox over the head. Fox then fell off the stage and through the glass structure. Killshot picked up Fox and placed him in the ambulance for the win.
WINNER: Killshot at 8:39 to win the series.
Post match: The fans chanted for Killshot as he grabbed his dog tags.
FINAL THOUGHTS: I don't get what Lucha Underground is trying to prove with these hardcore matches. How is it 2017 and these types of matches are still happening? The problem is not it being a hardcore match, it's that they are constantly trying to out do what has been done before. They try to keep raising the bar and do more dangerous things. The kinds of hardcore matches that Killshot has been through on Lucha Underground alone makes me fearful for his health down the road. The same goes for Dante Fox.
---
NOW CHECK OUT LAST WEEK'S REPORT: 9/20 Lucha Underground TV Report "The Rise of the Announcer": London vs. Suerte vs. Salvador vs. Castro vs. Drago vs. Son of Havoc vs. Pentagon