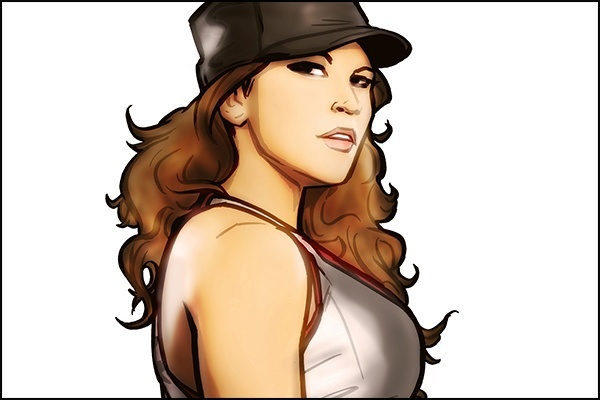 ---
SPOTLIGHTED PODCAST ALERT (YOUR ARTICLE BEGINS A FEW INCHES DOWN)...
---
RAW HITS
Ambrose & Rollins & Styles vs. Miz & Sheamus & Cesaro: After a decent opening segment, recapping TLC and moving on to starting the hype for Survivor Series, Raw really got going well with this long six man tag match. There was so much talent in the ring. It was cool to see AJ Styles working with Seth Rollins and Dean Ambrose. It was a fun and exciting match to watch. It had a satisfying ending. It is too bad that the positive feelings I had towards Styles at that point would be ruined by the end of the show.
Alicia Fox: I thoroughly enjoy Alicia Fox's character. I laughed out loud during her scene when she was arguing with Sasha Banks and Bayley over who should be the captain of their team at Survivor Series, and Kurt Angle said "you know how we settle these things on Raw" and Fox blurted out "paper, rock, scissors!" That was great. Her portrayal of the character is well done. She isn't great in the ring, but she is fun to watch and I liked that she won the triple threat match as there is potential for some entertaining moments with her as team captain.
Heyman: I have ZERO interest in Survivor Series being Raw vs. Smackdown. I have ZERO interest in watching Jindar Mahal vs. Brock Lesnar. The main reason for that is that I have ZERO interest in watching Mahal wrestle anyone. I have stopped watching Smackdown as a protest to Mahal being the WWE Champion and I won't watch it again as long as he is the Champion. I was glad to hear Paul Hayman vocalize a lot of my frustrations over Mahal's Title run. This was a good promo, delivered very well by Heyman. Lesnar as usual was great in just standing there and reacting to Heyman's promo. I love how Heyman builds up his opponents. I have said for years that if you say your opponent is a loser and you win, all you did was beat a loser. If you lose, then you lost to a loser. But if you say your opponent is great like Heyman has done for all those wrestlers he mentioned here, and you win, then you have defeated a great wrestler. So it was great to hear him juxtapose his praise for all of the former Lesnar opponents with his tearing down Mahal. I think it is just to make Mahal look like he has no chance against Lesnar so when he puts up a strong fight, he will look strong despite the loss. I still won't watch the match, but at least I enjoyed this promo.
RAW MISSES
Kane Beats Balor: Finn Balor had a very good match against AJ Styles at TLC, the best of the night. He got a strong win over Styles substituting for Bray Wyatt. He had momentum. He is a star. The fans love him. He would be a great opponent for Lesnar before next year's WrestleMania. But on Raw, he was squashed by Kane. Kane is a legacy star, but I wasn't excited by his return last week. I get the idea of building him up so that when Braun Strowman beats him eventually, it will mean something. But, that doesn't mean you sacrifice Balor in the meantime. This was a head scratching moment for me. I don't get the logic behind jobbing out Balor to anyone right now, especially not Kane. Kane got to manhandle Rollins, Ambrose and Styles after their match. That was enough. This was a terrible decision by people who don't know how to build babyface stars whom the fans actually care for and want to cheer for.
Continuation of Bliss vs. James: The buildup for the Women's Title match at TLC between Alexa Bliss and Mickie James wasn't good as it was sexist in focusing on James' age when they don't make a big deal about Kane being 12 years older. The match itself was ok. It was fine while it lasted, but not good enough that I wanted to see more of it. Bliss got a clean win. Nothing about it made me feel like James deserved another Title opportunity without having to earn one for awhile. Now for the next month they will be focusing on Bliss vs. Natalya on the stupid Raw vs. Smackdown themed Survivor Series, so we may not get another Title match between them, but their segment on Raw certainly hinted at it. I hope not as James doesn't deserve it at this point.
#UnderSiege: I hated this. Period. I literally canceled my WWE Network subscription after this. And I have been a subscriber since day one. I hate the fake ass Raw vs. Smackdown "feud." I can understand WWE wanting to do something to spice it up since it doesn't actually exist, but this was terrible. My favorite male wrestler on Smackdown is A.J. Styles. My favorite female wrestler on Smackdown is Becky Lynch. Why should I cheer for them now after they acted like terrible people in a gang style beating of unsuspecting Raw wrestlers? That was a heel move. That made all of those Smackdown wrestlers heels. Lynch should not have been standing with Carmella whom she hated over the Money in the Bank match earlier this year, because they are on the same show. I was really disappointed in a video that Lynch tweeted out afterwards where she talked about her biggest goal was to make Smackdown the better brand. That should NOT be her goal as a wrestler. Her goal should be to win her matches and become the Women's Champion. I can't take her seriously as a future Championship contender when she talks about wanting to win the Title, because I know what she really wants is to make Smackdown great.
Even though I haven't been watching Smackdown closely, I know that Dolph Ziggler and Bobby Roode are feuding against each other. Yet on Raw, they were standing next to each other fighting for Smackdown pride. The wrestlers have gone back and forth already from Raw to Smackdown less than a year ago. And they have a good chance of being switched back to Raw in five months. This kills the heel vs. face dynamic. The idea of brand supremacy makes no sense. The two shows have the same announcers. Nothing is on the line. Nobody cares who wins. And in the end, you are doing a hot shot angle that has long term negative effects, for a one month angle. This is going to be done after Survivor Series and then #UnderSiege will go away. But the negative feelings I have for this angle and those wrestlers will linger far beyond the PPV. I won't be renewing my Network subscription for the foreseeable future. If WWE makes me care again, I'll get Royal Rumble, which has long been my favorite show of the year, but has been disappointing the last several years with terrible winners like Batista and Randy Orton. So, I'm not looking forward to it now and WWE will continue to cost itself money each month, even it if it only my $10.
NOW CHECK OUT LAST WEEK'S COLUMN: WWE RAW HITS & MISSES 10/17: Kane's return, Balor-Bray, The Shield, Enzo, Miz TV, Elias with The Club, Reigns vs. Strowman
---
For another view from the original Hitlist author, compare Jason Powell's views to mine by visiting ProWrestling.net's "Hitlist" section HERE.
---
Jon Mezzera is PWTorch.com's WWE Hits & Misses Specialist, providing his point of view for Raw and Smackdown each week. Email him at jmezz_torch@yahoo.com. Act now and become my 68th Twitter follower@JonMezzera (pretty clever handle right?). Just be aware that I don't live tweet Raw, I don't tweet much about wrestling, and I don't tweet much at all.