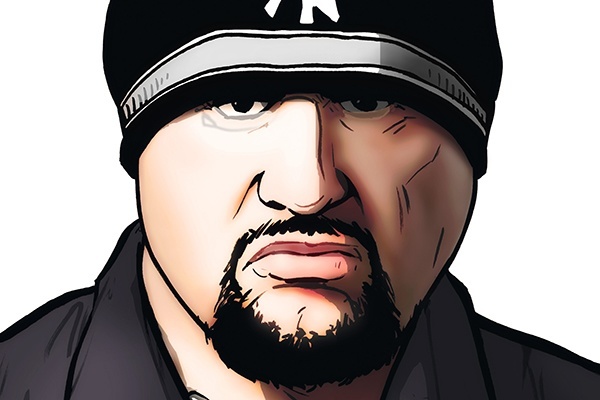 ---
SPOTLIGHTED PODCAST ALERT (YOUR ARTICLE BEGINS A FEW INCHES DOWN)...
---
HITS
SoCal Uncensored Opening Promo: Christopher Daniels and Scorpio Sky are backstage, and they address what's happened recently with Final Battle and their attack on The Bullet Club. Daniels and Sky discuss the end is coming for Bullet Club. I thought this part of the opening promo was good as we look towards the main event between SoCal Uncensored and The Bullet Club/Hung Bucks later in the show.
Flip Gordon vs. Jay Lethal: To the best of my knowledge, we haven't seen these two do battle on ROH TV. There was a good start to the match where the two go back and forth with a few pin attempts on each other that leads to Lethal attempting to hit Flip with a cutter, but Flip blocked it with a semi-hand stand which I don't recall seeing a cutter blocked in this way before. Once again Flip shows why he is different with his agile style of wrestling. From there, the two settle into the match where Lethal takes control, then Flip takes control and vice versa. At one-point, Flip hits a corkscrew from the second rope corner to the outside on Lethal. The two then head back into the ring and trade punches. They then trade some very nice chops that got a nice reaction from the crowd. The only down side of the match was that Flip Gordon missed a move off the second rope near the end of the match. But I thought Lethal and Gordon covered it up well because Flip's mistake played into the story of the match that Flip was inexperienced. When Flip made the error, Lethal quickly picked up Flip and German Suplexed him. Lethal than goes for Lethal Injection and hits it on Flip. Lethal covers Flip for the three count and Lethal wins. This was a great opening match between Flip and Lethal. Props to the crowd for not starting a "You BLEEPED Up" chant when Gordon missed his move at the end. He's a young guy still finding his way and besides that small mistake which fed into the finish of the match well, I thought he did well wrestling against long-time veteran Jay Lethal. Very good opening match.
Cabana Interviews Lethal: Cabana chases down Lethal after the match with Flip and tells Lethal that on March 9, 2018 Lethal will take on Dalton Castle for the ROH World Title. However, it's interrupted by Marty Scurll who thinks he should get a shot at the title first. Lethal says that since he beat Scurll at Final Battle that he deserves the shot against Castle. Scurll then says he wants a title shot after Lethal defeats Castle. Lethal agrees and tells Scurll he's got no problem beating Scurll again. It's hard to argue the logic in this. Scurll is complaining during this segment that he's never had a shot at the ROH World title. But as Lethal said, as a two-time ROH World Champ, Lethal is more than deserving for a shot at Castle. Good stuff here as it all made sense and we will see what happens March 9 and thereafter with Scurll.
Brandi Rhodes vs. Karen Q: I find it very hard to cheer against Brandi. I respect that Brandi seems to have worked hard to do well in the ring and earn her spot in the tournament. She has also come across humble in her interviews since joining the Women of Honor division. Every time she is interviewed, she does not come across as someone who has been handed a spot. She's repeated that she doesn't want anything handed to her. She repeats this before the match as she talks about winning her qualifier match to enter the tournament. The way ROH has told Brandi's story has been solid. Although she is Cody's wife, and some would assume she's had it easy, ROH has positioned her as a believable underdog. After the video package, we go straight to the match. During the match, Karen Q clearly dominated which was expected. You can still see Brandi's inexperience in the ring, but she is getting better. She's just not very fluid yet with her moves. Once again, Karen Q dominated the match, but Brandi outsmarts Karen Q. During the ending sequence of the match, Brandi fakes an ankle or leg injury. As the referee is checking on Brandi, Karen Q walks over and shoves the referee out of the way to get to Brandi. As Karen Q is reaching down to pick up Brandi or put her in some sort of finisher, Brandi executes an inside cradle rolls up on Karen Q and the refs hits the three count. Brandi gets an unexpected win in my opinion and moves on in the Women of Honor title tournament. I was not sure how this match would play out. Brandi is still very inexperienced as a wrestler. Karen Q is an established WOH star. I thought for sure Brandi would lose. I thought the finish was executed about as well as could be expected and it was definitely a shocker. This makes me even more curious as to what they do for Brandi's next match. Will she make it out of the second round also? I guess we'll have to tune in to find out. Although you could sense Brandi's inexperience, I thought the match was good and the surprising outcome of it made this a hit for me.
Dalton Castle and Marty Scurll: Marty Scurll interrupts Dalton Castle backstage. Scurll tells Castle to think about allowing Scurll to be the next challenger to his ROH World title. Scurll tries sweet talking Castle by telling Castle to recall when Scurll made his debut against Castle and Scurll won that first ROH match against Castle. Scurll tells Castle to think about giving him a shot at the ROH World title after Castle defeats Lethal. For what it's worth, Scurll makes a great point. If Scurll defeated Castle when he made his ROH debut, then that logically would make Scurll a contender since it was not that long ago. Scurll also has been a ROH TV champion in the past so he clearly is not chopped liver. I like this angle with Scurll begging and asking for matches left and right. It sets up any number of possibilities down the line if ROH wants to explore them with Scurll going after the title. Not saying that would happen but it opens up the possibility of it.
SoCal Uncensored (Christopher Daniels, Frankie Kazarian, Scorpio Sky) vs. The Bullet Club (Matt Jackson, Nick Jackson, Adam Page Aka The Hung Bucks) – ROH 6-Man Titles on The Line: This was an excellent match. I'll fast forward to the end where things pick up. Matt Jackson had Daniels in a Boston Crab. Daniels begins to tap out, but Todd Sinclair is on the outside tied up with Nick Jackson and Kazarian. Sky slides into the ring, takes one of the 6-man belts, hits Matt Jackson in the head with it and slides out the ring. When referee Todd Sinclair slides back into the ring, Daniels is laying on Matt Jackson and SoCal Uncensored gets the pin. And with that, SoCal Uncensored are the new ROH 6-Man World Tag Team champions. But hold on one minute. Bully Ray comes out. And it appears that Joe Koff has given Bully the authority to restart the match. Up until the point where Bully restarted the match, I was really enjoying this. More to come on that later in the column. When the match restarted, The Hung Bucks end up getting the victory. Take away Bully restarting this thing, I don't think it mattered which team won the titles here. I see good things with both as champs although I preferred to see SoCal Uncensored with them because it tells a better story given everything Daniels and Kazarian have put ROH through this last year. However, for now I can move forward with Bullet Club/The Hung Bucks with the titles. Again, this match was very good, and I enjoyed. We'll talk more about Bully's role and the match getting restarted later in the column.
MISSES
Opening Promo Young Bucks and Adam Page: We get a look at the new 6-Man World Tag Titles for the first time, at least that I can recall. The old belts were only a little over a year old, but I understand ROH created all new belts, so I guess it makes sense to get new 6-Man World Tag Titles while replacing all of the others. This promo wasn't terrible. I'm just in the minority that does not connect with these guys as "good" guys. At the same time, Adam Page with Matt & Nick Jackson during this promo was comical in a good way. Page is wired. He is shouting and talking crazy about breaking SoCal Uncensored. I really like Page and think he is going to be a big-time singles star eventually. Although I marked this down as a miss, Page was really good and believable. I just didn't buy into what The Bucks were saying.
Bully Ray: The last thing I want to see in ROH is an authority figure that comes out and, on a whim, decides to restart a match. Why do I say this? Because what would stop a boss, commissioner, authority figure, etc. from coming out every time a match doesn't work out in the manner that he or she or the promotion wants from coming out and restarting a match? I'm rarely this critical of ROH but I do not like this at all. Bully had a nice send off with the company. Bully ended it with a very nice feud with The Briscoes. Bully also retired and left his boots in the ring. I thought that was well done and a great send off for Bully as an on-air figure. But here we are with Bully in an enforcer, authority figure, commissioner role etc… If the company wants Bully involved, why not have him involved behind the scenes in creative or some other role? I'm just not a fan of Bully as an enforcer, authority figure, commissioner, etc. I don't care how much Bully tells the fans that ROH is lacking a bit of "honor" and that COO Joe Koff has directed Bully to "do what Bully needs to do to get some order back in this company." Besides SoCal Uncensored, I don't see the company as being out of order in the least bit. Here's the last thing. Bully claims in this that he "doesn't want to be a boss, commissioner, or authority figure." Bully says he's going to be an enforcer. Bully, this is semantics. No matter what you call it, you're a boss, authority figure, commissioner, etc. that just came out on a whim and decided to restart a match. If Bully were to read this and disagree, I invite him to contact me below on Twitter and explain why his role is a good idea. Furthermore, I won't apologize for saying we've seen this in another company for too many years and wrestling fans like me come to ROH to get away from that company that doesn't do right by wrestling. Now, I am not one of these fans that will turn the channel or stop watching ROH over something like this but Bully as an enforcer, authority figure, commissioner, etc. storyline needs to just die out before it gets started. Otherwise, what stops Mr. Enforcer from restarting a match every time a heel does something that a heel shouldn't do to win? I'll answer. Nothing would stop him. This is not smart, and I hope this isn't some long-term storyline.
Final Thoughts
If you agree with my assessment on Bully Ray, don't let that get in the way of enjoying the main event between The Hung Bucks and SoCal Uncensored. Those six guys put on an outstanding match this week. The WOH match was surprisingly good to me also given Brandi's inexperience. Flip Gordon and Jay Lethal also opened the show with a very good match. I enjoyed this week although it was weaker than most of the previous episodes through January and February of this year.
---
Mike Mills is the PWTorch.com ROH TV Hits and Misses Specialist, providing his point of view on ROH TV weekly. You can follow Mike at @BTT_Podcast and @Mike504Saints on Twitter and you can check out his old school wrestling podcasts at tinyurl.com/BTTPod
---
NOW CHECK OUT LAST WEEK'S COLUMN: ROH HITS & MISSES 2/12: Bruiser & Brian Milonas Debut, Leon vs. Rayne in WOH Tourney Match, Castle vs. Martinez in ROH World Title Match, Bullet Club