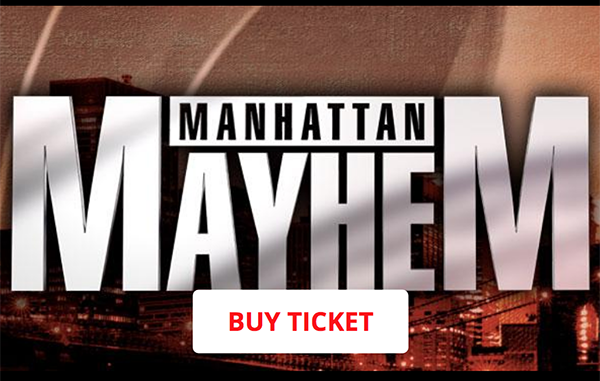 ---
SPOTLIGHTED PODCAST ALERT (YOUR ARTICLE BEGINS A FEW INCHES DOWN)...
---
ROH Manhattan Mayhem VII
March 3, 2018
New York, NY at Hammerstein Ballroom
Aired live through ROH's Honor Club
Report by Harley R. Pageot, PWTorch Contributor
Commentary: Ian Riccaboni, Colt Cabana
We opened in the arena with new ROH enforcer Bully Ray.  Riccaboni apologized in advance for some lineup changes due to the terrible weather up the east coast.  Bully spoke about ROH having the best pro wrestling, not "sports entertainment."  Boos from the crowd at that phrase.  He fired up the crowd and encouraged them to make some noise before starting an ROH chant.  "All thrilla, no filla" is his new catch phrase apparently.
-SoCal Uncensored had to be pulled from the card due to the weather and were replaced by The Kingdom in the main event.
-Chris Sabin joined the commentary team for the first match.  Alex Shelley was also absent due to the weather.
(1) THE DAWGS (Will Ferrara & Rhett Titus) vs. COAST 2 COAST (LSG & Shaheem Ali) vs. THE BRISCOES (Jay Briscoe & Mark Briscoe)
All six men brawled before the bell.  Jay Briscoe and LSG started things off.  Titus hit a blind tag on Jay before ducking to ringside and pretending it was Ferrara who tagged him.  Titus hit a doggy-splash on LSG for the first two-count.  The Briscoes worked over C2C and Titus.  Mark and Ali wound up trading chops in the corner.  Ali wasn't intimidated but Mark hit a side Russian leg sweep into a body scissors.  Jay tagged in and whipped his shirt at LSG on the apron.  The Dawgs tagged in and hit some double-team moves on Ali.  Hot tag to LSG.  Pop-up clothesline on Ferrara.  Double-team moves from C2C on both Briscoes.  Double jumping elbows on Ferrara in the corner but The Briscoes returned and shoved them off the top rope.  Titus with a big dropkick on Mark.  Jay pulled him to the floor.  C2C returned to hit a coast to coast on Mark.  Ferrara tried rolling up LSG for the win but he kicked out.  Titus with a top rope doggy-splash on LSG and tried for the pin but he wasn't the legal man.  The Briscoes wound up back in the ring and Jay hit a Jay Driller on Ferrara.
WINNERS:  The Briscoes in 9:21.
-Jay took a mic after the match.  They don't need the NYC dumbasses cheering for them.  This is their house and all the ROH fans can go to hell.  Motor City Machine Guns, they're taking your tag team championships next weekend.
(Pageot's Perspective:  The inaugural event on Honor Club is off to a solid start on the technical side of things.  The weather is the big story so far with a bunch of names pulled from the lineup.  We'll see what matches we end up with but the card's going to be significantly different from what we expected.  This was a fun opening match and The Briscoes were the obvious winners.  The Dawgs are never hurt by their losses and Coast 2 Coast are on an upswing so it was nice to see them protected.)
-Birthday girl Mandy Leon joined the commentary team for a Women Of Honor match.
(2) JENNY ROSE & SUMIE SAKAI vs. DEONNA PURRAZZO & TENILLE DASHWOOD
Purrazzo and Rose began with a collar and elbow tie-up.  Both women exchanged a series of roll-ups.  The veteran Sakai teamed in and asked for Dashwood, who happily tagged in.  This could be a potential semi-final match in the WOH Championship tournament.  Dashwood hit the Emmamite Sandwich in the corner.  All four women wound up in the ring.  Dueling Fujiwara arm bars from Purrazzo and Dashwood.  Purrazzo tagged back in and worked over Sakai's arm.  Purrazzo reversed a wheelbarrow roll-up into a German suplex.  Rose caught her with a kick to the back as she ran the ropes.  Rose with a series of clothelines and a snap suplex for two.  Bow and arrow lock from Rose.  Sakai tagged in and they hit a double clothesline on Purrazzo.   Sakai went to the top rope for a big missile dropkick.  Purrazzo kicked out at two.  Sakai went up top again but got caught with another Fujiwara on the way down.  Rose broke the hold.  Purrazzo with a double clothesline on both opponents.  Hot tag to Dashwood.  Clotheslines to Rose and Sakai.  She rammed Sakai's head into the top turnbuckle repeatedly and locked her in the tarantula.  Rose with a fisherman's suplex on Dashwood.  Sakai with the swinging fisherman's neckbreaker for two.  Sakai tried for a top rope moonsault but Dashwood moved and followed up with The Spotlight.
WINNERS: Dashwood & Purrazzo in 8:04.
-The winners offered the Code of Honor after the match and everyone eventually adhered.
(Pageot's Perspective: Great showing for the women.  The two who won are the favorites to meet in the finals of the championship tournament so another logical win here.  Leon was personable and real on commentary.  Sakai's been wrestling for 21 years, which is ridiculous.  She could play a very interesting role in the WOH division post-tournament, assuming the women get actual TV time and stories.)
(3) PUNISHMENT MARTINEZ vs. SOBERANO JR.
This was supposed to be the opening contest but CMLL star Soberano arrived literally minutes ago due to the weather and a customs delay.  They fought to ringside early on.  Back in the ring Martinez swatted away a Pele kick and kicked Soberano in the head.  Soberano with a hurricanrana that sent Martinez to ringside.  Soberano hit a corkscrew backflip that couldn't take Martinez down so he went back in and hit a second that finally took out the big man.  Spinning springboard clothesline from Soberano but Martinez challenged his inner Kane, sitting up and growling.  Martinez continued to overpower the luchador.  Soberano with a moonsault across Martinez hanging in the ropes.  Martinez grabbed Soberano on the apron and lifted him over the top rope and into the ring for a South of Heaven chokeslam.
WINNER: Punishment Martinez in 5:51.
-The fans chanted "one more time" so Martinez hit an apron bomb on Soberano to cheers.
(Pageot's Perspective: Rough start with a couple miscalculations and missed maneuvers.  Riccaboni and Cabana tried to cover for them by chalking it up to Soberano's travel time and time zone exhaustion.  The fans were not kind, seemingly ecstatic at the opportunity to chant "you fucked up," and continued to boo Soberano after the match.  The fact that CMLL stars often show up in ROH with no introduction or character support doesn't help either.)
-Cabana said we were going to go to a Q&A session.  Riccaboni stood on the stage and introduced "The Octopus" Jonathan Gresham.  Fans in attendance were given the option to ask Gresham questions.  He has apparently been out on injury but will be back soon.
(4) FLIP GORDON vs. "THE AMERICAN NIGHTMARE" CODY (w/Brandi Rhodes & Bury The Drug-Free Bear) – If Gordon wins, Cody has to book him on the September 1 All In event.
The fans chose the All In stipulation.  The other voting options were a lumberjack match or two out of three falls.  This is the live debut of Bury!  Cody grabbed a mic and tried to get security to toss a fan because he was vocally pledging allegiance to Team Kenny.  He tried to turn the crowd against him by putting down Gordon and mentioning Omega's name.  He told Brandi and Bury that they were leaving.  Gordon tried to start a "Flip" chant but the fans wouldn't take their eyes off Cody.  Cody teased throwing his jacket to the crowd but slammed it down on the ringside mats instead.  Gordon grabbed it, teased throwing it to the crowd too, but instead threw it down and stomped on it.  The bell finally rang with both men in the ring.  They continued to play to the crowd, seemingly killing time to try to cover for the many weather-related cancellations.
Cody did a cartwheel and leaned through the ropes to kiss Brandi and then Bury.  Gordon blew a kiss to Bury, which set off Cody.  We finally settled into a wrestling match around the five-minute mark.  They chopped each other in the corner and Gordon hit a running kick to the face.  Cody was whipped into the barricade at ringside.  When Brandi approached Gordon from behind he accidentally elbowed her and she took a dive, only to pop back up and reveal she was faking, allowing Cody to take out Gordon.  Bury ran over for a hug from Cody.  Cody with a vertical suplex in the ring.  Boots to Gordon.  Gordon tried to springboard in but got shoved off the ropes and went back-first into the guardrail on the floor.  Cody did Omega's Rise Of The Terminator while Brandi and Bury pounded on the apron.  Bury took a superkick from Gordon at ringside to loud boos.  Cannonball dive from Gordon over the top rope onto Cody, which finally got some fans chanting for Gordon for the first time.  Springboard slingblade to Cody.  When Gordon went to the top rope Cody cut him off and tried for a superplex.  Gordon flipped over him and kicked out Cody's knees.  A variation of a Michinoku driver/falcon arrow got him two.  Cody locked in the Indian deathlock but Gordon finally made it to the ropes.
Gordon pulled a water bottle out from under the ring and took a drink.    Back in the ring he sprayed a mouthful of water in Cody's face and landed a running shooting star press for two.  Cody with an eye rake that referee Todd Sinclair missed and followed with a top rope moonsault for two.  Cody with CrossRhodes a minute later but Cody didn't go for the pin, which Cabana and Riccaboni were baffled about.  He tried for a moonsault instead but Gordon moved and went up top.  Gordon connected with a 450 for a believable near fall.  Kinder Surprise from Gordon.  When he tried to springboard back in, Brandi jumped on the apron for the distraction.  Cody tried to capitalize with a Beautiful Disaster kick but Gordon ducked out and Cody took out his wife.  Rather than check on Brandi Cody hit the CrossRhodes again for the win.
WINNER: Cody in 17:10.
-Cody continued to celebrate while Bury checked on Brandi.  Cody eventually went to ringside to help his wife.  Cody lifted Brandi's lifeless body up before passing her to Bury and making him carry her to the back.
(Pageot's Perspective: They were definitely filling time at the beginning there but things picked up once we settled into the actual match.  A lot of believable near falls and Cody and his crew were having fun.  I wasn't sure we'd actually see Bury make the transition from Being The Elite to ROH so that was a goofy, pleasant surprise.  Don't fear, Flip fans, I have a feeling Gordon will end up at All In one way or another.)
-Intermission time.  In response to fan comments, Cabana said that ROH listened and rather than provide us with a blank screen like at Honor Reigns Supreme we'd instead get to watch a classic ROH match between Samoa Joe and Bryan Danielson.  This was from the ROH One Year Anniversary Show (February 8, 2003 in New York City).  Ironically you can't watch that event on Honor Club.
-Coleman's Pulpit.  Caprice Coleman stood at a pulpit on the stage with a stained glass window on the video screen.  Fans were able to vote for Coleman's guest.  Colt Cabana was chosen over Cheeseburger, Flip Gordon, Kelly Klein, Ultimo Guerrero, Delirious, and ROH VP of Operations Gary Juster.  Before Cabana could make his way over from the commentary table The Kingdom made their entrance.  Matt Taven was fed up with the conspiracy against them and the fact that they weren't a voting option.  They mocked the fact that SoCal Uncensored had their flights cancelled and weren't in attendance.  They heeled on the crowd and left.  The scheduled Pulpit is officially cancelled now.  Cabana hoped they could reschedule for the future.
(5) SILAS YOUNG, BEER CITY BRUISER, & BRIAN MILONAS vs. ROH WORLD TELEVISION CHAMPION KENNY KING & CHUCKIE CHEESE (Chuckie T & Cheeseburger) 
Best Friends were voted by fans to team with Kenny King but Beretta is out on injury.  Chuck Taylor spent the day searching for a fill-in and came up with Cheeseburger.  They were billed as Chuckie Cheese, which is hilarious.  Both men wore Team Kenny shirts.  No, not that Kenny.  Kenny King!  Bruiser and Taylor started things off.  Big dropkick from Taylor but Bruiser powered over him.  Big tag to Cheeseburger.  Cheeseburger requested Milonas, who is probably three times his weight.  Milonas laughed at the idea.  Cheeseburger ducked a charge in the corner and unloaded with chops that Milonas no-sold.  Burger rolled under a clothesline and hit a kick that again had no effect.  King mercifully tagged in.  Young was quick to follow suit.
Lock up between the current and former TV champions.  King went for the Royal Flush early but Young countered out.  King avoided Misery and hit a spinning heel kick.  Everything broke down.  Bruiser charged Burger at ringside but missed and crashed into the barricade.  Burger with the tag.  Around the world DDT to Young for two.  Taylor called for a triple hug with his partners.  The heels took over and Burger got squashed between the two big men.  Milonas with an overhead belly to back suplex.  He and Young double-teamed Burger behind Todd Sinclair's back.  Milonas whipped Burger into a crossbody from Bruiser.  Running senton from Milonas.  Young tagged in and covered but Burger kicked out.  The heels continued to work over Burger with rapid tags.  Milonas with a sit-out power bomb but Taylor broke up the pin.  Milonas sat on Burger in the corner and set him up for a cannonball splash from Bruiser but Burger avoided it.  He also rolled out of a leg drop attempt from Milonas and hit the tag to King.  He was a house of fire on Young and Bruiser.  Atomic drop to Bruiser.  Spinebuster to Young.  Kick out at two.  Milonas clubbed King from behind.  Taylor hit the ring and went after Young.  Sit-out power bomb from Taylor for two.  Taylor with a Michinoku driver but Bruiser broke up the pin.  Taylor flipped onto the heels at ringside while Burger hit a tag.  Taylor got thrown over the timekeeper's table.  Burger ran into a forearm from Young but King appeared with a corkscrew flip that took out Young.  King and Young brawled up the aisle.  Burger was left alone in the ring with Bruiser and Milonas.  Milonas blocked a palm strike.  Superplex from Milonas and a follow up frog splash from Bruiser.
WINNERS:  Young, Bruiser, & Milonas in 13:36.
(Pageot's Perspective: Another fun one and the first real win for the new team of Bruiser & Milonas.  Beretta announced on Twitter earlier this week that he'll be out on injury for a significant period of time.  What that means for the future of Chuckie T in ROH will remain to be seen.  The King-Young feud for the TV title appears to be continuing and will likely lead to another showdown at the 16th Anniversary show next weekend.)
(6) ÚLTIMO GUERRERO & JAY LETHAL vs. VOLADOR JR. & ROH WORLD CHAMPION DALTON CASTLE (w/The Boys)
Guerrero slapped Castle across the back with his t-shirt before the bell.  After the Code of Honor Castle and Lethal got into a friendly shoving match.  The ROH men began with a preview of next weekend's 16th Anniversary main event.  Lethal avoided a Bangarang and Castle avoided Lethal Injection after a quick exchange.  Both men continued to avoid each other's signature offense.  The CMLL stars asked for the tag and we restarted.  The Boys fanned down Volador but Guerrero chased them off.  Volador was wrestling in a clear face mask following an injury in Mexico.  He's a former CMLL tag team champion with Andrade "Cien" Almas.  Volador flipped out of an Alabama slam attempt.  Lethal tagged in but Guerrero wouldn't leave, despite the referee's objections.  Castle entered the match and took Lethal down in the corner.  The champion went for an aggressive cover.  Tag to Volador who hit a top rope splash on Lethal for two.  Lethal with an enziguiri.  Tag to Guerrero who clotheslined Volador and Castle.  He dumped Castle to the apron, dropkicked him to the floor, caught a flipping Volador, and power bombed him on the floor.  Lethal took out The Boys.  Guerrero and Lethal double-teamed Castle in the ring.  Volador shoved Lethal off the top rope.  Castle and Volador worked over Guerrero in the corner.  Castle with a stalling German suplex on Guerrero for two.  Volador tagged but Lethal yanked him off the apron and whipped him over the barricade into the laps of the fans in the front row.  Lethal and Castle exchanged slaps and chops in the ring.  Fists were thrown.  Castle went down.  Volador blocked a Lethal Injection attempt.  With the other three men down Castle peacocked and went to work on Guerrero.  Guerrero with a superbomb off the second rope.  Volador with a hurricanrana on Guerrero off the top rope for the win.
WINNERS: Volador & Castle in 15:26.
-After the match Guerrero tried to steal the title away from Castle.  As Castle fought him off Lethal wound up with the belt but reluctantly handed it back to the champion.
(Pageot's Perspective:  The commentators instantly sold the story that the ROH Champion and his #1 contender didn't factor into the finish, though the champion did end up on the winning side in the end.  This was a better showing for CMLL than earlier tonight and the veteran Guerrero was arguably the standout star of the match.)
-Cody joined the commentary team for the main event as per fan voting. The other options were Bully Ray, The Dawgs, Mandy Leon, Caprice Coleman, or BJ Whitmer.  Cody held up his phone for the camera.  He had a picture of Flip Gordon posing in front of the All In logo with "In" crossed out and the word "Out" scrawled over it.
(7) SHANE TAYLOR & THE KINGDOM (Matt Taven, TK O'Ryan, & Vinny Marseglia) vs. BULLET CLUB ("The Villain" Marty Scurll & ROH World Six-Man Tag Team Champions Hangman Page, Matt Jackson, & Nick Jackson) – ULTIMATE MAYHEM MATCH
This was being contested under no disqualification, no count out, falls count anywhere, tornado tag rules. Two men started things off. After five minutes of action a third person would enter the match. Every two minutes thereafter teams would alternate sending a new member out until all eight men had entered, at which point the first pinfall or submission would win things.  Matt Taven was out first, showing off Cody's stolen ring of honor.  He tried to make a fan kiss the ring but the fan pushed his hand away.  Marty Scurll was the first Bullet Club entrant.  Scurll and Taven fought at ringside and The Villain grabbed a steel chair almost immediately.  Cody and the commentators acknowledged that Scurll received the biggest babyface reaction all night thus far.  Scurll with a big superplex before bringing the chair into the ring.  He wrapped it around Taven's arm and stomped on the chair.  Taven ran Scurll headfirst into the chair that was wedged between turnbuckles in the corner.
At the 5:00 mark Vinny Marseglia appeared from under the ring with a handful of red helium balloons.  He released them to the sky and jumped Scurll from behind.  The heels arrogantly double-teamed Scurll who tried to escape by throwing an armful of streamers into their faces.
At 7:00 Matt Jackson flipped off the stage onto Taven, charged the ring, and dove over the top rope onto Marseglia on the other side of the ring.  Scurll and Jackson teamed up to utilize some classic Hardy Boys maneuvers.  Double superkick to Taven on the floor from Bullet Club on the apron.
At 9:00 a masked fan in a Bullet Club shirt nailed Scurll with a garbage can over the barricade.  Security swarmed the fan but he unmasked to reveal that it was actually TK O'Ryan.  Jackson got triple-teamed from The Kingdom on one side of the ring while Scurll pulled a table out on the other side.
At 11:00 Nick Jackson entered the fray.  He went nuts with kicks on all three Kingdom members while more streamers flooded the ring.  The Young Bucks hit some of their signature offense.  Matt hit a top rope elbow drop that put himself and Marseglia through a table on the floor.  Nick suplexed O'Ryan on the mats at ringside.
At 13:00 Shane Taylor power-walked to the ring and went after Scurll.  Sit-out power bomb to Scurll and another to Nick.  He caught a superkick from Matt and dropped him too with a judo throw.  Taylor looked under the ring for a table and found one.  He set up the table on the floor and Matt wound up laid across.
At 15:00 Hangman Page ran out with a chair.  He and Tayor faced off in the ring.  Taylor punched the chair out of his hands but tumbled to the floor.  Page hit his top rope moonsault onto all four opponents.  Matt followed with one of his own.  Nick went up top and knocked them down again.  All eyes turned to Scurll, who begged off, but his partners cheered him off.  Bullet Club held up the heels in position.  Scurll went for it and landed a moonsault of his own!  He ran a lap around the ring and ran right through O'Ryan with a chair shot.
Bullet Club dumped all the heels into the crowd and went after them.  The eight men brawled among the fans as Hangman Page climbed to the balcony.  Huge moonsault from the third level into a mass of humanity.  That was insane.  Page came up grinning and posed with fans.  Back in the ring he attempted a Rite of Passage on Taylor but Taylor was too heavy.  The Bucks with dueling superkicks on Taylor, O'Ryan, Marseglia, and then Taven.  Quadruple superkicks to Taylor from all four BC members.  Taven broke up the first pin attempt.  Taven avoided a quadruple superkick and O'Ryan and Marseglia returned with chairs.   Page wound up on the table at ringside and took a swanton from Marseglia.  Taylor hit a top rope splash on Matt in the ring for two.  Taven dove over the top rope onto Scurll and the Bucks.  Taven and O'Ryan grabbed another table.  O'Ryan set up Matt on the table but Matt moved.  Page hit a running shooting star press off the apron into a Meltzer Driver on Taven on the floor.  Marseglia took the same from Nick and Scurll on the other side.
Scurll cracked O'Ryan's fingers back in the ring and went for the chicken wing.  The Bucks superkicked O'Ryan into Scurll, who kicked him back into the them, only for them to back drop O'Ryan over the top rope and through a table.  BC tried to set up Taylor on a table on the floor but the table gave out under the big man's weight.  Nick didn't care and and went for a 450 through the broken table anyway.  Page followed up with a Rite of Passage on O'Ryan in the ring for the win.
WINNERS: Bullet Club in 26:34.
(Pageot's Perspective: Wow.  That match was worth the price of admission alone.  Page and Scurll are being given the big star treatment this year and both are living up to everyone's already lofty expectations.  It's a shame SoCal Uncensored weren't able to make it as you know they would have put on a hell of a match as well but for The Kingdom and these eight men in general to be able to pull together a match this chaotic and this fun on such short notice is a testament to everyone involved.)
-The show abruptly cut to black as Bullet Club reconvened in the ring and the commentators were in mid-sentence discussing the results.
(Pageot's Perspective:  A very respectable showing for the first Honor Club event.  I had no technical issues on my end and they even addressed the blank screen intermission complaint I had made during Honor Reigns Supreme.  The abrupt ending of the show was odd, as it was last time, but overall this was a great first outing, especially grading on a curve with the uncontrollable weather-related changes.  As it stands only SoCal Uncensored and Alex Shelley missed the show due to the weather with Matt Taven, The Dawgs, and Cheeseburger stepping up and some shuffling of the deck.)
-This weekend on TV it's The Briscoes vs. Best Friends, Christopher Daniels vs. Hangman Page, and Punishment Martinez & Marty Scurll vs. Jay Lethal & Dalton Castle while next Friday it's the first pay-per-view of the year, ROH's 16th Anniversary Show.