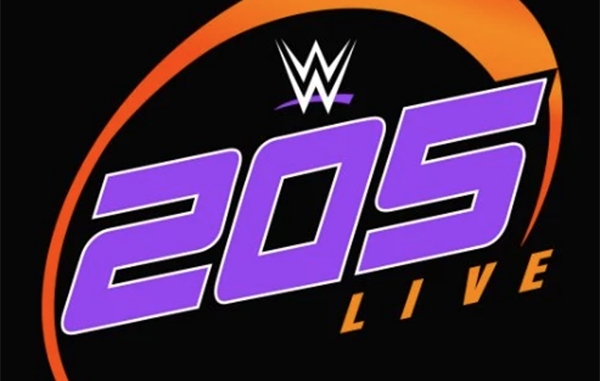 ---
SPOTLIGHTED PODCAST ALERT (YOUR ARTICLE BEGINS A FEW INCHES DOWN)...
---
WWE 205 LIVE
OCTOBER 10, 2018 ON WWE NETWORK
INDIANAPOLIS, IN
REPORT BY ZACK HEYDORN, PWTORCH CONTRIBUTOR
Announcers: Vic Joseph, Nigel McGuinness, and Percy Watson
-The show began with a recap video that highlighted Buddy Murphy's WWE Cruiserweight Championship victory at Super Show-down.
Heydorn's Analysis: Really nice video as always, but Maverick not narrating was an odd decision. Nothing major, but he lends a level of credibility that would have been smart to loop in as they highlight a monumental title change. 
-From there, the show open ran and the announce team welcomed the audience to the show. They touted a new era on 205 Live and discussed the new cruiserweight champion, Buddy Murphy. They also hyped the main event for the evening that pits Tony Nese against Cedric Alexander.
Heydorn's Analysis: The announce team is making the title change feel like a huge deal. In doing so, the cruiserweight championship is defined as the most important thing on the brand and something that everyone on the brand is striving toward. This type of definition with the championships gives the show a natural hierarchy. Simple stuff, but it works.
-When the announcers finished, Lio Rush's music hit and Rush walked out to a nice, 205 Live level, negative reaction. To keep consistent with his Raw storyline, Rush wore a Bobby Lashley shirt to the ring. Once Rush got to the ring, he continued to receive boos and addressed them on the microphone. He laughed them off and said that those boos mean it is the man of the hour time. He said that at any moment is a moment for him to make some famous. As the boos continued he said he was in Indianapolis to make someone famous. Rush said said that he knows the Indy crowd is used to watching fast cars drive around the track, but that nobody is faster than him. He then said he would give a lucky individual an opportunity of a lifetime to prove him wrong and answer his open challenge.
Heydorn's Analysis: Good promo from Rush and was one of the most engaging heel promos that we've seen in front of a live audience on 205 Live in sometime. Rush has an element of authenticity about him that draws people. It's not hard to believe that his character is actually the guy you'd meet at an airport. Good stuff. 
In response, the lucha chants rang throughout the arena and Lince Dorado appeared. He walked to the ring with a referee to officially answer Rush's challenge.
Heydorn's Analysis: Crowd seemed a bit disappointed in this reveal. Not because the match won't be good, but because with the "open challenge" story, WWE has trained the fans to expect someone out of the ordinary. Lince Dorado is anything but that. 
(1) LINCE DORADO vs. LIO RUSH
Once Dorado got to the ring, the match began. Out of the gate, Rush asked Dorado if he was ready and in response, Dorado started a lucha chant in the crowd. Both men then locked up. Dorado got the early upperhand, but both men proceeded exchange arm drags and dropkicks before meeting again in the middle of the ring. From there, both men exchanged strikes before Dorado connected with a hurricanrana and a dropkick. Out of that, Dorado connected with a tilt a whirl back breaker and tried for a cover, but Rush kicked out at two. After the kick out, the announce team discussed what his mask means to him and how he's changed since it was removed a few weeks ago.
Heydorn's Analysis: Discussing Dorado's match is foreshadowing TJP involvment at some point. TJP has been at war with the lucha culture and the announcers seem to be giving that story a little extra juice inside of this bout where that story doesn't fit. Really smart to lay that foundation now as gives credibility and consistency to Dorado's character. 
Right after the pin attempt, Dorado climbed to the top rope, but Rush knocked him off and out of the ring. Rush then connected with a hard suicide dive before beating him up around the ringside area. Eventually, Rush rolled him back into the ring and covered for a two count. From there, Rush kept the momentum in the match with strikes and punches on Dorado in the corner. Rush then raked the back of Dorado before nailing him with a suplex. Right after the suplex, Rush made the cover, but Dorado kicked out at two. Out of the pin, Rush locked in a back suplex as the audience did the lucha chant to will Dorado on. Dorado escaped the hold, but Rush combo'ed a series of strikes which took him back down to the mat. With Dorado down, Rush attempted to remove Dorado's mask. In response, Dorado battled out with strikes of his own, but Rush ended it with a stiff dropkick. As Rush went for a second dropkick, Dorado countered it and took over in the match. He crushed Rush with strikes, nailed a suplex, and then jumped to the top rope for a move. Seeing this, Rush stopped him, but Dorado ended up hitting a top rope cross body anyway. Dorado then attempted a pin, but Rush kicked out at two. Right out of the pin, Rush battled back with some beautiful roundhouse kicks and followed those with a 360 Impaler. Rush then covered again, but Dorado kicked out.
Heydorn's Analysis: Really cool move from Rush. So cool in fact that it felt like a finish and that the match should've ended right there. 
In the end, Dorado took momentum back and hit a beautiful springboard stunner on Rush. This caused Rush to roll out of the ring and Dorado proceeded to connect with a springboard splash. From there, he rolled Rush back in but the music of Mike Kanellis played over the arena speakers. Maria Kanellis walked onto the ramp and Mike attacked Dorado from behind and pushed him off of his perch on the top rope. This caused the referee to ring the bell for the match to end.
WINNER: Dorado via disqualification
-After the match, Kanellis beat Lince Dorado down and stood over him with Maria as his music played once again.
Heydorn's Analysis: Good match to start the show and the outcome protected both Dorado and Rush. As for Mike Kanellis, more talent on 205 Live is a good thing at this point. Right now, most guys have all worked with each other so it can get redundant at times. That said, eventually this show is going to need true star power and not leftover scraps from Raw dark segments. 
-The announce team cued up a selfie promo from the new cruiserweight champion, Buddy Murphy. In it, Murphy said that nobody can stop the unstoppable. He said that he proved that when he became the champion at Super Showdown. From there, Murphy said he wouldn't be at 205 Live tonight because he decided to stay in his hometown. He said he's the champion, that he'll do what he wants, when he wants, and that he'd return to 205 Live when he's ready.
Heydorn's Analysis: Leave the selfie style promo at the door, but the content in this was good. Murphy felt like the star of the show, but kept his heat by portraying arrogance. Short and sweet, but effective. 
-Cedric Alexander was shown backstage. He was confronted by Mustafa Ali who got a nice pop from the crowd. Ali asked him how he was holding up and Alexander said he was all good. Cedric then asked how Ali was and Ali said that Drake Maverick just told him he would face Hideo Itami again in two weeks in a falls count anywhere match. Alexander responded by saying Itami would be in for the fight of his life. Ali then started to walk off, but told Alexander that he could be making a mistake in taking on a match so soon after Australia. Ali said he was emotional and that the Nese match may not be the best idea because of it. Alexander stopped him and said he'd be fine. He said that he needs to get back in the ring and send a message to Murphy that he could hear all the way in Australia. Alexander then said he'd begin the process of getting his cruiserweight championship back.
Heydorn's Analysis: It seems like we're priming for some Cedric Alexander character development and it's about time. Alexander looked preoccupied and Ali played the concerned friend well. The outcome of this match with Nese will be interesting in that it will give some clues as to where the arch with Alexander is going.
-A commercial aired for NXT TV and the Triple Threat Match between Pete Dunne, Ricochet, and Adam Cole. From there, a commercial aired for WWE 2K19.
-Out of the commercial break, a recap video aired that detailed the events of last week between Drew Gulak and The Brian Kendrick. After the video, a pre-recorded promo aired from Drew Gulak and Jack Gallagher. They said that partnerships dissolving is a difficult process. Gulak said that addressing that as soon as it happens is important and that handling Kendrick was necessary. Gulak said that Kendrick lost his killer instinct and that he regretted not acting earlier. From there, Gulak said next week they'd take out another weakness in Akira Tozawa and continue on their road to make a better 205 Live.
Heydorn's Analysis: This is a good mid card story on the show. Gulak carries his segments well and when Kendrick inevitably shows up next week, he should get a nice reaction from the audience. For the most part, that reaction will come from the work that Gulak has done as a heel. He's on point and this story is churning along nicely because of it.
(2) TONY NESE vs. CEDRIC ALEXANDER
Right after the interview, Tony Nese walked to the ring to a small reaction from the audience. The announce team said that Nese felt that Alexander was weakened after his Australia match and that he wanted to take advantage of that as soon as he could. Alexander walked out next and got a good reaction from the crowd. As Cedric walked to the ring, the announce team discussed whether or not it was too early for him to jump back in the ring. Once Alexander got to the ring, the bell rang, and the match began. Right after the bell rang, the crowd chanted for Cedric and the two men tied up in the middle of the ring. Alexander quickly took over with a side head lock and as he did the announce team revealed that Nese called Alexander a fluke as champion.
Heydorn's Analysis: The announce team is doing a tremendous job in highlighting how this match came to be and why it's important and risky for Alexander to take. Really smart commentating and it's efficiently driving the Alexander story.
Back in the ring, Alexander took Nese down with a shoulder tackle and then attempted his spider hurricanrana. Nese countered that move and the two tied up again. This time, Nese quickly got the upperhand with a standing arm bar and followed that with a arm drag take down. From there, Alexander battled out, but got clocked in the face by an elbow from Nese. The two men then separated again and Nese posed to the crowd to a chorus of boos. In response, Alexander nailed Nese with a dropkick and followed that with stiff chops to the chest. He continued to beat up Nese and even pulled the air which prompted Vic Joseph to ask if Cedric saw Buddy Murphy when he beat up Murphy.
Heydorn's Analysis: More perfection from the announce team. Whoever is feeding those lines to Joseph deserves a promotion. Good stuff. 
Eventually, Nese pulled Alexander out of the ring which flattened him on the outside mats. Nese then beat up Alexander around the ringside area for a bit before tossing him back in the ring. It was all Nese from there and he connected with a series of strikes before Alexander battled back and connected with his spider hurricanrana. His momentum didn't last long as Nese decimated Cedric with a forearm to the face. Right after, Nese made the cover, but Alexander kicked out at two. Out of the pin, Nese locked in a back submission Alexander. After Cedric escaped, Nese hung him up on the ropes and attempted a moonsault, but Alexander countered by putting his knees up for protection. After, Alexander connected with a series of strikes and delivered a kick to Nese's knees. From there, Alexander hit a springboard clothesline which prompted Nese to roll out of the ring. Before Cedric could do anything, Nese rolled back in but was quickly discarded again by Alexander. This time, Alexander connected with his flipping moonsault and rolled Nese back in for a two count cover.
Heydorn's Analysis: I critique Alexander on his selling from time to time, but his facial expressions in this match are 100% on point. He's conveying anger, frustration, a lack of confidence, and doubt all at the same time. Well done. 
In the end, Alexander hit all of his signature moves on Nese, but each time Nese either kicked out or grabbed the ropes much to Alexander's chagrin. Alexander visibly looked frustrated during this and ended up getting into a small disagreement with the referee. In doing so, he was distracted with allowed Nese to connect with his offense and hit his 450 Splash off the top rope for the 1,2,3 win.
WINNER: Nese via pinfall
-After the match, Nese celebrated on the ramp as Alexander looked dejected and confused in the ring. From there, the show faded to black.
Heydorn's Analysis: A good match from a technical standpoint, but the storytelling was the major takeaway. Alexander is on a new path now. He appears to have lost his lost his way a little bit without his championship and now the audience gets to see him overcome. Reminds me of the Okada story in NJPW after he lost his IWGP Heavyweight Championship. This has legs and should carry the brand into the winter ahead of the build to whatever 205 Live as in store for WrestleMania. 
---
NOW CHECK OUT LAST WEEK'S REPORT: 10/3 WWE 205 Live Report: Final hype for Murphy vs. Alexander, TJP vs. Kalisto, Tozawa vs. Gallagher, and more