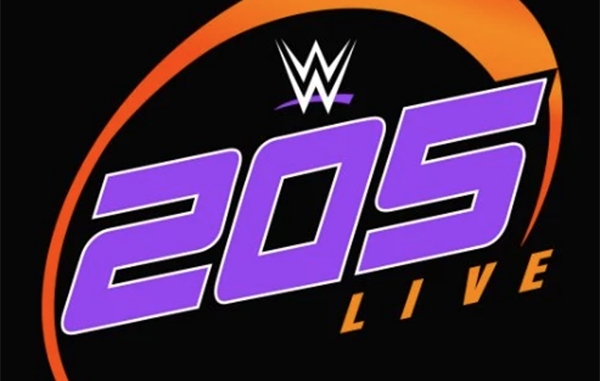 ---
SPOTLIGHTED PODCAST ALERT (YOUR ARTICLE BEGINS A FEW INCHES DOWN)...
---
WWE 205 LIVE
OCTOBER 31, 2018 ON WWE NETWORK
ATLANTA, GA
REPORT BY ZACK HEYDORN, PWTORCH CONTRIBUTOR
Announcers: Vic Joseph, Nigel McGuinness, and Percy Watson
-The show began with the standard 205 Live video package featuring Drake Maverick. He touted the 100th episode of the show last week and congratulated both Hideo Itami and Mustafa Ali for their Falls Count Anywhere match. He then ran down the matches of the evening. Those matches include The Brian Kendrick vs. Jack Gallagher and Mustafa Ali vs. Tony Nese with the winner earning a WWE Cruiserweight Championship match against Buddy Murphy.
Heydorn's Analysis: Standard stuff, but a good way to set the table for the show. Maverick continues to be great in his role as General Manager and these opening videos are one of the reasons why. 
-From there, the show open ran and the announce team welcomed the audience to the show. Vic Joseph wished everyone a Happy Halloween and as he did, Jack Gallagher made his entrance for match number one.
(1) JACK GALLAGHER w/ Drew Gulak vs. THE BRIAN KENDRICK
As Gallagher walked to the ring, the announce team debated who they thought would win the number one contender match later in the show. They then cued up highlights of Gulak and Gallagher turning on Kendrick a few weeks ago.
Heydorn's Analysis: This feud has flown under the radar a bit due to other stories on the brand taking precedent. Smart to play these highlights to remind the crowd of what the story is and why the match is happening. 
Kendrick hit the ring and got a decent reaction from the crowd on a 205 Live scale. The announcers talked Kendrick up and said he was on a mission to gain retribution and show no mercy. Once Kendrick got to the ring, the bell rang and the match began. As things got rolling in the ring, Drew Gulak joined the commentary team. Back in the ring, Kendrick kicked things off by decimating Gallagher with stiff forearm shots to the face. He then connected with a baseball slide on the outside of the ring. Eventually, the action spilled back into the ring after a Gulak distraction and Gallagher connected with a vertical suplex. After, he made the pin, but Kendrick kicked out at two.
Heydorn's Analysis: Very smooth opening sequence between these two. They seem to have chemistry together. In addition, it's obvious Kendrick as tweaked his style now that he is a babyface. The ferociousness of his offense is different than in weeks past and it's helping his character and this match greatly.
From there, Gallagher owned the match. He connected with various strikes and sprinkled in submission maneuvers between each one. Next, Gallagher nailed Kendrick with a sidewalk slam before making a cover for a two count. On commentary, Gulak said that he and Kendrick had a bond because they liked beating people up. Gulak said once Kendrick returned, he was weak. Back in the ring again, Gallagher continued to own the match until Kendrick connected with a boot to the face. He followed that with another forearm shot and then connected with a back body drop. From there, the men exchanged strikes in the middle of the ring until Kendrick hit a dropkick. After, Kendrick made the cover, but Gallagher kicked out at two. Out of the pin, Kendrick hit a suplex on Gallagher and covered again, but again, received a two count. Out of that pin, Kendrick locked in his Captain's Hook submission and after a few seconds Gallagher reached the ropes for a break.
Heydorn's Analysis: The Captain's Hook submission is a thing of beauty. Kendrick executes it to a "T" as well and can hit it from any angle. One of the better moves on the entire show and it doesn't get talked about enough. 
In the end, as Gulak was about to get involved, Akira Tozawa stopped him. With Gulak stopped by Tozawa, Kendrick hit Sliced Bread #2 for the 1,2,3 win.
WINNER: Kendrick via pinfall
Heydorn's Analysis: And so the story continues. I like the booking decision to have Kendrick go over. Too many times, babyfaces aren't able to get their proper retribution and it weakens them. Kendrick got his win here and they continued the story be involving Tozawa. This isn't main event level stuff, but solid mid card material for this brand. Well done. 
-After the match, Cedric Alexander was shown talking to Drake Maverick. Maverick thanked him for joining him and said that he owed him an explanation about tonight's main event. Cedric said he was surprised that he wasn't getting a rematch and Maverick responded by saying that he'd get it when Maverick said he was ready. Maverick said that because Alexander is on a three match losing streak, it would be unfair to put him in a title match right now with all the other talent on the show. Alexander said that he understood, but that he would get back on track. From there, he said when he gets back on track he wants his championship rematch.
Heydorn's Analysis: A good continuation of the Alexander story. Reminds me of what happened with Okada in NJPW. The loss has thrown Alexander for a loop and the audience now gets to go on the ride with him back to the top. It's simple, but effective. Good stuff.
-A commercial aired for NXT TV and WWE Crown Jewel.
-After the commercial break, Gran Metalik hit the ring with the Lucha House Party. Lince Dorado and Kalisto accompanied him the ramp. As Metalik walked to the ring, he talked about TJP and said he wasn't a man. Metalik then challenged TJP to a match.
(2) GRAN METALIK vs. LOCAL JOBBER
Once Metalik got to the ring, his opponent was waiting for him and the match started. As things got going, the announce team said that TJP turned down Metalik's challenge. In the ring, Metalik connected with a chop before laying in a dropkick. From there, he hit more offense, and finished the match up with his walking springboard elbow drop. Once he hit that, Metalik made the cover for the 1,2,3 win.
WINNER: Metalik via pinfall
-After the match, TJP attacked Gran Metalik from behind and removed Metalik's mask.
Heydorn's Analysis: Proper use of the squash match. Nothing more, nothing less. As for the post match angle, more good stuff. TJP is the true heel here and him removing yet another lucha mask got a good amount of heat from crowd. TJP is shining bright in this story and within the heel role. Top heel on the show is within his grasp if he wants it.
-Buddy Murphy and Tony Nese were shown walking backstage before being stopped for an interview. In the interview, Murphy said that next week he requested a match with the UK's best. He said he wanted to prove his dominance and show the world what happens when you are face to face with a juggernaut like him. He then said he would annihilate Mark Andrews. From there, Murphy was asked about his friend, Tony Nese, winning a title shot and his answer was "none of your business."
Heydorn's Analysis: Good delivery from Murphy, but laughable content. Mark Andrews is the  UK's best? The audience  knows that isn't true and it's a silly thing to try and fool them on. Just say he wants to beat up someone from the UK. Not only would that get more heat for him as a heel, but it would be true too.
-After the interview, Mustafa Ali was shown getting his injuries taped up ahead of his main event match with Tony Nese.
Heydorn's Analysis: Good consistency here. Ali was in a war last week and they are continuing that story here. Smart. 
-A commercial aired for WWE Custom Tees and for WWE Crown Jewel.
-Out of the commercial break, Mike and Maria Kanellis were interviewed. In it, Maria questioned the question and then grabbed the microphone for herself. From there, Maria interviewed Mike before they were interuppted by TJP who was ran through the shot. Mike told TJP that he was interrupting them and TJP responded by saying that "life isn't fair."
Heydorn's Analysis: Great line.
From there, TJP welcomed them to 205 Live and said he would show them the ropes. Instead, Maria told him to shut up and said TJP was crawling to Mike Kanellis or protection. TJP seemed to agree and the three of them walked off to talk business.
Heydorn's Analysis: That was pretty sloppy. TJP really didn't ask for protection at all. He simply was running through the shot. Period. A misstep and the type of misstep that doesn't happen much on this show.
(2) MUSTAFA ALI vs. TONY NESE – WWE Cruiserweight Championship Number One Contenders Match
Ali walked out first and got a really nice response from the crowd. Nese hit the ring next to some boos, but an overall weak reaction. He counted his abs as he walked to the ring and said those abs were the eight reasons why he would win the match. Once he got to the ring, the bell rang, and the match began. Both men circled each other to start things off. Eventually, Nese got the upper hand by slamming his shoulder into Ali's ribs. This caused tons of pain for Ali and Nese flexed after he hit the move which prompted a chorus of boos from the audience.
Heydorn's Analysis: Right out of the gate, both Ali and Nese had the crowd. They reacted to everything Nese did to get heat and then cheered for Ali during his fire ups. Good stuff and their engagement can certainly be traced to the fact that the audience is fresh and this is taking place before SmackDown. 
From there, Ali took over with a handful of dropkicks. The action then spilled to the outside of the ring where Tony Nese was able to takeover once again. He caught Ali in mid-air and then connected with a fall away slam on the steel ramp. After, Nese rolled Ali back into the ring and covered, but Ali kicked out at two. Out of the pin, Nese locked in a bear hug on Ali to work his ribs and the audience loudly clapped for Ali to escape. Ali finally escaped, but his momentum was halted due to stiff knee shots to Ali's ribs. After the the third knee, Nese covered again, but Ali kicked out at two. Out of that pin, Nese continued his offense until Ali jumped onto the top rope to hit his tornado DDT. Nese countered it and hit Ali with an overhead suplex instead. After, he went for a pin, but Ali kicked out at two. Immediatley following the pin attempt, Nese locked in a body scissors submission while punching Ali in the face.
Heydorn's Analysis: Tons of offense from Nese to start the match. It's a formulaic approach, but it works well. Especially with Ali since he's tremendous at selling and building sympathy for himself. 
To escape, Ali rolled Nese into a pin, but only got a two count. From there, Nese lifted Ali to his feet and chopped him back down to the mat with a strike to the chest. After, he gloated to the crowd and was booed. Eventually, Ali got the momentum of the match back after he reversed a Nese move off the top rope. From there, Ali used strikes of his own and targeted Nese's midsection. That momentum was short-lived for him as Nese took over again with a hangman on the top rope. From there, Nese went for a springboard clothesline, but it was countered by Ali. Ali then connected with a sit down powerbomb. Out of that move, Ali hit his rolling facebuster and followed that by tossing Nese out of the ring. After that, Ali connected with his over the the top rope flipping suicide dive. From there, the ref started his count which Ali broke at seven after rolling Nese back into the ring. Instead of going for the pin, Ali jumped to the top rope and connected with a cross body before covering for a two count.
Heydorn's Analysis: Ali is selling the ribs perfectly. Even when Nese isn't targeting them he's referencing them with his body language. Well done. 
Out of the pin, Nese and Ali exchanged kicks until Ali gained the upper hand with two consecutive super kicks. Ali then made the cover, but Nese kicked out at two.
Heydorn's Analysis: Very cool spot that popped the crowd. That is the kind of action that people need to think about when they hear "205 Live."
Right after the pin, Ali slid Nese over into Ali's 054 drop zone. As Ali climbed to the top rope, Nese knocked him off. From there, they battled, but Ali took over after connecting with his tornado DDT. After, he went for the cover on Nese, but only received a two count. At this point, the audience chanted Ali to rally him toward a victory. Hearing this, Ali climbed to the top rope for a move, but was stopped when Nese kicked him in the face. From there, Nese connected with a top rope rib breaker on Ali. Nese then covered and was visibly frustrated when he only received a count of two.
Heydorn's Analysis: More great selling by Ali, but the commentary on Ali being the heart of 205 Live doubled down on the sympathy card. It was well timed on the part of the announcers and enhanced Ali's selling of the move.
Nese used that frustration and decked Ali with a flurry of strikes in the corner. Nese then ripped off all of Ali's bandages before continuing his attack as the audience booed him loudly. From there, Ali rolled Nese up out of nowhere for the 1,2,3 win.
WINNER: Ali via pinfall
-After the match, Nese looked like he would try to attack an injured Ali, but Cedric Alexander ran out to make the presumptive save. He lifted Ali to his feet and put his arm around him as he did. The audience reacted to that arm with a gasp as it looked like Alexander was aggressively doing it to set Ali up for the Lumbar Check. Instead, Alexander just raised Ali's arm in the air and said he was one win away from the title. From there, Buddy Murphy hit the ring and stared Ali down from the ramp as the show faded to black.
Heydorn's Analysis: Really good A to B match from Nese and Ali. Nese was the aggressive heel and Ali sold the beating well to build sympathy as a babyface. Ali is great in that role and he showed why here. The Alexander/Ali spot was something else. Great timing and tremendous facial expressions by both Alexander and Ali. By the way Alexander looked at Ali, he made you believe a turn was in the cards. Tonight it wasn't, but the foundation has been set. As for the next championship match, Murphy and Ali have put on the best matches in the history of 205 Live. This one for the championship should be up there if not better than all of those. 
---
NOW CHECK OUT LAST WEEK'S REPORT: 10/24 WWE 205 Live Report: The 100th episode, Itami vs. Ali Falls Count Anywhere, Mike Kanellis debuts, and more