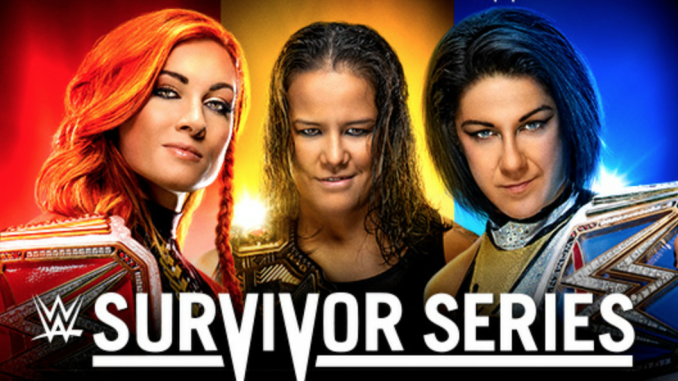 ---
SPOTLIGHTED PODCAST ALERT (YOUR ARTICLE BEGINS A FEW INCHES DOWN)...
---
WWE SURVIVOR SERIES PPV REPORT
NOVEMBER 24, 2019
CHICAGO, ILL. AT ALLSTATE ARENA
STREAMED ON WWE NETWORK
REPORT BY WADE KELLER, PWTORCH EDITOR
---
KICKOFF SHOW REPORT
For the results of the WWE Survivor Series two hour Kickoff Show, click here: 11/24 WWE SURVIVOR SERIES KICKOFF SHOW: Viking Raiders vs. Fish & O'Reilly vs. New Day, Tag Team Battle Royal, Lio Rush vs. Kalisto vs. Tozawa, interviews and panel discussion leading to main PPV
MAIN SHOW RESULTS
Announcers: Michael Cole, Jerry Lawler, Beth Phoenix
-A video package previewed the Survivor Series.
-Cole introduced the show as pyro blasted and the camera panned the crowd.
(1) TEAM SMACKDOWN (Sasha Banks & Carmella & Dana Brooke & Nikki Cross & Lacey Evans) vs. TEAM RAW (Charlotte & Sarah Logan & Natalya & Asuka & Kairi Sane) vs. TEAM NXT (Rhea Ripley & Bianca Belair & Io Shirai & Toni Storm & Candice LeRae)
Cole said to people just tuning in that there were three matches on the Kickoff Show, and Raw, Smackdown, and NXT each won one match. Cole noted that four of the women on Team NXT were in War Games last night and will be feeling it. The usual rapid-fire tags early with various dove match-ups. When Shirai and Sane locked up, Carmella tried to get their attention. They shoved her away and battled each other.
Dana climbed to the top rope a minute later and landed a moonsault senton onto Sane and Kai. She scored a two count on Sane. Lawler asked Phoenix, "What kind of pressure are these girls under in this match?" (I can't wait to hear him call the male wrestlers "boys" in the same context later.) He referred to them as "women" a minute later, so maybe someone mentioned it in his headsets.
Charlotte tagged in and rallied. Sasha then tagged in and helped clear the ring and and stood alone. The ref called for help from the back when Shirai and LeRae were down and didn't get up. Ripley checked in on her teammates. LeRae and Shirai were helped to the back. That left Team NXT with only three participants early.
ELIMINATED: Shirai and LeRae via injury.
Belair rolled up Nikki Cross to eliminate her.
ELIMINATED: Cross.
Logan leaped off the ring apron and took Storm and Ripley down with two flying knees. Back in the ring, Belair landed a top rope 450 splash on Logan for the three count.
ELIMINATED: Logan.
It was four-on-four-on-three at this point. Cole touted how impressive Belair was at this point in the match (which is generally a sign someone is about to be eliminated in a match like this.) Carmella kicked out of Charlotte attempt to powerbomb her off the second rope. She then took Charlotte down with a huracanrana for a two count. Carmella went for pins on Charlotte and Belair, screaming each time the wrestler kicked out. Charlotte then gave Carmella a Natural Selection for the elimination.
ELIMINATED: Carmella.
After an Insane Elbow by Sane on Storm, Sasha broke it up with a meteora and then pinned Sane.
ELIMINATED: Sane.
Asuka then kicked Brooke to score a three count.
ELIMINATED: Brooke.
Cole noted Team Smackdown was down to Sasha and Lacey. Asuka shoved Charlotte. Charlotte entered and shoved back. Phoenix said they have to get along if they're going to win. Charlotte shoved Asuka down. Asuka rolled to the floor. Lacey then went after Charlotte. Charlotte fired back with chops. Charlotte strutted. Asuka blew green mist in Charlotte's eyes. Asuka left.
ELIMINATED: Asuka by forfeit.
Evans then gave Charlotte her Woman's Right finisher for the 1-2-3.
ELIMINATED: Charlotte.
Natalya rolled up Lacey for a quick two count. Storn dropkicked Lacey, then Natalya clotheslined Storm. Natalya rolled up Lacey for a 1-2-3.
ELIMINATED: Lacey.
Storm, Belair, and Ripley had survived all of this and only had to beat Sasha and Storm from Team Smackdown and Natalya Raw respectively. Natalya put Storm in a sharpshooter. Sasha then applied a Bank Statement on Storm at the same time. Storm tapped out.
ELIMINATED: Storm.
Sasha and Natalya worked together to give Belair a Hart Attack clothesline for the win.
ELIMINATED: Belair.
It was down to Ripley, Natalya, and Sasha. Sasha and Natalya stood side-by-side and stared down Ripley. Ripley reluctantly entered, knowing she was outnumbered. Sasha then blindsided Natalya for the pin.
ELIMINATED: Natalya.
Banks scored a believable near fall after a meteora on Ripley a couple minutes later. She leaped off the top rope next, but Ripley caught her with a boot and scored a two count. Ripley then put Sasha in a standing leg submission. Sasha escaped and then quickly applied her Bank Statement mid-ring. Ripley almost reached the bottom rope, but Sasha shifted and locked it on again. Shirai and LeRae came back to ringside. They yanked Ripley out of the ring to safety. Fans booed. Sasha slidekicked them. Ripley then drove Banks into the ringside barricade.
Back in the ring, Sasha blocked the Riptide. Shirai grabbed Sasha as LeRae distracted the ref. Shirai then springboard dropkicked Banks. Ripley then gave Sasha the Riptide for the win. Lawler complained about the cheating. Beth said they came to win it and they did it, and she's stoked
WINNERS: Team NXT in 28:00. (***1/2)
(Keller's Analysis: Good action throughout. The crowd was happy to see Team NXT win, but they didn't like how they did it with Ripley needing help from Shirai and LeRae at the end. Did WWE expect fans to cheer? I don't get the psychology of positioning Sasha as a sympathetic character outnumbered when she is the heel in that entire scenario. They were trying to protect Sasha from a clean loss, but there were many other options that would have given fans a clear conscience cheering the method of victory for Ripley & Co.)
-They went to the announcers at ringside who commented on highlights of Kevin Owens arriving at NXT Takeover last night.
-Backstage Seth Rollins approached KO and asked, based on his history, where does his loyalty lie. He said the whole world saw what he did last night. KO said last night was about getting revenge on Undisputed Era for what they did to him on Raw. He said he loves NXT, but NXT doesn't need him, whereas Raw does. He said tonight he's Team Raw. He put on a Raw wristband. KO asked Seth if he has to remind him of his history, showing he didn't think Seth was someone who could just someone's loyalty.
(2) SHINSUKE NAKAMURA (w/Sami Zayn) vs. RODERICK STRONG vs. A.J. STYLES – U.S. Champ vs. North American Champion vs. Intercontinental Champion
Styles came back and set up a Styles Clash on Nakaura Strong broke it up with a running big boot to the back of Styles's head. Sami pulled Nakamura to safety. Cole and Nigel noted the no-DQ rules of a triple threat. Strong gave Styles a double underhook powerbomb into a leveraged pin for a near fall. Nakamura re-entered the ring to try to powerbomb Strong and Styles as they set up a superplex. They knocked him down. Styles lifted Strong onto his shoulders and almost fell over. Nakamura then leaped off the top rope with a flying sidekick. He landed on Strong's left knee. Everyone was down and slow to get up. Nakamura covered Strong. Styles broke it up.
Nakamura waited for Strong to stand and signaled for the kinshasa, but Styles pulled his leg. Sami shoved Styles into the ringpost. Strong then gave Nakamura a running knee for a two count. Lawler said Raw was getting cheated at every turn. Cole asked if that knee was Strong's "last opportunity to win." (Why would that be? That felt random.) Nakamura then gave Strong a Go To Sleep. That sparked a "C.M. Punk!" chant. Nakamura signaled for the kinshasa, but Styles broke it up with a flying forearm. Nakamura kicked Styles. Strong kicked Nakamura. Styles avoided a Strong knee and then backlisted Strong. Nakamura gave Styles a backbreaker. Nakamura backdropped Strong onto the face of Styles. Nakamura then gave Strong a kinshasa for a near fall, broken up by Styles.
Styles and Nakamura stood opposite of each other and broke into rapid-fire offense. Cole noted their history dating back to their time in Japan. Nakamura gave Styles a flying knee off the second rope and then a Death Valley Driver for a near fall. Styles came back a minute later with a Phenomenal Forearm. Strong entered and threw Styles out of the ring, then covered Nakamura for the win before Sami could break it up.
WINNER: Strong in 17:00. (****)
(Keller's Analysis: Really good match start to finish. What'd you expect out of these three. One of Nakamura's better WWE matches, period. Good to see NXT getting a couple wins early, although both were very cheap although technically within the rules.)
-Backstage Miz gave Daniel Bryan a pep talk. He said for their sakes and their families' sakes, he needs to put a stop to The Fiend. Bryan turned and told Miz to get out of his face. Miz walked away unhappy.
-Several commercials aired.
(3) ADAM COLE vs. PETE DUNNE – NXT Championship match
Cole said Mauro was so emotional and passionate last night, he blew his voice out, so Cole would be calling this match along with Nigel and Phoenix. They said he'd be back this Wednesday on USA Network. (Mauro deleted his Twitter account since Takeover last night. It came shortly after Corey Graves was critical of Mauro's announcing of NXT Takeover.nh)
https://twitter.com/WWEGraves/status/1198414519556562944
Dunne focused on Cole's limbs early. He stomped on Cole's elbow against the top of the ringside steps. back in the ring, Cole kicked away at Dunne's leg to take control. Dunne came back and concentrated on Cole's taped ribs. Dunne flew off the top rope with a moonsault onto Cole at ringside. Back in the ring, he continued on the attack and went for a top rope moonsault, but Cole lifted his knees. Then he gave Dunne a Last Shot for a near fall. Dunne came back by avoiding a Panama Sunrise. Cole came right back with an Ushigaroshi for a two count. Dunne came back with an armbar attempt, but Cole leveraged Dunne's shoulders down. Dunne then hit the Bitter End. As Cole declared "new NXT Champion!" Cole kicked out at two.
A minute later, Cole kicked Dunne out of mid-air on a moonsault attempt and scored a near fall. Both were slow to get up. Fans applauded the match so far. A "This is awesome!" chant broke out. Nigel tried to sneak in a plug for NXT on USA on Wednesdays, although a Dunne near fall cut it short. Cole gave Dunne a Panama Sunrise on the ring apron. They cut to some great crowd reaction shots. Cole returned to the ring. When Dunne entered to beat the countout, Cole immediately caught him with a superkick to the face for a believable near fall. Dunne reached for his mouthpiece. Cole stepped on his hand. Dunne reached for Cole's fingers and snapped. Dunne then went for a move, but Cole countered with Panama Sunrise and landed a Last Shot for the win. Cole talked about how impressed he has been with NXT athletes tonight.
WINNER: Cole in 14:00 to retain the NXT Title. (****1/4)
(Keller's Analysis: Again, no surprise on this stage those two delivered a match that good.)
(4) "THE FIEND" BRAY WYATT vs. DANIEL BRYAN – WWE Universal Title match
Bryan made his ring entrance first. Fans seemed to be eager to see Fiend's entrance. The "Firefly Funhouse" jingle played, then the sound effects followed by the remix of the Bray Wyatt entrance theme. Fiend walked to the ring with the severed head lantern.
The bell rang and Bryan charged at Fiend with a running dropkick and then Yes kicks. Fiend cut him off with a hard clothesline. The arena was flooded in red lighting. Fiend threw Bryan hard into the ringpost a minute later. Then he landed a running senton splash. Fiend settled into a mid-ring nerve hold. The crowd grew quiet and, in a way, this gave them a chance to recover from hours of nearly non-stop action so far. Bryan leaped through the ropes to try to spear Fiend, but Fiend caught him mid-air and went for Sister Abigail. Bryan escaped and shoved Fiend into the ringpost. Then he landed a flying knee. Back in the ring Bryan hit a flying dropkick off the top rope. Bryan played to the crowd and fans began chanting "Yes! Yes!" Bryan threw Yes kicks to a kneeling Fiend's chest. Fiend slumped, then sat up. Bryan went back to more kicks. Fiend slumped, then sat back up and appeared to be laughing. Bryan threw another series of Yes kicks. Fiend slumped again, then rolled onto his back. Bryan stomped away at Fiend's head while pulling up on his arms. Bryan played to loud "Yes!" chants. He delivered a running knee to Fiend for a near fall.
Bryan sat on the top rope. Fiend immediately applied a Mandible Claw. Bryan broke free and leaped at Fiend, but Fiend punched him and then set up Sister Abigail. Bryan countered with a rollup for a near fall. Fiend then caught Bryan with a Mandible Claw and pressed his shoulders down. 1-2-3.
WINNER: Fiend to retain the Universal Title. (**3/4)
(Keller's Analysis: That worked well enough. While Fiend showed a level of resilience above normal, it wasn't cartoonishly over-the-top like at Hell in a Cell. Bryan was great here getting the fans on his side even more as the match progressed. The Fiend played his character really well with the body language. Even the selling of moves before recovering from them in and of itself is a key to his gimmick working.)
-Backstage, Sarah Schreiber interviewed Rey Mysterio about facing Brock Lesnar later. He said tonight will be an evolved Mysterio, thanks to the love of his son Dominic. He said he will do things to Brock he has never done before. He said he hopes Dominic is watching up close as he swings the steel pipe at Brock.
-Commercials aired.
(5) TEAM RAW (Seth Rollins & Ricochet & Randy Orton & Drew McIntyre & Kevin Owens) vs. TEAM SMACKDOWN (Roman Reigns & Mustafa Ali & Shorty G & Kin Corbin & Braun Strowman) vs. TEAM NXT (Tomasso Ciampa & Matt Riddle & Walter & Keith Lee & Damien Priest)
Announcers: Vic Joseph, Nigel McGuinness, Corey Graves
Nigel acknowledged a "Walter! Walter!" chant before the bell. He said it's an odd chant that shows what a family affair WWE is. (What?) Drew tagged in against Braun early, and then Walter tagged himself in. Fans chanted "Walter!" again. The three big guys battled, first teaming up with stomps against Braun in the corner. Walter and Drew then exchanged chops. Walter go the better of Drew. Braun then hit Walter. Walter gave Drew a German suplex and then set it up for Braun. Bryan blocked it and elbowed out of it. Walter dropkicked Braun. Drew then gave Walter a Claymore Kick and got the 1-2-3. Fans booed that finish.
ELIMINATION: Walter (NXT).
Priest entered against Drew and Braun. He sidestepped a charging Braun. Shorty G then tagged in and moonsaulted Priest. Ricochet tagged in and went to work against Shorty. Nice exchanges between them. Shortly gave Ricochet a nasty looking German suplex onto his head and shoulder. Riddle tagged in against Shorty G. They wrestled each other. Riddle applied an anklelock. Shorty escaped and put Riddle in the same hold. Riddle escaped and went for a kick. Shorty ducked. They stopped and stared at each other and fans cheered.
Ciampa went after Shorty G. Ricochet then gave them both kicks on a flip off the ropes. Ricochet tagged in KO. KO had two choices, and he aimed for Short G and got a three count. Graves said KO is loyal to NXT and he even kissed the logo as he left Takeover last night.
ELIMINATION: Shorty G (SD).
Corbin and Reigns argued. KO superkicked Reigns, who dropped to the floor. Corbin then went after KO, but KO went for a stunner. Corbin rolled to the floor. KO superkicked Corbin and then gave Reigns a cannonball on the floor. KO then gave Corbin a Stunner. He threw him back into the ring. CIampa cut off KO with a draping DDT off the middle rope for a 1-2-3.
ELIMINATION: Owens (Raw).
As Ciampa and Riddle celebrated, Orton approached Ciampa from behind. Ciampa turned in time. They stared each other down and circled each other. Orton tried for an RKO, but Ciampa blocked it and knocked Orton to the floor. Then he went for a draping DDT off the middle rope, but Orton blocked it and then yanked him to the floor. Orton dropped Ciampa back-first over the ring apron. Orton struck a post in the ring. Ciampa tagged in Priest, but Orton gave Ciampa a DDT. Priest went for a Reckoning on Orton, but Orton blocked it and hit an RKO for the three count.
ELIMINATION: Priest (NXT)
Riddle then entered. Orton avoided his running knee. Riddle avoided his high knee. Riddle then rolled up Orton for a 1-2-3. Riddle celebrated that big moment.
ELIMINATION: Orton (Raw)
Orton gave Riddle an RKO from behind before leaving. Corbin snuck in and pinned Riddle.
ELIMINATION: Riddle (NXT)
Lee entered next. Corbin tagged out to Strowman. Strowman stared at Lee in anticipation of this battle of big men. Fans began singing "Bask in his Glory!" Drew headbutted them. Strowman clotheslined Drew. Braun knocked Ricochet off the ring apron. Braun signaled for his running a lap. He checked Ciampa, Ali, Ricochet, and Drew. He signalled for it again. He collided mid-air with Lee. Both went down. Drew then gave Braun a Claymore Kick. The ref count reached ten and Strowman was counted out.
ELIMINATION: Strowman (SD)
Ricochet rallied against Corbin in the ring. Then he landed a flip dive onto Reigns on the floor. Next he leaped off the top rope and went for a flip, but Lee moved so he landed on his feet. Corbin then gave him a quick End of Days for the three count.
ELIMINATION: Ricochet (Raw)
Ali rallied. Seth entered, too. They were both fresh and picked up the pace. Ciampa was also in the ring. Ali knocked him out of the ring. Ali landed his tornado DDT on Seth and then dove at Corbin, Seth, and Ciampa on the floor near the announce desk. Ali kicked Ciampa on the floor. Corbin yanked Ali out of the ring and yelled at him. "What are you doing?" he yelled. Ali slapped his hand out of his face, then entered the ring. Seth superkicked Ali for the 1-2-3. Graves sad Ali disrespected the general.
ELIMINATION: Ali.
As Reigns and Corbin argued, Drew went on the attack against Ciampa in the ring. A brief "C.M. Punk" chant broke out. Drew catapulted Ciampa with an inverted Alabama Slam for a near fall. Reigns entered the ring and caught Drew with a spear for the 1-2-3. Seth rolled up Reigns for a near fall. Seth kicked Reigns and then went for his dive through the ropes. Reigns punched him out of mid-air. Reigns then hit the Drive By. Ciampa surprised Reigns with a Widow's Bell. He set up Fairy Tale Ending, but Reigns escaped and hit a Superman Punch. Both were down and slow to get up. Lee and Corbin were in different corners ready for a tag. Seth was alone for Raw at this point. Corbin knocked Lee off the ring apron. He turned back to stop on Camp and then tag himself in official by slapping Reigns's hand. He trash-talked Reigns a bit. Fans chanted "STD!" Ciampa avoided a Corbin attempt at End of Days. Reigns then gave Corbin a sudden spear. Ciampa and Reigns stared at each other, then Ciampa covered Corbin as Reigns watched.
ELIMINATION: Corbin (SD)
Seth, Reigns, and Ciampa circled in the ring. Lee was also left for Team NXT. The three battled. When Seth and Reigns beat up Ciampa, Lee entered. Reigns and Seth knocked him out of the ring. Seth threw Ciampa to the floor, then turned back to Reigns. Seth and Reigns agreed to work together. They went to ringside and cleared an announce table for Shield-style powerbomb of Ciampa. Seth set up Ciampa. Fans booed. Reigns let out a big yell. Then Reigns lifted Ciampa, but Lee charged into them and knocked them down. Lee then set up Reigns for a move through the table, but Reigns powered Lee into the ringside steps instead.
Back in the ring, Ciampa gave Seth a running knee to the head. Then he hit Project Ciampa for a near fall. Ciampa avoided a Stomp from Seth and set up Fairy Tale Ending. Reigns hit Ciampa with a Superman Punch. Seth hit the Stomp for the three count.
ELIMINATION: Ciampa (NXT)
So it was down to Lee, Seth, and Reigns representing their respective teams. Lee attacked both Seth and Reigns aggressively and the crowd ate it up. Lee went for a Death Valley Driver, but Seth landed on his feet. Seth kicked Lee and landed a frog splash for a near fall. An "NXT!" chant started. Seth stomped the mat and played up a stomp, but Lee lifted him up as he charged and landed a jackhammer for the three count.
ELIMINATION: Rollins (Raw).
It was down to Lee and Reigns. They milked the moment as Reigns slowly entered the ring. Fans sang Lee's song. Reigns ducked a jump spin wheel kick, then hit two Superman Punches for a two count. Reigns sat up and thought it was three. Graves thought it was three, too. He demanded a replay. Reigns then waited for Lee to stand and signaled for the spear. Lee eventually sat up and then stood, but still looked groggy. Lee caught a charging Reigns with a sitout powerbomb for a believable near fall. Lee quickly followed up with a second rope moonsualt attempt. Reigns moved and speared Lee and got the three count.
ELIMINATION: Lee.
WINNER: Team Smackdown in 30:00. (****)
(Keller's Analysis: Really good match, tons of big moments milked really well. A little bummed they had Priest lose the way he did, but the Riddle win seconds later offset that somewhat even though it was just a roll-up. Giving Lee the spotlight at the end is a strong indication Vince McMahon is really high on him right now. Pinning Seth, almost beating Reigns, and having the moment of respect with Reigns is christening him a star in for a big push. The crowd was into this start to finish, and really loved Lee. They were partial toward NXT wrestlers in almost every instance.)
-After the match, they showed the scorecard with Smackdown at 2 points, Raw at 1 point, and NXT at 3 points. Then Reigns nodded over at Lee, signaling respect was earned. Lee walked over and bowed to Reigns. Reigns offered a fist bump. Lee fist bumped back. The music shifted to Reigns and some boos broke out.
-In a backstage interview, Becky Lynch talked about collecting a debt against Bayley for her attacks.
-Commercials aired.
(6) BROCK LESNAR (w/Paul Heyman) vs. REY MYSTERIO – WWE Title match
When the bell rang, Rey immediately leaped out of the ring and grabbed a lead pipe from under the ring. Lesnar jumped out of the ring and backed off, selling his concern for the impact of the lead pipe as a weapon. When Lesnar entered the ring, he knocked Rey down. Rey held onto the pipe. Rey kept holding on despite two hard clotheslines. He finally lost it after a third. Lesnar threw Rey out of the ring. Rey slid and belly flopped on the floor.
Lesnar methodically beat up Rey, including giving him a German suplex onto the pipe. HE delivered another German suplex. Lawler said as much as they were hoping for a miracle, it's looking like a massacre. Two more German suplexes. Lesnar picked up the pipe. Dominic entered therein with a white towel and begged Brock to stop. Lesnar yanked the towel from him and looked down on him with the pipe. He grabbed Dominic. Rey gave Lesnar a low blow from behind. Dominic then gave Lesnar a low-blow, too. Rey then hit Lesnar with the pipe in the gut, then across his back twice. Dominic entered with a chair and bashed Lesnar with it. Lesnar was in position for a 619. Rey and Dominic hit stereo 619s. Dominic then leaped off the top rope with a frog splash. Rey followed with his own frog splash. Dominic got on Rey's back as he covered Brock. Brock still powered out at two. Heyman was wide-eyed and worried at ringside. Rey and Dominic then climbed opposite corners. Lesnar gave Dominic a German off the ropes, then caught Rey mid-air and gave him an F5 for the pin.
WINNER: Lesnar in 7:00 to retain the WWE Title.
(Keller's Analysis: Not a traditional wrestling match, but well done for the story they were telling. The help of Dominic with the low blows and double-teaming did make a "miracle" finish seem plausible for a few seconds there. Not exactly the "massacre" Heyman promised, though. Just a win after an F5.)
-A commercial aired for Steve Austin's "Broken Skull Chronicles" immediately after Survivor Series.
-A video package set the stage for the main event.
(7) SHAYNA BASZLER vs. BECKY LYNCH vs. BAYLEY – NXT Champ vs. Raw Champ vs. Smackdown Champ
The bell rang just over three three hours into the PPV itself. So over five hours now for those who arrived in time for the Kickoff Show. They fought at ringside early when Baszler and Bayley rolled to the floor. Becky leaped at both of them and kicked Bayley. She threw Bayley back into the ring and went on the attack as Baszler sold at ringside. When Bayley sunset bombed Becky into the corner, Graves thought it backfired on Bayley, but Bayley was fine and went for the pin. Baszler broke it up and then threw Bayley into the middle turnbuckle.
Baszler turned to Becky and was going to stomp on her elbow when Bayley broke it up. Becky rolled to the floor. Baszler and Bayley battled. Becky re-entered a minute later. Bayley rammed Becky's face into the mat several times and scored a two count. Graves said Bayley perceived she's been overlooked and a win here could be a statement she's been looking to make. When Bayley covered Becky, Baszler from ringside broke up the cover. Becky took down both opponents and scored a near fall on Bayley. She climbed to the top rope and landed a legdrop on Bayley, but Baszler broke up the cover at one.
When Becky threw Baszler out of the ring, Bayley attacked her from behind. Becky applied a Disarm Her. Baszler broke it up and then gave Becky a gut-wrench suplex. Bayley gave Baszler a running knee and scored a near fall. They continued to battle for several more minutes at the same pace, trading off who was paired off. Becky eventually applied the Disarm Her. Baszler escaped and applied sleeper. Bayley charged. Baszler backdropped her to the floor. Bailey yanked Baszler by her legs to the floor. Baszler got the better of Bayley and then Becky at ringside. Bayley went for a top rope elbow a few minutes later. Baszler avoided it and applied the Kirafuda Clutch for the tapout win. "What a night for NXT as they win Survivor Series!" said Cole.
WINNER: Baszler via tapout in 22:00.
(Keller's Analysis: Did Vince McMahon sense some momentum after NXT beat AEW in ratings and viewership last week, so he decided to get really behind them tonight, or would this have happened just like this anyway? It wouldn't have meant much of anything if Raw or Smackdown "won Survivor Series," but it probably makes a measurably difference in terms of perception of the brand that could be reflected in ratings in coming weeks that NXT won tonight on the scorecard 4-2-1.)
-As Baszler's music played, she celebrated on the announce table. Becky popped up from the floor and swept her, then slammed her on the table. She followed with a leaping double legdrop on the table. Becky held up her Raw Title as her music played. Cole said Baszler didn't beat Becky, and Becky just reminded her that she's still The Man around there.
FINAL THOUGHTS: A really good show overall. The hype was a mess at times, but it always looked like a potential good show on paper with some chances to elevate or create stars, and also damage or undercut emerging stars. It was mostly on the positive side of that ledger.