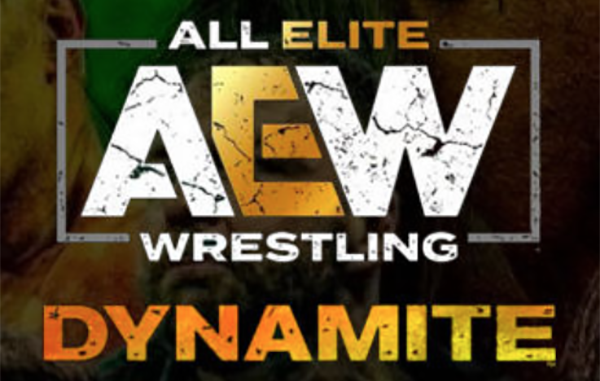 ---
SPOTLIGHTED PODCAST ALERT (YOUR ARTICLE BEGINS A FEW INCHES DOWN)...
---
KELLER'S AEW DYNAMITE REPORT
JUNE 29, 2022
DETROIT, MICH. AT LITTLE CAESARS ARENA
AIRED LIVE ON TBS
Commentators: Excalibur, Taz, Tony Schiavone, Jim Ross

Ring Announcer: Justin Roberts
---
[HOUR ONE]
-The Dynamite opening aired. Then Excalibur introduced the show (not Jim Ross) as pyro blasted. He hyped the Blood & Guts main event and said Jim Ross will join them for that one. Tony Schiavone hyped Jade Cargill vs. Leila Grey. Excalibur hyped Max Caster & The Gunn Club vs. Danhausen & mystery partners. Schiavone hyped Christian Cage having something to say.
(1) ORANGE CASSIDY vs. ETHAN PAGE (w/Dan Lambert)
Cassidy came out to a new entrance theme "Jane" by Jefferson Starship, accompanied by Trent Beretta and Chuck Taylor. (Great song for a wrestling entrance theme.) As the announcers touted Will Ospreay vs. Cassidy, Schiavone said he thinks it was a five-star match, "if you believe in that five-star ratings system." Lambert took some digs at Cassidy being lazy and too small to compete against a real heavyweight like Ethan, then Lambert told the referee that the Michigan Athletic Commission has rules and regulations, "and because this isn't an election, we're going to follow them." (Funny.) He said Beretta and Taylor don't have valid manager licenses, so they have to leave. The ref ordered them to the back. Fans chanted, "Shut the f— up!" at Lambert. Then they chanted "Bullshit!" as they returned to the back. Taz said it's the right move by the referee. Red… hot… crowd.
Ethan put Cassidy's hands in his pants. Cassidy acted trapped as Ethan suplexed him. Ethan then flexed. Lambert did some slo-mo kicks on Cassidy. Taz said, "That's kinda funny." They cut to a split-screen break at 5:00. [c/ss]
Ethan controlled the action during the break. Back from the break, Excalibur noted this was the first Dynamite in Detroit. As Ethan set up an Razor's Edge, Cassidy broke free by putting his hands in his pockets. He made a big production of it and the crowd was into it the whole way. Cassidy rallied, but Lambert yanked on his boot as he climbed to the top rope as Ethan distracted the ref with a fake knee injury. Ethan then knocked Cassidy off balance on the top rope and powerslammed him for a near fall. Lambert yelled, "Finish this guy! He looks like he's 12 years old!" Ethan also looked frustrated, but then taunted the crowd. Cassidy countered Ethan with a Stun Dog Millionaire. Cassidy fired up and played to the crowd. He went for a bodyslam, but Ethan blocked it. Cassidy countered with a spinning DDT for a near fall himself. Cassidy showed frustration. Schiavone said Cassidy looked angry and he's never seen him angry.
Lambert stood on the ring apron. Cassidy slow-slapped Lambert, who just was disgusted by his antics. Cassidy wound up for a punch, so Lambert ducked. "This is so freakin' cool," said Schiavone. Cassidy took an orange juice bottle from Lambert and drank from it. He fended off Ethan with an Orange Crush and then sprayed the juice in Lambert's face. Then he finished Ethan with a bodyslam. Taz said, "Fourth time's the charm!" Cassidy posed with Taylor and Beretta afterward leading to Excalibur shouting, "You've got to give the people what they want!"
WINNER: Cassidy in 12:00.
(Keller's Analysis: The crowd ate up what Cassidy did start to finish. For me, it was a little too cute at times, including the bodyslam as a finisher. Cassidy's new theme song is going to get me back into Jefferson Airplane/Starship's library.) [c]

-Schiavone stood on the ramp and introduced Christian Cage. Excalibur said Christian's betrayal of Jungle Boy was despicable. Taz agreed. Schiavone said he's not sure what more Christian could say that he hasn't already said. Fans booed as Christian began talking. He asked fans to give him a second to talk. He said upper management asked him to apologize for what he said about JB last week, in particular about his father. Christian said he's never apologized for anything. He said he is sorry JB's entire family isn't gone and they had to witness what he did to him two weeks ago. He clarified that he wanted everyone dead other than his mom. He then signaled for JB's mom to call him. He said the only thing the Motor City Sweathogs have going for them is living so near the Canadian border.
Christian said he's in street clothes because when he requested a match, he never said it was for him. Out came Luchasaurus. The announcers were stunned. Excalibur said Luchasaurus has known JB since he was eight years old.
(2) LUCHASAURUS (w/Christian) vs. SERPENTICO
Luchasaurus headbutted Serpentico and then tossed him around the ring. He then finished him with a nerve hold. After the match, he dragged Serpentico to the floor and chokeslammed him.
WINNER: Luchasaurus in 20 seconds.
(Keller's Analysis: I actually like this out-of-nowhere heel turn for Luchasaurus. His act was always one dimensional and got stale. This refreshes him in a way where he might end up more relevant.)
-Backstage, Schiavone moderated a Scorpio Sky and Wardlow "face to face" segment. Sky said he's not security guard, he's the TNT Champion. He reminded Wardlow that he got laid out the last time he came after him and he pinned him "no questions asked." (Huh?) Schiavone said there was assistance. Wardlow told him to bring every member of American Top Team and he will treat them all like security guards, and then he'll finish him off and take his title. Sky challenged him to a title match next week in a street fight.
(Keller's Analysis: Not great, not bad. But I'm glad they did this segment to build up the match next week. Wardlow came across as if he felt that Sky's nonsense was hardly worth him getting worked up about and came across as supremely confident and above it all. Sky's syntax was a little weird, but I think he was effective at making viewers want to see Wardlow beat him up.)
(3) MAX CASTER & AUSTIN GUNN & COLTEN GUNN (w/Anthony Bowens) vs. DANHAUSEN & FTR (Cash Wheeler & Dax Harwood)
Max rapped his way to the ring. One line said he's going to make them drink all the water in Flint. Bowens in his wheelchair said The Acclaimed have arrived, then said, "Scissors me, baby!" Danhausen then made his ring entrance. He was announced as weighing over 300 pounds and "is very nice and is very evil." Danhausen said he thinks he found some people who are pretty good at wrestling to be his partners. Out came FTR to a big pop. They cut to a worried looking Bowens. A loud "FTR" chant broke out as the bell rang.
Excalibur called the Gunn Brothers "scatterbrained" because they left their partner Max Caster out to dry during their match at the Buy In. Fans loudly chanted "Ass Boys!" After Caster interfered, Colten took Danhausen down with hard clothesline. They cut to a split screen break. [c/ss]
Dax tagged in and rallied against Austin. Austin came back with a neckbreaker. Both were down and slow to get up. Danhausen tagged back in. When he lifted Austin on his shoulders. Bowens entered with his crutch, revealing he doesn't need the wheelchair. He jabbed at Danhausen, but Danhausen ducked so the crutch hit Austin. Danhansen scored the pin. The crowd popped.
FTR destroyed Bowens' wheelchair afterward. Billy Gunn got on Austin's case. He shoved him down and then sided with The Acclaimed.
WINNERS: Danhausen & FTR in 9:00.
-A produced promo aired with Sonjay Dutt, Jay Lethal, and Satnum Singh talking about the Lethal vs. Samoa Joe feud.
(3) JADE CARGILL (w/Stokely Hathaway, Keira Hogan) vs. LEILA GREY – TBS Title match
Excalibur said Grey has what's called "a puncher's chance." Jade overpowered Grey early. Grey rolled up Jade after Jade stopped her attack to trash talk. Jade countered a bulldog and then landed a big boot and her Jaded finisher for the win.
WINNER: Jade in 2:00 to retain the TBS Title.
-After the match, Jade told Stokely to get her real competition next time. Stokely said when Jade issued an open challenge, a woman who hadn't filled out her AEW W-2 yet answered the challenge. He said Athena and Kris Statlander "aren't overlooked, you're just lazy." They ran out at full speed. Jade tried to throw a pump kick, but missed. Athena knocked down Keira Hogan, then climbed to the top rope. Grey shoved Athena off the top rope. Stokely had whispered something to her. Taz said Stokely is a smart man and inspired Grey to help them. When Grey extended her hand to Stokely, Jade smacked it down to prevent a handshake.
-Excalibur threw to a plug for the AEW return to Arthur Ashe Stadium in New York. [c]
-Backstage, the Young Bucks talked about being the first ever two-time AEW Tag Team Champions, but they're still not happy. He said Kyle O'Reilly, Bobby Fish, and Adam Cole are all out injured. Nick Jackson said they don't have anyone they relate to. Matt Jackson said they have no friends. They said an intern Fred, not Brandon Cutler, is filming them this week. Matt said he heard Yoshi-Hashi & Hirooki Goto want a shot at their belts. He said they can get them on Friday's Rampage.
-They went to Excalibur and Taz who hyped up Blood & Guts. Then Jim Ross walked out to his music to join the commentators. Excalibur plugged Rampage: Nyla Rose vs. Toni Storm and a Royal Rampage match with 20 wrestlers to earn a shot at Jon Moxley.
(Keller's Analysis: It's weird there's no explanation for Ross coming out for just the main event instead of the whole show.)
-A video package aired on Blood & Guts including Ruby Soho, Dean Malenko, Schiavone, and Excalibur discussing the prior Blood & Guts and various personal rivalries.
(Keller's Analysis: I like the idea of this, but it didn't really provide an overview or adequate background on this match in the way it could have.)
-Excalibur reviewed the rules as a graphic on the screen listed the rules.
[HOUR TWO]
(4) JERICHO APPRECIATION SOCIETY (Chris Jericho & Angelo Parker & Matt Mendard & Daniel Garcia & Jake Hager & Sammy Guevara w/Tay Conti) vs. BLACKPOOL COMBAT CLUB (Jon Moxley & Eddie Kingston & Wheeler Yuta & Claudio Castagnoli & Ortiz & Santana) – Blood & Guts double-cage match
Justin Roberts stood mid-ring and introduced the match. J.A.S. came out to "Judas" wearing red pants and red mesh shirts. [c]
Kingston led Santana and Ortiz to the ring. Claudio and Yuta came out next. Taz said it's awesome Claudio is in AEW. William Regal joined in on commentary. Moxley came out last. Regal said his last match was against Claudio, and he lost to him when he leaped onto his face with two feet. Ross compared Moxley's swagger to "a man named Austin." Regal said they know him very well and said he "is someone who would thrive in this environment."
Sammy entered the ring, indicating he would be starting the match. Claudio started for his team. Fans chanted "F— you, Sammy!" early. As Claudio began his Giant Swing on Guevara, Garcia entered and broke it up. They cut to a split-screen break. [c/ss]
Back from the break, the countdown clock was under ten seconds and Yuta joined the match to even the odds. Taz said during the break, the live crowd was calling for Yuta to enter next. Yuta began suplexing Garcia and then Guevara. Claudio then hit Sammy with a European uppercut. A loud "Yuta!" chant broke out. Regal wished a happy 81st birthday to Mr. Johnny Saint and said he's an influence on members of the Combat Club. Jake Hager entered third for J.A.S.
Claudio and Hager faced off and milked the moment. Fans chanted "We The People!" presumably to taunt Hager. Mox entered and threw a chair at the head of Hager. Mox raked Garcia's face against the cage. Yuta then dropped Sammy face-first onto a chair with a Russian leg sweep. Mox went at Garcia's face with a fork. Garcia began to bleed from the forehead. Yuta and Mox gave Garcia the Hart Attack clothesline. Mox then gave Sammy a lift-and-drop cutter with Claudio's help. Yuta landed a top rope splash on Sammy next. Regal said Bryan Danielson is there in spirit and has been part of every conference call discussing the match.
Parker entered next. Regal called him a "sneaky little swine." He tried to avoid any contact. He ran from one ring to another and then to the perimeter. Claudio finally caught him and gave him a gut wrench. Yuta then gave him a Michinoku Driver. The heels eventually recovered and took over. Excalibur talked about the various personal issues between various wrestlers in this match. Ortiz entered next and rallied against the heels. They cut to a split-screen break. [c/ss]
Mendard entered and used a chair as a weapon against the Combat Club members. Regal called him a "revolting little toadie." They showed that during the break, Moxley piledrove Parker on broken glass, then used a piece of glass as a weapon against Hager's face. Fans chanted "We Want Tables!" Everyone paired off for a while Menard beat on Moxley against the side of the cage. Santana brought a table in the ring with him when he entered. Ross said Kingston is waiting for Jericho to enter.
Santana clutched his knee after he gave a uranage to Garcia. It did look like his knee gave out underneath him. Mox used a fork against Mendard as Mendard was using a barbed wire wrapped baseball bat against Ortiz.
Jericho was the final entrant for his team. He brought Floyd the Bat with him. Fans loudly chanted "Eddie! Eddie!" Jericho cut off a rally by Claudio with a Code Breaker. He smiled and raised his arm as the countdown took place for Kingston. Kingston entered with a kendo stick as fans cheered wildly. The bell rang to indicate the match could now officially end with a submission or surrender.
Kingston whacked opponents with a kendo stick. Jericho tried to break out of the cage, but Kingston got to him with the stick. Hager jumped Kingston, who was about to pour rubbing alcohol on Jericho. Fans chanted "This is awesome!" Ortiz used a chair to drop J.A.S. members. Conti shoved the rubbing alcohol bottle through the cage to Jericho, although it got stuck. Meanwhile, Claudio set up a table between the rings. Kingston and Ortiz slammed Hager through it.
Mox and Yuta opened two black bags and poured thumb tacks out. Regal said he tried to talk Mox out of this, but he insisted. They pulled up the canvas to expose the wood surface. Mox chokeslammed Menard on the tacks. Garcia was hung upside down on the pillar. They cut to a split-screen break. [c/ss]
Jericho had Mox in a Walls of Jericho mid-ring on the tacks. Kingston broke it up. Kingston pursued Jericho into the other ring. Ross said fatigue has to be setting in at this point. Jericho surprised Kingston with a spray from a fire extinguisher. Conti hit the ref and stole the key to the cage. Ruby Soho (Taz called her Ruby Riot at first) ran out and attacked Conti. Meanwhile, Jericho climbed to the top of the cage. Kingston followed him up there. Regal said he's never been on top of the cage, adding that he's never even been on the top rope.
Jericho and Kingston fought on top of the cage. Kingston bit Jericho and then landed a spinning backfist. Sammy joined the fight on the roof of the cage and stopped Kingston's momentum. All three were down and slow to stand. They announcers said this could be the calm before the storm. Regal said these men are worn out. Kingston shoved Sammy off the top of the cage through a set of tables at ringside. Excalibur referred to it as the time keeper's table, at least creating a cover story for it being there. They cut to a partial split screen break. [c/pss]
Jericho mounted Kingston and punched away at him. He then applied a Walls of Jericho. Meanwhile, others were fighting below at ringside. Claudio climbed to the top of the cage and charged at Jericho with a running boot. Mendard climbed the cage next. Claudio gave Jericho a Giant Swing on the top of the cage. Ross compared it to Don Leo Jonathan's swing. Kingston and Claudio then applied submissions mid-ring. Menard tapped out to a Claudio's sharpshooter. Excalibur said Kingston wasn't thrilled he didn't get the chance to "humiliate" Jericho by making him tap out first. Excalibur said Kingston hates Claudio and thinks he's condescending. Claudio offered his hand to Kingston, but Kingston still looked peeved. Ortiz, Yuta, and Mox climbed the cage. Mox looked like he was having trouble getting up there and then kinda stumbled around before kneeling a little in the middle of the roof. Yuta and Mox then played to the crowd as Claudio raised Kingston's arm in a sign of making peace. The show closed with everyone posing on the top of the cage together, sans Santana.
WINNERS: Blackpool Combat Club in 46:00.
(Keller's Analysis: That was a fantastic "War Games" style double-cage match. Everyone played a distinct role that fit their character. The finish with Eddie being peeved that Claudio got the tapout felt more petty than I think makes sense for Kingston's character. I get what they're going for – that Kingston really really wanted bragging rights to making Jericho submit, but having Kingston bitter because Claudio didn't defer to him in a match that long and grueling felt small of Kingston. It's too bad about Santana. That didn't look good when his knee buckled under him on that uranage. Regal was a blast on commentary. Ross felt special calling only this match. I'm not sure who would get the MVP trophy for this match, but I'd probably give it to Claudio with honorable mentions to Mox, Garcia, and Yuta. But everyone contributed in significant ways.)
FINAL THOUGHTS: This felt almost like Tony Khan hit a bit of a reset button on some aspects of the presentation of the show, but some of it might have been inevitable because of the fact that the entire second hour was devoted to the main event and it came after an odd PPV with the New Japan involvement that detoured a lot of core characters and storylines. The focus early on "characters" like Cassidy and Danhausen and Caster rather than just presenting more straight up wrestling matches might be happenstance, but it worked tonight. The main event if the type of match that creates a buzz and causes people who didn't watch to feel like they really missed something special if they hear about it on social media or from friends. It doesn't matter much, but it's notable that this show really turned the page on Forbidden Door. They said it was a great show, but didn't do any recaps or video packages.