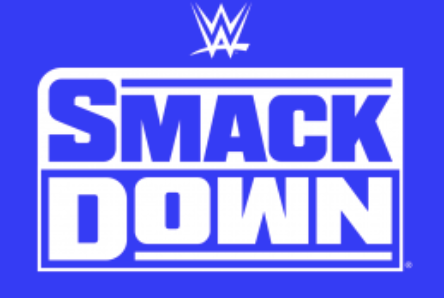 ---
SPOTLIGHTED PODCAST ALERT (YOUR ARTICLE BEGINS A FEW INCHES DOWN)...
---
WWE SMACKDOWN TV REPORT
AUGUST 12, 2022
RALEIGH, N.C. AT N.C. STATE'S PNC ARENA
AIRED ON FOX
Commentators: Michael Cole, Pat McAfee

Ring Announcer: Samantha Irvin
---
[HOUR ONE]
-They cut right to the cheering fans in the arena as Michael Cole introduced the show.
(1) ALIYAH & RAQUEL RODRIGUEZ vs. XIA LI & SHOTZI – Women's Tag Team Title Tournament – Round One
Everyone got individual ring entrances. As Shotzi came out fourth, they replayed Dakota Kai & Iyo Sky advancing to the second round on Raw earlier in the week. Shotzi went for an early tornado DDT, but Rodriguez blocked it and smiled and then tossed Shotzi to the mat. They showed Natalya & Sonya Deville watching at ringside. All six ended up fighting at ringside a couple minutes into the match. They cut to a break as Cole said officials have to regain control. (That's an atypically early break and an exciting time to cut away from the action. The point is for fans to not resent more than necessary the cutaway to a break.) [c]
Back from the break, Xia tagged in Shotzi as they controlled Aliyah. Xia and Shotzi double-teamed Aliyah with an awkward double-team move that didn't seem to go as planned. Rodriguez cheered on Aliyah as she crawled over to tag her a couple minutes later. Fans cheered as Rodriguez took it to Shotzi including a fallaway slam and a spinning elbow swing-splash out of the corner. Shotzi took over a minute later. Aliyah broke up a double-team move with a spear of Shotzi. Rodriguez then gave Li her Tahana Bomb finisher for the win. Cole said when he looked at the brackets, he saw Rodriguez & Aliyah as the dark horse team in the tournament.
WINNERS: Rodriguez & Aliyah in 11:00.
(Keller's Analysis: The match was fine. Everyone involved is still establishing their personalities and signature moves with the WWE audience. Rodriguez played her babyface role well. Shotzi was naturally abrasive, as usual.)
-The showed the brackets on the screen. Rodriguez & Aliyah battle the winner of Nikkita Lyons & Zoey Stark vs. Natalya & Sonya Deville next week.
-They went to Cole and McAfee at ringside who plugged Clash at the Castle. A video package aired on last week's show-closing segment including the return of Karrion Kross, this time with Scarlett.
-A soundbite aired with Kross and Scarlett. Kross said it must be nice to be chosen ones like Drew McIntyre and Roman Reigns whereas they were discarded like a broken toy. "We prepared, we waited for the perfect time for vengeance," he said. "Everybody knows about the Bloodline. Now we're going to show them the new timeline. Because no matter where the time is told, in the end everybody pays the toll. Ticktock." He then peeked around the corner and it showed Drew warming up backstage.
-McIntyre made his ring entrance, without his sword. [c]
-McIntyre stood center-ring as his music faded. He played to the crowd and said it's an exciting time in WWE with a lot of new faces showing up. He said Kross attacked him last week. He said a lot of people probably think he's going to rant and rave about what he's going to do to him. He said Kross was lying low for over a year, waiting for a chance to make a big impact, and he did that last week. He said the person he attacked is going to now deliver a message to him. He said his hands are full now, but next time their paths cross, he'll give him three choices – a knockout, a hospital visit, or a ticket to a graveyard. He said he'll send him back to the dungeon he crawled out of.
Drew said Roman Reigns isn't at Smackdown tonight. "Roman's not at work," he said. He said Roman has begun to believe his own hype. He said the last two matches he won, it took his friends and family and weapons to win. He said he beat Brock Lesnar with his bare hands, no need to have help from friends and family. He said the Island of Relevancy is not a real place. He was then interrupted by Kross and Scarlett's music. Scarlett walked out. Cole said she is Kross's oracle, his angel of doom. McAfee said, "I'm not sure what any of that means." As Scarlett entered the ring, the Usos jumped McIntyre from behind. Drew fought back after 30 seconds briefly, but the Usos came back with the 1D to take Drew down. Scarlett stood on the ring apron and watched. The Usos looked at Scarlett sand said her man snuck up on the Tribal Chief, and this is Bloodline territory. She smiled at them and walked toward the back.
(Keller's Analysis: Good, fired up promo from Drew. The lack of sword is symbolic of change. He seemed more comfortable on the mic than he has in a while. Kross being a heel against Drew but also going after The Bloodline is an interesting choice and places him right in the middle of two top acts on Smackdown. Scarlett has a presence that adds to presentation, obviously, but I hope they establish more than just platitudes to explain who they are.) [c]
-A video aired on the history of the Intercontinental Title. They began with a collage of wrestlers first from the 1980s, then the 1990s with soundbites from The Rock, Shawn Michaels, Randy Savage, Honky Tonk Man, and Curt Hennig, and finally the 2000s. It closed with hype for the main event title match between Gunther and Nakamura.
(Keller's Analysis: This is a good concept to talk about the history of the IC Title and show the big names who are part of the legacy of the championship. It makes the match later feel more important, like history in the making.)
-They cut to Nakamura warming up backstage. Megan Morant approached Nakamura for an interview, but he held up his hand to cut her off and told her to give Gunther a message for him. "Come on!" he yelled.
-As the Viking Raiders made their ring entrance, Kofi Kingston attacked them from behind with a kendo stick. He broke it against their shields. They eventually overwhelmed Kingston. McAfee said Kofi rolled the dice by attacking them alone. Ivar leaped off the security barricade and splashed Kingston. Cole called the Raiders, "enraged, rough, grim, vicious."
(Keller's Analysis: I'm glad they broke away from calling them "the new vicious Viking Raiders" incessantly. It's an uphill battle to get them over as a badass team, but they're taking the right steps. I'm not sure if this leads to Kofi fighting with a new partner until Xavier returns or if Xavier returns soon. Either way, they are giving the eventual tag match some additional meaning with angles like this.)  [c]
-They cut to Sami Zayn walking up to the locker room door with Roman Reigns's name on it. He paced nervously, then knocked. The Usos answered. Sami told them he's been doing a lot of thinking. Drew then attacked the Usos. Sami retreated down the hall. Drew yelled that every time those two get involved, he's going to beat their asses.
(Keller's Analysis: I love that Sami ran from the scene instead of helping the Usos. That is not going to endear himself to Reigns and Paul Heyman.)
(2) HIT ROW (Ashanti Thee Adonis & Top Dolla w/B-Fab) vs. BRANDON SCOTT & TREVOR IRVIN
McAfee used the telestrator to point out the jobbers are so nervous, there's poop coming out of them from eight places. Then Hit Row's music played. "They're back!" yelled McAfee.
WINNERS: Hit Row in 2:00.
-After the match, Hit Row cut a mid-ring promo, closing with, "If you didn't know, now you know." McAfee said there has been a realigning of the tag team division.
-They went to Cole and McAfee at ringside. McAfee made Cole a little uncomfortable as he seemed to almost be flirting with him as he sang some of Hit Row's catch phrases. Cole shifted to acknowledging the death of "Judo" Gene LeBell who died at age 96 this week.
-A sponsored video package aired on Shayna Baszler winning the Gauntlet last week on Smackdown to earn a shot against Liv Morgan at Clash at the Castle. Cole hyped that their contract signing was up next.
-A commercial hyped that A.J. Styles would face Bobby Lashley for the first time ever for the U.S. Title next Monday on Raw. Also, Nikki A.S.H. & Doudrop face Asuka & Alexa Bliss in the next first-round Women's Tag Team Title match. [c]
-Cole hyped the IC Title match again as a floating billboard showed the combatants.
-As Gunther and Ludvig chatted, Kayla Braxton walked up to them. Gunther yelled that she should go tell Nakamura that he's going to suffer at the hands of the ring general.
-They cut live to the ring where a table was set up for a contract signing. Ronda Rousey made her way through the crowd and over the barricade. She brought a duffel bag with her and placed it on the table. She smiled as she stood mid-ring. She said she's not supposed to be there because she was suspended for her actions at Summerslam. A "Ronda! Ronda!" chant rang out. She said she was fined a lot of money for what she did. She poured cash out of the duffel bag and said she paid double the fine. She said it won't be the last time. "What can I say? Being the baddest gets expensive, but I can afford it," she said. Security walked to the ring. Rousey said she was about to leave on her own, but they can try to make her leave. "Let's see how it works out for ya'," she said. She tossed down a female security officer. Then she threatened to apply an armbar. She mouthed off to another security guy before walking to the back.
Baszler walked out and walked up to Rousey: She said: "You can't just do that. That's not how things work here. You play the rules and you get what you want." Rousey told her she used to be a killer. She then continued to walk to the back. Baszler then entered the ring and touted her Gauntlet Match win. She claimed she beat everyone in the locker room. McAfee said she entered the match last. She signed the contract and said Liv will be the next to fall. She called Liv to walk out to make it official. She vowed to tear her apart limb by limb at Clash at the Castle.
Liv made her entrance, with her left arm in a brace, selling the Rousey attack. Liv told Baszler she won't beat her. She called her "a bootleg Ronda Rousey." She said she beat the real deal twice and at Cardiff, she's going to beat her too. She was all serious and stern. She tossed the mic over her shoulder, then signed the contract and held up her belt. Another "You tapped out!" chant started. It wasn't really loud, but it's still a bad sign. As Liv turned to leave, Baszler grabbed her arm and rammed it into the table, then twisted it. Liv cried out in pain, but managed to counter Baszler and drop her through the table in the ring. Liv stood over Baszler, holding her belt up.
(Keller's Analysis: Rousey was about as comfortable in her own skin as I ever recall seeing her in WWE. Attacking security guards who are just doing their jobs isn't going to actually turn fans against her, even if it's kind of uncalled for. I'm also not sure if bragging about how rich she is should win her fans, either, yet she's going to be most valuable when she's acting in a way that feels authentic, and that all felt authentic. It's great to see Baszler getting to talk and establish her personality, too. Given how Baszler carried herself here, I was beginning to think she was going to win the title at the Clash. I like that idea. Liv is damaged right now because of that PPV match finish backfiring and a Rousey vs. Baszler match feels bigger at this point for the fall. My only complaint here, and it's not small, is that Liv ultimately left Baszler lying mid-ring writhing in pain, and Liv was able to do that with one arm after taking a beating. So that didn't feel like Baszler was being protected enough if she's going to be taken seriously as a heel threat to Rousey.)

-The Usos confronted Sami about running away from the fight. Sami said he was going to find security. The Usos weren't buying it. Jimmy said they warned Sami to set up. They walked away and Sami looked frazzled. [c]
-A video aired hyping WrestleMania tickets going on sale. Cole touted it was the biggest first-day ticket sales in WWE history. It helps to have two nights where many fans are buying two tickets.
-The Usos made their ring entrance, then called Drew to the ring for a tag team match. Drew charged out and attacked the Usos alone.
(3) DREW MCINTYRE & MADCAP MOSS vs. THE USOS
The Usos took over against Drew in what was a two-on-one battle at first. Madcap Moss ran out a couple minutes in to join Drew. He beat up the Usos, then turned and looked at Drew to signal they were a team. Moss and Drew cleared the ring of the Usos. They cut to a break. [c]
Drew rallied after the break. He kipped up. Sami ran into the ring, distracting Drew. That left him vulnerable to a Jimmy Uso superkick. Jey landed a quick top rope frog splash for a near fall. As the Usos set up a double-team move on Drew, Madcap yanked Jey out of the ring by his boot. Drew then gave Jimmy a Glasgow Kiss followed by a running Claymore for the win. Cole asked if that will be the fate of Roman Reigns in Cardiff. He said Drew is red-hot.
WINNERS: McIntyre & Moss in 8:00.
-Jey went after Drew as he was celebrating the win, but Drew fended him off and gave him a Future Shock DDT. He kipped up again and played to the crowd. He counted down 3-2-1 and was going to deliver a Claymore to Jey, but Sami ran in and took the move instead. The Usos bailed out and Drew looked sufficiently satisfied with how that played out.
(Keller's Analysis: This was a really good segment for Drew heading into his title match at the Clash. Moss was good here, coming to Drew's side in a fight and looking good doing it. He also was in the background compared to Drew, a good supporting role for him at this stage. Sami taking the bump at the end was perfect. He redeemed himself in the eyes of The Bloodline, but he also gave fans a satisfying moment for Drew to play off of.)
-They went backstage to Max and Maxine Dupri with his Maximum Male Models. Angel Garza & Humberto Carrillo walked in. Garza said they should be the signed models because they're the most handsome tag team in WWE. Max said they're not Maximum Male Model material. Humberto said they weren't talking to him. They moved over to Maxine. Angel told her to give them a call. Dupri told his guys to get back to posing for the photo shoot.
-They went to McAfee and Cole at ringside. McAfee said there are too many handsome men around there. They threw to a video package previewing the main event. [c]
-Braxon interviewed Ricochet who bragged about laughing about McAfee kicking Happy Corbin "straight into his junk." A clip aired of Ricochet beating Corbin last week when Corbin was preoccupied with McAfee standing at ringside. They showed McAfee and Ricochet tossing around a football afterward. Back to Ricochet, he said it feels good to feel like he's being shot right out of a cannon. He said it doesn't matter who wins tonight, because after tonight he'll be waiting in line. Corbin then attacked Ricochet and taunted him. He said, "We're just getting started."
-They went to McAfee and Cole at ringside to react. Cole hyped Reigns and McIntyre in a "face to face" segment next week, plus a Viking Funeral for The New Day, and the other Women's Tag Team Title Tournament match. Cole threw to a video package on Nikkita Lyons & Zoey Stark. Clips aired of them on the offense in the ring as they talked about their intent to win gold.
(Keller's Analysis: They needed to do something this week to let fans know who Lyons & Stark are, and this video did a decent job introducing them.)
-Nakamura made his ring entrance first. McAfee was more reserved. He said he's living a dream that he gets to be there. Ludvig introduced Gunther. As Gunther walked out, Cole explained that the IC Title is the workman title because whoever holds it defends it often and shows up every week defending it around the globe. McAfee and Cole took turns naming various famous IC Champions from over the decades. They cut to a break. [c]
(4) GUNTHER (w/Ludvig Kaiser) vs. SHINSUKE NAKAMURA – Intercontinental Title match
The ref held up the belt and the bell promptly rang after the break. Gunther took control a minute in with some hard chops. He applied a Boston Crab next. He shifted to an STF. Cole said Gunther recently said in an interview he wants to face legends including John Cena because he came to WWE to beat the elite and prove to be the best. Interesting. Nakamura made a comeback with some kicks. Gunther cut him short with a chop to the chest. He went for a drop down armbar, but Gunther countered. Nakamura leveraged Gunther down for a two count. Nakamura kicked Gunther over and over on his right arm followed by a rolling kick for a near fall. Gunther came back with a chop and then he stood over him against the top turnbuckle. Nakamura tumbled to the floor. They cut to a break as Cole asked if Nakamura can climb back into the match. [c]
Back from the break, Gunther had trouble using his left arm when he tried to lift Nakamura. He did connect with a big boot and then a diving slash off the top rope. Nakamura caught him with a triangle. Gunther escaped and suplexed Nakamura. Both were down and slow to get up. Nakamura got in a series of offense and two counts. Gunther came back by clotheslining Nakamura as he went for his Kinsasha. He then applied a sleeper mid-ring. Nakamura powered out by yanking on Gunther's sore arm. Gunther powerbombed Nakamura and stack pinned him for the clean win. McAfee said that could have gone either way several times.
WINNER: Gunther in 14:00 to retain the IC Title.
(Keller's Analysis: Really good main event. Nakamura looked good. Gunther looked better. That's how you create a new star on the main roster.)
FINAL THOUGHTS: A really strong episode of Smackdown in terms of pace, content, and little positive details. The absence or irritants from the Vince McMahon days is a big plus too that is as important as probably anything else right now.