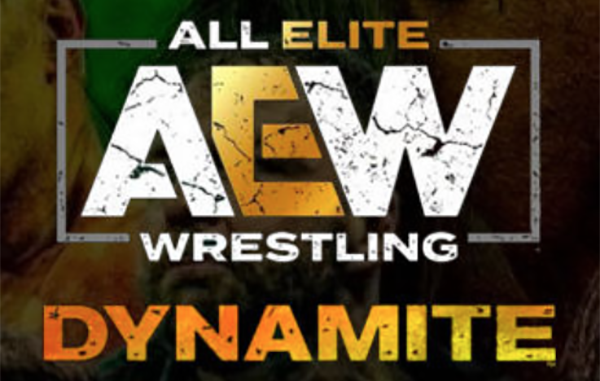 ---
SPOTLIGHTED PODCAST ALERT (YOUR ARTICLE BEGINS A FEW INCHES DOWN)...
---
AEW DYNAMITE REPORT
NOVEMBER 30, 2022
INDIANAPOLIS, IND.
AIRED LIVE ON TBS
Commentators: Excalibur, Taz, Tony Schiavone
---
Tonight after AEW Dynamite, join Wade Keller live with guest co-host Mike McMahon to break down the show with live callers and emails.
•STREAM LIVE HERE ABOUT 5 MINUTES AFTER THE SHOW CONCLUDES
•CALL: (347) 215-8558
•EMAIL COMMENTS/QUESTIONS: wadekellerpodcast@pwtorch.com
•IF YOU DON'T LISTEN LIVE, SEARCH "WADE KELLER" ON YOUR PODCAST APP TO SUBSCRIBE AND THEN DOWNLOAD OR STREAM THE FULL SHOW TWO HOURS OR SO AFTER THE TV SHOW ENDS.
---
[HOUR ONE]
-The Dynamite opening theme aired and the announcers introduced the show.
-Jon Moxley made his ring entrance. Tony Schiavone said there's no telling what Mox would have done to William Regal if not for Bryan Danielson. Mox talked about growing up 90 miles from there. He said he used to wrestle in Indianapolis and named some landmarks. Mox said the AEW ring belongs to him. He said there isn't a man can outwork or outbleed or outhustle him or outfight him or outsweat him. He said he's at the top of the food chain. He said he does what he wants and says what he wants. He said the AEW ring belongs to him. He said nobody in the locker room or within a hundred miles has the balls to look him in his eyes and tell him any different. "Hangman" Adam Page's music played and he made his way to the ring.
Excalibur said he was in Indianapolis to meet with doctors about getting cleared. He said he's not sure if he's been cleared. Taz said Mox put him out of action. Hangman stepped up to Mox's face and stared at him. Taz said he caught Mox by surprise. Mox asked, "Are you sure you want to do this after what happened last time?" He asked if he even remembers last time. Hangman punched him. They brawled at ringside. Officials ran out to separate them. They broke free a few times. Mox slipped off the stage and fell, but popped back up and tackled Hangman. They were separated a fourth time.
(Keller's Analysis: AEW is overdoing it on matches where fans have to pick side sides between two equally popular wrestlers. The brawl was intense. I'm not sure what Hangman is so upset about, though. Mox knocked him out clean. It happens.)
(1) BRYAN DANIELSON vs. DAX HARWOOD (w/Cash Wheeler)
Excalibur talked about "a very newsworthy" episode of Rampage on Black Friday. He talked about Dax challenging Danielson to a one-on-one match. Dax came out first. Danielson then made his ring entrance. The bell rang about 10 minutes into the show. Some fans chanted "This is awesome" as they circled each other. Danielson upkicked Dax in the chin when they were tied up in the ropes. Dax stomped on him. Danielson rolled to ringside briefly. Excalibur plugged the Dynamite Diamond Battle Royal next week where the winner gets to face the champion at a time of their choosing. Danielson dove through the ropes and knocked Dax over the ringside barricade into the front row. Schiavone noted Danielson's boot clipped the rope as he dove. They cut to a split-screen break as Dax and Danielson were exchanging punches. . [c/ss]
Dax suplexed Danielson over the barricade into the crowd. Dax controlled the action during the break. Back from the break Dax scored a two count after landing a piledriver. Dax leaped off the top rope with a headbutt, but Danielson moved and then used a magistral roll-up for a two count. Danielson took over and climbed to the top rope. Dax knocked him off balance and set up a superplex. Danielson knocked Dax off balance. Danielson then drove some elbows to Dax's chest and back suplexed Dax, but Dax shifted mid-air and landed on Danielson. Danielson shifted Dax over and scored a leverage two count.
Around 10:00 they exchanged wild swings mid-ring, which got a rise from the crowd. Both were down and slow to get up. Another "This is awesome!" chant rang out. Dax hit a slingshot Liger bomb for a two count at 23:00 and then applied a sharpshooter. They reversed each others into small package attempts for several successive two counts. Danielson shifted to a LeBell Lock. Dax tapped out. A fan then lifted a big sign that said, "X-Pac Rules!" Another fan held up a sign that said, "Support trans kids." Danielson offered a handshake afterward. Dax walked past him, but then smiled and turned around and shook Danielson's hand.
WINNER: Danielson in 14:00.
(Keller's Analysis: Very good match. What you'd hope for from these two. It would have been better with more of a backstory and context than Excalibur recapping the set-up which consisted of Dax asking for the match in front of half as many people as those watching Dynamite. Good wrestling is good, of course, but adding context and consequences should be a given and not optional.)
-Schiavone interviewed Ricky Starks. He said he's entering himself in the battle royal and sai dhe's going to make a judgment call right now. He said he'll win it because he's coming for his title, his ring, and his spot. He said he is "Absolute" Ricky Starks for a reason. [c]
-Security was escorting Hangman out of the arena when Mox jumped him. They had another pullapart brawl. Excalibur said it's far from over.
-They went to Taz, Excalibur, and Schiavone on camera.
-Renee Paquette interviewed Jake Hager, Daniel Garcia, Angelo Parker, and Matt Mendard on the left side of the screen and then Wheeler Yuta and Claudio Castagnoli on the right side. Mendard threw out some insults and Renee called for some decorum. Renee asked Claudio about facing Chris Jericho at the ROH PPV. Hager said he loves his hat and he threw a duplicate at Claudio and called him a sports entertainer and said they could team together. Claudio got disgusted and said he's sick of them. He said he came to AEW to prove he's the best wrestler. When Claudio stormed out, Wheeler yelled back. Garcia said he'd like to team with Hager against some "pro wrestling dorks." He said he's glad he made the choice to join Blackpool Combat Club. Yuta said he'll have his "dumb tag match" and whip his ass, but at Final Battle he wants a shot at Garcia's ROH Pure Title. Garcia agreed.
(2) SAMOA JOE vs. A.R. FOX – TNT Title match
As Fox came out, they went to split screen and showed Fox doing some highspots. Joe marched out with the ROH TV Title over one shoulder and TNT Title over the other. (There sure are a lot of wrestlers with belts in AEW. Has anyone noticed that?) Excalibur said this is Fox's first official day on the roster. (I suppose because there are so many titles on AEW TV, even someone on their first official day as a roster member can get a title shot. That's one of the great parts of the "belts for everyone" policy of AEW!) Joe stepped out of the path of a Fox dive and was pleased with himself. Fox rolled to his feet and pump-kicked Joe in the face. Joe took quickly back in the ring and landed a senton. They cut to a split-screen break.  [c/ss]
Joe dominated during the break. Excalibur said on Rampage this Friday, Renee will interview Sarayah "for the first time since she returned to professional wrestling." (He meant since her return match at the PPV, although she was also part of the post-Full Gear media Q&A.) Fox kicked Joe in the head and landed a low cutter followed by a top rope 450 for a near fall. Joe casually walked away from a Fox dive and took over. Joe landed a Muscle Buster for the win. Excalibur said Joe's TNT Title reign is off to a dominant start.
WINNER: Joe in 8:00 to retain the TNT Title.
(Keller's Analysis: Good match. It's a stretch that Fox earned a title shot, but at least they showed some footage of him doing athletic moves on Dark prior.)
-Joe held a mic after the match and welcomed fans to "a new and glorious era because I am the one true king of television." Wardlow appeared on the big screen and said King of TV is almost as good as the last nickname he came up with, WarJoe. He rolled his eyes. He said he hopes Joe enjoys the TNT Title reign while he can because he's coming for it. He said it's "Wardlow's World." Fans chanted "Wardlow!" at Joe, who seethed in anger.
(Keller's Analysis: Has Joe caught us up on the reason for his sharp turn in attitude or is he "just a bad guy now"? I like Wardlow making fun of the awful team name they had before the break-up.)
-A vignette aired with Powerhouse Hobbs walking the streets of Oakland's inner city. Hobbs narrated and said he walks up and down the streets that he's been bullied and beaten up, and that's made him tougher. He walked past some guys and shot them looks and they backed off. He said he's taking what belongs to him.
(Keller's Analysis: It was slickly produced, but also so overproduced with so many camera angles and cutaways, it didn't have an aura of authenticity.)
-Taz commented on a clip of Hook beating Lee Moriarty with a Red Rum. They put a yellow filter over the footage.
-Excalibur plugged that the MJF promo was up next as a clip aired of William Regal sliding MJF brass knuckles at Full Gear. [c]
-William Regal made his way to the ring. Excalibur said Mox was removed from the premises, so that's why he feels relatively safe walking to the ring since Mox told him last week to turn around, run, and never return. He said as soon as Mox left the building, Regal slithered back in. When Regal held up the mic and his music stopped, there were scattered boos. Regal then introduced MJF as the new AEW World Champion. Some cheers for MJF as he walked out.
MJF hugged Regal and then told the "hillbilly fans" to shut up. He said he was about to explain how he and Regal came to be aligned, but fans chanted "Shut the f— up!" MJF said Regal sent him an email after The Firm attacked him. He read it. Regal said he had become weak, but he could help him become the greatest villain of all time. He said to win the AEW World Title, he must not grab the Diamond Ring, he must grab the Brass One. Fans booed. MJF said after that email, they met many times behind closed doors. He said Regal is a genius. He said he listened to his advice. He said he didn't want him to just beat Mox, but leave him with an emotional scar so he could remember the day he was outsmarted by MJF.
He shifted to talking about The Firm. He said people want to know what he's going to do about them. He said "eh, I kind of respect the Firm." He said they sensed weakness in him, smelled blood, and attacked. He said even if he harbored resentment, does he seem like the person to chase someone down. He said that would take effort, and effort is for poor people like the fans. "I'm above that," he said.
He said when he became AEW Champion, he vowed to make change. "Out with the old, in with the new," he said. He said he wants to gag when he looks at that belt. He said it desperately needs an upgrade. He said it's tacky and lacks class "and to make matters worse, it reminds me of all the people who held it previously." He said they were all talented, but none of them were on his level. He said that is specifically why that version of the title is garbage. He dropped it to the floor. He had Regal unveil the new one. It was similar, but much more glammed up. The belt was Burberry leather. Schiavone said it was one of the worst thing he's seen and said MJF desecrated the title. He called it "The Big Burberry Belt."
He took digs at "fake tough guy" Eddie Kingston. Fans chanted "Eddie!" He said they can chant his name all they want, but he'll never be World Champion. He called Starks "a fake tough guy" also, but then said he's also "a fake star." He said Danielson is a "fake wrestler" and the most mid of the mid's. "No offense, but in comparison to me, Bryan Danielson couldn't wrestle his way out of a paper bag." He told Regal he tried his best, but some people just cannot be helped. Regal looked uncomfortable.
MJF said he has a message for everyone on his show and in his locker room and on his roster. He said as long as he is in the company, they will never know if he's on top. He said he will remain champion until "the bidding war of 2024." He said he will use the belt, which he called "Triple B," as a bargaining chip to get the biggest money contract in the history of the business. He said he will make more money in a day than any of the worthless hicks will see in their entire lives. He said he is praying to God that the right Khan antes up. He said he's not talking about Tony, but "my boy, Jolly old St. Nick and my other boy, Trips."
He approached Regal and said he's not even sure if a wrestling company wins the bidding war. He said he's getting sick and tired of looking at grotesque wrestling fans every week, so maybe Hollywood wins. He then struck a pose like he was getting his head shot taken.
[HOUR TWO]
MJF said some fans were over the moon when he won the title. He said that's fantastic, but he has a feeling their happiness will soon turn to resentment. He said they are fickle and soon they will say he's boring and he just talks and never wrestles and constantly makes his opponents jump through hoops to get a title shot. He said they will keep tuning in to see if someone can take Triple B off of him. He said Triple B will be defended very rarely and he will wrestle very rarely because he's a special attraction. He said in order for "the disgusting poors" to see him defend his title, nine out of ten times, they'll have to reach into their pockets and spent some of what little money they have and buy a PPV in hopes of seeing someone dethrone him. He said he'll make the reigns of Hulk Hogan, JBL, and Jeff Jarrett seem short and sweet. He said his reign make Bruno Sammartino roll in his "shitty little grave." Fans booed. He said he is now in the era of MJF and his reign of terror has just begun.
He held up his belt, but then said he almost forgot to tell Regal something. Fans chanted, "Shut the f— up!" He said without him and the brass knuckles he was wearing, none of that was possible. He said everyone respects him because he has given blood, sweat, and tears for this business for 40 years. He said that's why he wanted to say from the bottom of his heart… at which point he hit Regal from behind. "What is wrong with him?!" exclaimed Schiavone. Schiavone said Regal has had neck surgery and brain bleeds.
MJF kneeled and told Regal it's funny that Regal told him he has a lot to learn, yet Regal was the one who made a deal with the devil. He said the game has changed and MJF hires top talents and top world class athletes, so when you're one of them, send me your stuff. That was, word-for-word, a play on Regal's email to him. MJF left through the crowd. Danielson ran to the ring and checked on Regal. Schiavone said he was in the training room. (Nice touch to explain what took him so long.) The announcers said Regal hadn't moved and noted that MJF hit him from brass knuckles. Regal was put in a neck brace. Schiavone said MJF is a blight on AEW and called him a coward. "Something has to be done to this piece of shit," he said. Excalibur said this could affect his quality of life going forward.
(Keller's Analysis: Excellent segment for laying the foundation for MJF as a full-fledged heel and tying up loose ends and writing off Regal, who despite his aiding MJF, remained a sympathetic figure at the core even if he was booed last week. MJF stripped away any elements of his promo that in recent months have led to cheers. The gaudy tacky belt "upgrade" is a good touch. Also, he didn't yell and overmodulate the mic to emphasize any points, which stylistically is a big plus. He slowed his cadence, too, which helped emphasize his points but also risked testing the patience of the fans, and having him be "less entertaining" and "less witty" is part of what will extinguish fans being tempted to cheer him.) [c]

-They showed clips of what happened before the break, and then cut to the back where he was loaded into an ambulance which then sped off, sirens blaring. Taz said Max went too far.
(3) RICKY STARKS vs. ARIA DAIVARI
Daivari was already in the ring. Starks made his ring entrance. Stokely Hathaway and Ethan Page came out. Matt Hardy charged past them and led a "Delete!"chant. Ethan and Stokely told him to leave. He told Hardy they "own his ass" and Hardy will help him win the Diamond Ring. He said at Winter is Coming, after MJF whips his ass around the arena and retains the title, he'll whip his ass when he's tired. He said he'll win the ring and Starks will have to watch and cry. Daivari jumped Starks, which of course led to the ref rewarding the pre-bell attack by calling for the bell. Starks made a quick comeback and finished him with the Roshambo for the win.
WINNER: Starks in about 30 seconds.
-A graphic hyped MJF vs. Starks at Winter is Coming on Dec. 14.
-Schiavone interviewed Britt Baker, Jamie Hayter, and Rebel backstage. Baker commented on the Steelers beating the Colt in an NFL game. Hayter told Schiavone to have a sitdown chat with her next week instead of Saraya. Schiavone agreed to it when Baker insisted it will happen.
(4) WILLOW NIGHTINGALE vs. ANNA JAY (w/Tay Melo)
Willow danced her way into the ring. After some offense by Willow, Jay took over with a neckbreaker as they cut to a split-screen break. [c] When Jay set up her Queen Slayer, Willow leaped backwards to break the grip. She turned to knock Tay off the ring apron. Jay rolled up Willow for a two count. Willow fired back with a clothesline and a gut wrench sitout powerbomb for the win.
WINNER: Nightengale in 8:00.
-After the match, as Melo helped Jay to her feet, Ruby Soho's music played and she made her return. Excalibur said they haven't seen Ruby since Melo broke her nose and she needed to get reconstructive surgery. Ruby tackled Melo and then koncked Jay off the ring apron. Fans chanted "Ruby!" Ruby headbutted Jay on the ramp and then delivered a Destination Unknown. Ruby kissed her forehead and threw back down.
-A clip aired of the return of House of Black last week.
-Schiavone interviewed Q.T. Marshall and Orange Cassidy backstage. Q.T. said he wants a shot at the All-Atlantic Title. Orange immediately agreed to it. Q.T. was thrown off, but then said he wanted it to be a Lumberjack Match. Orange agreed and walked away.
-Jade Cargill walked out with her Baddies for her celebration of retaining her TBS Title. Excalibur said she's been dominant since her career in AEW began. She was wearing a bikini with an image of $100 bills on the breasts. Confetti dropped. Cargill said she wanted to address something and set the record straight. She said she decides who the Baddies are. She said she took out the trash last week, so she wanted to know why they were hanging out with her since then. "To stand next to me is a blessing," she said. "So either you two get in line or you can step." She said they are eating off of her and and everyone in the company is eating off of her.
She said she is the brightest star AEW has. She said if you stand her next to anyone in the back, any regular person who say she is the star. She said nobody has her aura. "So you tell me what we're going to do about that," she said. "I put asses in seats." She said she is the real deal and nothing but real. She said she creates careers. She said little Bow Wow is a total joke. Bow Wow showed up on the big screen and congratulated her on her "little win." He said he's done with talk and has a lot of time on his hands, so he had an idea.
-Excalibur plugged Rampage: Cassidy vs. Q.T. for the All-Atlantic Title, Swerve Strickland and Keith Lee talk, Cole Carter vs. Darby Allin, Renee interviews Saraya, and Private party vs. Jay Lethal & Jeff Jarrett. A backstage promo aired with Billy Gunn and The Acclaimed. Billy played the role of a drill sergeant and they complained about not having a match. They closed by scissoring. Excalibur said they will talk more on Rampage. Excalibur then plugged Dynamite next week: Hager & Garcia vs. Claudio & Yuta and the Battle Royal.
(5) DEATH TRIANGLE (Pac & Penta El Zero Miedo & Rey Fenix) vs. THE ELITE (Kenny Omega & The Young Bucks w/Brandon Cutler) –  Match Three in the Trios Title Best of Seven series
The Elite made their ring entrance. Taz said the pressure is on them. Death Triangle then began their entrance. The Elite charged up and attacked them. Schiavone called it "sound strategy." Excalibur said they're down two matches because of Death Triangle's use of the hammer. Fans chanted for The Elite. Schiavone said Pac's strategy was very sound as it led to their lead. (How are heels supposed to get heat for cheating if the announcers are all applauding their cheating?) They cut to a split screen break as they brawling in the crowd. .[c/ss]
They wrestled several more minutes before they cut to another split-screen break. [c/ss]
Several minutes later, Penta leaped off the top rope onto Omega and Nick at ringside. Pac then scored a near fall on Matt. He landed a brainbuster suplex for a near fall. Pac went for his Black Arrow, but Matt lifted his knees and caught Pac in his face, which was protected with a mask, and scored the pin. Fenix held Omega back during the pin. They replayed highspots from the match after the finish. Omega closed the show with some mic and then asked then to play their song again.
WINNERS: The Elite in 18:00 to make the score 1-2.
---
Tonight after AEW Dynamite, join Wade Keller live with guest co-host Mike McMahon to break down the show with live callers and emails.
•STREAM LIVE HERE ABOUT 5 MINUTES AFTER THE SHOW CONCLUDES
•CALL: (347) 215-8558
•EMAIL COMMENTS/QUESTIONS: wadekellerpodcast@pwtorch.com
•IF YOU DON'T LISTEN LIVE, SEARCH "WADE KELLER" ON YOUR PODCAST APP TO SUBSCRIBE AND THEN DOWNLOAD OR STREAM THE FULL SHOW TWO HOURS OR SO AFTER THE TV SHOW ENDS.