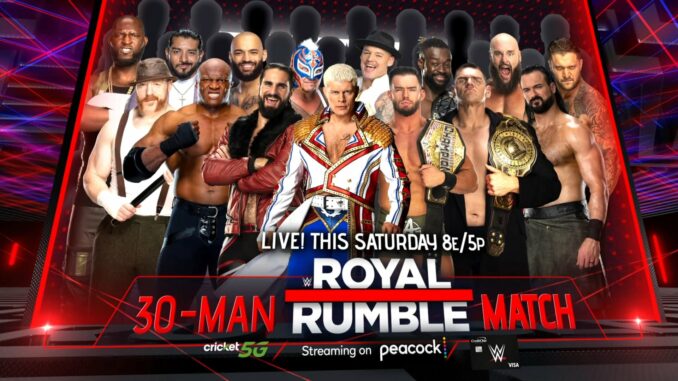 ---
SPOTLIGHTED PODCAST ALERT (YOUR ARTICLE BEGINS A FEW INCHES DOWN)...
---
WWE ROYAL RUMBLE 2023 KICKOFF REPORT
JANUARY 28, 2022
AIRED ON PEACOCK
REPORT BY MIKE F. MEYERS, PWTORCH CONTRIBUTOR
Kickoff Panel: Kayla Braxton, Jerry Lawler, Booker T, Kevin Patrick, Peter Rosenberg
As Kayla introduced the panel, Booker picked up his cellular telephone and said he was still waiting for an invitation to the Rumble. Kayla complimented Peter's turtleneck; he hoped it wasn't sarcasm.
Kayla asked who needed to win the women's Royal Rumble match. Booker immediately brought up Rhea Ripley, and Peter concurred that she would be in his top four. Kayla mentioned the return of Lacey Evans who was shown backstage drawing her number earlier in the day. Evans and Zelina Vega both had cryptic responses to their numbers. Lawler said that one of the surprise entrants would be the winner. Kevin picked Raquel Rodriguez.
Kayla threw to Matt Camp in the Cricket Fan Zone. Matt showed us some memorabilia on display, and briefly played a WWE trivia game on a touch screen TV.
Video Package: Roman Reigns on The Tonight Show w/ Jimmy Fallon
Video Package: Kevin Owens vs. Solo Sikoa from Smackdown
The Bloodline was shown sitting silently in their locker room. All looked serious. Regarding his order for Sami Zayn to stay away from the group until tonight, Roman addressed Zayn: "I just can't wrap my brain around this. The Tribal chief gives an order. I give you one instruction for the week and you can't follow directions. Explain to me why I have to treat you like a child, why I have to tell you over and over again. Smarten me up, please!" Sami was at a loss for words, but Jey eventually spoke up: "Tribal Chief, it was me. Adam Pierce kicked me and Jimmy out last night. Solo had a match. I think you was on a private jet doing the Tonight Show. I called an audible to make the play. I called Sami back to the building. He answered the call for the family, he was there for the Bloodline." Roman responded, "He was there for the family, he was there for the Bloodline," while furrowing his brow. Finally, he eased up. "Why we even talking about last night? It's fight night. Let's worry about tonight." He ordered the crew to stay backstage, except for Sami who he wanted "on his hip" all night. "Tonight's Sami's night. You ready?" Sami said, "Yeah, let's do it."
Video package: Bray Wyatt vs. L.A. Knight
Kayla said she spoke with Knight earlier and he was very confident. Kevin said Knight has no idea what he's getting into. Lawler nearly said "We don't even know what a Pitch Black Match is," but caught himself mid-sentence. Peter said Knight is the guy in the horror movie who suggests the group goes back to the haunted house after they've made their escape.
Greg Miller appeared with a microphone to promote "This is Awesome" on Peacock. JBL walked into the shot, and asked if this was going out on MySpace. Greg told him this was the Kickoff show. JBL admitted to a future murder by saying if Greg were drowning, he'd toss him a bowling ball. He said he brought a surprise for Greg and told him to close his eyes. When he did, JBL pushed a pie into Greg's face. JBL walked off, and Greg said, "This wasn't awesome."
Video package: Seth Rollins
Video package: Alexa Bliss / Bianca Belair
Kayla said this version of Bliss is someone everyone should watch out for. Peter said he liked what Bliss brought out of Belair last week. Kevin said Bliss's external forces – Uncle Howdy – will be too much for Belair to overcome.
Kevin threw back to Matt Camp, who was now surrounded by excited fans. A young fan predicted Cody Rhodes would win the men's Rumble, and another fan picked Rhea Ripley to win the women's.
Video package: Cody Rhodes
Comedian Gabriel Iglesias joined the panel. The crowd chanted his nickname, "Fluffy," and Gabriel said he's probably related to half of them. He predicted Rey Mysterio to win the Rumble. Peter asked what Gabriel would do if Dominik were his son. Gabriel said he'd take him out of the will and he wouldn't be welcome at family gatherings. Kayla asked if Gabriel was in the Rumble match – he said there's only one way to find out. While the panel continued small talk, more footage was shown of wrestlers drawing their numbers: Kofi looked optimistic. Santos Escobar looked pleased, while Drew McIntyre appeared frustrated.
Video package: Charlotte Flair
Video package: Kevin Owens / Roman Reigns
Kevin described tonight as "one last test" for Sami Zayn in the Bloodline. Peter compared recent Bloodline segments to Law & Order: Special Victims Unit, a show that famously depicts crimes of a sexual nature. Booker, somehow making more sense than Peter, said Zayn's situation is the Shucky Ducky Quack Quack moment of the night. Lawler said that Zayn has been an albatross on the neck of the Bloodline ever since he showed up. He suggested they get rid of Zayn. Booker disagreed, saying Zayn has been the Gorilla Glue that holds the Bloodline together.
Find Mike Meyers on Twitter: @themikeshow42
---
CATCH-UP: WWE Royal Rumble post-PLE press conference highlights: comments from Ripley, Wyatt, Cody, Triple H