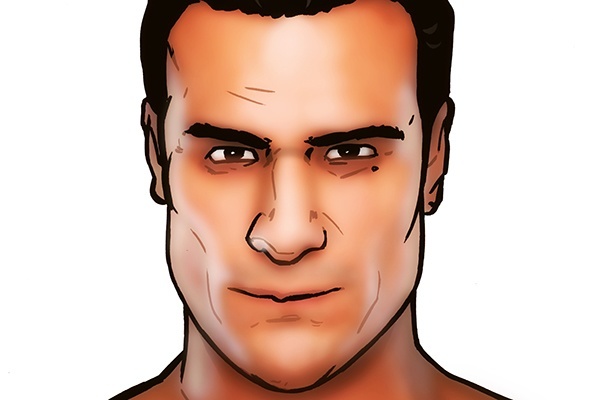 ---
SPOTLIGHTED PODCAST ALERT (YOUR ARTICLE BEGINS A FEW INCHES DOWN)...
---
This report was originally published ten years ago this week on PWTorch.com…
---
WWE Smackdown review
February 1, 2013
Taped 1/29/13 in San Diego, Calif.
Aired on SyFy
By Greg Parks, PWTorch Columnist (Twitter: @gregmparks)
---
BOX SCORE
– Match Times: 41:46 bell-to-bell (most since first SD of 2013). Longest Matches – 11:58 (opening tag match), 12:54 (main event Del Rio vs. Ziggler).
– Title Implications: Elimination Chamber match participants teased for #1 contender match at Chamber PPV.
– TV/PPV Streaks: Del Rio – 5 match winning streak, Sandow – 5 match losing streak, Barrett – 5 match losing streak, Swagger – ended 10 match losing streak dating back to 2012, Sin Cara – ended 6 match losing streak dating back to 2012.
– Show Results: (1) Rey Mysterio & Sin Cara beat WWE tag champions Kane & Daniel Bryan in a non-title match. … (2) Great Khali beat Jinder Mahal (w/3MB). … (3) Sheamus beat Damien Sandow via DQ. … (4) Randy Orton beat IC champion Wade Barrett in a non-title match. … (5) Jack Swagger beat Kofi Kingston via submission. … (6) World Hvt. champion Alberto Del Rio beat Dolph Ziggler (w/A.J. and Big E. Langston) via submission in a non-title match.
---
FULL REPORT
– The show opened with clips of the final segment of Raw: The Paul Heyman – Vince McMahon showdown. The voice-over man played over it as well, just to up the drama further. Plus, Alberto Del Rio retained the title at the Royal Rumble. He was then attacked on Raw by The Big Show. The Road to Wrestlemania rolls on tonight.
– In the parking lot in San Diego, Alberto Del Rio (in jeans and a cut-off t-shirt, a stark contrast to his usual dress) paced with a bat in his hand, presumably awaiting Big Show's arrival.
– In the arena, Booker T. was in the ring with several Superstars (and Teddy Long). They included Great Khali, Daniel Bryan, Kane, Randy Orton, and Sheamus. Dolph Ziggler, Big E. Langston and A.J. Lee were at ringside. Booker said that on Raw, John Cena chose to challenge for the WWE Championship at Wrestlemania. Booker said the men he has gathered are all former World Champions and will have a chance to participate in the Elimination Chamber. But there are only six spots. Then, Jack Swagger's music hit, and he returned after a several-month layoff.
Swagger, with hair slicked back and a beard, said one former World Champ was missing (himself). He has been living the life of a real American in his time off. He said he's been watching and has been disappointed in the direction WWE has been heading. He requested a spot in the Elimination Chamber. Ziggler spoke up and said he could participate in one of the most brutal matches in WWE history…or he could sit back, do nothing, and still get his World Title match via the Money in the Bank briefcase. He said he could cash in at Wrestlemania if he wanted to. Ziggler declined the invitation, and left ringside. Booker said he knew Ziggler would chicken out of the Chamber. But he can't chicken out of his match tonight – with Alberto Del Rio.
Booker said the guys in the ring will be in a match tonight, and they have to impress him and Long to get a Chamber spot. To start the night, it'll be tag-team action, with Team Hell No facing Sin Cara & Rey Mysterio. Mysterio made his entrance first, in his hometown. The tag match will take place next.
[Commercial Break]
1 – TEAM HELL NO vs. REY MYSTERIO & SIN CARA
Both Rey and Cara wore green and yellow outfits. Quick cover by Rey for two, then he low-bridged Kane, sending the big man to ringside. Seated senton off the apron onto Kane on the outside. Cara tagged in and Kane got the advantage. He tagged out to Bryan, who fell victim to Cara's handspring back-elbow. Unique high-impact maneuver by Bryan to the upper torso of Rey. Some teamwork from Team Hell No in isolating Rey in their corner. At 3:12, Rey set Bryan up for the 619 but Bryan escaped and shouted "No!" They cut to break at 3:30 of the match.
[Commercial Break]
Back at 7:27 of the contest with Bryan in control of Sin Cara. Cara kicked Bryan, who was seated on the top rope. Then Bryan blocked a hurricanrana and landed a dropkick off the top. Surfboard applied by Bryan. Eventually, Rey made the hot tag. He cleaned house, but Bryan applied the No Lock. Cara dropkicked him, causing a break. Cara jumped onto Kane outside the ring to take him out of the picture. Rey then set up Bryan for 619 and hit. Splash off the top ended it.
WINNERS: Rey and Cara, at 11:58. Fun opener, and a nice win for Rey in his hometown. Who knows how many more opportunities he'll get to wrestle in front of his home crowd.
Replays of the match aired. Cara had Rey on his shoulders celebrating after the match.
– Clips aired of ADR's shenanigans that led to him retaining the title at the Royal Rumble. We also saw Big Show's attack on Del Rio and Ricardo Rodriguez on Raw.
– Del Rio continued to skulk outside the arena. Matt Striker asked if he was waiting for Big Show. Del Rio said he was just getting some fresh air, then told Striker to leave him alone.
– Del Rio goes one-on-one with Ziggler tonight.
[Commercial Break]
– The Great Khali came to the ring with Natalya and Hornswoggle. 3MB was in the ring. This "feud" was established on Raw, when 3MB crashed the Khali vs. Zack Ryder karaoke contest.
2 – THE GREAT KHALI vs. JINDER MAHAL
Hard chop in the corner by Mahal, then Drew McIntyre distracted Khali, allowing Mahal to go on offense. He took out the knees of Khali, but couldn't keep him off his feet for long. Boot on a charge by Khali, then some chops to the head. He signaled for the finish, but McIntyre got on the apron again. Natalya distracted McIntyre, who was chopped by Khali. Heath Slater then got on the apron, only to have his ankle picked by Horny. Slater went under the ring after him while Khali finished Mahal with the Punjabi Plunge.
WINNER: Khali, at 1:54. If Booker and Long are looking to be impressed by possible Chamber participants, then Khali should be in no problem. Not that I'm particularly pleased about that.
– Long and Booker were talking backstage about Khali's dominance. Booker said he was blind-sided by Swagger's return, but Long said it was he who invited Swagger to Smackdown – after all, he's a former World Champion. Damien Sandow and Cody Rhodes walked in. Cody said they are dissolving Team Rhodes Scholars to focus on singles careers. But they remain best friends. Sandow quoted somebody and he and Cody hugged. Booker broke up the love-in to tell them of a match for tonight: Sandow vs. Sheamus. Booker said he just went from Rhodes Scholars to Roadkill. Then he laughed uproariously at the joke. "You're welcome," finished Booker.
– We'll get clips of Brock Lesnar's return on Raw, next.
[Commercial Break]
– The San Diego skyline was shown.
– Mathews threw it to footage of the final segment of Raw. In a WWE.com exclusive, they showed Vince being stretchered out of the ring and backstage, with Stephanie McMahon in tow. Hey, was that Tim White in the background?
– Back to the announcers, where Mathews and JBL reflected on what they just saw. Mathews said updates have been scarce, but McMahon did suffer a broken left hip and has undergone surgery.
– Live this Monday, Miz TV's guest is Paul Heyman.
– But tonight, Damien Sandow takes on Sheamus in a Raw re-match. It's next.
[Commercial Break]
– Del Rio was still pacing outside with a bat. There was no sign of Big Show, however.
– Mathews and JBL disagreed about Big Show's attack on Raw. A still shot aired of John Cena pointing to the Wrestlemania sign after winning the Royal Rumble match. Clips aired of Cena winning the Rumble. Well, they didn't amount to much anyway. But they did show him challenging the WWE Champion on Raw, complete with Shield attack.
3 – SHEAMUS vs. DAMIEN SANDOW
During Sandow's entrance, they showed the finish of his match with Sheamus from Raw. Mathews made a point to note that Sheamus is trying to impress Booker T. in this match in order to secure a spot in the World Title Elimination Chamber. Sandow hit a side Russian leg-sweep, followed by a knee-drop. Elbow of Disdain for only one at 1:37. Sheamus countered with ruthless aggression, hammering away on Sandow in the corner. Sandow returned the favor. Sheamus with a knee-lift, then a few Irish Hammers. White Noise was countered but Sandow unwisely went to the apron. Sheamus clobbered Sandow with forearms…until The Shield's music hit and they emerged from the crowd. Sandow left the ring and Sheamus stayed. That's why Sandow is as smart as he is. The Shield attacked and Sheamus did his best to fight them off.
WINNER: Sheamus, via disqualification, at about 3:48 (no bell). I figured Sandow would take the fall again here – WWE is clearly high on him, but he's been losing a lot lately.
As the Shield continued their attack, the fans chanted "Feed Me More." However, no one came to Sheamus's aid, and he was left lying in the ring. If I were him, I wouldn't be in a hurry to save anyone else from Shield attacks after this.
[Commercial Break]
– With John Cena now gracing the front of the Post Fruity Pebbles box, they showed a tale of the tape between Cena and the former pitch-man, Fred Flintstone. Well, they're both cartoon characters, so the change wasn't TOO drastic.
4 – RANDY ORTON vs. WADE BARRETT
During Barrett's entrance, they showed Bo Dallas eliminating Barrett in the Rumble match. Then, his upset of Barrett on Raw. Orton burst out of the corner with a clothesline, followed by a dropkick. Barrett immediately went to ringside to gather himself. Back in the ring, Barrett and Orton exchanged rights. Slow developing neck-breaker by Barrett for two. Barrett tangled Orton in the ropes, then leveled him with a running boot. Orton was dragged back to the middle of the ring for a two-count at 2:22. Orton fired back out of a rest-hold with clotheslines and a powerslam. He tried his patented DDT, but Barrett wiggled free. He drove Orton back-first into the ring post outside the ring. He lined up for the Bull Hammer, but rammed it right into the ring post. DDT by Orton to bring Barrett back in. RKO ended it.
WINNER: Orton, at 4:08. So much for that "big" win by Barrett over Orton a few weeks ago on Raw.
A few key moments in the match were replayed. Orton posed on the middle turnbuckle as they went to break.
[Commercial Break]
– Barrett was interviewed by Striker backstage, but Barrett didn't even let Striker get out the question. He interrupted but quickly spotted Bo Dallas talking to some Divas in the distance. Barrett then savagely attacked the poor guy. The clang-y pipes made their return here as well, so you know it was a brutal attack.
5 – KOFI KINGSTON vs. JACK SWAGGER
Swagger looks like he's developed a little bit of a gut since he's been gone. Either that or his singlet is not flattering. Swagger did some amateur wrestling with Kofi as JBL discussed his credentials. Kofi kicked at Swagger, but Swagger mowed him down with a shoulder tackle. Swagger ran the ropes and was felled by a back elbow. Big beal by Swagger, however. He stood on Kofi on the corner, then landed a Vader Bomb. Lateral press for only two. Another beal, then Swagger began choking Kofi on the bottom rope. Kingston fought to a vertical base and hit a springboard cross-body for two. Swagger turned him inside-out with a clothesline. Arm-bar by Swagger. Kofi created some separation, but only briefly. He did manage to monkey-flip Swagger to the other side of the ring. Kingston made a signature comeback, but Trouble in Paradise was unsuccessful. Dropkick sent Swagger to the outside. Swagger dodged a baseball slide and tried to whip Kofi into the ring steps, but he avoided them and chopped Swagger. Trouble in Paradise on the outside, but Swagger side-stepped it and Kofi kicked the announce table. Back in the ring, Swagger applied the ankle-lock for a submission win.
WINNER: Swagger, via submission, at 7:04. Serious Swagger is Good Swagger. The match went much longer than I expected after the first minute.
A few replays were shown, then Swagger did a lot of yelling after the match.
– Three security members tried to talk some sense into Del Rio, but he backed them off. A bus began to pull into the parking lot. It pulled right behind a car that had been parked next to where Del Rio was pacing. Del Rio hid before the bus pulled up. Show cautiously emerged from the bus, and looked around to make sure the coast was clear. Del Rio tried to attack with the bat, but Show managed to avoid it. He chased the guy out of the car and Show rolled to the top of the car to get away from Del Rio. Del Rio did a leg-sweep on Show with the bat, then Del Rio mounted Show and punched away at him. Del Rio spoke angrily in Spanish as Show continued to run. He found another car, lights on, and drove away from Del Rio. Seeing Show running in jeans and a hoodie was comedic for all the wrong reasons.
[Commercial Break]
– The Historic Heart of San Diego was shown.
– From Raw, footage was shown of C.M. Punk interrupting The Rock's promo.
– Dolph Ziggler came to the ring with his entourage. As he did so, they showed a graphic for Punk vs. Rock at Elimination Chamber. Ziggler vs. Del Rio is next.
[Commercial Break]
– Del Rio was walking backstage when Ricardo approached him, wearing a neckbrace. Del Rio said Ricardo needs to stay backstage and heal up. Ricardo said they're a team but Del Rio made him promise he'd stay backstage.
6 – DOLPH ZIGGLER vs. ALBERTO DEL RIO
So if Big Show wasn't even on the card or used on the show, why did he come to the arena? And an hour-and-a-half into the show? Del Rio missed a charge in the corner and went shoulder-first into the ring post. DDT by Ziggler for two. Jumping elbowdrop from Ziggler, then a rear chinlock. Kick by Ziggler, but a German suplex by Del Rio put both men down. A.J. got on the apron to distract the ref while Langston tripped Del Rio. A pin by Ziggler only got two at 3:42. Del Rio upset Langston and Langston got on the apron, which led to referee Mike Chioda tossing Langston from ringside. Ziggler was beside himself as they went to break at 4:38 of the match.
[Commercial Break]
Back at 7:34 of the match. Ziggler kicked at the knee of Del Rio, then hit a beautiful standing dropkick for two. Del Rio managed to slow Ziggler's momentum and climbed the middle rope. He suplexed Ziggler off the top. Ziggler and Del Rio traded kicks. Ziggler missed a wild corner charge. Del Rio clotheslined Ziggler then gave him a tilt-a-whirl back-breaker. Superkick by Del Rio with Ziggler on his knees. Cover for two at 10:15. Del Rio signaled that it was time for his finish. Del Rio missed and Ziggler hit a fameasser for two. Backstabber by Del Rio with Ziggler caught up in the ropes. To the top went Del Rio, but Ziggler caught him flush with a dropkick coming off and Ziggler got a two-count. Del Rio dodged Ziggler's finish and applied the cross arm-breaker. Ziggler tapped.
WINNER: Del Rio, via submission, at 12:54.
Big Show appeared on the big screen. He was back in the building and had Rodriguez with him. Show ordered Del Rio back in the ring, and if he didn't listen, he'd snap Rodriguez like a piece of straw. Show said that if Del Rio ever attacks him like he did tonight again, he'd make Del Rio sorry. Rodriguez begged for Show to let him go, but Show gave him a knockout punch. Del Rio sprinted backstage. Referee John Cone was first on the scene and yelled for help. Del Rio ran up as he ordered Cone to get a doctor. A backstage worker helped Del Rio tend to Rodriguez as the show ended.
---
Greg Parks has been covering WWE Smackdown for PWTorch.com since January of 2007. Follow him on Twitter @gregmparks for live Tweeting during Raw, Impact, and PPVs, as well as other bits of wisdom. Comments, questions and feedback are welcome, and can be sent to g_man9784@yahoo.com.