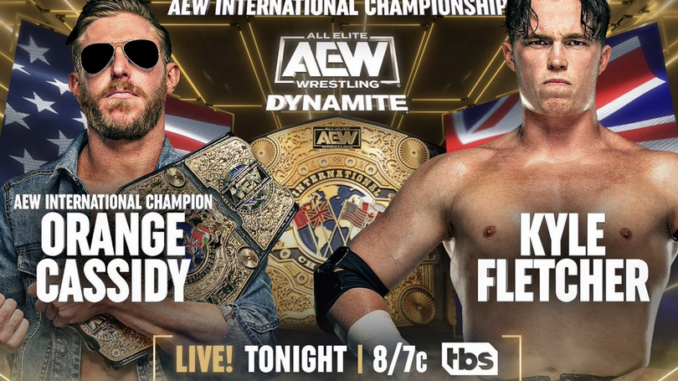 ---
SPOTLIGHTED PODCAST ALERT (YOUR ARTICLE BEGINS A FEW INCHES DOWN)...
---
Last night's episode of AEW Dynamite (5/24) drew an average of 846,000 viewers, up from 814,000 last week and below the 877,000 two weeks ago. The average through 21 weeks this year is 883,000.
One year ago this week, Dynamite drew an average of 929,000 viewers. The average viewership through 21 weeks last year was 969,000 viewers.
Through 21 weeks, viewership is down 9 percent.
The cable rating was 0.59, up from 0.57 last week but below 0.61 from two weeks ago. The average through 21 weeks is 0.64.
One year ago this week, Dynamite drew a 0.67 rating. The average rating through 21 weeks last year was 0.68.
Through 21 weeks, the cable rating is down 6 percent.
In the 18-49 demo, Dynamite drew a 0.32 rating, up from last week's 0.28 and the same as the prior week's 0.32. The average through 21 weeks is 0.30. The average through 21 weeks last year was 0.37. So the key 18-49 demo is down 19 percent compared to a year ago.
Dynamite ranked #4 overall in cable ratings in the key demo, behind Vanderpump Rules (#1 and #3) on Bravo and NHL Conference Final playoffs on TNT.
This episode of Dynamite featured several secondary title defenses, an MJF promo, and a Chris Jericho-Adam Cole contract signing segment.
VIEWERSHIP vs. TOTAL RATING vs. DEMOS
•Total viewership important to a wrestling promotion in particular because it is reflective of actual potential ticket buying customers and PPV purchasers. As viewership drops (whether due to discontinuing susbcribing to cable, a/k/a "cord-cutting," or a loss of interest in the product), fewer people are exposed to sales pitches for live events and PPVs.
•The cable rating is an important metric in terms of measuring overall satisfaction of the product, such as evaluating the booking and the presentation of the product over time. A cable rating is reflective of the percentage of homes still with cable that watch a given show. Each year in recent years, fewer people have cable, so while total viewership is expected to drop for the same show year over year, the cable rating shouldn't if fan satisfaction is steady. The cable rating is a better indicator of whether the fanbase is more into or less into the product compared to another time period.
•The 18-49 demo rating is most important to cable networks and advertisers. The 18-49 age group not only has more disposable income than kids, but is also typically more brand flexible and more interested in new products than the 50+ crowd whose buying habits are more set, so advertisers target them most. The demo rating, like the total cable rating, is the percentage of people with cable access who are watching, so a product with steady interest from viewers would have the same rating year over year regardless of cord-cutting.
---
PWTorch editor Wade Keller has covered pro wrestling since 1987. He has been a guest on the Steve Austin Show as an analyst of current events and pro wrestling history 40 times, making more appearances than any other guest. He currently hosts the "Wade Keller Pro Wrestling Podcast" and "Wade Keller Pro Wrestling Post-show" along with several PWTorch VIP-exclusive podcasts every week. He was inducted into the National Wrestling Hall of Fame for "Excellence in Writing on Professional Wrestling" in 2015. He hosted "The Ultimate Insiders" DVD series in the 2000s including long-from studio interviews in Los Angeles, Calif. with Matt & Jeff Hardy and Vince Russo & Ed Ferrara. He has interviewed more big name wrestlers and promoters in long-form insider interviews over the last 35 years for the Pro Wrestling Torch Newsletter, usually in the "Torch Talk" transcribed Q&A format, than any pro wrestling reporter. The list of those he has interviewed include Steve Austin, The Rock, Vince McMahon, Kevin Nash, Scott Hall, Hulk Hogan, Goldberg, Eric Bischoff, Verne Gagne, Lou Thesz, Jesse Ventura, Drew McIntyre, Brian Gewirtz, Paul Heyman, Mick Foley, Jim Ross, Tony Schiavone, Jon Moxley, and dozens of other top stars and influential promoters and bookers/creative team members.