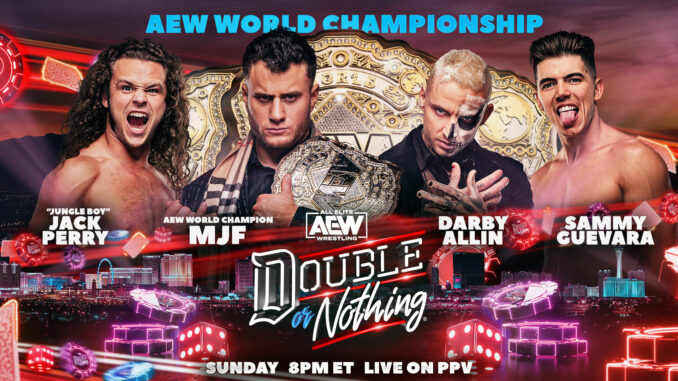 ---
SPOTLIGHTED PODCAST ALERT (YOUR ARTICLE BEGINS A FEW INCHES DOWN)...
---
LECLAIR'S AEW DOUBLE OR NOTHING 2023 REPORT
MAY 28, 2023
LAS VEGAS, NV AT T-MOBILE ARENA
AIRED LIVE ON B/R LIVE (U.S.), FITE.TV (Int.)
Announcers: Excalibur, Taz, Jim Ross, Tony Schiavone
-Entrances for the opening match took place on the Buy-In.
-A quick video preview of the show aired
-"It's Sunday, you know what that means!" Excalibur exclaimed. He welcomed Taz and Jim Ross as fireworks shot from the stage. The camera quickly cut to the ring, where Orange Cassidy was alone in the ring surrounded by his field of opponents.
(1) 21-Man Blackjack Battle Royal for the AEW International Championship
Participants: Orange Cassidy (c), Butcher, Blade, Ricky Starks, Bandido, Komander, Lee Moriarty, Big Bill, Ari Daivari, Tony Nese, Trent Beretta, Chuck Taylor, Penta El Zero Miedo, Ray Fenix, Kip Sabian, Swerve Strickland, Brian Cage, Jay White, Juice Robinson, Keith Lee, and Dustin Rhodes
Orange Cassidy stood alone in the center of the ring as the bell rang. Kip Sabian rushed in first and tried to toss Cassidy out from behind. Orange held onto the ropes. The rest of the participants flooded the ring. Swerve Strickland and Brian Cage stayed back, watching the action unfold. The announcers noted that once you're in the ring, you're eligible for elimination. Kommander walked the ropes and dove onto Big Bill and Lee Moriarty on the outside, none of them had officially entered the match.
Penta, Ray Fenix, and Bandito cleared the field and pumped up the crowd. Juice Robinson broke up the brief alliance. Tony Nese was tossed from the match. Penta and Ari Daivari wound up on the apron. Nese grabbed Penta's leg to prevent him from giving Ari a Powerbomb. Fenix walked the ropes and kicked Daivari off the apron and to the floor, eliminating him. Brian Cage entered the fray. Kommander ducked his clothesline. Cage tossed Fenix into the corner, then delivered an uppercut and stiff kick. He tossed Penta toward Fenix, then gave them a double German Suplex. Bandito rushed into try to military press Cage, but the big man slid down the back and gave Bandito a Monkey Flip.
Cage scooped Bandito for a Powerslam. Kommander jumped onto his shoulders from the top rope. Cage dropped them both. The Lucha Bros returned to the action to double team Cage. Jay White and Juice Robinson downed the Lucha Bros in opposing corners and stomped away at them. Wrestlers paired off into each corner as the match crossed 6:00. Fenix, Penta, Kommander, and Bandito worked together to take down Juice Robinson. Kommander went to the top rope for a springboard, but Jay White shoved him to the floor to eliminate him. Meanwhile, Juice tossed Ricky Starks over the top rope, but Ricky held onto the bottom rope and kept his feet from touching the floor. Jay White tried to aid in the elimination, but Starks made it back in the ring.
Best Friends worked with Orange Cassidy to give Kip Sabian a triple Powerbomb. Chuck Taylor clotheslined Sabian over the top rope to the floor. They engaged in a triple hug before being run over by Big Bill. Lee Moriarty joined the attack. Big Bill eliminated Chuck Taylor with ease. Beretta jumped on Bill's back. Big Bill deposited him on the turnbuckle and chopped him to the mat. Keith Lee tossed Blade to the floor after the latter gave Lee a headbutt.
Swerve Strickland removed his jacket at ringside, seemingly looking to finally join the match. Keith Lee gave Brian Cage a big rolling elbow. Strickland entered the ring and jumped on Lee's back. Keith shrugged him off and the two engaged in a stare down. Cage caught Lee with a punch and Swerve followed up with a kick. Strickland went for a rolling clothesline, but Lee caught him with a Powerslam.
The Lucha Bros gave Butcher a stereo Superkick, first in the ring, then on the apron to eliminate him. Bandito evaded offense from both Moriarty and Bill. Big Bill dumped him to the apron and Moriarty caught him with a big boot to eliminate him. Moriarty was tossed immediately after. Big Bill got Orange Cassidy out on the apron. He went for a big boot, but at the last possible moment, Trent Beretta shoved Orange out of the way and took the boot, getting eliminated in the process.
On the opposite side of the ring, Lee and Strickland continued to tussle. Brian Cage appeared from behind and dumped Lee to the floor. Dustin Rhodes tried to exact revenge, tossing Cage to the apron. Swerve made the save. Penta and Juice traded wild chops. Jay White got tossed to apron by Ray Fenix. Juice and and Jay worked together to toss Fenix. Ricky Starks ran in and clotheslined Robinson over the top rope, eliminating him.
The center of the ring cleared for Penta and Jay White at 14:00. White tried to toss Penta, but Starks intercepted him with a take down. Starks eliminated White. Juice Robinson immediately pulled Ricky under the bottom rope and tossed him into the steel barrier. Jay White joined the attack. Starks rolled back in the ring, but was immediately stalked by Big Bill. The crowd began a "Ricky" chant. Bill shook his head and tried to toss Starks, but Ricky held on. Starks fought his way back in the ring and caught Bill with big rights. Bill gave Starks a big boot over the top rope to eliminate him.
Dustin Rhodes and Brian Cage fought to the apron. Rhodes gave Cage a Destroyer on the edge of the ring. Cage fell to the floor. Swerve kicked Rhodes out, too. Orange Cassidy, Swerve Strickland, Penta, and Big Bill remained as the match crossed 17:00. Penta hit Cassidy with a Backstabber, then came face to face with Big Bill. He chopped Bill, then kicked him in the shins and quads repeatedly. Bill shrugged him off, gave him a big boot, and clotheslined him out of the ring.
Swerve fed Cassidy to Big Bill for a massive Sidewalk Slam. Strickland tried to direct traffic, but Big Bill took offense. Swerve backed off, allowing Bill to take over. Bill lifted Cassidy into a military press. He walked him to the ropes. Swerve shoved Bill from behind, toppling him over and eliminating him. Cassidy and Swerve traded near-eliminations. Both skinned the cat. They traded offense briefly in the ring. Cassidy flipped over Swerve and hit Stundog Millionaire. Swerve stumbled into the ropes, bounced back and kicked Cassidy in the back of the head.
Both men were down as the match hit 20:00. Prince swept the legs of Cassidy on his way back up. Strickland hit a double stomp from the top rope. He lifted Orange to his knees and put his hands in his pockets, mocking him. Swerve lifted Orange up to dump him over, but Cassidy planted his feet on the ropes and caught Strickland with a Tornado DDT. He hit another one, then an Orange Punch. Strickland fell to the apron. Cassidy loaded up for another punch. Swerve caught it and dragged Cassidy to apron with him. Both men teetered. Cassidy shoved Swerve into the ring post. Prince grabbed Orange's leg. Strickland caught him with a pump knee.
Strickland climbed to the top rope for a double stomp on the apron. Cassidy got his feet up. Strickland began to fall, but grabbed the rope at the last moment. Cassidy lifted his leg and kicked Strickland's hands. Swerve fell to the ground.
WINNER: Orange Cassidy in 22:26 to retain the AEW International Championship
(LeClair's Analysis: Fun opener, particularly in the latter stages. I liked the fact that they opted to do entrances during the final few minutes of the Buy-In, rather than further extend what was sure to be a long main card. Getting to the action quickly helped set a good tone to start. This was very much a prototypical battle royal in the early stages, but it quickly evolved into an entertaining bout with plenty of memorable little spots for a number of participants. Big Bill had an impressive showing, racking up big eliminations and significant moments, and lasting all the way until the final four. I thought the early gentleman's agreement between the Luchas in the early stages was fun, and commentary played up why they'd be willing to work together. They tried to weave a couple of small stories into the meat of the match, which is something I like to see from battle royal/Royal Rumble style matches. Ricky Starks continued his program with Jay White and Juice Robinson, though it did come to some detriment. White's usage in AEW thus far has left a lot to be desired. He's quickly become just another face in the crowd, and not even one that's had particularly strong showings on a show where almost everyone has strong showings. The action at the end was a lot of fun, with Swerve Strickland and Orange Cassidy's battle on the apron at the end of the match being a big highlight. While I thought Cassidy would be the eventual winner, I thought they did enough to make it seem like Swerve had a real shot. Hopefully there's bigger plans for him ahead.)
-The camera cut to Excalibur, Taz, and J.R., positioned for the first time at ringside.
-Excalibur tossed to a video package for Chris Jericho vs. Adam Cole.
Justin Roberts noted that anything goes in the next match and AEW will not be responsible for anything that occurs.
(2) CHRIS JERICHO (w/ Jake Hager, Daniel Garcia, Matt Menard & Angelo Parker) vs. ADAM COLE (w/ Roderick Strong) – Unsanctioned match, Special Enforcer Sabu
Adam Cole rushed the ring, flanked by Roderick Strong and Sabu. Cole pounced on Chris Jericho, but Menard and Parker immediately rushed in to take advantage. The ring quickly cleared, save for Jericho and Sabu. J.R. got extremely ornery about something that happened outside the ring, and the announcers went quiet for 20-30 seconds. Jericho and Sabu stood opposite of each other with steel chairs. They began cracking the chairs together. Sabu eventually gained control, hitting Jericho over the back. Chris spilled to the outside. Sabu saw a member of the J.A.S. laid out on a table at ringside, so he dove through it.
Ross began calling for someone to get control and get the other bodies out. They began brawling up the ramp and away from the action. Adam Cole returned to the ring to face Jericho again. The came to blows quickly. Cole took Jericho down and wrapped his knee around the southwest ring post. Jericho pulled himself to his feet on the apron. Cole went for Panama Sunrise on the apron, but Jericho blocked it. He gave Cole a Suplex to the floor as the match approached 4:00.
Jericho taunted the crowd, who were nearly silent. He slammed Cole's head against the apron, then ran him into the steel steps. Jericho rolled Cole into the ring and grabbed a steel chair. He wedged it into the corner, then tried to toss Cole toward it. Adam blocked it, then reversed the Irish whip, sending Jericho crashing into the chair instead. Jericho rose to his feet slowly. Cole gave him several rights. Jericho hit the ropes and cut Cole off with a big shove. "Come on baby!" he yelled. He went for a Lionsault, but Cole leapt to his feet and kicked Jericho in the stomach. Jericho landed awkwardly.
Cole climbed to the middle rope and went for a Panama Sunrise again. Jericho caught him and turned him into a Walls of Jericho. J.R. said Cole needed to get to the bottom rope, but Excalibur reminded him that there's no rules. Cole reached the ropes, and referee Aubrey Edwards waved him off. Cole continued crawling, getting part of his body out of the ring, enough to look under it. He came back with a fire extinguisher. Cole was fading, struggling to lift the weapon. Jericho dragged Cole back to center, fire extinguisher in tow. Cole sprayed it Jericho's face to break the hold.
Both men used the ropes to stand. Cole grabbed the fire extinguisher and hit Jericho in the head with it for a cover and two count at 9:30. Jericho tried to stand, but collapsed to his knees. Cole called for the Last Shot. Jericho popped up and caught Cole with a Codebreaker for a cover and near fall. He sprayed Cole with a heavy dose of foam from the fire extinguisher. Then, he sprayed it into the air. He dropped the extinguisher on Cole's lower body.
Chris left the ring to retrieve another weapon, returning with a Kendo stick. Jericho held it up, looking for a reaction. He pointed it at Cole's face. Dr. Britt Baker rushed to the ring with her own Kendo stick. Cole signaled for Jericho to turn around. Baker hit Jericho with the Kendo stick repeatedly. Jericho slumped to the corner, but Britt continued to attack. Saraya ran to the ring, but Britt saw her coming. She cracked her with the stick, too. Saraya left the ring in a hurry. Baker followed.
A small "we want tables" chant broke out. Cole continued to beat Jericho with a Kendo stick. Welts and scratches appeared all over Jericho's body. Cole climbed to the top rope. Jericho rose long enough to toss a chair at Cole's head. It connected, and Cole fell off the top, through a table set up on the floor. Jericho rolled to the outside and grabbed the camera, "you see what happens?" he told it, "see what happens?!" Jericho slid Cole back in the ring and retrieved a chain from under the ring.
The two men traded swings of the steel chain. They cuffed themselves together. Cole dragged Jericho to the corner and managed to pull off Panama Sunrise for a cover and very close near fall. Jericho recovered and caught Cole with a couple of chain whips. He set up for the Judas Effect, but Cole ducked. Jericho wound up in an advantageous position allowing him to try to choke Cole with the chain. Adam managed to flip over Jericho's back to free himself. He knocked Jericho to his knees with a Superkick, then followed up with the Last Shot. Cole looked poised to make the cover, but then thought better of it.
Adam Cole wrapped the chain around his own knee. He held it in place, got a running start, and gave Jericho another Last Shot with the chain. He mounted Jericho and punched him repeatedly with the chain wrapped around his fist. Cole kept punching. Aubrey Edwards called for the bell. The crowd booed.
WINNER: Adam Cole in 18:59
Cole fell to Jericho's side. Officials spilled into the ring to cut Cole and Jericho free from the chains.
(LeClair's Analysis: This was our first real indication that something was amiss. The crowd was dead from bell-to-bell, save the interference spot from Britt Baker and Saraya. Normally, audiences are chomping at the bit to sing along to Jericho's theme. Tonight's rendition was hardly a murmur compared to the standard. Adam Cole received a fine, but tepid reaction. The parade of cohorts and interfering parties were hardly acknowledged by the crowd. This whole thing just fell incredibly flat. The opening brawl that centered around Sabu didn't make a whole lot of sense. Why is the special enforcer immediately taking sides rather than attempting to establish some sort of order? Why is there a special enforcer in a non-sanctioned match to begin with? The big brawl felt over choreographed, but led to a violent one-on-one encounter that saw both men working hard with very little to show for it. There were some cool spots here and there, like Cole's failed Panama Sunrise attempts and Jericho's counters for them, and Britt's appearance late in the match. By and large, though, this just had no heat. It felt like a match begging for crowd participation that failed to reel the audience in at any step. A huge let down.)
-Excalibur quickly turned the page to the AEW Tag Team title match.
-Mark Briscoe headed to the ring first, followed by the challengers and their entourage. FTR entered to a decent ovation. Mark Briscoe checked the champions and challengers for illegal objects in the boots. Jeff Jarrett got in Mark's face.
(3) FTR (c, Cash Wheeler & Dax Harwood) vs. JAY LETHAL & JEFF JARRETT (w/ Satnam Singh, Karen Jarrett, and Sonjay Dutt) – AEW World Tag Team Championship match. Special Guest Referee: Mark Briscoe
A small "FTR" chant broke out as the bell range. Dax Harwood opened the match with Jay Lethal. They engaged in a quick mat exchange before circling one another again. Lethal worked over Dax's arm, then gave him a quick shoulder tackle. Lethal leaped over Dax's back and tried to hook him up, but Dax shoved him off. Lethal caught Harwood with an arm drag. Dax rolled into a seated headlock.
Harwood and Lethal worked each other toward the corner. Lethal hit a couple of big chops. Dax returned the favor with two big ones of his own. They traded chops for a moment before Lethal gave Dax an elbow through the ropes to the apron. Dax tagged in Cash Wheeler. He climbed to the top rope and dove onto both Jay Lethal, and the entering Jeff Jarrett. FTR avoided double atomic drops from Jarrett and Lethal and went to apply double Sharpshooters. Jarrett got out of the ring quickly. Lethal reached the ropes shortly after.
Wheeler worked over Lethal's arm. Jay managed to fight Cash off. He clapped his hands, feigning a tag to Jarret, but Mark Briscoe snuffed him out. FTR backdropped Lethal over the top rope and onto Jarrett on the floor. They went for tandem baseball slides, but Jarrett and Lethal side-stepped. Instead, they cracked Jarrett and Lethal's heads. FTR returned to the ring with Jay Lethal. Jarrett pulled on the ropes, sending Wheeler toppling to the floor. Jarrett grabbed a steel chair and got ready to swing it at Cash, but Briscoe caught him. Jarrett dropped the chair and tossed Cash into the steel barrier instead.
Jarrett retrieved Wheeler for Jay Lethal. Lethal gave Wheeler a quick Suplex. He finally tagged in Jarrett for real. Jeff gave Cash a Russian Leg Sweep. Lethal did a strut. Jarrett draped Wheeler over the middle rope and choked him. He distracted Briscoe long enough for Karen Jarrett to apply a choke of her own. J.R. called her a jezabel. Lethal gave Wheeler a punch, then drove his knee into the back of his neck. Jarrett stomped mercilessly at Wheeler's leg, then strutted. Jarrett tagged Lethal back in as the match crossed 8:26. Lethal gave Cash a Neckbreaker for a cover and two count. J.R. yelled at Sonjay Dutt.
Cash made a desperate crawl to Dax Harwood, but Lethal cut him off. He rolled Cash up for a two count. Lethal knocked Dax off the apron and tagged in Jarrett again. Jeff continued to work on the leg. He applied a Figure Four. Wheeler writhed in the center, with Dax nowhere in sight. Briscoe counted him to two a couple of times. Cash threw a couple of rights to try to break the hold, but Jarrett held on. Dax Harwood ripped Jay Lethal off the apron, then hit a diving headbutt onto Jarrett to finally break the hold. Briscoe began counting both Wheeler and Jarrett out.
Jeff Jarrett reached Jay Lethal for the tag. Jay shot Wheeler off the ropes, but Cash diverted his body and dove into the waiting hand of Dax Harwood. Dax dropped Lethal with a pair of clotheslines, then a short arm lariat of the corner, flipping Jay inside out. He have Lethal a German Suplex, then held on for a second He looked for a third, but Lethal countered. The two traded a number of standing switches before Harwood finally pulled off a Brainbuster for a cover and two count at 13:00.
Off of an Irish whip, Lethal ducked Harwood and hit the Lethal Combination. He climbed to the top rope. Dax sprang to life and crotched him on the turnbuckle. Jarrett returned, so Dax chopped him too. Cash Wheeler joined the fray. He and Jarrett battled on the apron near Lethal and Dax. Sonjay Dutt grabbed Wheeler's leg, allowing Jeff to slam Wheeler into the ring post. Meanwhile, Lethal dropped Dax to the mat with a series of chops. Lethal got his footing, looking for the elbow. Dax knocked him down again. He hooked Lethal up and executed a big Superplex. Harwood hung on. He flipped Lethal into Powerbomb Position and backed toward his own corner. Wheeler came flying for a Doomsday Powerbomb. Dax covered while Cash dove onto Jarret on the outside. Sonjay Dutt pulled Harwood out of the ring to break the count.
Mark Briscoe kicked Sonjay Dutt and Satnam Singh out. Jeff Jarrett returned to the ring with a guitar. He swung it at Dax, but Harwood ducked. Jarrett broke the guitar over Mark Briscoe instead. FTR hit Lethal with Shatter Machine. They covered, but there was no referee. Aubrey Edwards ran toward the ring. Sonjay Dutt blocked her. Edwards stepped around Dutt, but Karen Jarrett broke a guitar over her head.
Jay Lethal gave both members of FTR the Lethal Injection. Karen Jarrett went and grabbed the AEW World Tag Team titles and slid them in the ring. Jeff Jarrett held Dax Harwood. Lethal swung the belt, but Harwood kicked him in the head. He gave Lethal a piledriver. Jarrett hit Harwood in the head with the title, then gave him The Stroke. Jarrett covered. Briscoe crawled over for a very close near fall. Jarrett was enraged. "What are you doing?!" he asked Briscoe. He slapped him repeatedly. FTR grabbed Jarrett and gave him the Shatter Machine. Briscoe happily counted the three.
WINNERS: FTR in 19:54 to retain the AEW World Tag Team Championships
(LeClair's Analysis: Too much wonky interference again. The early stages of this match were slow and methodical, and put a crowd already teetering on the edge of boredom further into a lull. They got up for FTR's entrance, and for a couple of their hope spots late in the match, but by and large, they just didn't seem to care. It made it hard to get invested. I think AEW has been over-reliant on Jeff Jarrett as a talent, placing him in too many key situations and giving his matches too much time. This feud hadn't warranted nearly twenty minutes on Pay-Per-View. It didn't have the heat, didn't have the personal rivalry, didn't have the intrigue. It just dragged. The final five minutes, which started to pick up in pace, were wrought with ridiculous interference and overbooking, the same issue that's plagued nearly all of Jarrett's programs thus far. It's an absolute shame that FTR's stock has fallen as far as it has, and the AEW tag team titles have lost significant prestige, too.)
-Backstage, Alex Marvez interviewed Ricky Starks. Ricky was looking over his shoulder. Marvez asked about him eliminating Bullet Club Gold. Almost immediately, Robinson and White rushed Starks, overwhelming him. FTR ran into frame, sending Bullet Club Cold running. FTR told Starks to go get checked out.
-Excalibur tossed to a video package for Christian Cage vs. Wardlow.
-Backstage, Chris Jericho was slamming a trash can. Saraya was next to him. Jericho was furious. Saraya called Britt Baker a "bitch." Jericho said he's demanding Tony Khan give he and Saraya a tag team match against Adam Cole and Britt Baker on Dynamite. He blew a fireball off screen into the face of an official.
(LeClair's Analysis: Bad promo following a frustrating match. Saraya had to shoehorn the "bitch" line in there. Jericho's fireball was way too over-the-top comedic for what was supposed to be a heated and tense moment. They just tried to do too much to make it "edgy.")
-Christian Cage entered first, climbing a ladder at ringside and taunting the crowd. Wardlow entered with Arn Anderson, walking under the ladder on his way to the ring.
(4) WARDLOW (c) vs. CHRISTIAN CAGE (w/ Arn Anderson) – Ladder match for the AEW TNT Championship
Wardlow and Christian Cage circled each other in the ring briefly. Cage offered a lock up, but shrugged it off and hit the ropes. Wardlow gave him a quick shoulder tackle. Cage bounced to his feet and tried to work over Wardlow's arm, quickly going from looking for a hold to trying to set up for the Killswitch. Wardlow shoved him away with ease. Wardlow left the ring to retrieve a ladder. Cage followed and the two traded forearms against the ringside barricade. The champion tossed Cage back in the ring and picked up a ladder.
Cage kicked the ladder into Wardlow's face. He tried diving over the top onto Wardlow, but the big man tossed the ladder back at him. Wardlow went under the ring and retrieved two tables. He set up both at the base of the entryway. Wardlow slammed Cage against the ring steps. Wardlow tossed Cage onto the tables, then returned to the ring. He climbed to the top rope, looking to dive through the tables. Christian rolled off the tables in a hurry and scurried away. He waited for Wardlow to follow him, then caught him with a ladder.
Christian propped the ladder between the barrier and ring apron. Wardlow returned to his feet and tossed Cage onto the ladder. He walked the rungs and set Cage up for a Piledriver on propped ladder. Cage blocked it, then dropped Wardlow's legs in between a rung. Wardlow coughed in agony. He slowly crawled back toward the ring as the match approached 6:00. Cage dragged the ladder back in the ring and propped it against the ring post. The two men took turns crashing into the ladder off of missed charges. Cage wound up in control, he grabbed Wardlow's legs and gave him a Slingshot up into the ladder.
The challenger set up the ladder in the center and began to climb. Wardlow quickly knocked him into the ropes. Wardlow re-positioned the ladder and began to climb, but Cage grabbed his foot. Wardlow relented. He pulled Cage into Powerbomb position, but Cage held onto the ladder and leapt into position to grab the title. Wardlow ripped him from the upper rungs and into Powerslam position, dropping him. Wardlow knocked over the ladder. Excalibur said he realized he needs to further incapacitate Cage before trying to win the match.
Wardlow lifted Cage into a military press. He spun around a number of times, then released Cage onto the ladder. Christian bounced out of the ring and onto the floor, clutching his ribs. Wardlow set up the ladder again. He struggled to climb, still selling the effects of the low blow on the ladder rung. Luchasaurus rushed to the ring, distracting Wardlow long enough for Cage to return and climb up behind Wardlow. He hooked his head and delivered a diving reverse DDT off the ladder. Cage leaned the ladder against the middle turnbuckle. He turned around into a waiting Wardlow, who delivered an Alabama Slam onto the leaned ladder.
The champion laid the ladder out in the center and tossed Cage onto it. He climbed to the top rope and went for a Swanton. Cage moved. Wardlow crashed and burned on the ladder. Cage used the head of the ladder to force Wardlow out out of the ring. Cage set it up and began to climb. Cage reached for the title. Arn Anderson rushed to Wardlow's side, willing him to life. Wardlow climbed the apron, and then the turnbuckles. He leapt off the top turnbuckle onto the ladder. The ladder snapped under the weight. Christian toppled to the outside. Wardlow crashed awkwardly on the mat, clutching his leg.
Anderson and the referee checked on Wardlow. The champion struggled to his feet, holding his shin and knee. He set up the broken ladder, but it crumbled under his weight. He tossed it aside in frustration and pulled another one through the ropes. Luchasaurus jumped in the ring and gave Wardlow a Chokeslam. Arn Anderson entered the ring and bit Luchasaurus' thumb. Lucha came up bleeding profusely from the hand. Wardlow returned and tossed Luchasaurus to the outside. He and Anderson worked together to lay Luchasaurus on the two tables near the entrance. Wardlow climbed the massive ladder and hit a Swanton Bomb through Luchasaurus and both tables.
Everyone was down. After a few moments, Christian Cage's eyes came into view, surveying the empty ring. He slid inside and set up a ladder. Cage climbed to the top, getting a hand on the ladder. Arn Anderson pushed the ladder over. Cage fell into the waiting arms of Wardlow, who gave Cage a Powerbomb. Wardlow climbed the ladder and retrieved the title.
WINNER: Wardlow in 17:11 to retain the AEW TNT Championship
(LeClair's Analysis: I really like the pairing of Wardlow and Arn Anderson, and I thought Arn's involvement here worked up to a certain point. I dislike that he had to be directly involved in the finish, given how much interference has already plagued this show. Wardlow and Christian worked hard, with Cage continuing his run of excellent heel work. I loved the camera cut to him peering into the empty ring, surveying the carnage and realizing he had a window to retrieve the title. Good stuff there. Wardlow executed some big, impressive spots, including the insane dive off the tall ladder onto Luchasaurus. It was a big moment, but it felt undermined by the sheer amount of weapon use and interference already sprinkled throughout the show. Fine match, and we got the right outcome, but they really could've done without all the gratuitous interference again.)
-Excalibur tossed to a video package for the AEW Women's World title match.
-Tony Schiavone joined Excalibur and Taz, replacing J.R.
-Toni Storm headed to the ring on her own. Jamie Hayter's music hit, but she didn't come out. The music stopped and restarted. Suddenly, Hayter spilled from the curtain, followed by Saraya and Ruby Soho. The beat Hayter down the ramp. Toni Storm joined the beat down. She tossed Hayter into the steel ring steps. Saraya held her injured arm out while Storm dropkicked her repeatedly into the steel.
Storm tossed Hayter into the ring. The referee held her back for a brief moment while he checked on Jamie Hayter.
(5) JAMIE HAYTER (c) vs. TONI STORM – AEW Women's World Championship match
Toni Storm knocked Jamie Hayter down and covered her for a near fall as soon as the bell rang. Meanwhile, Saraya and Ruby Soho worked on removing the turnbuckle pad from the top rope in the southwest corner of the ring. Dr. Britt Baker finally ran to the ring, attacking Saraya. The two women battled out of view. Ruby Soho began removing the southeastern upper turnbuckle pad. Hayter tried to stop her, but Soho sprayed paint in her face. Storm stacked Hayter for another near fall.
Hikaru Shida rushed to the ring and attacked Ruby Soho with a Kendo stick, taking her out of the equation. Hayter caught Storm with Hayterade. She hesitated on the cover, clutching her arm and shoulder. She crawled to Storm and covered for a near fall. The two women fought to their feet. Storm attacked the arm again. She pulled Hayter in and hit Storm Zero for a cover and three count.
WINNER: Toni Storm in 3:00 to win the AEW Women's World Championship
Saraya and Ruby Soho rushed back to ringside to celebrate with Toni Storm. The crowd booed mildly.
(LeClair's Analysis: This wasn't good, but it's hard to fault anyone given Jamie Hayter's status. I wish there were a better way around this. Again, this was completely marred by gratuitous interference. Britt Baker took such a long time to appear that I started to wonder if she was coming at all. How can they explain that delay? Why was Shida so late to make her save? It just felt entirely choreographed, with one women coming out to face the next to face the next. The AEW Women's division has been the Achilles heel of the company since day one – they've never quite gotten it right. And, although, I don't think they'd done a particularly good job with Hayter, either, I do think she was the strongest in a long line of recent underwhelming champions, which includes Toni Storm. We'll see if Storm can elevate the title in any way as part of the Outcasts, but I just don't think they've shown anything as a company that should give someone faith that much changes.)
-After a sponsor promo, House of Black headed to the ring for their trios open challenge.They sat in the ring in darkness for a moment. The Acclaimed accepted the challenge. Caster's rap included a reference to Dominick Mysterio.
(6) HOUSE OF BLACK (c, Malakai Black & Brody King & Buddy Matthews w/ Julia Hart) vs. THE ACCLAIMED (Anthony Bowens & Max Caster & Billy Gunn) – AEW World Trios Championship match
The lights settled into the same ones used on Dynamite. Malakai Black began the match with Anthony Bowens. They worked each other's arms over. Bowens eventually broke the stalemate with an elbow to Black. Malakai smiled, shrugging it off. Black dropped Bowens with a quick shoulder tackle. Malakai rolled off of Bowen's back and sat down, eliciting the first reaction of the match. Bowens sat down across from Malakai for a bigger pop. He put up the scissors.
Both men stood. Malakai kicked Bowens in the gut, then dragged him to his corner to tag in Buddy Matthews at 2:45. Buddy worked over Bowens' arm. Bowens fought free and caught Buddy with a sharp forearm to the face. He leapt over Matthews and caught him with a great looking Famous-er from behind. Anthony tagged in Max Caster. Caster dropped to the floor. Bowens tossed him toward his partner. Caster delivered a big back slam onto the apron. He rolled Matthews into the ring and covered him for a quick two count.
Matthews was able to regain control quickly. He tossed Caster to his corner and tagged in Malakai Black. Black didn't stay in the ring for long, he tagged in Brody King and the two set up some double team offense on Caster. King gave Max a big chop and then tagged Black. Caster worked Black to his corner and tagged in Anthony Bowens. The two hit Black with some quick chops and forearms, then Caster held Malakai's legs for Bowens. Anthony set up for Scissor Me Timbers, but Matthews pulled Caster away. Bowens jumped right into the grips of Black. He applied a Knee Bar.
On the outside, Brody King tossed Billy Gunn to the barricade and then threw his whole body into Gunn's chest. In the ring, Bowens reached the ropes but the referee reminded him there are no rope breaks in House rules. Black and Bowens worked to their feet, trading shots as the match approached 7:30. Bowens hoisted Black into a Fireman's Carry position and pulled off an Ushigoroshi. Bowens looked for a tag, but had no partners available. Black swept Bowens' leg and caught him with a knee strike. He pulled Anthony back into a Knee Bar, dragging him enough to make a tag to Buddy Matthews.
Buddy flew off the top with a Meteora to Bowens. He stayed in stride and knocked Billy Gunn off the apron. Matthews tagged Black back in. Malakai applied a kneeling Knee Bar. Bowens used the ropes to climb to a vertical base and relieve the pressure. He used back elbows to break completely free of the hold. Bowens clipped Black with a Superkick. Malakai slumped against the ropes. Bowens crawled desperately toward his corner, but Black cut him off.
Malakai tagged in Buddy Matthews again. Buddy continued to work on Bowens' injured leg. He worked Bowens toward the northeast corner of the ring. Bowens managed to kick Buddy away, causing him to slam into the ring apron. Matthews still beat Bowens back to the corner. He tagged in Brody King. The big man took down Bowens immediately. He tossed him toward the corner and slumped him with a big chop. Bowens fought out of the corner and hit King with a Jawbreaker. He charged at Brody, but King scooped him into the air and slammed him into the corner. King knocked Caster and Gunn off the apron, then gave Bowens a cannonball. He covered, but Max Caster broke it up just in time.
Black tossed Max Caster out of the ring and into the steel steps. Brody King tagged in Buddy Matthews. Bowens managed to slid over Matthews and shove King into him. King charged back at Bowens, but Anthony pulled the rope down to send him flying. Bowens got close again, but Malakai cut him off. Bowens kicked Malakai out of the ring. He dove toward Billy Gunn's waiting hand, but Brody King pulled Gunn to the floor at the last moment.
Bowens and Matthews fought near the corner. Buddy created separation and climbed to the top. He jumped at Bowens, but Anthony caught him with a Superkick. Bowens finally reached Billy Gunn for a tag. Billy went on a hot streak, dropping each member of House of Black in succession. He gave Brody King the Famous-er. He draped Buddy Matthews over the middle rope and gave him a Famous-er. Gunn turned around and walked right into Black Mass for a cover and three count.
WINNERS: House of Black in 15:19 to retain the AEW World Trios Championships
(LeClair's Analysis: I thought this was a really good TV match. That is to say, there was no heat here. They'd have been far better off just introducing the Acclaimed as challengers rather than booking an open challenge. The fans popped for The Acclaimed's music, but had a hard time staying invested for much else. The lights, which have vastly improved since the first open challenge, still don't do it for me and I'd prefer they go without. House of Black is genuinely enjoyable to watch wrestle, though. Their style and fluidity as partners is hard to compete with. I thought they told a really compelling and effective story with the isolation of Anthony Bowens. They built up to his hot tag for so long and with so much purpose that even the near silent Las Vegas crowd came to life briefly when Billy Gunn finally got the tag, only to be quickly thwarted by a Black Mass for a clean H.o.B. win. Fun stuff.)
Julia Black looked into the camera and said, "the house always wins." Excalibur noted that the trio has yet to lose a trios match in 2023.
-Taya Valkyrie entered. Jade Cargill followed, surrounded by her sorority sisters in A.K.A., the oldest African American sorority in the U.S.
(7) JADE CARGILL (c) vs. TAYA VALKYRIE – AEW TBS Championship match
Both women looked for their finishers out of the gate, but were easily blocked. Taya Valkyrie took control in the opening seconds, leading Jade Cargill to roll to the outside to regroup with Mark Sterling. Taya climbed to the top turnbuckle and dove. Cargill moved out of the way, but Valkyrie took out Sterling. She tossed Cargill back in the ring. Cargill went to kick her, but Taya moved. Cargill wound up stuck in the middle rope. Valkyrie slid under her for a nice looking German Suplex. She threw her arms up. and smirked.
Back in the ring, Cargill retook control. She tossed Valkyrie to the outside and gave her Suplex on the floor. The champion threw her arms out in similar fashion. She tossed Taya back in the ring and gave Valkyrie a big Spinebuster. She covered her for a two count at 3:30. Taya spilled to the outside. Cargill followed. She pounded at Valkyrie's back, then lifted her onto her shoulders. Cargill slammed Taya into the ringside barricade. The referee implored Cargill to bring Taya back inside.
Jade tossed Taya in the ring. She stretched her arms and drove her boot in between Taya's shoulder blades. Valkyrie worked herself back to her feet and the two traded right hands. Valkyrie knocked Cargill to the apron. Jade leapt to the top rope for some springboard offense, but Taya leapt into a Codebreaker in mid-air. They came down violently. Both women struggled to their feet to trade punches as the match crossed 7:00. Taya worked Cargill to the mat and turned Jade over for a stretch. She thought better of the submission, instead crossing Cargill's legs and lifting her by the arms for a stomp. Taya covered for a very close near fall.
Cargill managed to roll up Valkyrie for a two count. Taya rolled to her feet and pulled Jade in for Road to Valhalla. She hit it, and hooked the leg for a very close near fall. The camera cut to Mark Sterling at ringside in shock. Cargill fought to her feet and hit Jaded for a cover and three count to improve to 60-0.
WINNER: Jade Cargill in 8:43 to retain the AEW TBS Championship
Mark Sterling cut off the music to celebrate Cargill's 60th win. He said Jade is willing to fight anyone, anytime, any place, but "the problem is, there's nobody left." After a few moments of silence, Kris Statlander emerged. She signed "mama's home."
The referee rang the bell.
(8) JADE CARGILL (c) vs. KRIS STATLANDER – AEW TBS Championship match
Jade Cargill went for a pump kick, but Kris Statlander ducked it. She caught the champion with a roundhouse kick. Cargill stumbled to the corner. Statlander gave her a quick kick. She hoisted Jade up for a Suplex, but Jade slid down the back. Cargill caught her with a pump kick. She pulled her in for Jaded, but Statlander slid free. She trapped Cargill in position and hit Friday Night Fever for a cover and three count.
WINNER: Kris Statlander in 0:47 to win the AEW TBS Championship
Confetti fell from the sky around Statlander. Excalibur noted that it's the first time anyone other than Jade Cargill has held the TBS title. Statlander slapped hands with fans along the ramp way.
(LeClair's Analysis: Oh boy. I thought Jade Cargill's entrance was impressive. Again, like a lot of other things on this show, it was hurt by the fact that the crowd just didn't seem to care. She looked like a star, acted like a star, and was presented as a star, but when the crowd doesn't give you a star-level reaction, the whole thing falls apart pretty quickly. She and Taya worked hard. Like a lot of Cargill matches, it suffered by the feeling that they're moving spot to spot rather than wrestling a fluid match. It's a minor quibble, though, as Cargill is so physically impressive in her offense that it's easy to overlook. Taya got some great spots in, too, particularly that snap German Suplex under the bottom rope.
Kris Statlander's surprise appearance sounded, to me, like the largest reaction from the crowd to that point in the show, and it still felt rather subdued. She's been a deserving favorite in the division for a while, and it's really good to see her back. I think they could've gotten more out of this by building to an actual match between she and Jade, but I do understand that giving her a big, decisive win here was probably a moment sorely needed for this crowd. The only drawback, and it's an important one to note, is that this played out much like a Money in the Bank cash-in. Those are notoriously better executed by heels. Statlander was impressive in the win, but Cargill had just wrestled a physical match moments before, and wasn't expecting a second challenger. It's an easy way to create trouble, especially with a character as a cool as Cargill.)
-Excalibur tossed to a video package for the AEW World Championship match.
Jungle Boy headed to the ring first to minimal reaction. Sammy Guevara was second out, accompanied by Tay Melo. They had queue cards again. They announced that they're having a baby. Darby Allin's entrance was preceded by a video of him asking for help from Vegas Elvis to dispose of a body. He rode down the Vegas strip on his skateboard, hanging onto the back of a Prius. Allin rode into the crowd in an Elvis-inspired skull costume. He jumped the barricade and ran into the ring.
The lights in the arena went out, save for a large UFC logo in the upper level. MJF was lowered to the stage on a throne. He was wearing his devil mask. He walked through a group of women on their knees, dressed in white and wearing horned masks. Excalibur talked about the rules of a four way match. He said MJF is at a distinct disadvantage.
(9) MJF (c) vs. DARBY ALLIN vs. "JUNGLE BOY" JACK PERRY vs. SAMMY GUEVARA – AEW World Championship 4-Pillars match
All four men stood in their respective corner as the match began. MJF slid under the bottom rope and began circling the ring. "We're on my time!" he said. Jungle Boy slid outside to cut him off. MJF tried to step around him, by Sammy Guevara cut him off, too. Darby Allin completed the triangle, surrounding MJF and forcing him back in the ring. The three challengers backed Max into the corner and hit him with some quick hits and chops. They tossed MJF to the outside before coming to blows with each other.
Jungle Boy, Allin, and Guevara completed the triple miss dropkick spot. MJF mockingly applauded them from the apron. Guevara held Perry's arm. Allin joined the lock up. Sammy and Darby leapt to the top rope and flipped free of Perry's grasp. Perry tossed them both to the outside. Perry looked poised to dive onto Allin and Guevara, but MJF cut him off with a clothesline. MJF raised his arms to cheers. He teased diving onto his challengers, but instead decided to strut and swivel his hips. He blew a kiss toward the balcony.
Darby Allin took down MJF from behind and then tossed him to the floor. Allin threw himself onto MJF. Jungle Boy threw himself onto Allin, then onto MJF, then onto both of them at the same time. Confetti was still all over the ringside area. Allin, MJF, and Jungle Boy stood just in time to be dropped by a Shooting Star Press off the top from Sammy Guevara. A meager "this is awesome" chant broke out. Guevara yelled that it's "his f—in' night." He tossed Perry into the ring and hung him up in a Tree of Woe. He placed Allin above Jungle Boy's legs. Sammy set up for a Superplex. Jungle Boy sprang to life to grab Sammy. He completed a German Suplex from the Tree of Woe, tossing both Allin and Guevara into MJF, who'd just returned to the ring.
All four men worked to their feet. Perry gave Guevara a Poisonrana for a cover and two count just before 6:00. Allin and MJF rested in opposing corners. Perry ran at them both. MJF fought off Jungle Boy and charged at Allin. Darby flipped over him and gave him a stunner. Guevara returned to tossed Allin back toward the corner. He leapt out onto the apron and flipped off the apron onto Jungle Boy. Darby Allin tried to slide at him under the bottom rope, but Guevara picked him out of thin air with a cutter on the floor. Guevara hit the ring and gave MJF a Spanish Fly. He rushed to the top rope and hit a massive frog splash for a cover and near fall on the champion.
Sammy worked on MJF in the northwest corner of the ring. Allin and Jungle Boy crawled back inside. MJF bit Guevara's forehead to create separation. He gave Sammy a Powerbomb onto his knee, then whipped Guevara into Jack Perry's seated body in the corner. Darby charged at MJF, but got caught with a package driver for a cover and near fall. MJF clutched his ribs and spit on Darby Allin as the match passed 9:15. He began to pull Allin up by the face. Guevara and Perry returned. MFJ called Guevara an idiot. Guevara kicked MJF in the face. Jungle Boy kicked Guevara in the face. All four men were down in opposite corners.
Allin rose first. He gave MJF a Scorpion Death Drop. Guevara gave Allin a Codebreaker. Jungle Boy gave Guevara a Killswitch. MJF gave Perry the Cross Rhodes and covered him for a near fall. Max rolled to the outside and grabbed a microphone. "Hold on! Hold on!" MJF said he saw the cue card. He told Sammy to lay down. "You need the money, buddy, just lay down! Think about the money!" He handed Sammy the microphone and encouraged the crowd to cheer for Sammy to lay down.
"I'll lay down for you, Max. I'll lay down, I'll take the money." Guevara laid flat on the mat. Max posed and went for the cover. Guevara pulled him into a small package for a close near fall. Guevara picked up Max for the GTH, but MJF blocked it. He pulled Guevara into Salt of the Earth. Guevara slipped free. He turned MJF into a Boston Crab. Jungle Boy and Darby Allin returned. Allin tripped up Perry and applied a Sharpshooter. MJF and Perry used each other's bodies to pull themselves out of the holds. Jungle Boy applied an arm bar on Darby Allin. Sammy Guevara applied a Figure Four on Darby Allin. MJF had Guevara and Perry. They were locked in a four-way hold for a several moments. Eventually, the stalemate ended and everyone broke.
After a flurry from Darby Allin, Jungle Boy edged out his opponents and was the only man left standing. The other three lined up on their hands and knees in front of them. He used their backs to run at MJF and spike him for a cover and near fall. Jungle Boy and Sammy Guevara were left alone as the match ticked toward 16:00. Perry gave Guevara a Tiger Driver for a two count. He slid under the bottom rope to attack Darby, but Allin ran him into the barricade. Allin tossed MJF next to Perry. Darby took off and dove into both MJF and Perry, sending them flying into the crowd.
Friedman and Perry were tossed back to ringside by Allin. He began climbing to the top turnbuckle. Sammy Guevara caught him with a knee to stop his momentum. He climbed up to meet Allin, then executed a Spanish Flay off the turnbuckle onto both Jack Perry and MJF below. All four men were in a heap on the floor. Sammy was the first to show life. Darby was the first to get into the ring. The remaining three followed. All four men set up on their knees in the center of the ring. They traded round-robin punches and chops as the match approached 19:30. All four men rose to their feet slowly, still trading shots. Sammy knocked Jack Perry to his knees, but only for a moment. MJF gave all three men eye pokes, then threw double middle fingers to the crowd.
The champion turned around and ate a triple Superkick from all three challengers. Sammy gave MJF a cutter. Darby spiked the champion. Jungle Boy kicked him in the back of the head. MJF rolled the outside. The three challengers traded rapid fire roll ups in various creative circumstances. Allin caught Guevara with Code Red, but Sammy kicked out at two. Allin climbed to the top rope for Coffin Drop. MJF tripped him up. Max climbed to the top rope and hooked Allin, delivering a huge Powerbomb off the top. Friedman grabbed his wrist and kicked around the mat, screaming in pain.
Excalibur interrupted the match to say the mixed tag match is official for Dynamite. The four men went for quick covers again, all garnering two counts. Perry was the last to attempt, covering all three opponents. He worked Guevara into the corner and chopped him hard. Jack and Sammy slapped each other into a seated position on top turnbuckle and rope. Guevara hit Perry with a cutter off the top. Jack immediately rolled to the outside to save the cover.
Sammy turned his attention to the champion. MJF was still favoring his forearm and wrist. MJF exploded to life with a low blow to Guevara. Darby Allin returned to the ring with his skateboard. He hit Max in the back with it, then leaped to the top rope. He hit MJF with the Coffin Drop. Instead of going for the cover, he hit Max with a headlock takeover pin. Jungle Boy broke the count at two. He and Darby traded slaps and punches, both collapsing under exhaustion. MJF returned to the ring with the AEW title. "Who's it gonna be?" he asked. Perry stood first. He blocked the shot with the belt. Guevara clotheslined MJF over the top rope. Perry came away holding the title.
Perry looked at the title in his hands. He contemplated using it. He eventually decided against it. Allin rolled him up for a two count. Sammy returned with kicks for both men. He hit Perry with the GTH. Guevara climbed to the top rope. Allin pushed him to the floor. Sammy hit the barricade hard. Allin climbed to the top rope, setting up for Coffin Drop. MJF rushed back into the ring and placed the AEW title on Jungle Boy's chest. Allin dove head first onto the title belt. MJF pulled him up, hit a headlock takeover and covered him for a three count.
WINNER: MJF in 27:47 to retain the AEW World Championship
MJF walked up the ramp with a middle finger up to the crowd. The camera cut to the three challengers collecting themselves in the ring.
(LeClair's Analysis: Really good match, and conclusion to an angle I thought has been hugely underwhelming. As little as I've enjoyed the build to the "4 pillars" title bout, I never doubted that these four could have a really entertaining, innovative, and competitive Pay-Per-View match. They delivered. The offense was fast and furious. I thought MJF was the glue that held things together. The other three wrestlers were keen on hitting a variety of flashy high spots and signature "indie" offense, like the triple missed dropkick sequence, for example. Meanwhile, MJF was all about thwarting his opponents attempts at maintaining control while sowing seeds of doubt among them and constantly mocking their efforts. The crowd was as lively as they'd been all night to this point, but never reached a crescendo that big AEW title matches often do. I think it's largely in part due to the fact that MJF made a mockery of these three being worthy title challengers, and he was right. It's one thing for the heel to talk down to a challenger to get in his head, but MJF spoke nothing but facts on the road to this match. They weren't on his level, and while they were concerned with flashy spots and cool offense, MJF was focused on winning. The crowd never felt invested in the beats of the match. It felt like they were watching three guys wrestle a high level, fun match while they waited for the one the ultimately like better to come in and get the pin. And that's exactly what happened. I don't think anyone bought that Max's title reign was every in jeopardy. Max sure didn't. While I very much enjoyed the action here, everything about this program has just felt trivial and hollow.)
-Excalibur tossed to a promo for Anarchy in the Arena.
-Justin Roberts announced that "shit's about to hit the fan" before introducing Anarchy in the Arena.
The Elite entered first to a decent reaction. They posed in the ring and awaited their opponents. Violent Idols played "Wild Thing"to introduce the Blackpool Combat Club. The BCC emerged from the the tunnels atop the lower level. The Elite left the ring to meet them.
(10) THE ELITE (Kenny Omega & Nick Jackson & Matt Jackson & "HANGMAN" ADAM PAGE) vs. BLACKPOOL COMBAT CLUB (Jon Moxley & Bryan Danielson & Claudio Castagnoli & Wheeler Yuta) – Anarchy in the Arena match
The Elite met the BCC somewhere in the stairway. The band continued to play "Wild Thing." Bryan Danielson got slid down an arena handrail by the Young Bucks. A referee wound up bleeding in the opening moments. The Bucks used a fan's replica title belt on Wheeler Yuta. Jon Moxley spilled into ringside with Kenny Omega. They traded slams at ringside before toppling into the announcers table. The band played "Wild Thing" a second time. Hangman Adam Page and Bryan Danielson fought into the ring. Page peeled off his eye patch, revealing that he'd fully healed. He tossed the patch at Danielson. Page pulled out a screwdriver, but Wheeler Yuta chop blocked Page to prevent the attack.
All eight men wound up in the ring. Each member of the BCC wound up in their own corner. Each member of the Elite mounted a BCC member for punches. BCC spilled to the outside. The Elite knelt in the center, facing opposite directions. The dove two-and-two through opposite sides of the ropes onto the BCC. The action spilled into the ramp area. Violent Idols began playing "Wild Thing" for a third time. Jon Moxley got tangled up in cords, creating an audio issue. The Young Bucks saw that the singer of the band was wearing a BCC shirt, so they Superkicked him. The music finally stopped.
The Bucks dove onto Claudio Castagnoli below the ramp. Matt Jackson gave Wheeler Yuta Northern Lights Suplexes all the way down the ramp, back toward the ring. Claudio stopped the last one, but Nick Jackson got a running start and plowed into Claudio. Hangman gave Wheeler Yuta a Powerbomb on the corner of the apron. The camera returned to the ring, where Jon Moxley was now bleeding profusely. Kenny Omega and Hangman Page took turns chopping Moxley as the match crossed 8:00. Moxley managed to fight off Page and Omega. He rolled to the outside, taking Kenny with him. Danielson choked Nick Jackson with a camera cord.
Bryan Danielson climbed into the ring to beat down Hangman Page in the corner. Moxley and Omega fought on the floor near the top of the stage. Claudio and Matt Jackson battled up the stairs of the lower level. Omega tossed Moxley into the Double or Nothing set chips. Claudio carried Matt Jackson into the concourse area, filled with fans. Bryan Danielson ripped the jacket off of Justin Roberts. Matt Jackson leapt off the concession stand onto Claudio.
Moxley gave Kenny Omega Suplex onto the toppled Double or Nothing chip, which happened to be laced with barbed wire. Wheeler Yuta joined Danielson at ringside, beating down Hangman and Nick Jackson. Moxley pulled out a fork and dug it into Kenny Omega's head. He choked Omega and walked him back toward the ramp. Back in concessions, Claudio carried Matt Jackson into a stairwell. Moxley choked Omega to the mat. Kenny got his legs under him and managed to stay alive, dumping Moxley onto the barbed wire as the match crossed 12:15.
In the ring, Wheeler Yuta gave Hangman Page a series of hard chops. Danielson walked a bloody Nick Jackson around ringside. The BCC had peeled back the padding at ringside. Moxley, with blood coming out in spurts from his back, sauntered back down the ramp to ringside with Omega in tow. He pounced on Omega and continued to rake at the cut opened up with the fork. Danielson mounted Nick Jackson and punched his bleeding face repeatedly. Danielson held Hangman Page open while Moxley chopped him repeatedly. Mox returned the favor, opening Page up for kicks from Bryan.
Claudio and Matt Jackson had fought outside the building. At ringside, Moxley tossed a chair at Omega's head. Castagnoli tossed Matt Jackson into the back of a white pick up truck. Wheeler covered Page for a two count, but it wasn't shown. Claudio gave Matt a Piledriver in the bed of the truck. Danielson applied the Labell Lock on Hangman Page while Moxley choked him with the cord of a leaf blower. Yuta hit Omega in the head with the leaf blower. Bryan Danielson walked Nick Jackson up the ramp and haphazardly tossed him off the staging to the floor. He wiped his face with Jackson's blood.
Mox dragged Page out to the apron for a Piledriver on the edge of the ring. Hangman countered it and hit a Deadeye instead. Yuta hit Page with the leaf blower. Omega returned with a trash can lid and cracked Yuta. Claudio emerged and blocked a lid shot from Omega, looking like a Captain America sheild block. Excalibur noted that Omega was wearing Captain inspired tights. Nick Jackson returned to help clear Claudio out. jumped Nick and applied a single leg crab. Omega kicked Mox in the head repeatedly, but Jon wouldn't let go. Claudio stepped in to clear Omega out.
Yuta put Nick Jackson in a Crossface while Mox still held the crab. They held it for several moments until Matt Jackson returned, hobbled. He rolled into the ring and kicked Moxley in the face. When it connected, fireworks exploded from his shoe. He kicked Yuta in the head, too. Page flew in the ring and hit Wheeler with the Buckshot Lariat for a cover and near fall just before 20:00. Castagnoli and Danielson swarmed in to take out Matt Jackson. They removed the exploding shoe and began working on the exposed foot. Claudio got dragged to the outside, but Yuta took his place. Moxley returned with a bag of thumb tacks. He gave Matt an Atomic Drop, placing his exposed foot right on the thumb tacks. He followed up with the Paradigm Shift for a cover and near fall.
Nick Jackson hit the ring, but ate a cutter on the Thumb Tacks. Omega rushed in the ring, looking for a V-Trigger on Danielson. Yuta cut him off. Omega dropped him. Danielson gave Omega the running knee. Then he caught Page with the same move. The BCC gave open elbows to each member of the Elite. Moxley filled Matt Jackson's mouth with thumb tacks, then fed him to Claudio for an uppercut.
Omega and Hangman used each other's bodies to pull themselves up. They psyched up, then attacked the BCC. They cleared the ring of everyone but Danielson. Page gave him a Deadeye. Omega gave him a One-Winged Angel. Omega covered, but Yuta broke up the pin just in time. Yuta was left alone in the ring with Omega and Page as the match crossed 25:00. They peppered him with chops. Omega dumped him. Page hit a Moonsault. Hangman climbed again and dove onto BCC members on the outside. Don Callis left the commentary desk and headed to ringside. He appeared to hand Wheeler Yuta a screwdriver. Yuta hit Page with the screwdriver.
Callis got in the ring, stalking Omega. Omega saw it coming. He turned to face his former cohort. Kenny looked poised to strike, when a masked figure hopped in the ring and kicked Omega in the head. He slowly peeled back his mask. It was Konosuke Takeshita. He hit Omega with the screwdriver. Wheeler Yuta rolled Omega up for a three count.
WINNERS: Blackpool Combat Club in 26:56
The rest of the BCC returned to the ring to stand around the broken body of Kenny Omega. Takeshita stood close to Callis, receiving instructions. The BCC celebrated, with Callis and Takesita behind them. Callis raised Konosuke's hand. The BCC left the ring, looking at their carnage. Excalibur and Tony sold their disgust for Callis. BCC hugged at ringside as the show faded to black.
(LeClair's Analysis: This was a whirlwind from the opening bell. AEW has sort of made this kind of thing a staple of the Double or Nothing shows since the pandemic era, and there's only so much they can up the ante on violence before it reaches a state of parody. I thought they towed the line well tonight, but I think the crowd was desensitized to level of chaos and carnage because of all the violence that preceded it. When thumb tacks and screwdrivers are the only new weapons you can introduce into the fold for the night, I think you need to reassess the flow of your card. Even with that working against it, I thought all the wrestlers involved brought a ton of intensity to make things feel just a notch more violent than the rest of the card. Moxley's streak of bleeding early remainds in tact. Bryan's viciousness in these big matches is a joy to see. The Bucks busted out a bunch of neat little spots and innovative offense. The exploding sneaker might have been a little too much, especially given that Moxley was back in the ring, no worse for wear, seemingly a minute or two later. The announcers did a good enough job keeping track of the action, despite the camera missing a pin attempt at one point. Again, the match ended due to hugely consequential interference. While I'm intrigued by the pairing of Don Callis and Takeshita in a heel role, these spots were just done with such insane frequency tonight that it felt redundant and tiring. Ultimately, I think this rose to the occasion as a fitting main event and helped elevate the overall quality of the show.)
FINAL THOUGHTS: It's hard to fully account for, and weigh the positives and negatives here. I thought both the main event, and 4-pillars World Title match were high points to end the night, but neither were without some significant issues. The latter suffered from yet another significant interference spot, which was present on four out of five of the first matches on the card. That's just too many. It also had to go out of its way to be the most violent match on an extremely violent show. There are diminishing returns, and Anarchy in the Arena was done a huge disservice by the undercard. The former simply didn't have a compelling story, or a believable outcome outside of MJF beating his inferior opponents. The undercard, while filled with some really good wrestling at times, was dragged down significantly by a subdued and restless crowd, un-enthused announcing, and was wrought with overbooking. Despite my criticisms of weekly AEW TV, I typically find their Pay-Per-Views to be very strong, top to bottom. This is one of the first times in the company's history that I'd be truly hesitant offer a show a thumbs up. Something just felt amiss, and it doesn't feel like they're carrying much positive momentum right now at all.