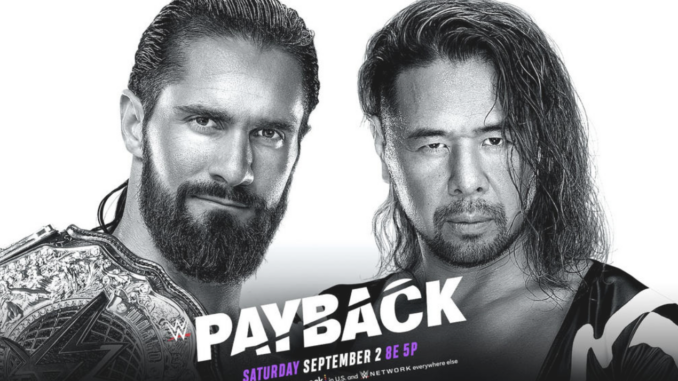 ---
SPOTLIGHTED PODCAST ALERT (YOUR ARTICLE BEGINS A FEW INCHES DOWN)...
---
KELLER'S WWE PAYBACK PLE REPORT
SEPTEMBER 2, 2023
PITTSBURGH, PA. AT PPG PAINTS ARENA
AIRED LIVE ON PEACOCK & WWE NETWORK
Commentators: Michael Cole, Corey Graves
---
-A video package previewed the show.
-Michael Cole introduced the show and hyped a crowd of 14,584. He said it'll be a night of retribution, revenge, retaliation, and payback.
(1) BECKY LYNCH vs. TRISH STRATUS – Cage match
A video package previewed the show. Becky then made her ring entrance to cheers. Trish came out second. Cole said Tiffany Stratton told him there isn't enough competition in NXT, so she's looking more challenges on the main roster. (He used the term "main roster.") The bell rang 10 minutes into the hour. Becky landed three Becksploder Suplexes. Trish took over afterward and threw Becky into the side of  the cage. Cole talked up their contributions to WWE. He noted that Trish along with Lita are the first women to ever main event Monday Night Raw. They continued to take turns on offense. Becky hit a flurry of kicks at 7:00 and then landed a guillotine legdrop for a two count at 9:00.
Becky powerbombed Trish out of the corner at 10:00 for a two count. Trish resisted for a while, but Becky overpowered her. Graves talked about the swelling and welts on Trish's forehead. Trish blocked a Manhandle slam with elbows and threw Becky head-first into the cage. She then lifted Becky and dropped down with a Widow's Peak for a near fall. Cole said Lita and Victoria had the first-ever women's cage match in WWE, and the Widow's Peak was used in that match, so Trish was calling back to that moment in history. Becky countered a Stratusfaction with a Twist of Fate for a believable near fall that popped the crowd at 12:00. Trish landed a Stratusfaction a minute later for a near fall.
Trish climbed the cage. Becky popped up and pulled her down. They battled on the ropes against the case. Becky set up a Mandhandle Slam from up here, but Trish blockedi t and then landed a bulldog off the top rope for a near fall. Trish tried to climb out again, but Becky met her up there again. They sat on top of the cage. Trish fell backward with her legs trapped on the top ledged. Fans gasped. Becky superplexed Trish off the top of the cage while standing on the top rope. That was big. Both were down and slow to get up.
Becky stood first and climbed the cage this time. Trish crawled toward the door at the same time. Becky dropped down to pull Trish away. Zoey Stark tried to pull Trish out of the cage by her arms. Becky held on and won the tug-o-war. Stark bashed Becky in the head with the cage door. Trish rolled up Becky for a near fall. Becky fired back with a Manhandle Slam. Stark entered and broke up the cover. (This is where the cage match loses quite a bit of it's mystique and turns it into a bit of a farce.) Becky closed the cage door and went after Stark mid-ring. Stark clotheslined Becky as Trish climbed the cage. Becky gave Stark a Manhandle Slam and then chased down Stark on the top rope. Becky gave Trish a Manhandle Slam off the top rope for the win. Cole said, "That match is in the running for Match of the Year."
WINNER: Becky in 21:00. (****)
(Keller's Analysis: Very good cage match. Not a fan of Stark getting involved, but I get that cage matches have long not been protected as a way to keep wrestlers in the ring and others out of it. At least it wasn't instrumental in who won.)
-Afterward, Stark helped Trish up. Trish shot her a look once she stood and then had some words for her before slapping her. Stark blocked her from leaving and then closed the cage door with both inside. She had enough of Trish's attitude. "After everything I've done for you," she said. Starks then gave Trish her flip knee to the jaw. Cole said he can't blame her after Trish treated her like that. The announcing framed Stark as the babyface there, even if fans didn't seem entirely clear how to react. Cole said Stark did learn from the best. [c]
-John Cena made his ring entrance as "host of Payback." He touted the Becky vs. Trish match. He said his goal as host is to make tonight more special, so he's going to be guest referee for the L.A. Knight vs. Miz match. Miz came out to his music. He accused Cena of pandering to the audience. He said he could expect that from Knight. He told Cena that they call him the greatest of all-time, but as host, he sucks. Cena said this is his first time as a host, and Miz has a lot of experience, so did he have advice for him. Miz said he shouldn't make himself special guest referee for his match. Cena said that was his only idea, so does he have other advice. He said he should have said no to him being a Merman in a Barbie movie.
Cena said, "Miz, I don't like you, but I do have a lot of respect for you." He said he wants to make tonight special, and he wants his advice. Miz said Cena has to be more involved. He asked Cena what he's wearing. He said he wore a 10,000 dollar suit, whereas Cena is almost 50 years old and he still dresses like a Teletubby. Cena said, "Point taken." Miz said he has to take charge and be more involved. Cena then said he'll be the special guest referee in Miz's match. Miz yelled, "No!" Fans yelled "Yes!" Miz lifted his arm and asked fans if they know that when his hand goes up, their mouths go shut. Fans booed. Miz said Cena doesn't even have a referee shirt. Someone immediately handed Cena a referee shirt. He said he is the special guest referee. Miz said, "No." Cena did Knight's "Yeah!" Knight then made his entrance.
(2) L.A. KNIGHT vs. THE MIZ
The bell rang 48 minutes into the hour. Miz immediately ducked out to ringside. Knight chased Miz down in the aisle and threw him back into the ring. When Miz tried to leave again, Knight grabbed him. They exchanged strikes mid-ring. The crowd popped all of Knight's strikes and then chanted his name. Miz took over at 2:30 after blocking a superplex. Cole and Graves touted Knight's perseverance and never-say-die attitude. Miz sent Knight into the announce desk to take over at 5:00.
Graves reluctantly complimented Cena's job as referee as he was admonishing both Knight and Miz at points. They fought back and forth for several minutes. When Miz threw his "No" kicks, Cole and Graves alluded to Miz learning that kick from someone else (Daniel Bryan). Miz rolled up Knight ta 14:00 and held the ropes. Cena saw it and stopped his count and kicked Miz's arm. Miz poked Cena in the chest and said he can't touch him. Cena told him not to take the low road. Knight almost hit Cena. As Knight stared at Cena, Miz hit the Skull Crushing Finale for a near near fall. Miz reacted with shock and dismay.
Miz got frustrated and raised his arm and stared at Cena. He did the "You Can't See Me!" Knight popped up and powerslammed Miz. Then he played to the crowd and landed his leaping elbowdrop followed by his Blunt Force Trauma for the three count.
Cena met Knight on the stage and took off his ref shirt. Knight told Cena afterward he almost made him lose the match out there. Cena offered a handshake and said it's a sign of respect. Knight shook his hand. Cena left as Knight played to the crowd.
WINNER: Knight in 16:00. (**3/4)
(Keller's Analysis: Not bad. I seemed like they went this long to try to establish that Knight can be part of a high-quality lengthy match. It wasn't bad, but it was probably longer than it needed to be. The middle just felt like arbitrary back and forth action. The good news, the crowd was into Knight throughout, especially at the start and end.)
-They showed some Pittsburgh Steelers in the crowd.
(3) REY MYSTERIO vs. AUSTIN THEORY – U.S. Title match
The bell rang to start the match 14 minutes into the hour. Cole compared Theory's fast rise to Randy Orton's. Theory took early control and scored some two counts before settling into a mid-ring chinlock. (Speaking of Randy Orton!)
At 5:00 Theory went for Rey's mask. Rey elbowed free and knocked Theory down, then backflipped onto Theory off the middle rope mid-ring for a two count. Rey knocked Theory to the floor and then slid under the bottom rope and turned it into a tornado DDT onto the ringside mat. That looked smooth. Rey threw Theory back into the ring as Cole praised him. Rey landed a top rope seated senton for a two count at 6:00. The entire ringside barricade was advertising a cereal brand sponsor, by the way. Theory caught Rey mid-air and hit a spin-out powerbomb for a near fall. Theory pounded the mat in frustration.
Rey landed a 619 at 9:00, but when he springboard splashed Theory right afterward, Theory lifted his knees. Theory went for an A-Town Down, but Rey countered into a victory roll for the three count. Rey celebrated with the rest of the LWO afterward at ringside.
WINNER: Mysterio in 10:00 to retain the U.S. Title. (**1/2)
(Keller's Analysis: A solid match start to finish with Rey above his usual level in terms of his pacing and athleticism.)
-Cathy Kelley interviewed Becky backstage. Stratton interrupted right away and congratulated her with mock applause. She said they got off on the wrong foot when she said she was the best NXT Women's Champion of all-time and listed Becky. She said she didn't realize Becky was never NXT Women's Champion. "A appreciate you crawling out of your Mattel box and coming here to Payback." She said she should be focusing on her title defense on Tuesday. She hinted she might see her there. Stratton nodded and left.
(4) KEVIN OWENS & SAMI ZAYN vs. DAMIAN PRIEST & FINN BALOR – Steele City Street Fight for the WWE Tag Team Titles
The bell rang 33 minutes into the hour. They brawled all over ringside early. Sami threw chairs into the ring. When he reached for Balor at ringside, Balor hit him with a kendo stick. Balor stomped on a "Terrible Towel," which Pittsburgh Steeler fans wave in the air at games. As Priest and Balor attacked KO at ringside, Sami came to the rescue. He played to the crowd and fans chanted "Sami!" Sami and KO pulled out trash cans and bashed Priest and Balor with them several times each.
Back in the ring, KO tore off his shirt and revealed a Terry Funk t-shirt underneath. He put a trash can over Balor. Sami and KO took turns bashing it with kendo sticks. Next, they pulled out a table which popped the crowd. They set it up at ringside, but Priest fought back and hit Sami with the trash can across his back and then threw it at KO.
Balor and Priest controlled the action for a couple of minutes. Sami made a comeback with a chair. Priest and Balor retreated into the crowd. Sami and KO chased them down. Dominik Mysterio showed up and turned the momentum. Fans booed. Cole said he was surprised it took that long for Dom to show up. As the heel trio gloated and then talekd strategy, Sami and KO popped up from the hockey bench area in Pittsburgh Penguins jerseys and with hockey sticks. KO wore a Lemieux jersey and Sami wore a Crosby jersey. Sami and KO took care of Dom, then turned back to Balor. KO was bleeding heavily from his forehead at this point.
Sami gave Balor a Blue Thunder Bomb on chairs in the ring for a near fall at 11:00. They brawled into the crowd again. Dom cut off Sami's momentum, but Sami fought back. KO then leaped off balconywith a flip dive onto Dom on a table. He overshot the table a bit, but the table still broke. Fans chanted "Holy shit!" They replayed it from multiple angles. Graves said this match is of the caliber of the opening cage match, a reference to Cole saying Becky-Trish was a Match of the Year contender.
As Sami went for a Helluva Kick in the ring at 16:00, Priest threw a trash can at him. Priest and Balor set up a tandem Razor's Edge. Sami slipped free and gave Priest an Exploder into the corner. Sami knocked Balor off the ring apron through a table at ringside. KO caught Priest with a stunner and then landed a Helluva Kick. J.D. McDonagh broke up the cover and threw Sami into the ringpost just as the ref seemed about ready to count three on Priest. KO slammed McDonaugh onto the announce desk. Ripley speared KO through the ringside barricade into the time keeper's area. "This is ugly," said Graves. "And fun to watch!"
Sami and Balor returned to the ring and struggled to stand. Balor landed a Slingblade and then leaped off the top rope with a Coup De Grace attempt, but Sami moved. Sami landed an Exploder and a Helluva Kick for a near fall, but Dom broke up the cover with the MITB briefcase. Balor then draped his arm over Sami to win the belts.
WINNERS: Balor & Priest in 21:00 to capture the WWE Tag Team Titles. (****1/4)
(Keller's Analysis: A wild, fun, hard-hitting, intense brawl.)
-A video package aired on Conor's Cure.
-Grayson Waller Effect: Waller introduced Cody, who made his way to the ring to his music wearing a suit. He played to the crowd for a couple of minutes. Fans chanted "Cody!" as he sat down at Waller's desk. Waller didn't want Cody to finish his "So, what do you want to talk about?" Cody said he wanted to subvert expectations. He revealed he wanted to be on Waller's show. He said he wanted to give him a big scoop. Cody said Smackdown is intriguing to him. He said he saw a wrong that he felt needed to be righted. He said whatever political stroke he had, he cashed them in. He said he hopes this isn't a decision he regrets. He stood up and said Jey Uso has been added to the Raw roster. Jey came out to big cheers as Cole called it "a blockbuster announcement."
Waller asked Jey how he feels about being the latest member of the Raw roster. He said he's been a twin his whole life and surrounded by The Bloodline. He said as successful as he's been in tag team matches, he's achieved "absolutely nothing" as a singles wrestler. As he said Jey needs a Grayson Waller rub, Jey superkicked him and then left as Cody watched from the stage. Cole said Cody "hopes he knows what he's doing." He said they'll find out on Raw.
(Keller's Analysis: That's intriguing. Jey said he quite the Bloodline and quit Smackdown. He immediately becomes a major babyface on Raw, adding his name to a deep babyface depth chart. I'm not sure about the logistics of an active wrestlers "cashing in chips" to get one wrestler moves from one brand to another.) [c]

(5) RHEA RIPLEY vs. RAQUEL RODRIGUEZ – Women's World Title match
The bell rang 22 minutes into the third hour. Ripley took control a few minutes in. She flexed for the hard camera, then turned back to Rodriguez and scored a two count. She methodically stomped on her and settled into a mat hold. Cole called it a "dominant performance so far" for Ripley. Graves wondered if Ripley was basically "playing with her food."
At 8:00 Rodriguez grabbed Ripley by her throat and clotheslined her. She clotheslined Ripley from behind. Ripley bumped onto the top of her skull. Yikes. Rodriguez then landed a fallaway slam and a running corner splash. Ripley knocked Rodriguez off balance on the ropes and took control again.
At 12:00 Ripley went after Rodriguez's knee. Graves said he was surprised she didn't target it earlier. She applied a leglock mid-ring. They fought to ringside a minute later where Rodriguez made a comeback. She powerbombed Ripley back-first into the ringpost and then swung her into the ringside barricade. She wasn't selling her injured knee at all during the sequence. Rodriguez lifted Ripley and darted her into the ringpost. "And now the challenger with a chance," Cole said. Just then Dom showed up at ringside. He entered the ring. Rodriguez powerslammed him. Ripley kicked Rodriguez and then landed Rip Tide for the win. Cole said Dirty Dom has been the MVP of the evening for The Judgment Day.
WINNER: Ripley in 17:00 to retain the Women's World Championship. (**1/4)
(Keller's Analysis: Sluggish and too long, unfortunately.)
-They went to Cena backstage who was in an ill-fitting suit with a pink bow tie and acting over-the-top as a more engaged "host," a callback to Southpaw Regional Wrestling. He interviewed Balor and Priest backstage. Priest listed the great accomplishments of Judgment Day's night. He said they will always rise. Balor said they've got all the gold. When they left, Cena got all sweaty and nervous and said, "This is tougher than I thought."
(Keller's Analysis: I'm personally finding Cena nearly unbearable tonight, but I recognize his brand of whatever he's doing is entertaining to a lot of people. I've been impressed with what I've seen of his work outside of WWE, but this is just grating and obnoxious and kind of awful. It's meant to be zany and self-deprecating, I suppose.)
(6) SETH ROLLINS vs. SHINSUKE NAKAMURA – World Hvt. Title match
The bell rang 54 minutes into the hour. At 5;00 Seth snapped Nakamura's neck over the top rope and then landed a leaping flip senton. He then dove through the ropes and tackled Nakamura on the floor. Nakamura launched Seth off of the ring barricade onto the announce desk. Nakamura took over from there.
At 12:00 Seth made a comeback and set up a superplex, but Nakamura resisted and fought back. Seth turned it into a huracanrana instead. Seth set up a Pedigree a couple minutes later. Nakamura blocked that. Seth took Nakamura with a ripcord clothesline for a two count. Seth went for a Stomp. Nakamura avoided it and went for a sleeper. Nakamura leaped off the second rope and landed a stiff-looking knee to Seth's face and shoulder. Nakamura hit a snap German suplex for a near fall at 16:00. Nakamura signaled for his Kinshasa, but Seth superkicked him as he charged and scored a near fall. Cole said Rollins was just trying to hang on as Nakamura had dominated most of the match.
Nakamura applied a triangle choke. Seth struggled and then lifted him and powerbombed Nakamura to break the hold. Seth landed an enzuigiri after a minute of struggling mid-ring. Both were down and slow to get up. Nakamura lifted Seth onto his shoulders on the second rope and then landed a landslide for a near fall at 23:00. Nakamura then hit a kinshasa for a two count. Seth came back with a Pedigree and a Stomp for the win.
WINNER: Rollins in 26:00 to retain the World Hvt. Title. (***1/2)
(Keller's Analysis: A good match, but slightly below what I was hoping for. I wanted to see a slightly faster pace and maybe 8 minutes sliced off of this.)
FINAL THOUGHTS: The show needlessly ran longer than three hours because a few matches were just a few minutes longer than benefited the overall story and pace. I still give it a solid but not an enthusiastic thumbs up. There were no bad matches, and several very good to excellent matches.