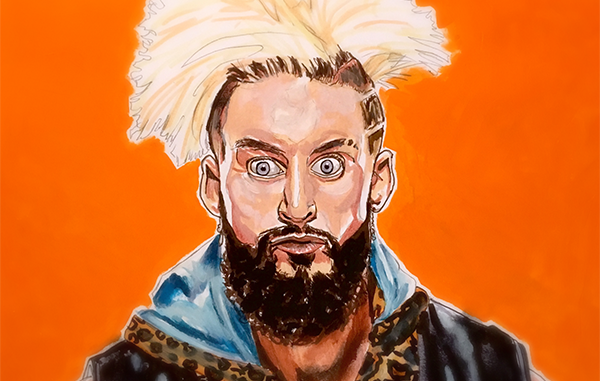 ---
SPOTLIGHTED PODCAST ALERT (YOUR ARTICLE BEGINS A FEW INCHES DOWN)...
---
The following report was originally published ten years ago this week here at PWTorch.com…
---
WWE NXT Results
September 25, 2013
Taped at Full Sail University
Report by Justin James, PWTorch contributor
[Q1] Pre-credits, "earlier today" Brad Maddox is using a phone to inspect himself, when Tyler Breeze interrupts. He's asking Maddox for a favor when C.J. Parker comes in and shakes Maddox's hand. They both demand a spot in a tag team match. Maddox points out that neither has a partner. Maddox says to Breeze that he has a partner for him, and Breeze says, "Brad Pitt?" The was too awesome to have been scripted. Maddox books the obvious "strange bedfellows" pairing of Parker and Breeze as a team. Maddox sanitizes his hands.
Of note, it looks like Damien Sandow has been added to the credits.
Enzo Amore and Colin Cassady are out to be in the Tag Team Turmoil match. Cassady claims they are undefeated. "We got winning streaks in our dirty drawers… we're like Cottonnelle tissue, 'cuz we're on a roll." Of course, the rest of the tag teams are like Cottonelle too… S-A-W-F-T. Funniest promo I've heard in a while. They are immediately followed by Tyler Breeze (billed as being "a seasonable resident of Milan) and C.J. Parker. The crowd totally dumped on Parker's entrance.
1 – ENZO AMORE & COLIN CASSADY vs. C.J. PARKER & TYLER BREEZE – Tag Team Turmoil Match for #1 Contender slot for the NXT Tag Team Championship
Parker and Amore start it off with some back-and-forth. Parker gets the upper hand. Amore falls into a tag, but Parker refuses to tag in Breeze. Cassady comes in and immediately hits a move for the win.
WINNERS: Enzo Amore and Colin Cassady in 1:30. Funny antics from Amore in this match and the opening promo from Amore and Cassady was gold. Who compares both themselves and their opponents to toilet paper?
Post-match, Sylvester Lefort introduces his Legionnaires, Scott Dawson and Alexander Rusev.
2 – ENZO AMORE & COLIN CASSADY vs. SCOTT DAWSON & ALEXANDER RUSEV (w/Sylvester Lefort) – Tag Team Turmoil Match for #1 Contender slot for the NXT Tag Team Championship
Cassady and Dawson to begin, and Cassady gets the better of Dawson. Dawson isn't small, but Cassady looks buge. Rusev in and they trade bombs. Big boot puts Rusev down hard. Amore in on a tag, immediately takes a Samoan Drop, and is isolated. Dawson with that nice spinebuster, but a surprise inside cradle on the cover from Amore wins it.
WINNERS: Enzo Amore and Colin Cassady in 2:00. Great story being told here, of the delusional, big-headed, yet lovable babyfaces somehow conquering the odds with good luck to get ahead.
Post-match, Rusev clears Cassady from the apron and starts a beating on Amore, putting big heat on them and sympathy on Amore and Cassady. As they celebrate, The Ascension comes out.
[ Commercial Break ]
Pre-bell, Amore is laid out in his corner as Cassady is trying to assess the damage.
3 – ENZO AMORE & COLIN CASSADY vs. THE ASCENSION (CONOR O'BRIAN & RICK VICTOR) – Tag Team Turmoil Match for #1 Contender slot for the NXT Tag Team Championship
Cassady turns around from Amore into a clothesline, and immediately gets cornered. Cassady manages to stay alive, barely. Cassady stands up four times into shoulder blocks, but hits a big boot, and tags in Amore. Amore walks into a flapjack and then team work from The Ascension. Fall of Man and that's the match.
WINNERS: The Ascension in 2:30 to become the #1 contenders to the NXT Tag Team Championship. Pitch perfect booking here. Amore and Cassady got some credibility with a pair of wins, The Ascension gets to the expected Tag Team Title match, and they get some heat in the process for picking up the scraps of fan favorites Amore and Cassady.
[Q2] Bayley comes out to big cheers, and she looks stunned. Renee Young is joining Tom Philips and William Regal in the announcing booth, that's unusual. Bayley is facing Sasha Banks with Summer Rae in tow.
4 – BAYLEY vs. SASHA BANKS (w/Summer Rae)
Bayley soaks up cheers and Banks wants the cheers to stop. Banks gets frustrated early and slaps Bayley to the mat. Bayley works a wrist, but then Banks turns it around. Banks shows a more aggressive side as Rae mocks Bayley. Regal starts to flirt with Young. Bayley dodges a corner elbow and hits the "hugplex" for two. Bayley gets caught in the corner to let Banks hit a neckbreaker for the win.
WINNER: Banks in 4:30. Basic match to build up Banks' new character.
Post-match there's a big "No!" chant as Rae says that Fandango will be on NXT next week. They give a Laycool promo until Emma rushes the ring to send them running.
Sami Zayn is advertised as being "in action" later tonight.
Aiden English is out to the ring with a song. He has a beret, a scarf, a sun glasses. He has a different song this time. He is the "perfect addition to the perfect night." He's facing an unnamed opponent.
5 – BULL DEMPSEY vs. AIDEN ENGLISH
English is able to control the larger Dempsey. A kick to the leg lets English put Dempsey down on the mat and take advantage. English easily puts Dempsey away.
WINNER: Aiden English in 1:30. A basic enhancement match.
Post-match, the crowd demands an encore, and English obliges.
Backstage, Renee Young approaches Summer Rae, but Rae immediately says that she's challenging Emma to a mixed-team match. Rae dismisses Young.
[Q3] El Locale is out for his first match in a long time. He's facing Sami Zayn.
6 – SAMI ZAYN vs. EL LOCALE
El Locale is distracted by the "Ole!" chants. They trade holds. Arm drags put Zayn in control. Surprise backbreaker gives El Locale an edge and he mocks Zayn with an "Ole!" chant of his own. Regal wants to trade Philips for Renee Young. Back body drop sends the much larger El Locale airborne, then a boot in the corner seals it.
WINNER: Sami Zayn in 3:00. Good, short match to give Zayn a win to make his case to be #1 contender.
Post-match, Bo Dallas comes out to congratulate Zayn for listening to his advice. He announces that he is healed after Zayn accidentally hurt him. He's talking over an "Ole!" chant, and says that he's going to put his title on the line. He announces the "Bo Dallas Invitational" and whoever pins him will get a title match three weeks later. Zayn finally gets a mic to interrupt. He wants the first match to be right now.
Dallas says that he knows that Zayn is new at NXT, but "this business is all about respect" and part of that is "not interrupting the champ when he is speaking." He says that one day Zayn might have his own following, or his "Zayniacs." He's now talking over a "shut up!" chant. All Superstars are welcome to the Bo Dallas Invitational, except Sami Zayn.
[ J.J.'s Reax: Booking 101 here. Who doesn't want to see Zayn somehow get his title shot and rip the championship away from Dallas? ]
Backstage, Maddox tells someone that Triple H will be there at any moment. Kassius Ohno makes his return, and demands to know why he's been off the air for a while. Maddox blames the Wyatt Family. Maddox says that he will "shoot straight" with Ohno and says that Ohno is a "D+ player." He negotiates to a "C-" then settles on "D+." Ohno threatens to hold up the show by causing DQs. Maddox says "they" like to keep Ohno on the sidelines to torture Ohno. Ohno threatens to punch Maddox, so Maddox grants Ohno revenge, a match with one member of the Wyatt family. Maddox says it will be best for Ohno and "best for business."
[ J.J.'s Reax: Interest segment here, because it works on its own, but it very "insider," too. Ohno has been on the sidelines supposedly for not being willing to get with the program in terms of his physical conditioning (which is a bit obvious looking at him), with Triple H making that decision. And this week, Triple H is on NXT with an "announcement." Let's hope that Ohno is back on board the way he needs to be in order to continue his career at NXT, he has too much talent to not see him succeed. ]
[Q4] Triple H gets a bit of a mixed reaction for his big announcement. He gives the audience a peace sign and shakes hands with a kid and slaps hands with fans. Tom Philips talks up Triple H's recent history on Raw. Triple H gives a face promo praising the FSU crowd and the NXT roster, heaping praise on Zayn, Kruger, Neville, Dallas, and Graves by name. He says that they could lose the whole main roster and replace them with people from NXT and they "wouldn't miss a beat in the WWE." That's a very odd statement in many, many ways.
Hunter addresses the issues with the Rhodes family. He mentions that this has involved Dusty Rhodes, the commissioner of NXT. He praises Rhodes as a legend, cites "best for business" and has given Rhodes time off from being the commissioner. The crowd says "No!" and Triple H says, "oh no, it's 'yes'" and introduces JBL as the new NXT "interim GM." Now that was unexpected and most welcome! Big reaction for JBL.
JBL acknowledges the crowd reaction, but responds to the crowd with, "this isn't singalong with the wrestling god so shut your mouth." He repeats the praise for NXT and the Performance Center. He rips Dusty Rhodes and his family and says that he is "best for business." He introduces the NXT era of the wrestling god.
[ J.J.'s Reax: Tough for JBL to put heat in himself in the FSU environment, but he did a good job of it considering. ]
FINAL THOUGHTS: Look, one of the objectives of a wrestling show is for the audience to enjoy themselves, right? That's exactly this episode. In a word: fun. We had William Regal at his wittiest in the booth, some short matches to enhance new talent and further storylines, the return of Kassius Ohno, and a big announcement with JBL taken the reins of NXT. The Amore/Cassady matches were so effective, I completely bought into the idea that they could win the series until The Ascension's music hit, then I remembered who was slotted to chase that title.
---
RECOMMENDED NEXT: 10 YRS AGO – WWE Raw Results (9-24-2012): CM Punk-Paul Heyman-AJ Lee, Ziggler vs. Kingston, plus Miz, Ryback, Alberto, Barrett, Phoenix, Sin Cara
OR CHECK THIS OUT AT PROWRESTLING.NET: McGuire's Mondays: Thoughts on latest round of WWE talent cuts