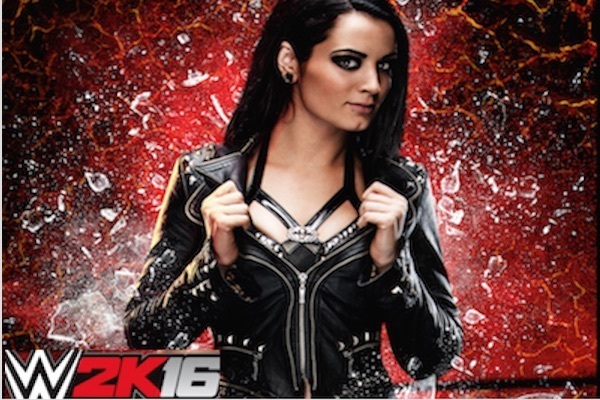 ---
SPOTLIGHTED PODCAST ALERT (YOUR ARTICLE BEGINS A FEW INCHES DOWN)...
---
WWE Diva Paige is on the U.K. interview circuit in her home country during WWE's European Tour. Paige made several interesting comments across multiple interviews:
– Paige bucked conventional wisdom saying that Vince McMahon is a supporter of the so-called "Divas Revolution" on TV. It counters the belief that McMahon has been resistant or more interested in featuring soap opera-like Divas storylines, such as Summer Rae's shifting love interests.
"Vince is backing the whole thing, all of this is his doing, he really loves the Divas right now, which is awesome. I'm so happy that we have him and we're really under his wing right now, he's really pushing it. And we're taking up most of the shows!" Paige told The Mirror, noting that Divas matches have regularly been in a key top-of-the-hour quarter-hour over the past few months.
– Paige said she hopes WWE will book an all-Divas PPV or Network special down the road with the talent on the main roster and on NXT.
"The fact that we get to have more time and we get to tell a story so the fans can really get invested in our matches again is incredible," Paige said. "I really think we could do a pay-per-view one day or even an all-female pay-per-view. We have enough Divas and down in NXT now, we could really do that, even on the WWE Network."
– Paige provided some insight on why the Manchester fans cheered her in the heel role opposite Charlotte and Becky Lynch on Monday's Raw. "I'm so happy here because even if I'm heel or face the fans are so incredibly loyal to me, so they will just cheer anyway. You know what us Brits are like," Paige said.
– Paige revealed why her match against Becky Lynch in front of a European crowd was a big deal for her. "I've known Becky since I was about 13, she was on the independent circuit too and stayed with my family a lot back in the day. That was crazy because we went from being on the indies together to being on the grandest stage of them all together. And then you've got Charlotte, who started in developmental six months after I did, so we've really been through it together, which is really nice. We grew up in the WWE together. We are a family, we're literally like sisters, so it feels great to be working with them."
– Paige addressed the rumor of her being "punished" by management because she dropped an f-bomb during a Periscope chat.
"I'm very loose with my tongue sometimes and I say things I don't really mean. But you know what, as soon as I was on there, it was 'Eff you, Paige.' Well, eff you back! And that was it. There was no fallout, there was no nothing," Paige told TalkSport.com.
Paige added that WWE booked her for "Conan," saying they would not put a WWE star in a major TV spotlight if the person had heat behind-the-scenes.
Paige described the experience of appearing on Conan: "It was very different because on a show like that the audience may not all be wrestling fans, or Total Divas fans, so a lot of people aren't really going to know who you are. So you have to reintroduce yourself and really show your personality."
– Paige fantasy-booked a match with 2015 Hall of Famer Medusa (Alundra Blayze) after a recent social media exchange. "I mean it's not something that's going to happen, but hopefully someday it could, and if it did, I would definitely do it. If she wants a match I will 100 percent give her a match. I don't know if she can still go, though! She's probably not been in the ring for about 15 or 20 years… but if she wants to go, let's go. She's definitely someone, Alundra Blayze and Bull Nakano were like my heroes," she told The Mirror.
[ Graphic (c) 2K Sports for "WWE 2K16" video game ]