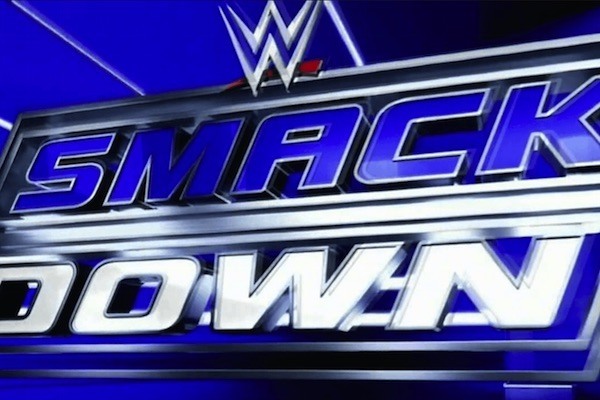 ---
SPOTLIGHTED PODCAST ALERT (YOUR ARTICLE BEGINS A FEW INCHES DOWN)...
---
Smackdown emanates from Chocolatetown, USA, Hershey, Pennsylvania, and will feature, among other matches, D-Von Dudley vs. Bray Wyatt. In addition, Roman Reigns, Dean Ambrose, and The Usos will lead off the show.
WWE Smackdown review
December 3, 2015
Taped 12/1/15 in Hershey, Pa.
Aired on SyFy
By Greg Parks, PWTorch Columnist (Twitter: @gregmparks)
– WWE Open.
– The show began with a video package of Monday's opening segment, as well as the roadblocks put in front of Reigns on Raw and the establishment of the League of Nations.
– In the ring were Roman Reigns, Dean Ambrose, and The Usos. Roman's music was playing. Reigns wanted to hear from those who were there with their families. He said he was there with his too, The Usos. Reigns made a big deal of expressing how close he has always been with Jimmy and Jey. Reigns also talked about the memories he has made with Ambrose. Reigns told the story of Sheamus taking the WWE World Title away from him at Survivor Series. He talked about his TLC match with Sheamus at the PPV, but said he feels like fighting tonight. He demanded the League of Nations come to the ring.
The League of Nations came to the stage. The crowd chanted "You look stupid" at Sheamus, but he said he can't look stupid when he's got the WWE Title around his waist. Sheamus said he's a big admirer of Reigns. "USA" chants greeted him. "It's okay, we all have our green cards," said Sheamus. Then he joked that Rusev doesn't, but he's working on it. It looked like Rusev tried to hide behind Sheamus to avoid being seen breaking by laughing. Sheamus showed off his "Sheamus 5:15" t-shirt. Reigns said no one wants to see Shamus crack jokes; they want to see him and his boys crack heads. Sheamus said he talked to some WWE officials and pitched himself, Alberto Del Rio, Rusev, and King Barrett against The Usos, Dean Ambrose and Roman Reigns tonight. New Day's music interrupted and they came out.
New Day took Reigns to task for being a "ruiner" for ruining the fun they were having with Sheamus on Raw. One of the Usos challenged New Day to fight. New Day preferred talking instead. Xavier Woods said they have some news from WWE officials as well: Dean Ambrose & The Usos have to earn the right to be Roman's partners tonight, and they must do so by defeating New Day. If they don't beat New Day, Reigns will face a one-on-four situation. WWE seems like they're forcing New Day into this storyline League of Nations vs. Friends of Reigns storyline.
– Summer Rae and Tyler Breeze were walking backstage. Breeze is in action next.
[Commercial Break]
1 – TYLER BREEZE vs. NEVILLE
During Breeze's entrance, Dolph Ziggler was shown at the announce desk for this one. Breeze and Summer Rae cut an inset interview where Breeze talked about what Ziggler did to him on Raw, and how he'll take out his frustration on Neville. Booker T. compared Breeze to Gorgeous George. The old-time wrestler, not Randy Savage's girlfriend in WCW. Neville wrestled Breeze to the mat with an arm-drag and mocked Breeze. They did some wrestling early on, with Neville working the arm. Tilt-a-whirl back-breaker by Neville. Summer put herself between Neville and Breeze when Neville went to dive over the top rope and onto his foe. They went to break with Breeze still on the outside at 2:03 of the match.
[Commercial Break]
Back at 5:52 of the match. Breeze was holding a front face-lock on Neville. Neville powered out to create separation. They showed Breeze kicking Neville off the apron during the break to gain control. Neville clotheslined Breeze over the top rope, then launched himself over the top and onto Breeze. Running shooting star press onto Breeze for a two-count. In a cute move, Neville went to springboard and Breeze went to dropkick him coming off. However, Neville saw that counter coming and when he jumped up to the top rope, just stayed there. Breeze caught Neville with a superkick for a near-fall. Neville then caught Breeze with one, and Breeze sold it really well. Neville went to the top, but Breeze rolled out of the way of the Red Arrow. Summer grabbed Neville's foot as the ref wasn't looking. Breeze kicked Neville in the mouth and hit the Unprettier for the win.
WINNER: Breeze, at 9:13. That stops Breeze's post-Survivor Series skid. I really enjoyed what we saw of this match.
Replays were shown of the finish while Ziggler continued to riff on Breeze on commentary.
– The announcers were shown at ringside. Ziggler was still awkwardly there as they went on to discuss the Charlotte vs. Becky Lynch match from Monday, with video showing Charlotte picking up the victory.
– JoJo was backstage with Lynch. JoJo asked Lynch how things are with her and Charlotte. Lynch said she and Charlotte are still best friends, even if she's still not happy about what happened on Raw. JoJo brought up Paige's betrayal and said that Charlotte's move Monday must open old wounds. Lynch didn't see it that way. Brie Bella and Alicia Fox walked up and called Lynch "gullible." Lynch said Brie should be preparing to lose to her later tonight. Fox said maybe the problem isn't Paige or Charlotte, but rather, Becky. Charlotte walked up and talked about the new generation of women ready to take Brie and Fox down. Brie told Charlotte it's lonely on top, and told her to remember that when she loses the title and comes back down to earth. JoJo, Brie and Fox walked away as Charlotte reassured Becky she's still in her corner. Strangely, the audio with Charlotte talking off-mic was no different than when anyone speaks into a microphone backstage.
[Commercial Break]
2 – BRIE BELLA vs. BECKY LYNCH
No entrance for Bella and Alicia Fox. Charlotte accompanied Lynch to the ring. As Brie kicked away at the chest of Lynch, they showed Team BAD watching a monitor backstage. Well, they weren't watching so much as…Naomi took a kendo stick to a piñata, held by Tamina. Brie was on offense for much of the first few minutes. Becky came back with a few clotheslines and a flying elbow attack in the corner. Exploder suplex out of said corner for a two-count. Brie got to the rope to break an arm-bar by Becky. Charlotte took an inadvertent elbow by Brie. As Becky locked Brie in the Disarmer, Charlotte ran in to try to attack Brie. The ref called for the bell.
WINNER: Bella, via disqualification, at 2:54. Boy did that make Charlotte look REALLY dumb. Match was fine for as short as it was.
Becky and Charlotte argued about the interference after the match.
– Tonight, Dean Ambrose & The Usos face The New Day. If the babyfaces win, they'll team with Roman Reigns to face the League of Nations in the main event.
[Commercial Break]
– Neville came upon Miz backstage. Miz said he's never seen ears like that before. Neville was curt with Miz thanks to his loss earlier. Miz wanted to take Neville under the ring and help him with his charisma and personality. Miz said he used to know someone like Neville – Daniel Bryan. He said he took Bryan under his wing, and Bryan ended up main eventing Wrestlemania, just like he did, and just like Neville could. Miz gave Neville his card…and his new DVD.
– Renee Young was backstage with Rusev and Lana. Lana showed off a different style than we're used to seeing. Young cued up a clip of Lana suffering an "injury" on Raw during Rusev's match with Ryback. Lana said Ryback deliberately pushed Rusev into the steps, knowing it'd hurt her. She said Ryback wouldn't know what to do with a woman like her, unlike Rusev. "I can always have another match, but I can never have anyone like Lana," he said. Rusev had strong words for Ryback, saying next time he sees him, he'll crush shim. Lana and Rusev kissed to close the segment.
– New Day came out. It's a six-man tag, and it's next.
[Commercial Break]
3 – THE NEW DAY vs. THE USOS & DEAN AMBROSE
It was announced that The New Day would face The Usos and Lucha Dragons in a Triple-Threat Ladder Match for the Tag Titles, plus Dean Ambrose challenges Kevin Owens for the Intercontinental Title, both at the TLC PPV. The Usos got the best of Xavier Woods to start. Reigns was shown happily monitor the proceedings from backstage. A back elbow by Big E. caught one of the Usos, who sold it nicely. Big splash from Big E. missed, however. Ambrose tagged in at 3:45. Swinging neck-breaker to Big E., then he introduced Woods and Kofi Kingston to the ringside barricade. Ambrose went for a bulldog, but big E. crotched him and Kingston came off the top, knocking Ambrose to the floor. The heels taunted him as they cut to break at 5:10.
[Commercial Break]
Back at 8:41 of the match with New Day stomping on Ambrose in the heel corner. Axe-handle off the top by Kofi onto Ambrose. After some taunting, Big E. delivered a belly-to-belly to Ambrose. Ambrose low-bridged Big E. out of the ring, though. Kofi tagged in and hit a cross-body, but Ambrose rolled through for a near-fall. Jimmy Uso tagged in and The Usos hit stereo butt splashes on Woods and Kingston. Samoan drop and a cover for two. The match broke down from there with all six participants getting involved and diving everywhere. Jimmy tried to fight off Kofi before hitting a splash on Woods, but in doing so, re-injured his knee. New Day smelled blood and Woods connected with a running knee to the face for the finish.
WINNERS: New Day, at 13:59. Did not expect that result. This wasn't bad, the usual New Day formula match.
Reigns was shown stoically reacting to the result backstage. They replayed the finishing sequence.
– A graphic aired for the main event: Roman Reigns vs. The League of Nations in a 4-on-1 handicap match.
– The Wyatts were backstage. Bray stood in front of his charges. He warned the Dudley Boyz that "we're here." The light went out and the show went to break.
[Commercial Break]
– The announcers narrated footage of WWE 2K16, available now.
– Bubba Ray Dudley and Tommy Dreamer came out with D-Von Dudley for his match with Bray Wyatt.. I never would've guessed WWE would get so much mileage out of Dreamer for so long. They showed a clip of Dreamer being introduced on Raw, and Bray going through a table. As the Wyatts imaged flashed across the screen to signal their arrival, R-Truth instead found himself, somewhat disoriented, on the stage. He waved to the fans, then the image flashed again, and The Wyatts made their entrance.
4 – D-VON DUDLEY vs. BRAY WYATT
Bray worked over D-Von and went into a rear chin-lock at 1:08 of the match. I guess he's hoping D-Von's cardio sucks and he can wear him down early on. Sort of insulting when you think about it. D-Von broke free and went to the top, hitting a diving headbutt. Cover got two. Bray booted D-Von in the corner and hit Sister Abigail.
WINNER: Wyatt, at 1:54. This would be a nice feud for the Wyatts to win to regain some of their mystique after being thrashed by the Brothers of Destruction.
With Bubba and Dreamer watching on the apron, Wyatt told them to get down or he'd deliver Sister Abigail again. He held D-Von in position while the Wyatts grabbed a table. Bubba and Dreamer grabbed Kendo sticks and went on the attack. Braun Strowman took one and broke it over his knee. He then grabbed Bubba and squeezed the consciousness out of him. Erick Rowan drove Dreamer through a table in the corner. The Wyatt Family posed over the prone bodies of their fallen enemies.
[Commercial Break]
– Rich Brennan thanked Dorothy for "Wicked Ones," the official TLC theme.
– Sheamus made his entrance first for the main event. King Barrett followed, then Rusev, and finally Alberto Del Rio. No Lana with Rusev, and no Zeb Colter with Del Rio.
– Roman Reigns was shown gearing up backstage. The Usos and Dean Ambrose came up and apologized to him. Reigns just wanted to know about Jimmy's health, as he was limping around. Ambrose said they'd be at ringside to help out. Renee Young walked up and said WWE officials said The Usos and Ambrose will be banned from ringside. Then she walked away. What a Debbie Downer. Reigns said he got this.
[Commercial Break]
5 – THE LEAGUE OF NATIONS vs. ROMAN REIGNS – 4-ON-1 HANDICAP MATCH
Del Rio couldn't get one up on Reigns, so after being shoved away into his corner, he tagged Rusev. Rusev struggled at first, so he had a skull session with the rest of his team. That led to Sheamus tagging in. A distraction by King Barrett brought Reigns over to the heel team corner for a beating. Barrett continued jawing with Charles Robinson as the other, non-legal members of the team did some damage. After some more cheating, the referee ejected Barrett from the match, leaving it 3-on-1. Reigns nailed Sheamus with a few right hands to come back, but they cut to break at 3:23.
[Commercial Break]
Back at 6:57. Reigns got an elbow up on a Sheamus corner charge, but was clotheslined down. Del Rio mounted Reigns in the corner and connected on a number of punches. Brennan said Del Rio was the Mexican representative for the League of Nations, not the MexAmerican rep. Rusev took Reigns down and then applied a nerve hold. More double-teaming on Reigns outside the ring. Sheamus stayed in as the legal man and wore Reigns down with a rear chin-lock. Reigns came back against Rusev, with a Samoan drop. Del Rio missed a step-up enziguiri and Reigns came back. Clotheslines in the corner from Reigns. Superman punch to the invading Rusev. Back-stabber to Reigns from Del Rio for two. Reigns avoided the cross arm-breaker and speared Del Rio. Sheamus broke up the pin attempt. Brogue Kick missed and Sheamus was clotheslined to the outside. Outside the ring, Reigns used the stairs as a springboard to take out Sheamus with a clothesline. The brawl continued with Rusev being sent into the timekeeper's area and Del Rio thrown onto the announce table. Reigns beat the count back in the ring.
WINNER: Reigns, via count-out, at 15:27.
As Reigns stood tall, Sheamus reentered the ring and blindsided him with a Brogue Kick. The League of Nations went on the attack until The Usos and Dean Ambrose made the save and cleaned house. Roman's music played to close the show as each of the teams glared at each other from afar.
Did you watch Thursday's Smackdown episode? Send your 0-10 score & Reax to pwtorch@gmail.com for our TV Reax feature.

Greg Parks has been covering WWE Smackdown for PWTorch.com since January of 2007. He is the host of "Moonlighting with Greg Parks," a PWTorch VIP-exclusive audio show posted each weekend. Follow him on Twitter @gregmparks for live Tweeting during Raw, Impact, and PPVs, as well as other bits of wisdom. Comments, questions and feedback are welcome, and can be sent to g_man9784@yahoo.com.