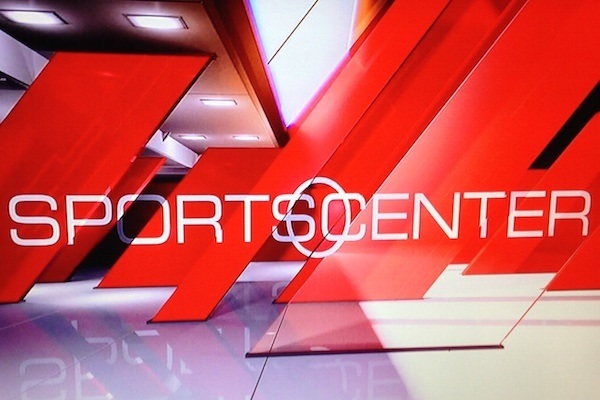 ---
SPOTLIGHTED PODCAST ALERT (YOUR ARTICLE BEGINS A FEW INCHES DOWN)...
---
WWE on SportsCenter
Guest: Edge (Adam Copeland)
Host: Jonathan Coachman
Airdate: March 15, 2016
The Coach is hosting a month of "WrestleMania Legends" in the SportsCenter interview segment. After Shawn Michaels was interviewed last week, Edge was interviewed this week.
– Edge's chat with Coach was a promotional interview for WrestleMania, so the interview briefly focused on Edge's history of injuries leading to his early retirement in 2011. Also, it was more "Edge" than Adam Copeland in the interview, making the interview more reflective on the highs of Copeland's wrestling career than the lows of health complications post-wrestling.
Of course, the segment started with a video review of Edge & Christian vs. The Dudleys vs. The Hardys in a three-team ladder match at WrestleMania 16 (WM2000). This started a pattern of taking crazy risks in ladder matches, which Edge has since pointed to as contributing to the end of his career.
Edge said they were "all nuts" at the time, but their mindset was trying to make a mark at a time when Steve Austin, The Rock, etc. were dominating the industry and raising the bar for everyone else because of how good they were. Edge said they decided they had to "do something different to get noticed."
The chip on Edge's shoulder grew by the time of WrestleMania 22 when he and Mick Foley decided on the flaming table spot. Edge told The Coach that his mindset was he wanted to be in the main event, so he went into the match wanting to make sure everyone knew he should have been in the main event.
Edge finally got that spot two years later when he faced The Undertaker at WM24. Asked what his response was when he was told the match was going to take place, Edge said he thought to himself, "Finally." Edge said everything he did in his career was to get in that spot main-eventing WrestleMania with Taker.
Edge credited Christian for being part of his journey, noting that without Edge, there is no Christian. In the present, Edge noted that their WWE Network show is a "train off the rails." He joked that he's not sure if they're allowed to say what they say on the show, but they keep saying things until someone says otherwise. He described it as "non-sensical entertainment."
The interview concluded with the big injury discussion of being forced to retire after his final WrestleMania match in 2011. Edge recalled having some idea of what his condition was going into Mania, but he had no idea the extent of his injuries until they got the MRI results.
Edge said he had been "feeling weird" in the weeks leading up to WM27, so it was a whirlwind of emotions when he was told his career was over, but he was not totally shocked. He said he knew the day was coming.
Edge said he wrestled nine years after spinal fusion surgery, and he doesn't know how he wrestled TLC and ladder matches in that condition. But, he knew he was on borrowed time, so he just went out and wrestled with the goal of trying to help younger wrestlers learn.
In a 30-second wrap-up, Coach asked Edge to name his favorite WrestleMania match. Edge picked four – Savage-Steamboat (WM3), Warrior-Hogan (WM6, which ESPNews showed Edge in the crowd watching), Bret-Shawn (WM12), and Taker-Shawn (WM25).