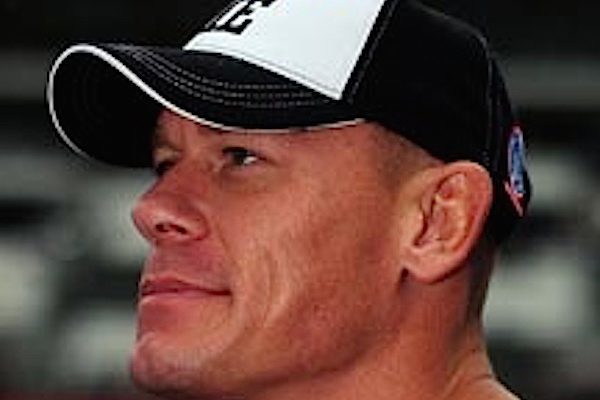 ---
SPOTLIGHTED PODCAST ALERT (YOUR ARTICLE BEGINS A FEW INCHES DOWN)...
---
Injured WWE star John Cena appeared on NBC programming in the morning and night on Tuesday of WrestleMania Week…
Today Show (AM)
For the second of three consecutive days, John Cena appeared in the 9:00 a.m. EST hour of the "Today" morning show from New York City.
The opening segment discussion focused on Cena's new "American Grit" TV show premiering on Fox in April.
Cena talked about the new show and plugged his hashtag #Showyourgrit as NBC rolled footage of the Fox show. There was no discussion of WWE, WrestleMania, or Monday night's Raw in Brooklyn.
Later in the show, Cena had the hosts go through an obstacle course demonstrating "American Grit." Cena got down on the ground demonstrating one of the physical tests, prompting the hosts to tell him to watch his injured shoulder. "The shoulder's fine!" Cena declared.
Tonight Show (PM)
Cena was the second guest on the "Tonight Show" hosted by Jimmy Fallon, who introduced Cena as a WWE wrestler, actor, and host of Fox's new "American Grit" show.
Cena opened by pointing out a hot crowd. Why? Because it's WrestleMania Season, entering hype mode for WM32 on WWE Network if you don't travel to Dallas to watch in-person.
Fallon said he doesn't know how Cena does everything on his schedule, then digged Cena that he did not expect Cena to be funny in the comedy movies he was part of in 2015. Cena sadly stood up from his seat and walked to the end of the couch selling sadness. Fallon tried to call him back with a song, and Cena eventually hugged him as part of a comedy musical bit.
Fallon tried to put a label on Cena's new Fox series. "It's just the greatest show you'll ever see," Cena deadpanned, then got serious about the U.S. military personnel who will be part of the show who are passing their knowledge to civilians trying to win $1.0 million. "It really is a special show," Cena said.
Things got jokey again when Fallon tried to describe the show, acting like he saw a sneak-peek. "The guy with the face?" Cena asked. Fallon then put over Cena as one of his favorite guests. They reminisced about the first time Cena appeared on his show when he came through a trap door with smoke filling tiny space trying to squeeze him onto the stage.
Fallon asked Cena about his shoulder injury, then sent the show to commercial hyping a game of "sticky balls" on the other side of a commercial break.
Back from break,  Cena and Fallon were dressed in velcro suits to throw balls at each other in a sound-booth looking set-up. Cena showed good range of movement with his injured shoulder chucking balls at Fallon.
The end result was both men selling exhaustion after 45 seconds of cardiovascular endurance testing. Fallon ended up with 17 balls attached to his velcro suit. As for Cena, he ended up with 17, no wait, there was another one stuck to his back for 18, giving Fallon the win with one fewer ball stuck to him.
After plenty of juvenile humor about where some of the balls ended up stuck on their velcro suit, Fallon saluted Cena and plugged his show to close out the two-part segment.