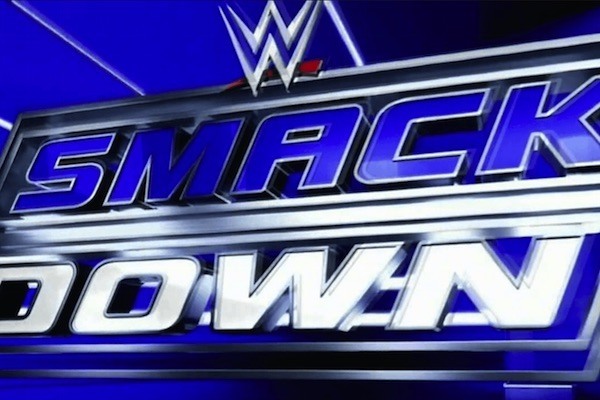 ---
SPOTLIGHTED PODCAST ALERT (YOUR ARTICLE BEGINS A FEW INCHES DOWN)...
---
WWE Smackdown review
June 2, 2016
Taped 5/31/16 in Rockford, Ill.
Aired on USA Network
By Greg Parks, PWTorch Columnist (Twitter: @gregmparks)
– WWE Open.
– A video package recapped John Cena's return to Raw, and the heel turn of A.J. Styles.
– Smackdown Open.
– It's a New Day, with the tag team champions starting off the show. Sounds like JoJo gets the first shot at replacing Eden Stiles as ring announcer. The Club's attack on New Day Monday night was shown. The trio paused for a "New Day rocks" chant. They talked about some of the big happenings that took place on Raw, but said the biggest story was the havoc caused by The Club. If they don't make a joke about The Club sharing a name with an anti-theft device for a motor vehicle, I'll be sorely disappointed. The Club interrupted at this point.
Karl Anderson talked about taking the titles from New Day. New Day riffed on what kind of "Club" they are, and thankfully, Kofi Kingston made the anti-theft device joke. I can sleep easily tonight. Big E. also made a Hair Club for Men joke. Anderson said their club has dues and they'll take it out on New Day. Kofi told them to come to the ring and collect. They seemed to decline, so Xavier Woods noted, "they don't want none." Speaking of the man's theme music, A.J. Styles came out to join his brethren.
Styles said the whole world is talking about them and what they did to John Cena…and New Day. He said it isn't a New Day, it's THEIR day. He said WWE belongs to the Club. Woods reminded the three that New Day is the WWE World Tag Team Champions. Styles said after ten years, Kofi is still joking around because he's nothing but a joke. Kofi recited his CV for Styles and said, "that's pretty hilarious to me." Kofi said it took Styles ten years just to make it to WWE. Styles seemed to ask for a six-man tag, which Kofi agreed to for New Day. Styles was okay in his first real heel promo in WWE.
– Mauro Ranallo, Jerry "The King" Lawler, and Byron Saxton were shown at ringside.
– Tonight, Dean Ambrose and Sami Zayn face Alberto Del Rio and Kevin Owens.
– Becky Lynch was walking backstage. She faces Charlotte, who was also walking separately along with Dana Brooke, in a non-title match next.
[Commercial Break]
– It's official: Kofi Kingston vs. A.J. Styles. Huh, that's not how I read the end of that segment, but I guess it was Styles and Kingston who were the main antagonists for their side.
1 – BECKY LYNCH vs. CHARLOTTE
As Lynch came out, they showed her coming to Natalya's aid on Raw. Collar-and-elbow tie-up went to the mat, then back on their feet. Deep arm-drags from Lynch. Neck-breaker by Charlotte with Lynch tangled in the ropes. Lynch found herself on the apron fighting off Charlotte, and then Dana Brooke as well. That distraction allowed Charlotte to kick Lynch off the apron and to the floor. They cut to break at 1:45 of the match.
[Commercial Break]
Back at 5:32 with Lynch firing at Charlotte with lariats. Exploder suplex out of the corner for two. Charlotte with another neck-breaker, and chops. Lynch fired back with forearms and an uppercut. Sunset flip attempt, but Charlotte rolled through. Cross arm-breaker by Lynch, but Charlotte lifted her up and powerbombed her for two. Charlotte went for the figure-four, but Lynch pulled Charlotte's arm and locked in the Disarmer. Dana Brooke tried to pull Charlotte out of the move, which the referee saw, leading to him calling for the bell.
WINNER: Lynch, via disqualification, at 8:42. Not always smooth, but Lynch is such a good babyface.
Natalya came out and she and Lynch tried to put their finishers on the two heels, but Brooke and Charlotte escaped.
– Renee Young was backstage with Dean Ambrose and Sami Zayn. She asked them how they'll be able to work together when they'll be fighting each other in a few weeks. Zayn said that night it's every man for himself, but they'll be cohesive unit tonight…despite Ambrose's recent comments about Canadians. Ambrose and Zayn did some brief comedy before Kevin Owens and Alberto Del Rio walked in. Owens said it makes him sick that Zayn is trying to manipulate Ambrose. He said Zayn is trying to get Ambrose to let his guard down heading into Money in the Bank. Zayn called Del Rio a "snake in the grass," so Del Rio responded by saying the two babyfaces may not make it to MITB after tonight. Ambrose wanted to fight right there, but the heels decided against it.
[Commercial Break]
2 – THE DUDLEY BOYZ vs. THE GOLDEN TRUTH
No entrance for the Duds. None either for Breezango, who were ringside in the VIP Lounge. Truth rapped his way to the ring, with the lyrics and a bouncing Goldust head at the bottom of the screen in case, you know, you wanted to follow along at home or something. Goldust arm-dragged Bubba out of the corner. Truth tagged in and worked Bubba's arm. More quick tags from the Golden Truth. Double suplex on Bubba. Truth dabbed before hitting a leg-drop. Truth mounted Bubba in the corner and brought down rights onto Bubba's melon. It didn't seem to have any effect, as a distraction by D-Von allowed Bubba to land a big boot. Truth tried to fight back, but D-Von hit a spinning elbow on Truth. Heel kick by Truth on Bubba. Hot tag to Goldust at 3:28. He took out Bubba and D-Von, including a spinebuster on D-Von. Breeze got on the apron and tried to take a selfie, but Truth knocked him down. Goldust was shoved into Truth, then rolled up by D-Von for the finish.
WINNERS: The Dudley Boyz, at 4:07. The slow burn was Golden Truth getting together as a team. The new slow burn is getting their first win.
Breeze and Fandango were on the mic. Breeze said unlike the Golden State Warriors, Golden Truth is one team that can't get it done. Fandango said just like in the game of hoops…three strikes and you're out. Breeze said Golden Truth is out of luck and out of style. Fandango said some might call he and Breeze gorg-aliciouis (combination of gorgeous and delicious…I had to approximate the spelling). Goldust and Truth tried to regroup in the ring. They seemed to do so successfully.
– A.J. Styles vs. Kofi Kingston is still to come.
[Commercial Break]
– The announcers talked about the WWE Network, but switched gears to discussing the Baron Corbin vs. Dolph Ziggler feud. They actually showed a video package on said feud as well.
– Renee Young was outside the arena, near the parking garage, saying Corbin had requested interview time. She came up to him and asked him why he wasn't in the arena. Corbin said the WWE Universe doesn't deserve his presence. He said the next time he enters an arena, it'll be to end Dolph Ziggler, leaving him in a pile of broken bones and broken dreams. Better promo from him there.
– Dean Ambrose came out for the tag match. Sami Zayn was next. They went to break before the entrance of the heels.
[Commercial Break]
3 – DEAN AMBROSE & SAMI ZAYN vs. ALBERTO DEL RIO & KEVIN OWENS
Zayn for some reason was discussing something with Ambrose in the corner, allowing Owens to attack while Zayn's back was turned. Zayn managed a head-scissors take-down. Heel kick by Zayn to Del Rio for only a one-count. Del Rio backed Zayn into the corner, where Ambrose tagged himself in. Rapid-fire kicks to the breadbasket of Del Rio in the corner. Double back-elbow to Del Rio by the babyfaces. "Ambrose is so crazy he gets fan mail from Gary Busey," remarked Lawler. Del Rio seemed to be in control, delivering a back-stabber to Zayn and knocking Ambrose off the apron. Step-up kick by Del Rio to the ribs of Zayn. Zayn stumbled his way into the corner after flipping out of a Del Rio suplex. Ambrose tagged in and hit a running bulldog on Del Rio. Suicide dive by Ambrose onto Del Rio outside the ring. Owens got involved, halting the momentum of Ambrose. They went to break at 4:57 of the match.
[Commercial Break]
Back at 7:28 of the match. Del Rio double-stomped Ambrose in the corner, but it was when Ambrose was hung in the middle rope, not his finish. Owens taunted Zayn while he was in the ring with Ambrose. Ambrose was thrown out of the ring and Zayn could no longer stand it, trying to interfere. While the ref dealt with him, Owens and Del Rio went outside and put the boots to Ambrose. Zayn finally got sick of it and dove onto he heels outside the ring. He brought Ambrose in and then went around to wait for the tag. After a boomerang clothesline from Ambrose, Del Rio tagged in and prevented Zayn from tagging Ambrose. Ambrose blocked a Del Rio kick and hit a swinging neck-breaker. But Zayn was still selling on the outside when Ambrose tried to tag. Del Rio tried a step-up enzugiri in the corner but Ambrose moved and Del Rio hit Owens. Zayn came in and Helluva kicked Del Rio in the corner for the pin.
WINNERS: Zayn and Ambrose, at 10:51. Beautiful heel work at times from Owens and Del Rio, and I liked the miscommunication coming between them rather than the faces after the teases by the bad guys in the interview earlier. Just a good story told in this one.
Del Rio's kick to Owens and Zayn's kick to Del Rio were replayed. Owens ripped off Saxton's headset after the match and was enraged, talking about being sick of partners failing him. He told them to watch what's about to happen, because it'll happen at MITB too. With Zayn and Ambrose on the ramp, Owens feigned going after them, but instead took a ladder from under the ring. He tried to prop it up in the ring, but before he could, Cesaro ran out. He hit Owens with a diving European uppercut (all the while in a suit and with his sunglasses still on). He put up the ladder and took the briefcase from its perch.
– The main event is Kofi Kingston vs. A.J. Styles.
[Commercial Break]
– Lana introduced her main squeeze, Rusev. Jack Swagger came out to oppose Rusev. Rusev attacked him before the match, throwing him around ringside. Back in, Charles Robinson asked Swagger if he wanted to start the match. Swagger gave the okay.
4 – RUSEV vs. JACK SWAGGER
Rusev immediately went for his big kick, but Swagger caught the boot and tried for the ankle-lock. Swagger hit a high-impact clothesline on Rusev outside the ring, but Rusev caught him coming back in. Rusev punched away at Swagger and tore Swagger's t-shirt off of his torso. Swagger came back with a few corner clotheslines. Belly-to-belly by Swagger, but Rusev got a boot up on a Swagger bomb attempt. Another clothesline from Swagger. A curious choice to go back to that well again and again given the story has been Swagger injured his shoulder in the pre-match beat-down from Rusev. Rusev dropped Swagger to ringside, where Swagger hit his face on the ring-steps on the way down. Great sell by Swagger and camera angle to make it look really good. Swagger did manage to re-enter the ring. Accolade turned into the Patriot Lock. Rusev never allowed to lock it in cleanly, though, and he kicked Swagger in the back. Accolade finally cinched in. Swagger attempted to fight it, to no avail.
WINNER: Rusev, via submission, at 4:36. This match completes Rusev's time warp.
Rusev would not relinquish the hold, so Titus O'Neil sprinted out to run Rusev off. O'Neil challenged Rusev to fight like a champion. Predictably, Rusev declined.
– Kofi Kingston vs. A.J. Styles is tonight's main event.
– Next, we'll see what happened between Seth Rollins and Roman Reigns on Raw. Ranallo describing it "The Man challenging The Guy for the Championship" sounded so lame.
[Commercial Break]
– And we're back with more from Darren Young and Bob Backlund. Backlund wanted a training update. He wasn't happy to hear Young had been running. He wanted Young to walk briskly. Backlund stopped running in 1978. Backlund showed off Young's car keys and said it'll take Young eight hours to walk to the next town. And if he makes it before then, he'll know he ran. Young walked off screen saying, "you got it, coach."
– The announcers briefly reacted to Backlund and Young, then transitioned to discussion (with stills shown) of Seth Rollins returning at Extreme Rules. Then it was the video package of his interaction with Reigns on Raw. A graphic was then shown for Reigns vs. Rollins at Money in the Bank, for the World Title.
– A.J. Styles came out with The Club. They once again showed Styles turning on Cena Monday night. Kofi Kingston was accompanied by the other members of New Day. Kingston vs. Styles is next.
[Commercial Break]
5 – A.J. STYLES vs. KOFI KINGSTON
Both men fought for advantage early on, neither getting it. Hurricanrana by Kingston on Styles. Styles retreated to the corner, where Kingston laid in kicks and a basement dropkick. After a musical interlude via New Day, there was a mid-ring standoff with all six men involved. They cut to break at 2:56 of the match.
[Commercial Break]
Back at 6:13 of the match. Things had settled down, with Kingston landing a back-elbow to Styles. Styles slowed Kingston with forearms and chops. Kingston tripped up Styles when A.J. hit the ropes. Kingston went outside to celebrate where another standoff took place. Styles snuck up behind Kingston and threw him head first into the ring post. In the ring, Styles was on offense and dropped Kingston with a back-breaker. Kingston with a jaw-breaker but Styles came back with a hard clothesline following his lightning-quick strikes. Monkey-flip out of the corner by Kingston sent Styles more than halfway across the ring. Kingston was able to show off his athleticism upon his comeback. Trouble in Paradise missed, but Styles connected on the Ushigoroshi. Superplex attempt up top by Kingston, but Styles turned the tables. As Styles went for his springboard forearm, Woods played the trombone to divert the attention of Styles. Phenomenal forearm missed, but Kofi's SOS didn't. A brawl ensued outside the ring with members of New Day and The Club. Anderson dove at Big E., and E. deposited him on the announce table. Gallows took out Big E. and Kofi dove onto Gallows. As Kofi came back in, he was hit with the Pele kick. Styles Clash finished Kofi.
WINNER: Styles, at 13:49.
A replay of the brawl at ringside, followed by the finish, aired. The show ended with The Club throwing up their hand sign at the top of the ramp.
Did you watch Thursday's Smackdown episode? Send your 0-10 score & Reax to pwtorch@gmail.com for our TV Reax feature.
Greg Parks has been covering WWE Smackdown for PWTorch.com since January of 2007. He is the host of "Moonlighting with Greg Parks," a PWTorch VIP-exclusive audio show posted each weekend. Follow him on Twitter @gregmparks for live Tweeting during Raw, Impact, and PPVs, as well as other bits of wisdom. Comments, questions and feedback are welcome, and can be sent to g_man9784@yahoo.com.