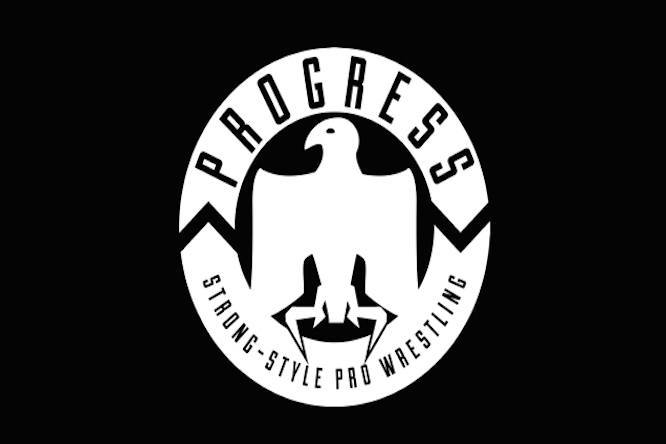 ---
SPOTLIGHTED PODCAST ALERT (YOUR ARTICLE BEGINS A FEW INCHES DOWN)...
---
PROGRESS Wrestling Results
Chapter 35 – "Writing Nirvana on Someone Else's Bag"
August 28, 2016
London, England at Camden Electric Ballroom
Report by Dave Green, PWTorch U.K. correspondent
(1) British Strong Style (Trent Seven & Pete Dunne) beat Tyler Bate & Damian Dunne. This match was made to allow Tyler and Damian a measure of revenge against their former partners who betrayed them last month, even though they entered separately and not looking as if they wished to team together. Tyler attacked Seven before the bell, with Damian following suit on his brother. Both men were suplexed and powerbombed on the ring apron. After several minutes of outside action, they finally got in the ring for a very nice tag match. British Strong Style eventually got the win with a Seven half crab on Bate, even though both Bate and Damian had withstood some brutal punishment throughout.
Post-match, British Strong Style had a pull apart encounter with tag champions the London Riots, who were on guest commentary.
(2) Nixon Newell beat Alex Windsor. Two ladies made their debut and looked to make a good impression ahead of the forthcoming Natural Progression Series that will crown a women's champion. Nixon was easily the crowd favourite, with a following from her work in other promotions. Windsor did well to offset the crowd and controlled a strong portion of the match. Nixon eventually got the pinfall with a bridging Tiger Suplex. Both debutants did really well in the unique PROGRESS environment and I have no doubt we will both again in the near future.
(3) Jack Gallagher beat Eddie Dennis, El Ligero, and Zack Gibson in a four-way match. The match began with the usual attempts of Zack Gibson trying to do his pre-match speech, but was drowned out by the crowd's boos. Gibson handed the mic to his stablemate Ligero and left the ring. The usually mute Ligero was confused as to what to do with the mic, but Gibson returned with a megaphone. He bellowed his speech out, but the crowd wouldn't let him win.
The match was a lot of fun, with the Origin members working together throughout. Dennis and Gallagher attempted stalling vertical suplexes, with Dennis having trouble lifting Gibson, so he insisted he and Gallagher switch opponents, instead lifting the much lighter Ligero. Gallagher had no trouble lifting the much larger Gibson.
At one point, Ligero had Dennis beaten after the C4L, but Gibson broke up the pin. Ligero furiously questioned his stablemate, with Gibson saying he'd tripped into the ring and broke up the pin by accident. Gibson reached under the ring and pulled out a car stereo (if you know of the chants that Liverpudlian Gibson is subjected to, you'll appreciate the irony). While distracted by the crowd chanting about the weapon, Gallagher caught Gibson with the corner dropkick, Gallagher then trapped Ligero in a heel hook/half crab for the tap out win.
(4) Joe Coffey beat Dave Mastiff in an Atlas championship semi-final match. These big men tore into each other, with Coffey showing off his immense strength in throwing the huge Mastiff with a German Suplex. An amusing moment happened when a part of the ring canvas popped up, causing an odd shape to appear. Coffey sorted it out with a springboard cross-body block that flattened both Mastiff and the canvas, prompting chants of "D.I.Y." Coffey booked his place in the finals with a discus lariat.
(5) Shane Strickland beat Will Ospreay. All the flips were in this match. All of them. In all seriousness though, if you like your aerial manoeuvres in wrestling, then this match is for you. Ospreay and Strickland put on a clinic. The match was not without its share of drama. Ospreay looked to have come down on his head on a suplex, but rebounded immediately with no ill effects. However, after a springing 450 splash garnering a two count, Ospreay lay prone in the ring clutching his shoulder, slowly rolling out of the ring. The crowd quietened wondering what was happening. Referee Chris Roberts attended to Ospreay, asking Strickland to back away, while PROGRESS co-owner Glen Joseph abandoned commentary to help out.
After appearing to pop his shoulder back into place, Will surprised Strickland with a roundhouse, not as injured as he'd appeared. The crowd booed Ospreay vociferously, shocked by his tactics. He tried to finish things quickly with the Red Arrow, but Strickland kicked out. The Os-Cutter was uniquely blocked and Strickland levelled Ospreay with a top rope double stomp to the face, followed by a wheelbarrow Michinoku driver for the win. This was an awesome match.
Afterwards, Ospreay got on the mic and apologised to the crowd and to Strickland for his tactics, which was accepted by Shane. Will stayed in the ring and noted the fact that he had not won a match in PROGRESS in the entire year, despite his success in Japan. He announced that his schedule does not match with that of PROGRESS for the time being. "It's not goodbye, just pip pip cheerio, lads."
(6) Mark Haskins beat Mikey Whiplash. Kicking off the second half, Whiplash stated that he had earned a title shot long before Haskins when he had beaten Jimmy Havoc when he was still champion, beaten the Pastor before he'd become champion and challenged Haskins to put his title shot at Brixton on the line. He goaded Haskins with very personal attacks on his wife and children, to which Haskins accepted the stipulation.
What followed was a really technical match, with Whiplash pulling out a great performance. That is not to say I usually think badly of him, quite the opposite in fact, as I find him to be one of the most fascinating characters and wrestlers on the UK scene. But he hasn't been made to look particularly good in his most recent Ballroom appearances, so I believed he turned a lot of heads with this match tonight. Alongside the technical side was a lot of hard strikes and aerial assaults from both men. Haskins worked on Whiplash's arm for a lot of the match, enabling him to lock in a double-arm version of his Star Armbar to get the submission and continue his winning ways on the road to Brixton.
(7) Rampage Brown beat T-Bone in an Atlas championship semi-final match. A battle of two good friends who are three0year reigning tag team champions in the Preston City Wrestling promotion, this was a knife-edge chop and piledriver-heavy match. Some stiff exchanges from both, before Rampage caught T-Bone with a tombstone for a two count. T-Bone then a version of Rampage's traditional piledriver, also for two. Rampage finally hit two piledrivers to put Bone away and go on to the Brixton show to face Joe Coffey to become the inaugural Atlas champion.
Before the main event, Sebastian was allowed a live microphone to explain his actions from the previous month when he cost the Pastor William Eavor the PROGRESS championship. He stated that he started off as the company's biggest potential star before he became like the crowd, referring to his run in the popular Geezers tag team. He said that he knew management wouldn't treat him like the star he knew he could be, so he cost Eavor the title. He called out Eavor, who got into the ring to stare down Sebastian. Seb said that he would reveal the secret about Eavor, but not yet. Knowing the Pastor has a temper, he gave him a chair to use to exact revenge on him. Eavor would not allow himself to use the chair, despite the constant goading of Sebastian. Seb eventually kicked Eavor low and beat him down with the chair. Security tried to intervene, but Sebastian smashed the Pastor's arm between two chairs and left the scene. Not a satisfactory explanation at present, but there is plenty more to this story, no doubt.
(8) Marty Scurll beat Mark Andrews to retain the PROGRESS Championship. This was a stellar main event, for which Mark Haskins provided guest commentary. Scurll frequently threatened to use a chair against Andrews, each time intervened by the referee. When Andrews spotted the chair in the ring, he stalked Scurll with it all the way to the stage. Scurll caught Andrews with a strike and reared back with the chair, only to turn around and throw it into the face of Haskins. Scurll was then thrown into the crowd, with Andrews following with a somersault dive.
Back in the ring, Scurll caught Andrews with a Suplex into his Crossface Chicken Wing, but Andrews got to the ropes. Out of nowhere, Andrews countered the same Suplex into a stunner and hit Scurll with his Shooting Star Press. The referee counted to three, but at the same moment as the third count, Scurll put his foot on the bottom rope. Andrews thought he had won, which left him prone to another Chicken Wing and the tap out for Scurll to retain the title and go onto Brixton the defending champion.
Suddenly the music of The Origin hit, with the present three members approaching the ring, surrounding Scurll. The champ ducked out of the ring, leaving a prone Andrews to take a pounding from the trio. Enter Eddie Dennis, Jack Gallagher and Damon Moser to make the save. After the six men fought to the back, Scurll returned to the ring to attack Andrews again, which led to Mark Haskins hitting the ring and inserting a superkick to Mr Scurll's jaw. Haskins held up the PROGRESS title and dropped it on an unconscious Scurll to end the show.
All in all, a great show once again. No bad matches, well paced, told some great stories, and some nice progression on the road to the next chapter at the Brixton Academy in front of over 2000 fans.
The next chapter now has confirmed matches of Joe Coffey vs. Rampage Brown, in a rematch of their first round clash which ended in a draw, to determine the first-ever Atlas Champion, as well as Marty Scurll defending the PROGRESS championship against Mark Haskins and Tommy End in a triple threat match. On top of that, already announced is Zack Sabre, Jr. vs Tommaso Ciampa in the latter's final ever independent wrestling show.
Tonight's show seemed to lead towards a tag title match of the London Riots defending against British Strong Style, another confrontation between Sebastian and William Eavor, and an eight-man tag of the Origin (Ligero, Mastiff, Gibson, and an absent Nathan Cruz) vs. Mark Andrews, Eddie Dennis, Damon Moser, and Jack Gallagher. Of course, these are not confirmed but it won't be long until we find out.
As ever, this show should be available to stream and download from demand-progress.com by next weekend. If you'd like to chat about the show or other U.K. shows, then my Twitter is @dagreeno