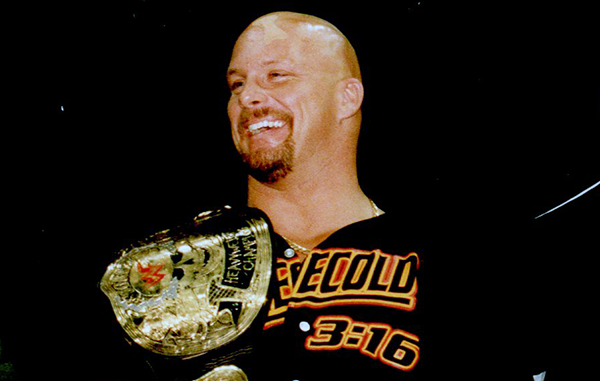 ---
SPOTLIGHTED PODCAST ALERT (YOUR ARTICLE BEGINS A FEW INCHES DOWN)...
---
Steve Austin watched the James Ellsworth angle on the latest episode of Smackdown, and he doesn't see how that type of content helps draw money. Regarding comedy and frivolity in wrestling, he says "a little bit here and there, but in your top angles, man, I see a hard time drawing money at the arenas with that."
That said, he gives credit to the job Ellsworth is doing in the role. "I was watching the angle between A.J. Styles and Dean Ambrose and James Ellsworth," he told me on this week's PWTorch Livecast "Interview Thursday" (click here to stream or download full free episode). "Now, I give props to the kid. he's doing his job and he's doing a good job of it. It's interesting… I like what they're doing. Monday Night Raw or Smackdown, credit to the James Ellsworth guy, he's doing a great job, but I'm all about the serious stuff. Wrestling is a very serious subject for me. Yes, people would sit out there and say, 'You did a lot of comedy, Steve.' Well, yeah, I did. I had three broke bones in my back. I had to do something to be an entertainer, so I went out and did what I did. I had to push the envelope creatively. Still at the end of the day, I took what I did very seriously. Not to beat a dead horse. This isn't an indictment of Steve Austin onto the company. They're following their vision, their path."
Austin points to another style of presenting wrestling as his gold standard. "I go back to the old school days of that Attitude Era stuff," he said. "Everybody knows when I speak of the Attitude Era, my favorite stuff is of the mid-'80s, all that NWA stuff, the World Class stuff, the stuff that Bill Watts was doing. The AWA was kind of starting to get on a little bit of a decline at that point and the WWF was still slipping on banana peels. That's my favorite stuff."
Although he's self-described as "old school," he does see a lot he likes in a current product he watches: NXT. "I think it's basically the simplicity of the show," he says. "I mean, you've got these angles that are wrestling-based, announcers staying within the system. They're not talking about anything going on in pop culture. If you go back several months, Corey [Graves] made the comment that Bobby Roode had flown because he wanted to spend the least amount of time in Manhattan as possible. So just sticking within those parameters, the announcing I think is a little better on the NXT front right now. Just the action in the ring, it's a better look, it's dimmed down a little bit, it's not too dark – I thought Lucha Underground was too dark this year from a visual standpoint. I like the production values. I like their entrance music. I like what they're doing in the ring. Of course, they've got one of my favorite tag team in The Revival."
Keller's Analysis: With the demands of "filling TV time" between PPVs, WWE has been doing more humor in top-of-the-card feuds than anytime I can recall in pro wrestling history, both on Raw ("The List") and Smackdown (Ellsworth). I really am enjoying the Ellsworth storyline and the chemistry with Chris Jericho and Kevin Owens. I also am concerned it's too "lite" and WWE has currently lost focus on building up the idea that main events are "big fights with a lot on the line between two bad-ass fighters." The "pride" WWE has in promoting what they define as "sports entertainment" instead of "pro wrestling" is leading to a diminished sense of gravity within the narrative regarding World Title level storylines and feuds. NXT has less demands in terms of TV time, but I genuinely believe there are key core elements of the NXT approach that, if transferred to the main roster shows, would lead to a better overall product that "drew more money" (i.e. sold more tickets at arenas and drew more WWE Network subscriptions). I think there's too much going on that's done to "entertain viewers in the moment" and not get them invested in watching a fight. Simulated or not, people like conflict between powerful forces, with an invested emotional interest in seeing someone win and someone else lose. WWE is losing sight of that being the necessary core of what they do. The comedy should be in smaller doses and in a mid-card context.