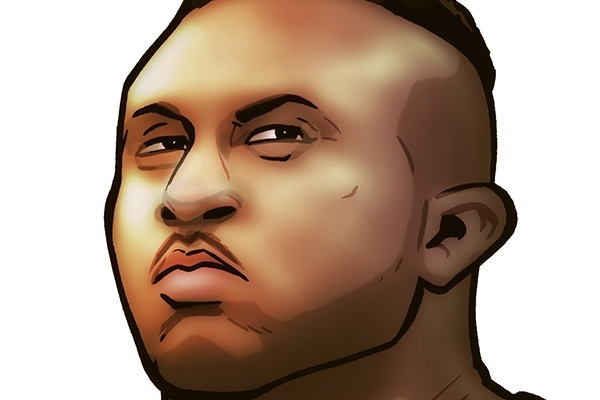 ---
SPOTLIGHTED PODCAST ALERT (YOUR ARTICLE BEGINS A FEW INCHES DOWN)...
---
Rising Star of The Week: Alexa Bliss
I was all set to give this inaugural induction to everybody's not-favorite babyface in Roman Reigns, but then Alexa Bliss just goes all-out heel during Tuesday night's contract signing with Becky Lynch.  From the blatantly bad Irish stereotypes to the facial expressions, Bliss has covered all the bases of being unlikeable in every fathomable way. Credit has to be given to Becky for this as well, instead of tearing up and going the "pity me" route like her character would have done a year ago, she settles the "potato farm" score with a swift punch in the mouth. For as diluted and mismanaged many of the women competitors have been handled since the brand split (should people be looking out for Bayley's well-wishing hugs or gang-style beat-downs? I'm still confused…), it's nice to see both divisions have two successful nights in a row.
Honorable Mentions:
Roman Reign:  A pop is a pop no matter how many Carolinians bow knee to the WWE brand, it all just furthers the greater good of growing his Empire, at least to Vince.  This moment was just another feather in his cap to continue Roman's re-admission into the WWE Universal title picture and minus a few vocabulary choices (junior), Reigns did a pretty decent job on the stick too, seeming more at ease with barbing words against the likes of Owens and Jericho. Being the catalyst for the duo's rift in best friendship may hammer him further into a heel among the 18-35 male demographic, but for this one particular night, he looked like the star Vince has been wanting.
Austin Aries: Me, you and a good deal of the NXT fanbase certainly weren't eyeing a return for Austin Aries anytime soon (not bad for a bad pun, eh?), but having him show up along side Ranallo and Graves for commentary on the inaugural episode of "205 Live" was a stroke of brilliance on management's part.  Aries looked and acted perfectly in the role, playing up his "Greatest of All Time" persona that hearkened back to Jesse Ventura's days behind the booth. His one-liners hit their mark (I particularly enjoyed The Bollywood Brotherz sleeping in bunk beds up until the their early twenties line) and his analysis was heelishly insightful. The fact that he still is an active competitor seeking to integrate himself into the Cruiserweight division once healthy is an exciting hook that conjures up images of Randy Savage chomping at the bit when he was hurt doing commentary, and that's a good spot to be in.
______________________________________________________________________
Fading Star of The Week: The New Day
All the smarmy dialogue and the shameless merchandise plugging is finally starting to show it's wear and tear on the trio's fanbase. At their early stages of their hot run, Big E, Kofi and Xavier would be clever and creative with their promos, but recently they've gotten this aura of self-assuredness and it doesn't wear well on an overall comedic act who if didn't take the opportunities to develop, had a built-in shelf life, and they haven't taken such opportunities. Maybe this will all make sense after a full-blown heel turn in the coming weeks, but I'm leaning more towards "let's milk this act for all it's worth" mentality, and as Dave Chappelle portraying P. Diddy once said, "the milk's gone bad"!
Dis-honorable Mentions:
Enzo & Cass: I hate to say it, but I'm seeing the early on-set of the aforementioned "New Day Disease" among the Certified Gs, more so with how they're being booked rather than a fault of their own. They've gotten caught in WWE's web of conventionality and uncreativity, the rotten cherry on top being that cringe-worthy WWEShop.com Cyber Monday segment. Enzo has proven to be someone to get himself (and Cass) over, and not matter how many extremities you blur out, there is no escaping lazy and illogical booking, and that's what we're getting with this Rusev and Lana angle. "How you doin'?" Eh, not so good.
Cedric Alexander: My thoughts while watching Cedric Alexander vs. Tony Nese: "Hey, a cruiserweight match on Raw that the audience is excited about? Sure, I'll give it a go, Cedric has shown to me that he already has a confident ring presence about him, so getting a win in front of his hometown crowd can only help his character! Wait…he lost in three minutes? But the fans were cheering 'Cedric City'! I don't understand." Then I remembered I was watching Raw.
---
(Dominic DeAngelo is the newest contributor to PWTorch.com's "Specialist" section. This "Rising Star – Fading Star" feature will be published weekly at PWTorch.com, taking a look at who has had a good week and a bad week in pro wrestling.)