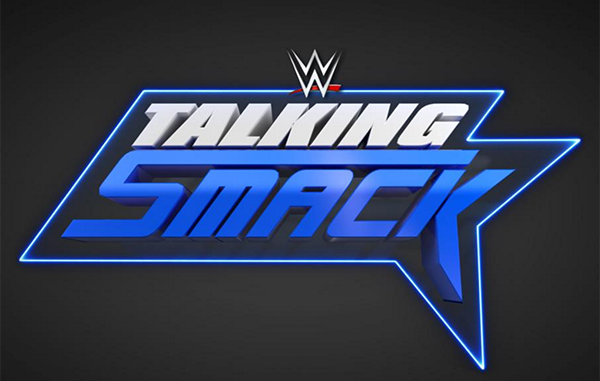 ---
SPOTLIGHTED PODCAST ALERT (YOUR ARTICLE BEGINS A FEW INCHES DOWN)...
---
WWE TALKING SMACK REVIEW
MAY 2,, 2017
AIRED LIVE ON WWE NETWORK
BY CRAIG ELBE, PWTORCH CONTRIBUTOR
Shane Guest Hosts; A.J. is Fired Up, The Welcoming Committee are United Against Charlotte and By 5 Values, Owens Did What He Had To Do, Plus Update on Jericho, Shane Took Back the Title From Jinder, Tye Dillinger's Good Showing
Renee Young was joined by… Shane McMahon?  She asked how Chris Jericho was after the attack by Kevin Owens after their match tonight.  Shane said Jericho is at the emergency room awaiting the prognosis of his neck.  Renee asked if repercussions are in order for Owens for his vicious attack. Shane said Owens is doing what he feels necessary to make a statement.  Renee said Owens will be on the show to ask him his motives.
Renee brought up Shane taking back the WWE Title from Jinder Mahal to return it to champion Randy Orton.  Shane said Jinder stole the title but can earn it at Backlash. Renee agreed.
Renee brought out the number 1 contender to the United States Title.
First Guest:  A.J. Styles
A.J. came to the desk in the namesake of his last name, ice for Shane and all.  Shane was grateful despite A.J.'s vocal resentment. Renee said we now know who A.J. will face at Backlash for the United States Title after Kevin Owens won the title earlier tonight.  A.J. didn't really care who won, but may have prevented Owens' attack on Jericho if he wasn't banned by Shane.  (Nice try A.J.; you were banned during the match, yet Owens did his damage after the match.)  A.J. was still upset with what Owens got away last week.  Shane told A.J. he already got is payback at the start of Smackdown when he attacked Owens and will get the opportunity to finish it at Backlash and win the U.S. Title.  A.J. restated, after Renee's prodding, he's the phenomenal A.J. Styles and didn't care who won and has no problem getting in the ring with either Owens or Jericho.
Renee dug for more and asked A.J. if he is getting territorial since the Superstar Shake-Up.  A.J. continued his assertion of not fearing anybody. Heck, even Braun Strowman can't scare him.  Getting knocked down happens and is part of this business and life. Your reaction to it, being smarter than your opponent, and adapting are what matters.  Ultimately, A.J. believes he is that guy.
Renee marveled at the clinic Owens put on tonight.  A.J. said, despite his overall time in the business, he came to WWE a little intimidated.  Now, times have changed and so has he, and now he's declaring what he wants.  Renee wondered about potential and perceived pressure for him to carry Smackdown.  A.J. said pressure makes diamonds, and he wants it and has no problem with pressure as he thrives on it.
Renee asked Shane who he'd like to see win the title.  Shane said whoever wants it more.  A.J. emphatically said that is him and you can bet on it.  (Maybe a little shot at the odds-makers who spoil match outcomes?)  Renee loved his confidence but dug further by saying how much Owens has accomplished.  A.J. compared his and Owens' paths as similar, and isn't discounting Owens and his abilities.  He just feels he is better. Shane said it's a "phenomenal" match up for the fans; Renee said it's a dream match.  (She must have slept during their ROH days.)
A.J. said he understands what Shane means, despite their initial differences, when he says that Smackdown is the land of opportunity.  Jinder Mahal came to Smackdown and now he's made a name for himself by showing what he's got.  A.J. wanted to say something but got cold feet. Renee encouraged him, telling him he's on Talking Smack!  A.J. got fired up and said that Smackdown makes 'em, then Raw takes 'em, and Smackdown can get cleaned out but Smackdown will build somebody up and put them in the spotlight and make them a star.  Shane loved what A.J. said and how he said it.  A.J. figured he should end on that and go out on top! Renee and Shane thanked him for being on the show and making his insightful statements.
After A.J. left, Renee said that this is the A.J. Styles you want to represent Smackdown.  Shane agreed, with his own experience in the ring with A.J. being enough to sell him on it.  Shane said A.J. is on a roll and is psyched for him.
Jinder Mahal was Renee's next topic for Shane, that he's another example of what A.J. referenced as Smackdown's spirit of seizing opportunities.  Shane said that is the environment he and Daniel Bryan are trying to foster.  Renee wondered about the morality of the extra help Jinder has gotten along the way.  Shane said, personally, he likes going solo but others have different ways to try to get what they want.  Footage of Sami Zayn vs. Jinder was shown where Zayn fell prey and victim to the Singh Brothers and lost the match to Jinder.  Renee said it's not the first time Zayn encountered this with Jinder.  Shane said it's very hard to focus when it's essentially three-on-one, but Zayn should have known better and got caught.  (Really, Shane? Good thing for Shane that Booker T is around to have an example of a worse wrestling IQ while Booker is on commentary.)
Speaking of people who've wronged Sami Zayn, Renee asked Shane about Baron Corbin and his punishment for last week's actions.  Shane said matter-of-fact that Corbin was fined and had to sit out this week's show for putting his hands on an official.  He said Corbin's reaction showed he was aware he'd messed up.  Renee said it was scary being that close to a big guy beating on another. Shane added it was especially the case when not in the environment of a ring.
Renee went with the theme of folks who have aces up their sleeves and welcomed their next guests to the show.
Second Guests:  Natalya, Tamina, Carmella, and James Ellsworth
Shane suddenly realized his water and ice are gone but sounded sadder than dehydrated.  Renee promised a replacement.  (Isn't she a good lady)
As the group joined the hosting duo at the desk, Carmella said she is thirsty from, like, pinning the champion earlier tonight.  True to picking up on her every need/his job as Renee pointed out, Ellsworth went to fetch the desired water.  Natalya said it feels great to take control of the situation and send a message to Charlotte Flair about how things are done on Smackdown instead of Raw.  Renee asked why Charlotte was targeted immediately upon her arrival after simply asking for an opportunity.  Natalya said Charlotte was handed everything, Shane disagreed but conceded Natalya her opinion.  She continued, that actions are louder than words, and all the women that were there who have earned it and deserve it served justice with their actions.
Carmella said she did what Charlotte couldn't do last week and pin champion Naomi.  Shane asked about what they did to Becky Lynch.  Natalya said everybody is sick of Becky, she was given many chances to be part of something for once, and she isn't very smart.  Carmella said she has a big head with lots of hair but a tiny brain.  Ellsworth, fresh off his water for Carmella duties, said Becky simply made the wrong decision.  (Funny he didn't bring Shane any water.)  Renee asked Ellsworth if he was the one who Becky had a problem with.  He said he's never done anything to Becky, but maybe she's jealous of Carmella for having his attention.  Carmella told Renee not to blame Ellsworth and said he's such a nice man. (Nice is such a friend-zone term.)
Natalya said Charlotte has stabbed Becky in the back many times, but Becky enjoys it so she can be a snake and play martyr. She said she will have to learn not to mess with them.  Renee asked their thoughts on Becky's statement about why she won't join them on last week's Talking Smack.  They all acknowledged Becky calling them snakes, and Natalya said Becky was looking in the mirror.  Carmella said Becky gets in situations to gain sympathy and loves playing the victim and martyr. Natalya added the cheap hair dye must be getting to her head!
Renee stirred some controversy and asked who should be the no. 1 contender to the Smackdown Women's Championship.  Carmella thought it was rather obvious as she pinned Naomi tonight, Natalya said it doesn't really count as it was a tag team match.  Natalya said she is the leader of the Smackdown locker room. Carmella cut her off and transitioned to asking them to look at what Charlotte and Becky are doing to them. She said they need to be on the same page.
Renee asked Tamina her thoughts since returning to Smackdown.  She said Charlotte likes to fancy herself as strong and powerful, but since her return Tamina doesn't feel Charlotte is anymore.  Also, Charlotte isn't the only generational Superstar there.  There's herself, Natalya, and even Carmella!  They all seemed to forget Carmella's dad was a wrestler.  He is Paul Van Dale and was enhancement talent for WWE in the '90s who also put in some time on the indies.
Tamina said their shared generational bond is where the mutual respect comes from. Carmella added that she doesn't love Natalya, despite her cute hair tonight, but they all must band together against the self-appointed Queen, Charlotte.  Natalya said the Queen looked like a peasant tonight and got her butt kicked.
Renee asked how they all got together and formed this union.  Natalya said the three of them are all about trust, loyalty, honesty, integrity, and respect.  Carmella said the three of them all deserve title shots, plus she's never had a singles match for the title. Natalya said she's always been – then cut herself off without finishing her thought.  Renee said Charlotte simply asked for an opportunity, thinking it was logical.  Shane finally spoke and said it will eventually come down to individual matches, not three-on-one, and Charlotte beat champion Naomi for her title shot.  Carmella lamented that Charlotte got her shot first, Ellsworth quipped that Charlotte did was ask and followed with a trademark disgusted outward sigh.  Shane said he understands they're together and all want the same thing. Renee added they all can't be the champion.  Carmella disagreed because she pinned Naomi!
Natalya said she doesn't want Charlotte thinking she's still on Raw as the Queen Bee.  She said the three of them are all about honesty, loyalty, integrity, and respect. Carmella held out five fingers and wanted her to continue, although Natalya forgot to say trust to represent the fifth finger Carmella had out.  Natalya continued, saying Charlotte has been riding her dad's coattails and that's not them and they're going to change the game.  Hmmm, sounds a bit brown-nosing about that ol' game thing.
Renee thanked them all for being on the show and congratulated Carmella for securing the win by pinning Naomi.  Natalya thanked Renee having them on the show and stirring the pot. Ellsworth adding that she always does. Renee said she's just doing her job.  Renee said there were a lot of microphones going. Shane agreed, but I think he substituted microphone for estrogen in his head.  He noticed Tamina's foul mood, but Renee understood she had a point to make. Plus, seeing Tamina in a good mood would kinda freak her out more. Shane added sour and nasty to round out the Tamina adjectives.
Renee said the incredible Tye Dillinger had a good showing tonight. She said Shane made a good move getting him to Smackdown.  Shane thanked her and celebrated the magical "Perfect 10" appearance of a fresh cup of water as quite a coincidence.  He said a "Perfect 10" is what Tye is all about.  Footage was shown of the closing Tye's match tonight against Aiden English.  Renee said she loves Tye's entrance and his crowd interaction, evidence that he has the audience in his hands.
Renee asked about Aiden English being put on The List tonight, Shane said she was, too.  Renee countered that Ronnie was, not her.  Shane said, to Chris Jericho's point, there's no crying on Smackdown.  Renee argued thespian English needs to be in touch with all those emotions, and there's nothing wrong with man crying.  She begged agreement from a shrugging Shane and asked him the last time he had a good cry.  He jokingly said when he heard he had to do the show with her again, so today!
Renee asked Shane what he thought of the Fashion File tonight, and was officially the first white Canadian I ever heard use the word popo to describe a cop.  She didn't sound cool though, so it's not a credibility-killer.  Shane said it was great and entertaining, while they crack Renee up!  She's looking forward to how Tyler Breeze and Fandango will fare in their title match against The Usos at Backlash.  Shane is careful not to take anything away from Breezango while being unsure of them, but said the Usos are just awesome.  Because of their time as a team, the Usos must be outsmarted.  Renee dug for more dirt about Shane not thinking Breezango are smart. Shane wisely repeated the Usos need to be outsmarted to be defeated.
Renee plugged Backlash happening on May 21 on the WWE Network, but was interrupted by the last guest.
Third Guest:  New United States Champion, Kevin Owens
Owens was drenched in sarcasm as he helped Renee finish promoting the upcoming Backlash.  She said he will have a match against A.J. Styles at Backlash. Owens told her to be more precise. She added the match will be for the United States Championship and he is the Face of America.  Owens told her to keep going and talk about what will happen in the match.  He chose to say it himself, that he will do what Shane McMahon couldn't do at WrestleMania and beat A.J. Styles like he's done many times before, on Raw and Smackdown.  He said he'll do it again at Backlash and retain his title.  Shane said that A.J. was on the show earlier and is all fired up for the match.  Shane said he is looking forward to the match, to Owens appreciating the sentiment.
Renee asked about what Owens did to Jericho after their match tonight.  He asked Renee why she let a blind person cut her hair.  Owens said he did what he had to do to Jericho to make him understand something.  He said Jericho claims to be Canadian but was actually born in the United States, and used his inner U.S. citizen side take over and cheated to win their match Sunday night.  Owens said Jericho stole the United States Title and nearly broke his left hand in the process, rendering it nearly impossible for Owens to hold his microphone.
Renee said Jericho can't walk right now, but Owens said he wasn't finished talking yet and that Jericho shouldn't be able to walk right now.  All he did was get even and take back what is his.  Owens wasn't sure if it's a shared French Canadian bias Renee and Jericho share, giving Renee sympathy to Jericho, but would love for somebody to tell him he did anything wrong and asked Shane his opinion.  Shane asked Owens if he thinks he went too far. Owens said he doesn't, but is curious for Shane's thoughts.  Shane said it's difficult in the environment where there are opportunities and he knows Owens is trying to make a statement by taking the bull by the horns. Owens laughed at Shane's choice of words.  Renee chimed in and Owens asked what irrelevant comment she is going to make.  She said continuing to beat on Jericho after he won the match, and the title, is taking it too far.
Owens said Jericho began the show tonight by having the gall to say Smackdown Live (ugh) is his show.  Owens asked how many times in the past two years he has said that anywhere he goes is the Kevin Owens Show, and Jericho showed immediate disrespect.  He continued, wondering how many times in the past eight months he carried Chris Jericho on his back when otherwise Jericho would lose all his matches but claim *they* were the Universal Champion.  He asked them if they saw those happenings on Raw, Renee said she did while guilty Shane sat silent.  Owens said it was his Universal Title, and said Jericho won the United States Title from Roman Reigns because he was in the match.  He said Sunday night, Jericho cheated and stole the title from him.  What he did after tonight's match had to be done regardless of if it was during or after the match ended. Owens said he just wanted it to end.  He said if Jericho knows what's good for him he will leave and not come back as Smackdown and Talking Smack are the Kevin Owens Shows. He said he knows Shane gets it and is "sure" Renee will figure it out.
Shane said he understands Owens' words and actions. He asked Owens how his match against a fired up A.J. will end.  Owens said it will end with him standing over A.J.'s broken down body, holding his title in the air, along with Shane giving him the respect he deserves.  Owens feels some weird hostility from Shane and isn't sure where it's coming from or what he did to him, but he should view him as a prized, prized athlete on his show.  Owens said he's the best thing that happened to Smackdown Live (again) since the Superstar Shake-Up. (Really!  More!!)  It bothers Owens that Shane doesn't act that way towards him.  Owens held a sarcastic smirk the whole time while Shane addressed him and said they can't all be happy. He said he respects Owens and thinks he's immensely talented in the ring and that he's looking forward to the match between two of the greatest, which is he and A.J.
Owens rose from his chair, his face not deviating from the smirk, dropped his microphone, grabbed his title, and left the show with his face turning angry just before he became invisible to the camera eye.
Renee gave one final plug to Backlash on May 21 and commented on the hostility on the show tonight.  Shane agreed and said it was uncomfortable.  Renee thanked Shane for being on the show while he lamented Owens's audacity.
Craig's Conclusion
My heart sank when I saw Shane at the desk to start the show, but the end of the show it was made obvious that another seed of an issue between Shane and Kevin Owens was planted, making it further obvious that was the only reason for Shane being on the show were the times he didn't put any heat on the heels!  It's not like he didn't have chances, but he sort of hinted at it when the Welcoming Committee was on the show, that contending for the Women's Title will come to one on one matchups, not gang ups.  Still, it was a bunt instead of the home run it should have been.  He also missed a chance to talk down Jinder Mahal's actions of stealing Randy Orton's title belt and interfering in Orton's match against Bray Wyatt Sunday night, costing Orton the match.
Speaking of home runs and missed opportunities, Shane missed a grand slam of an opportunity when he blamed Sami Zayn for losing to Jinder Mahal instead of giving Jinder and the Singh Brothers the heat they need to establish themselves to get over as heels. This is a championship feud with Orton. Jinder needs as much as he can get for the match to be as credible as possible.  Jinder and the Singh Brothers are doing their part; Shane is not, unfortunately.  Shane not knowing Tye Dillinger's finisher or the difference between a torture rack and a fireman's carry was another bad look.
Aside from the blunder from him I noted in parenthesis, I thought A.J. Styles was good to great in his appearance.  He seemed too scripted to be great in some parts, but was most authentic when he was talking about how confident he is in himself.  It's also nice to see sportsmanship shown between A.J. and Shane from their WrestleMania battle, but I could have done without A.J.'s cup of ice delivery.  Even though he tried to sound irritated when he was asked to do it, it screamed fake and scripted.
As far as the ladies and James Ellsworth, I'm not happy Charlotte is apparently now a babyface.  She is already suffering the same fate as her father.  Her heel turn was poorly executed but then she got rid of her dad, albeit prematurely without much of a payoff, but then she started improving as a well-rounded heel.  Hell, her social media is now more kayfabe but not perfect, but that difference showed me she is starting to get it!  I think she had more miles to go as a heel that would make her babyface turn that much better, but this group of women being used as a catalyst for her babyface turn is going awry already.
To me, the appearance of this union called the Welcoming Committee indicates a hasty decision, or at least a terrible execution and pacing with the wrong people in some roles.  Becky Lynch would have been a better heel turn as she was the top woman babyface and it was getting stale.  Now she's left to get more stale despite her newly minted babyfaced friend.  I wish there was more focus on the actual championship instead of uniting against Charlotte, but I have feeling that will change after Charlotte wins the title, whenever that is.  I hope Naomi gets to hold it while it cools off long enough to not resemble a hot potato.
Tamina is an example of what Nia Jax should aspire to reflect.  Tamina is an attractive lady who is a convincing-looking heel; even her ring work has been good heel work.  Only time will tell, but I hope or her sake Tamina can avoid the injury bug and have a chance to shine in this roster-split era like others have been able to do.  It will certainly be a nice way to finally live up to her father's legacy and pay tribute to him now that he's died.  Say what you want about Jimmy Snuka, but that's her father and if she can get on a roll, she deserves the opportunity for the welcome distraction success can bring.
I swear the entire time Kevin Owens was on the show my TV screen was noticeably brighter.  He sure is the star of any show he's on.  It's crazy to me the command he has of his second language and his ability to combine his words and face/body language to perfectly convey what he wants us to believe.  To be honest, I thought his initial Talking Smack appearance was better, but this was part of a continuation instead of establishing himself with a bang.  I'm not sure if he misspoke or what he intended about how he carried Chris Jericho on his back for eight months so he could lose all his matches, but feel free to let me know.
Whatever is being planned for Shane and Owens, it better be to get Owens over and strongly endorsed and not have Shane take up anywhere near half the spotlight.  I'd be happy with about 25 percent, but we shall see.
There needs to be exceptions to corporate speak!  Heels should NEVER have to say WWE Universe or the word Live after Smackdown, for example.  As good as Owens is (and I'm sure he dies inside a little every time he does), when he says Smackdown Live it takes me out of the moment a little bit.  A top-level heel trying to get to the tippy-top level should not say anything close to any of that crap!
Everything else Renee and Shane discussed was just there and didn't add much, but it was nice to have it the show for conversation and storyline's sake.
I thought JBL was the permanent host, but I guess it depends if an angle with Shane will necessitate Shane to be co-host. We shall see.  I still think JBL would be great as long as he stays smart, engaging, and entertaining.
Thank you very much for reading.  As always you can give me your feedback, good or bad, @CraigElbe on Twitter.
---
NOW CHECK OUT LAST WEEK'S REPORT: 4/25 WWE Talking Smack Review: JBL takes over as cohost with Renee, joined by Breezango, Becky Lynch, Corbin, plus talk of Payback