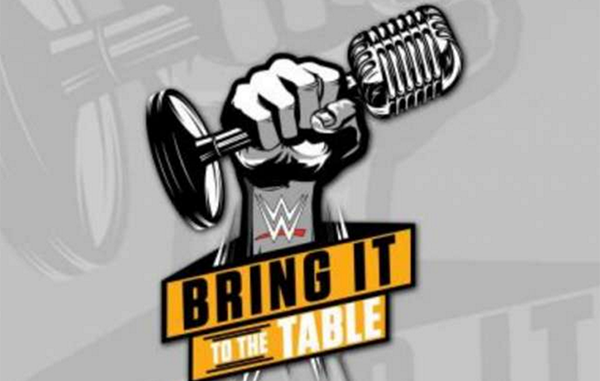 ---
SPOTLIGHTED PODCAST ALERT (YOUR ARTICLE BEGINS A FEW INCHES DOWN)...
---
WWE BRING IT TO THE TABLE (EP. 5)
JUNE 12, 2017
AIRED ON WWE NETWORK
REPORT BY CRAIG ELBE (@CraigElbe), PWTORCH CONTRIBUTOR
Duration: 35 minutes, 37 seconds
The show started out ribbing Peter Rosenberg. A clip was shown of the graphic for the post-Backlash Talking Smack that Rosenberg hosted where Byron Saxton couldn't remember his name. A hurt Rosenberg thought he and Saxton were friends!
Rosenberg welcomed us to the show.
He introduced himself, then Cory Graves. Graves dubbed himself the most informed person on WWE payroll. JBL was introduced by Rosenberg as a pretty decent golf player and half decent online chess player. JBL concedes to being less informed than Graves but is happy Graves fills him in. Rosenberg gave Graves a segue to something exciting he has for the show. Graves claims to have access to Superstars and talent all around the globe, and has an exclusive interview with The Hardyz for the show. Rosenberg was excited and uttered, "delete, delete."
HOT START
Alexa Bliss's "Bayley, This is your Life" segment.
Brief clips of the segment and Kurt Angle condemning it the week after was shown. To JBL, the segment had to be horrible to be an improvement. The Rock/Mankind segment was also terrible but had two fantastic talents and it drew a huge rating. He thinks it pales in comparison to how bad the Downtown Bruno and Howard Finke tuxedo match was. (He was actually in his Harvey Wippleman persona, not Downtown Bruno.) What might have been even worse was Michael Cole/Jim Ross rap battle when Ross forgot all his lines!
Graves was happy they were only being limited to WWE's worst instead of WCW Monday Nitro's worst, like Viagra on a pole or Judy Bagwell on a pole! Graves dug his namesake for Russo, saying he was a hell of treat. Another terrible segment for Graves was when Ross brought in the fake Razor Ramon and Diesel. Brief clips were shown of the imposters. They noted fake Diesel looked familiar without mentioning it was the gimmick before Glenn Jacobs was Isaac Yankem DDS and eventually Kane.
JBL spewed fury over his cancelled "Legends with JBL" WWE Network show, but an episode of that show detailed how that swift move of WWF ended up getting Kevin Nash and Scott Hall bumps in salary from WCW for fear of them showing up on WWF Monday Night Raw when it was teased the week before. JBL didn't mention the specific episode.
JBL named the worst segment in the history of television, not just Monday Night Raw. He was a participant, and it took place in Philadelphia. It was a mixed tag team match of him & Trish Stratus vs Christopher Nowinski & Jackie Gayda from a Monday Night Raw on July 2, 2002. We saw a couple of the botched moves Gayda and Trish had, including the Trish's pin of Gayda from a missed but sold bulldog from the middle ropes. After the pin, we heard Jim Ross's accurate call of, "mercifully, it's over." During the match, Bradshaw was shown chasing Nowinski into the crowd. JBL was running from the match in shame, or so he says. Trish actually mentioned that match in her Hall of Fame acceptance speech, looking at JBL and laughing about it during her speech.
Bliss is the middle of a great run, said Rosenberg, but interestingly had this bad segment with Bayley. Speaking of Bayley, he speculated she has lost all the steam from her NXT days. Graves, the former FCW and NXT wrestler then NXT announcer, saw the culmination of the Bayley character catch fire in NXT as companywide excuse to print money. For some reason, this isn't the same Bayley that was on top of the world. There is a disconnect. JBL, still on the This is Your Life segment, reassured it's no bearing on Bliss's or Bayley's futures.
He and Trish succeeded despite a very bad match, as those things happen. For Bayley, JBL added making it somewhere doesn't mean it will be replicated elsewhere. He offered Johnny B. Badd in WCW coming to WWF as an example. He used his real name, Marc Mero, in the WWF and got one of the first guaranteed contracts in during the Monday Night War. He fell so far from grace that toward the end of his contract, Mero was left at home to run out the duration of his contract. He wasn't even used to put anybody over. (And to let Sable have all the spotlight too, but they are probably forbidden to mention her name due to a certain temperamental champion they have.)
Rosenberg thought JBL was talking from both sides of his mouth. JBL simply reiterated the segment won't have any bearing on the rest of Bayley's career, in his opinion. He was in a worse segment, that when he saw Vince McMahon in the Gorilla position afterward, Vince apologized to him. Again, he and Trish succeeded. Nowinski and Gayda didn't make it in wrestling, but it wasn't due to that segment. Bayley still can go either way.
JBL continued, that fake Diesel became Isaac Yankem, then became a future WWE Hall of Famer (still didn't say Kane). Steve Austin came in as the Ringmaster with a monster push with Ted DiBiase, and that didn't work.
The first Women's Money in the Bank match.
Rosenberg is an avid women's division fan and has been waiting for this match to happen. Graves has learned to have high expectations from the women competitors. The bar has been raised for the women, especially since the first women's Hell in Cell match. If that hadn't gone well, it may have not been as big of a deal due to it being an unknown commodity. Now, the MITB match will prove to be another example of how great the women are. According to JBL, there is a plethora of MITB and similar matches for the ladies in the MITB match to reflect on and study.
Samoa Joe vs. Brock Lesnar for the WWE Universal Title at Great Balls of Fire.
On a recent episode of Table for 3, Jim Cornette indicated a strong desire for this match, now it's going to happen. JBL thinks it's preposterous to say Joe doesn't have a chance against Lesnar, answering Rosenberg's dumb question Brock is an Andre-like, Bruiser Brody-like attraction. Joe deserves this opportunity and the match will tremendous.
Joe vs. Lesnar is also a dream match for Graves. Commentating on it was another dream scenario for him, even before the match was a possibility. Lesnar has been one of his all-time favorites, while he has known Joe for 12 or 13 years. Wherever Joe has gone, he's been successful all over the world. Now, WWE gets to find out why.
Joe's WWE debut was the night after the Royal Rumble. In that short span, Joe is already going to main event a pay-per-view against Brock Lesnar. He is one the most legitimate badasses this business has ever seen.
Rosenberg saw Joe at WrestleMania. He wasn't even on the card despite having a great couple of months. Rosenberg asked Joe his thoughts at the time. Joe was disappointed not to be on the WrestleMania card, but felt he was heading in the right direction.
Rosenberg announced he will be at the Great Balls of Fire event, but didn't confirm exactly what his role will be. Graves sarcastically threatened to not show up, but Rosenberg reminded Graves of his commentating duties.
A graphic was shown of the Joe vs. Lesnar match, and Rosenberg mentioned the phallic nature of the original logo. He knew it probably couldn't be shown but said it was noticed by many fans that had some fun with it. Graves thought he was trying to goad JBL to saying something else to get himself in trouble. JBL won't even say the name of the pay-per-view!
We got an in-show teaser of the interview Graves did with the Hardyz, saying he wanted to address the elephant in the room.
A video package was shown, hyping Money in the Bank coming up this Sunday with highlights from past MITB matches and cash-ins.
Rosenberg welcomed us back to the show, and solicited tweets to JBL because he loves blocking people. Rosenberg was honored to not yet be blocked.
Match of the Year candidates.
Rosenberg offered his MOTY as Braun Strowman vs. Roman Reigns at Payback. Graves loved it, too. It was hard-hitting and fun to watch. Rosenberg added the match put Strowman on the map as a Superstar to be taken seriously. JBL agreed, also saying Reigns is one of the greatest workers in the business today. He knows there are detractors to that statement but it's how he feels. That match is a worthy candidate for match of the year, but isn't match of the year for him.
Graves's MOTY candidate was Tyler Bate vs. Pete Dunn from NXT Takeover. They are two young guys making their mark in a hurry. Graves was told by those backstage at the event that Pat Patterson pulled both guys aside to tell them their match was one of the most incredible things he remembers witnessing in his career. Rosenberg also heard Patterson barely knew anything about Bate or Dunn. He watched their match with an open mind and his mind was blown.
JBL liked both choices, but his MOTY was John Cena vs. A.J Styles at the Royal Rumble. He notices an Undertaker-type demeanor in Cena of looking at the younger guys doing crazy moves. JBL contended Cena and Styles made a point to stay in the ring for their match and had an absolute classic match without any silly dives or moves. It was one the greatest matches he's seen.
….Dive
Rosenberg couldn't resist the scripted transition of JBL's use of the word "dive." He brought up Randy Orton's conversation with the internet in response to a Rip Rogers tweet. Video clips were shown of the Rogers tweet, then the Twitter interactions between Orton and Bully Ray (JBL called him Bubba Ray), concluding in Orton's "apology." Rosenberg read each one as it appeared.
Graves deferred to the veteran JBL for his comments. JBL acknowledged there is animosity between Orton and Bully Ray, but is friends with both and won't comment further. He recalled Ric Flair calling Mick Foley a glorified stunt man (in Flair's book, published in 2004.) JBL understood Flair's sentiment but felt it to be a little over the line.
To JBL, guys that do flips and dives don't know how to work. He sees weekly tryouts and rarely are there guys that know how to lock up or apply a proper headlock. Or a headlock is used as a transition to another silly move. These dives are stupid and silly because they just want the crowd to chant Holy Sh*t and it's not about matches that matter anymore. Cena, Orton, and Styles can put on a match that matters without all the stupid dives. They know how to work.
Rosenberg feels, and alluded to past Triple H comments, that Orton isn't a guy who leaves it all in the ring. Painting guys who dive just for cheap pops may be unfair. There are many guys who dive that know how to work. Graves agreed with Rosenberg and told JBL he's wrong. The business has evolved. He and JBL have differing opinions of a Buddy Rodgers vs Pat O'Connor match from 1963. Graves was bored with it and JBL loved it. Graves didn't want to discount or diminish any past contributions but it's how he feels.
Graves pointed out the audience's attention span has changed. High impact moves are more necessary, but cautioned there is a limit. A match doesn't need 30 dives and 30 superkicks. Dismissing the daredevils who employ that style and saying they can't work is short sighted. 205 Live would be the best show on TV if they were allowed to do what they are capable of. Sometimes guys are undersized or don't have great physiques but need to get the world talking about them.
Graves continued, that last year Will Ospreay and Ricochet had a match in Japan that set the internet on fire and sparked a similar discussion. A lot of the old-timers panned the match but failed to see those guys wanted to make a name for themselves on a grand stage, and it worked. Graves didn't think that type of match would necessarily work in WWE, but Ricochet and Ospreay are incredibly talented guys who must be recognized for what they can do.
John Cena goes to the top rope without having to and Roman Reigns dives from time to time. Graves noted the Undertaker has also dove but it's a situational thing that can be overdone. In baseball right now, the biggest complaint is how slow the game is. Current day fans can't dedicate three hours to watching a game. Rosenberg added home runs are only what people want to see. JBL's two cents were NFL and NBA games are easier to watch but you can't watch three hours of highlights. The Ospreay/Ricochet match was fantastic but he isn't sure they could draw 100,000 people into the Dallas Cowboys AT&T Stadium or have close to two million subscribers to the WWE Network. He clarified he's not making fun of guys for working hard, he's making fun of guys for working stupid that use moves to compensate for not being able to work. There are WWE guys that have matches where there is nothing there; flip after flip, and dive after dive. A masterpiece like Cena and Styles put on can have a place rocking.
Lana
Rosenberg pointed out not much is known about Lana but she has a match with Naomi at Money in the Bank for the Smackdown Women's Title. Graves loves hearing the backstage banter of controversy among the females who wonder what the unproven and inexperienced Lana is doing in the title picture. From an entertainment standpoint, Graves loves it. Not long ago, there was a beautiful red-headed female competitor he was head over heels in love with that was not known for her in-ring ability. But few people got the reaction Eva Marie got when she came out. It was fun to boo her. Maybe that's what will happen with Lana and Naomi and he's looking forward to seeing what will happen.
However, the match goes, JBL is excited. He will have fun calling a car wreck or a great match that would have a lot of people eating crow. Nobody has an idea of what Lana can or will do. He remembered last week on Smackdown Lana got a huge crowd reaction when Shane McMahon didn't let her in the Women's MITB match. Graves acknowledged Lana has been working in the ring at the WWE Performance Center these last few months and gave her credit for that. At the PC, she's being trained by and working with some of the best. If the result is Lana failing, her effort won't be to blame. Maybe we will be pleasantly surprised.
Part of Rosenberg would be bummed out to see Naomi dethroned. She's worked very hard year in and year out and is finally on top. Graves poked a hole in that theory, that just because JBL worked incredibly hard to be a great chess player doesn't mean he can play against Deep Blue tomorrow. Rosenberg got some AI response as to who Deep Blue is. It's a sore subject for JBL so Rosenberg moved on.
JBL posed this question about Lana to Rosenberg. If she beats Naomi, would he want to see Lana get beat? Rosenberg answered perhaps, yes. To JBL, if you want to see Lana get beat, then putting Lana over worked. Rosenberg found that interesting.
Speaking of interesting, Rosenberg gave Graves the floor to introduce his interview with Matt and Jeff Hardy. He said the Hardyz said some interesting things because he gets the scoops. He should have a show in the WWE Network called "Cory Graves's Legends." That title raised the ire if JBL, saying he used to do that!
The Hardy Boyz interview
Cory Graves, Jeff Hardy, and Matt Hardy were sitting in some arena seats. Graves first asked their number one reason for their WWE return. Matt answered the stars were aligned for them to come back home. They were truly born, created, and originated in WWE. They always had it in the back of their minds to finish their careers in WWE, and whatever remainder of time their vessels allow them to have inside the ring, they wanted to do it in WWE.
In 2009, Jeff quoted himself when he was last in WWE when he said, "It's not goodbye forever, it's goodbye for now." The fans helped him through it and he knew he had to come back at some point. The timing was just perfect.
Being back in WWE, Graves posed the question of if they have any individual goals, should the tag team come to an end. Matt is very happy as a tag team, but the day may come when they may both take on a single's role. He likes the risk-taking process, trying new things, evolving and changing. Matt thinks that will happen when they are singles competitors.
Jeff has never had a Hell in a Cell match. Whether it's a tag team or singles HIAC match, it's definitely on his bucket list.
Grave addressed the elephant in the room. To the best of their abilities, he asked the status of their shattered, or broken personas coming to WWE. Due to legal reasons. Matt said he can't go into that. He's very flattered and humbled when the fans chant it, acknowledge, and address it on their way to the ring. Matt wants people to keep doing it because he and Jeff love it. (leverage play!) Hopefully sooner than later they will be able to go into more detail about everything.
Jeff is very happy is middle name is Nero and he loves it more than ever now. Graves never knew for sure and was flabbergasted to have it confirmed! Matt joked and said, "Ladies and gentlemen, I give you my Brother, comma, Nero." Laughter ensued as they quickly caught on to Matt's play on words.
We saw Rosenberg do the "delete" arm gesture without saying the word. He pointed us to the full interview Graves did with the Hardyz, available on demand on the WWE Network.
Dig It
Footage was shown of a Nashville Predators game where Bobby Roode's "Glorious" music was played, followed by Roode's tweet of good luck to the Predators. Graves pointed out Roode's true allegiance is with the Toronto Maple Leafs.
Shown next was a tweet of an NBA reporter watching Extreme Rules during a Golden State Warriors-Cleveland Cavaliers game on his laptop, taken by a spy about three rows up.
Then a clip of Baltimore Orioles star Adam Jones was shown impersonating Virgil ringside at Extreme Rules with Ted Dibiase and IRS impersonators on each side of him. A Virgil tweet of gratitude to Jones was shown. Graves thought it was very kind of Jones to make Virgil relevant for another 15 seconds so he can sell more 8 x 10s in the subway! Rosenberg took exception to Graves's comments.
An Instagram video was played of Randy Orton hitting an RKO on his step-son as he dove into their pool. Rosenberg wished Orton was his dad.
A John Cena tweet was show where he said July 4th can't get there soon enough, signaling his imminent WWE return. Rosenberg can't wait for Cena's return. JBL joked America will resemble a national holiday for Cena's return.
Rosenberg guessed Cena may have his eye on WWE Champion Jinder Mahal upon his return. He said everybody's ben talking about Mahal's title win at Backlash, and threw to a video of how it was seen through the eyes of the WWE Universe.
What we got was a video of random social media videos of people at home and in the arena, reacting to various points in the match from Orton's and Mahal's entrance to Mahal's celebration after his victory. Curiously absent were the spots where Orton damn near killed the Singh Brothers.  When Mahal pinned Orton, there were four separate videos in each corner of the screen. The random crowd shots were also used after Mahal pinned Orton. It was a pretty cool few minutes of production.
Back to the three amigos. True heel JBL loves it when people are shocked and children are crying because their favorite lost. To Graves, Rosenberg seems the type that will record himself watching WWE. Rosenberg denied it with his trademark sheepish look.
Big Finish
Rosenberg posed a question. Does a championship make the person, or does the person make the championship? JBL went first, saying you aren't made by just getting a title. It can jumpstart someone, but used the absolute worst comparison of the WCW Title not making David Arquette. However, JBL feels Jinder Mahal has that jumpstart because he has the championship. When he walks out, Jinder looks like what a champion should look like.
Graves drew the comparison of JBL becoming champion legitimizing his singles career. JBL concurred. On the current roster, Graves said Miz is doing great things for the Intercontinental Title. He offered to offense to Dean Ambrose but couldn't remember anything memorable from Ambrose's title reign before Miz unseated him. To JBL's point, Graves agrees that Jinder looks the part and is more sold on him than the last Bring it to the Table, when Jinder was no. 1 contender.
For Raw, Graves said the Universal Title being on Brock Lesnar finally means something post Balor-Owens-Goldberg hot potato. It has been snake bit since its inception and now has a legitimate no. 1 contender in Samoa Joe and a legitimate champion in Lesnar. For the first time, there is a big fight feel for that championship.
Bring it to the Table
Rosenberg gave props to Graves to getting the Hardyz interview but he found something else to close out the show with.
A picture of JBL on a moped is shown, appearing to be from about 5 years ago but nothing was said. JBL was the driver and behind him, loosely holding his waist was Bruce Prichard. They were both safety conscious, donning helmets plus their separate versions of owning embarrassment of being caught on camera! JBL accused Rosenberg of hacking his phone. Rosenberg claimed simple research, whereas JBL cried outright felony! Graves thought they looked like Lloyd and Harry from Dumb and Dumber.
Incensed, but slightly smirking and lifting the veil of the script, JBL said he and Prichard are best friends. Rosenberg agreed and could tell from the photo! JBL said the only reason Prichard was riding on the back was because he failed a scooter or some test. (I think it was a scooter test, but couldn't make out the word from JBL mumbling it and Rosenberg talking over him. It's probably not that important.)
He accused Rosenberg of hacking his phone and called him a son of a bi*ch to sign off the show.
Craig's Conclusion
For WWE, this was about as good as could be expected. Gone were the overly scripted scenarios. What was scripted was fine. There were a couple that I didn't note in the review due to them having nary a consequence to the show. Everybody looked strong and well-represented with what they said. Rosenberg had the weakest views but was far less picked on, resulting in less tension and a better flow to the show.
I'm sure Rosenberg is just there to keep Graves and JBL from looking weak as I think Sam Roberts, for example, would overpower them with his wit and knowledge.
I am prone to feeling beat over the head with WWE speak and mind control, but I found this show to be the best Bring it to the Table. I will argue the previous shows were too close to Hell to get any lower, but this was a vast improvement. It may be from my personal perspective ringing mostly agreeable to what was discussed on the show, but, again, it flowed well and nobody looked super weak like previous episodes.
Also absent was a heaping amount of fan disrespect. There always is some fan malcontent that seeps out from between anything WWE produces, but this show was minimal and not nearly as nauseating comparatively. JBL made great old-time veteran points on highspots and how they dilute a match. He didn't set out top blatantly insult, and kindly respected guys who work hard while admonishing those that work stupid. Graves and Rosenberg offered perfect rebuttals and all three respected each other. I liked that Graves used Will Ospreay's and Ricochet's names but the hat trick would have been him saying it took place in the New Japan Pro Wrestling promotion. That would be going too far, with NJPW's plans to become a US staple in the coming year.
I didn't care for JBL's hyperbole in what the worst segment in WWE history was, but had a good laugh watching the Trish-Gayda highlights, and re-watched the Wippleman-Finkel match to more laughs. The lack of effort in finding segments worse or more embarrassing than Bliss's This is your Life, but perhaps the prospect of opening Pandora's Box is too much for WWE to fathom. I'm sure they will be flooded with worse examples on social media in the coming weeks or whenever people watch it or read this. They can't say they didn't ask for it; or it could be reverse psychology for the Bliss/Bayley segment look not as bad in comparison after people search out and find worse segments. Oh, and if memory serves me correct, that mixed tag match JBL alluded to was the beginning of the end for Jackie Gayda's wrestling career.
Overall, this show had the widest variety of appeal. There was a proper number of topics to have fully fleshed out discussions instead of everything feeling hastily rushed through. I hope this format continues for future editions, as the previous four were dreadful.