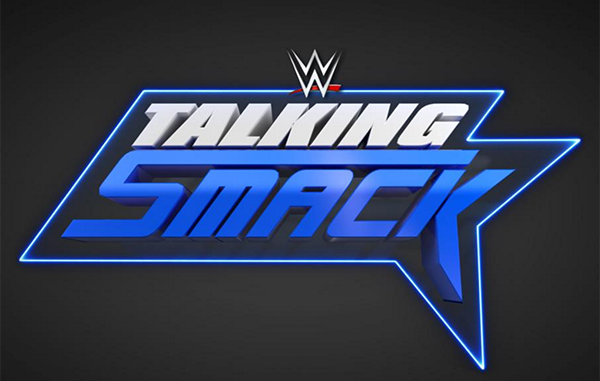 ---
SPOTLIGHTED PODCAST ALERT (YOUR ARTICLE BEGINS A FEW INCHES DOWN)...
---
TALKING SMACK REVIEW (Ep. 934)
JULY 11, 2017
AIRED ON WWE NETWORK
BY REYAL POLLARD, PWTORCH CONTRIBUTOR
The show opened up with Shane McMahon and Renee Young doing a drumroll for his grand return to Talking Smack. Shane takes charge of the show, welcoming the audience before transitioning to chit chat with Renee about tanning, surfing, and (most importantly) the upcoming Battleground PPV. After a short lesson from Renee on the proper way to pronounce "Maharaja," the hosts welcome the Usos.
Interview 1: The Usos
"I gotta say, man, the rap battle was phenomenal" -Shane McMahon
Shane McMahon and Renee both agree that the real winners of the rap battle were the Usos. The right Uso attempts to get Shane to freestyle, but no success. Renee attempts some investigative reporting to get to the bottom of Wale's decision to give the rap battle victory to The New Day, but Shane interjects and transitions to tonight's Smackdown. The Usos say The New Day are always cheating while the Usos are fair and square. Shane challenges the Usos to overcome the odds if they are indeed the champions. Renee brings up tonight's loss to Xavier Woods. The left Uso says that they are completely focused on tag team competition. They begin to go into rhyming-promo mode on their title reign. Renee asks about what the champs are up to. The only reply is holding up the titles.
Shane McMahon, as sheepishly as it gets, asks "what those sayings on your shirts mean?" The Usos explain to middle-aged Shane what being "down since Day One" means. Renee asks about the left Uso's wedding ring. She uses that to segue to talking about Naomi (!) and her title reign; most specifically her LED Championship belt. The Usos chat and mention wanting belts like that of their own. They depart when Renee wraps them up. Renee does a rundown of a few of the upcoming Battleground matches.
The hosts go to a replay of the Corbin-Nakamura angle from earlier tonight. Renee brings up Shinsuke's training regime on Instagram. This begins a surprisingly sports-like conversation on size and reach in boxing and how it will play into the matchup with both wrestlers having a background in hand-to-hand combat. Up Next: Sami Zayn
Interview 2: Sami Zayn
Shane: "Not to make light of what happened to you, but that was one of the best lines ever, 'love hurts'"
Sami: "Let's talk about the part that you didn't like; I don't want to come on your show, no disrespect, and you tell me you liked her clever little line at the end. Come on man."
Sami comes in with an ice pack. After an awkward exchange with Shane stemming from a tone-deaf comment about enjoying one of Maria's lines, Sami talks about being hot about the attack from earlier in the night. He talks about how annoying the behavior of the Kanellises have been lately. Sami goes through explanations of all his run-ins with them over the last several weeks. He makes the point of saying he couldn't control when his music hits and how he apologized for interrupting their interview. "They want to talk about love… You know what I'm going to love? Whooping Mike Kanellis's ass!"
Renee tries to bait Sami Zayn into getting heat on the Kanellis last name gimmick, but Sami doesn't bite. He says he's very progressive and, if he wants to take her name, so be it. He even talks about supporting their message about love and his opinion that the world needs more of it right now. Shane apologizes for provoking Sami Zayn. Sami blows it off and apologizes for getting annoyed before departing.
The hosts throw to the announcement of the women's five-way match at Battleground and a sponsored frame of the Mattel NXT toy line. Renee is very impressed by the Bailey Buddy action figures. Shane begs that the show move on to bringing in the main event of Talking Smack, John Cena.
Interview 3: John Cena
"I know that there is a sunset on the horizon. I'm very self-aware of what is going on here." -John Cena
John Cena brings up Sami using the word Poopy. This starts a round of John Cena doing his best Will Farrell impression during opening greetings with the hosts. Cena quickly switches to serious mode after being asked about the Flag Match at Battleground. Cena deadpans that Shane has been in just about every type of match there is. "This isn't your typical match. You get me in the ring with Rusev, in a regular match, I'm not worried." He goes into a mini-promo on the PPV's location being in Philly, where this country was born, and what that means. Cena talks about the arena being filled with red-blooded Americans and makes a comment about not really knowing about the price of travel packages from Bulge-Area. Though he later says he means no offense to the people of Bulgaria.
Cena speaks about being closer to the sunset and letting everyone know that he still has it. Renee attempts to ask a question about the crowd response, but Cena plays dumb about not knowing the crowd has been chanting "Cena Sucks" all this time. Cena hams it up some more before reaffirming that he does what he does away from the ring to bring importance to the WWE. Cena lets everyone know that he flew in from Sydney just to make it to Smackdown tonight. He's excited for everything on the horizon, but his heart will always beat for WWE. Renee tries to get him to talk about upcoming projects, but he doesn't budge.
Shane brings it back to Battleground by saying a lot of flag waving will be in his future. Cena reiterates the importance of waving the American flag in front of the Philly crowd. He takes a drink from the Shane's mug which leads to a pretty good spit take. Cena makes a joke about Shane drinking straight Vodka normally, but tonight has 7Up. Shane says his cup has Moonshine in it. Shane and Cena both immediately deny that. Cena bids himself adieu by saying: "I'm going to go back to doing what I do best and going invisible. You can't see me!" He does some Jim Carrey mannerisms before dropping his mic on the table and exiting stage right.
Renee wraps up the show while Shane giggles.
---
NOW CHECK OUT LAST WEEK'S REPORT: 6/27 WWE Talking Smack Review: Bryan and Renee welcome A.J. Styles, Naomi, Maria & Mike Kanellis to talk about Smackdown happenings