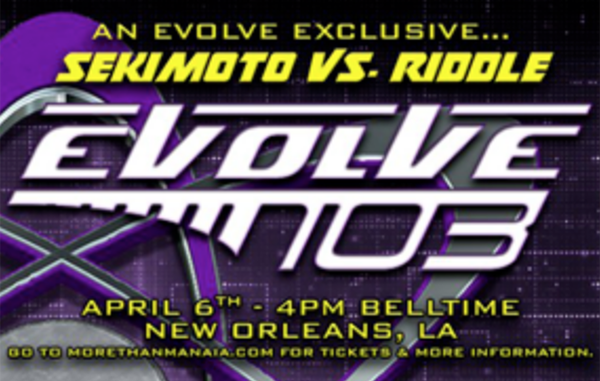 ---
SPOTLIGHTED PODCAST ALERT (YOUR ARTICLE BEGINS A FEW INCHES DOWN)...
---
EVOLVE 103
April 6, 2018 New Orleans, La. at The Pontchartrain Convention Center
Aired By WWN Live/Fite TV
Report by Jose Marrero (@jmarrrumbling)
WrestleMania Weekend continues as WWN chugs along after what I thought was a pretty good Evolve show last night with Evolve 103. Last night we saw the end of an era as Zack Sabre Jr. Lost the Evolve championship after reigning supreme for over a year, tonight begins the Matt Riddle era. The central theme of tonight is Evolve vs. The World.
Larry Leonard and Aron Niemi open the show to tell the audience that Travis Banks was injured and will be replaced by Travis Haskins in his match with Chris Dickinson, also Darby Allin is out and will be replaced by Tracey Williams. Once this was said Jarek 120 and Candi Cartwright came out. Jarek claimed credit for Darby being out and wanted to take his place, Leonard said that wasn't how it worked and Jarek said then he would just have to take out more people. At that point Leonard disgustingly just said "let's start the show".
(1) FIP CHAMPION AUSTIN THEORY vs. WWN CHAMPION KEITH LEE – TITLE vs. TITLE
Last year the WWN title was initially conceived as part of a way to have a champion criss cross shows and drum up interest to the other WWN promotions as part of the flo slam deal. It was meant to sort of be the NWA title to its regional promotions but has kind of fallen flat. Now it's in the opening match even though this is a title vs. title match and made me wonder if we were actually going to get a finish here. I'm really high on Austin Theory who seems to be a project of Gabe Sapolsky and has done enough in his short career to stir WWE's interest, and well what can you say about Keith Lee and the year he has had. I know match order shouldn't matter but with a match of this magnitude this shouldn't have been the opener. I feel due to the placement the match just didn't feel as important as it should've been., this despite both men working very hard.
WINNER: Austin Theory who took advantage of a referee bump to low blow Lee and hit a TKO to become the new WWN champion. Remember those Keith Lee to WWE rumors? Definitely doesn't feel like rumors to this writer. It should be stated I think another reason the crowd and myself couldn't get into this is because Deisuke Sekimoto was slated to challenge Lee on the Supershow later on today if Lee was still champion and Sekimoto was already challenging Matt Riddle for the Evolve title on this show. How many title matches were they going to give that guy. Looks like the crowd has figured it out as they sent Lee off with a "thank you Keith" chant and he bowed to the crowd in a way that made me feel as if he is definitely finishing up this weekend.
(2) DOMINIC GARINI (w/Stokley Hathaway) vs. TIMOTHY THATCHER
The story of this match is that Hathaway used to manage Thatcher till Thatcher absconded and left Evolve. Thatcher is back for the weekend and Hathaway has disposed his hired hand Dominic Garini to take care of his former charge. This felt like a match that would've been more appropriate for the GCW Bloodsport show than this one as they just exchanged holds throughout the crowd was asleep through most of it.
WINNER: Timothy Thatcher with a butterfly suplex to mercifully end this match.
(3) JASON KINCAID vs. DJZ vs. AR FOX (w/The Skulk)  vs. CHRIS BROOKES – FOUR-WAY FREESTYLE 
Jason Kincaid came out with a shaved head and a new (or at least new to me) look and was immediately attacked by Jarek who tried to ambush him to take his place but to no avail as Kincaid successfully fought him off. The Skulk was immediately ejected to start the match. This one was every WCW cruiiserweight match from Nitro with less of the excitement. All four men tried but the crowd just wasn't into this one, I don't know if it's from being tired from the day before or the show but the crowd is just dead.
WINNER: AR Fox with Lo Mein Pain and then a Foxcacther onto Brookes for the win. I'm often critical of independent groups because so much is made on putting matches together with guys because they do cool moves, as opposed to giving combatants a reason to go at it. This definitely fit that criteria and I can't help but feel if there was some sort of issue here the crowd may have cared more.
(4) CHRIS DICKINSON vs. MARK HASKINS – EVOLVE vs. THE WORLD MATCH #1
Funniest thought crossed my mind during this match. I've been watching Chris Dickinson pretty much since he started and caught myself wondering this match just why in the hell is he called "the dirty daddy"? Anyone who knows please tweet it at me as I can't be the only person who has wondered this. This was a paint by numbers match. Nothing bad, but nothing special either and went a bit too long for me. Although I will admit the live crowd which was dead for the first half started to get into it a bit as it went on.
WINNER: Chris Dickinson scored a submission with a modified heel hook to put Evolve up 1-0 against the world.Both men shook hands after this match.
(5) WALTER vs. TRACEY WILLIAMS – EVOLVE vs. THE WORLD MATCH #2
Standing next to Walter, Tracey Williams may as well be his son. In the immortal words of Forrest Griffin this was like trying to wrestle your dad and who wins wrestling their dad? Everything Williams did to Walter was just shot back but harder. Walter is really imposing and I can see why WWE wants the big guy but he is one of those guys that I'm happy is staying where he is at. Last thing I need to see is Walter on Monday Night Raw as a German soldier or something. This guy is an ass kicking machine and all the companies he associates himself with showcase him that way. That being said, it takes two men to make a match and as great as Walter is at giving the pain, someone has to actually take it. Tracey Williams pound for pound may be the toughest guy on the Evolve roster after some of the shots I saw him come back from.
WINNER: Walter via Kojira Clutch and the crowd finally woke up and got back into this show. Evolve is now even in its competition against the world.
(6) JAKA vs. MUNENORI SAWA – EVOLVE vs. THE WORLD MATCH #3
Sawa is just great and it's hard to believe this guy hasn't had a match in 7 years before last night and Jaka is very underrated as a singles performer. These two had a fun match. They beat the snot out of each other when they had to and even had some really good grappling sequences. Enjoyable match.
WINNER: Munenori Sawa with the submission which came by way of his octopus hold to put the world up 2-1. Both men shook hands and embraced after the match.
After Sawa left the ring the members of The End hit the ring and assaulted Jaka. Chris Dickinson came out for the save but eventually he was overwhelmed too. Dominic Garini came down and he got beat down also and for some reason Stokley Hathaway came down and was cornered and looked to be finished till Tracey Williams made the save as Catchpoint regrouped and ran The End off.
(7) EVOLVE CHAMPIONSHIP DEISUKE SEKIMUTO vs. EVOLVE CHAMPION MATT RIDDLE – EVOLVE vs THE WORLD MATCH #4
I wish the booking of this match came before Riddle won the title last night. As it was kind of a given that Riddle was not going to be champion for a day and lose it to a guy in town for just the weekend. Sekimuto took off his boots before the match to wrestle barefoot like Riddle. Riddle grabbed the mic before the match and told Sekimoto he was "with it" and  announced that going forward all future title defenses will be no rope breaks. I guess in Evolve if you're the champion you make your own stipulations.Despite the predictability of this match it was a good match as Sekimututo did his best to negate the grappling and striking advantage of Riddle with his sheer strength. Although Riddle said no rope breaks it seemed several times both men and even the ref forgot that rule. I couldn't help but think how Sekimuto reminds me a bit of a modern day Masa Saito.
WINNER: Matt Riddle with a knee strike, followed by hammer fists on the ground to lead the referee to stop the match and retain his title and even up the series at 2-2. Sekimuto is a pro as he sold the knockout even after Riddle went to revive him to the point he stood down even as Riddle left the ring. The live fans appreciated it as they chanted for the Japanese strongman and rooted for him to get to his feet.
FINAL THOUGHTS: Last night's show was better, but if you went into this show expecting it to be better you were being unrealistic. Other than the title change which in my opinion was poorly handled, this was a missable show.
---
NOW CHECK OUT THE PREVIOUS REPORT: RADICAN'S EVOLVE 102 REPORT 4/5: Matt Riddle vs. Zack Sabre Jr., Doom Patrol vs. The End, Keith Lee vs. Darby Allin, Ospreay vs. A.R. Fox