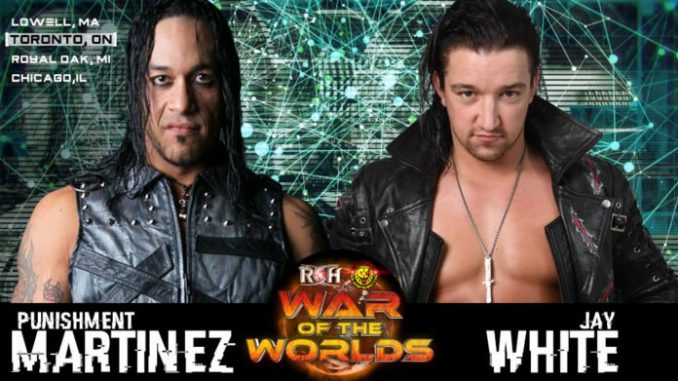 ---
SPOTLIGHTED PODCAST ALERT (YOUR ARTICLE BEGINS A FEW INCHES DOWN)...
---
ROH WAR OF THE WORLDS
MAY 11, 2018
TORONTO, ON AT TED REEVE ARENA
AIRED ON ROH'S HONOR CLUB
REPORT BY HARLEY R. PAGEOT, PWTORCH CONTRIBUTOR
Commentary: Ian Riccaboni, Colt Cabana, BJ Whitmer
(1) "SWITCHBLADE" JAY WHITE vs. PUNISHMENT MARTINEZ – IWGP UNITED STATES CHAMPIONSHIP
White with a big boot and some… knife-edge chops?  Martinez was dropkicked off the apron and took another through the ropes.  Martinez chucked White into the guard rail, knocking a metal ROH sign loose.  Martinez hit a top rope spinning heel kick back in the ring for the first two count.  Hangman Page suddenly showed up at commentary and put on a headset.  He had a vested interest in this match due to Martinez putting him through a table in Florida a few weeks ago and the two of them meeting in singles competition tomorrow night.  More chops from White.  Running European uppercut and a side suplex gave White two.  More chops from White but they just angered Martinez.  Martinez hit a spear from the second rope.  Martinez hit his step-up flip over the ropes onto White on the floor.  Psycho Driver but White kicked out.  White avoided a choke slam and a curb stomp.  Deadlift German suplex from White.  Martinez avoided Blade Runner.  Curb stomp and another two count.  Martinez was getting frustrated.  He threw a security member out of a chair at ringside and brought the steel chair into the ring.  Page ran down to the ring and ripped it away.  As Martinez glowered at him, White hit Blade Runner for the win.
WINNER: Jay White in 11:00 to retain the IWGP U.S. title.
(Pageot's Perspective:  A bit of a slower opening than most Martinez matches but it picked up at the end.  Some of his near falls were almost believable enough to make you consider a title change.  The finish was formulaic but I like the burgeoning Martinez-Page feud.  I just hope we don't get a repeat in the TV title match tonight as that would be too predictable.)
-Bully Ray made his entrance in his wrestling gear.  He held up a streamer and said "this is stupid."  He warned the fans not to throw them at him ever again.  Of course the ring was immediately flooded while Ray just stared into space, frozen with anger.  One thing that pisses him off is disrespectful millennial marks.  More streamers.  All he sees is a bunch of cowards who don't have the balls to do anything to shut him up.  "We want D-Von" chant.  "Why would you want the co-star when you have the star of the show?"  Ray claimed D-Von played background to him his entire career.  Somebody's getting their ass kicked but he's not sure who.  Play their music.
After a pause Cheeseburger's music hit.  He limped out holding his ribs.  In the ring Burger took a mic and asked Ray to shut up.  He said he's not afraid of him and Ray didn't get the job done.
(2) BULLY RAY vs. CHEESEBURGER
Ray with a punch to the face.  Wheelbarrow suplex.  He hung Burger upside down in the corner and beat on him.  Ray went to the second rope while the referee told him to get down and said that's enough.  Burger pushed the ref out of the way and punched Ray straight in the groin.  Burger went for a hurricanrana but Ray countered into his patented second rope power bomb.  He then went to ringside and mouthed off at some fans.  Burger was dead in the ring.  He ripped Burger's vest off, revealing that Burger's ribs were taped up.  Ray fetched his chains from the ring post and whipped Burger across the back.
WINNER: Cheeseburger in 3:16 by disqualification.
-Ray chased referee Paul Turner out of the ring and whipped Burger some more with the chains.  Turner and security members cared for Burger on the floor while Ray stared them down from the apron.  The fans chanted for tables.  Ray chased off the staff and ripped up the mats, exposing the concrete.  Ray lifted Burger for a power bomb on the concrete, then carried him toward the time keeper's table, then dropped Burger when he realized the fans wanted to see him go through the table.  Ray stalked off to the back.
(Pageot's Perspective:  Two matches out of retirement and Ray hasn't taken any bumps yet.  Was the storyline in the fall about him being told by doctors that he needed to retire based on reality?  I don't know the real situation with his health but one would think this has to build to Ray vs. Flip Gordon at Best In The World.  Cheeseburger's picked up two wins, meanwhile, and continues to be the lovable ROH underdog mascot.  I'm a little disappointed in my hometown crowd for chanting for tables when they were so on point the rest of the segment.)
(3) BEER CITY BRUISER vs. TETSUYA NAITO
Bruiser tried to start a USA chant but it didn't take.  Naito stalled and avoided locking up for the first two minutes, milking the crowd chants.  Bruiser made some derogatory remarks about Canada and war so the fans responded with an "1812" chant.  Hilarious.  Bruiser whipped Naito into the guard rails on the floor.  He bit Naito's head and ran him into the turnbuckle.  One-leg dropkick to a seated Naito.  Naito missed a dropkick when Bruiser hung onto the ropes.  Inverted atomic drop from Naito.  Hurricanrana.  Dropkick in the corner.  Neckbreaker for two.  Bruiser hit a death valley driver on the apron and Naito was out of it on the floor as Todd Sinclair counted him out.  Naito rolled into the ring at 19.  Cannonball from Bruiser in the corner.  Beer City Slam.  Naito fought out of a power bomb attempt and hit a tornado DDT off the ropes.  They traded punches, Naito hit an enziguiri, but Bruiser hit a clothesline.   Bruiser went up top for his frog-splash but Naito moved.  He followed with two Destinos.
WINNER: Tetsuya Naito in 12:35.
(Pageot's Perspective:  Kind of an odd one.  It seemed like Bruiser was put in the position of calling the match whereas I suspect he's usually the one following his opponent's lead.  As a result the first half was rather slow with lots of biting and insulting the crowd but not much else.  Longer than I would have expected as well considering their relative positions within their respective promotions.  I think the idea was for this to be a coming out party for Bruiser but I'm not sure it ended up that way.  If you're an ROH fan not overly familiar with NJPW you'd probably find it hard to believe that Naito is such a top star over there as he didn't look particularly impressive here.)
-BJ Whitmer showed up at the commentary table and told Cabana he was needed in the back.  Cabana left and Whitmer took his place on commentary.
(4) THE YOUNG BUCKS (Matt Jackson & Nick Jackson) vs. SUPER SMASH BROS. (Evil Uno & Stu Grayson)
Matt and Uno locked up.  Matt hit a diving forearm.  He yanked off his weight belt and threw it to ringside in celebration.  Grayson and Nick tagged in.  Nick chopped him but Grayson laughed it off.  Nick with an arm drag and a dropkick.  Around The World sent Uno to the floor.  Matt stomped away at Grayson in the corner.  The Bucks hit their classic poses mid-ring, which infuriated Uno on the apron.  Matt hit the back rake of doom on Grayson.  Matt was knocked to the floor and Uno dropped his bad back across the edge of the apron.  Uno raked Matt's back in the SSB corner.  Grayson with a running kick to the face.  Matt reversed a whip on the floor and Grayson flew off the ring post.  Uno knocked Nick off the apron to prevent a tag.  Matt superkicked Uno on the floor and hit a spear on Grayson.  Tag to Nick and he's a house of fire.  High crossbody on Grayson got a two count.  All four men in the ring.  Stereo sharpshooters (the official wrestling move of Canada.)  They called for a superkick party but Uno blocked and bit Matt's foot.  Grayson leapt over the post to take out the Bucks on the floor.  SSB with a reDRagon-esque Chasing The Dragon.
Matt and Uno threw punches mid-ring.  Superkick, swanton from Nick but the knees were up.  SSB hit their finishing move, Fatality, on Nick but Matt managed to break up the pin.  "This is awesome" chant.  Grayson stepped off Uno and Nick's shoulders into a hurricanrana on Matt.  Grayson with a 450 on Nick as Uno hit a cannonball in the corner on Matt but Nick kicked out!  Superkick party!  The Bucks threw Grayson upside down into Uno's arms, then kicked out his knees, causing him to tombstone his partner.  Grayson with a surprise crucifix pin but Matt kicked out.  Nick with a superkick to Uno on the floor and Meltzer Driver on Grayson.
WINNERS: The Young Bucks in 17:26.
-"SSB" chant from the crowd as they and the Bucks posted amidst streamers but The Briscoes charged the ring and attacked all four men.  Jay clubbed Nick with his tag title belt as Mark choked out Matt.  Jay Driller to Nick.  Mark unfurled a "Sandy Fork vs. Everywhere" flag as Jay took a mic.  They just wanted to remind us who runs this ship.  We're looking at the champs.  Jay hopes everyone wearing a Young Bucks or Bullet Club shirt burns in hell.  He told the Bucks to stick to selling t-shirts and leave being the best tag team in the world to The Briscoes.  The Bucks will never be man enough to take the tag titles from them.
(Pageot's Perspective:  A hell of a match.  No surprise there from the Bucks but I was among the many not familiar with SSB and I definitely came away impressed by all four men.  I love the post-match as well.  The Young Bucks are the only real threats on the ROH roster right now for the Briscoes' tag titles so their feud needs to be a hot one that lasts for months.  Hell, the Bucks need something to really sink their teeth into on ROH television outside of reacting to Cody and Scurll's conflict.)
-Intermission.  Our intermission match was AJ Styles & Karl Anderson vs. Kazuchika Okada & Gedo from Global Wars in Toronto on May 10,2014.
-Women Of Honor Champion Sumie Sakai was on commentary with Riccaboni and Whitmer for the next match.
(5) ALEXIA NICOLE & XANDRA BALE vs. JENNY ROSE & TENILLE DASHWOOD
Rose and Nicole started things off.  Rose hit some snap arm drags and a side suplex for an early two.  She tagged in Dashwood and they hit a double-team suplex.  Rose tagged back in and Bale choked her in the corner behind the ref's back.  Riccaboni announced that Flip Gordon is still in the air and might not make it in time for the eight-man tag match tonight.  Bale tagged in for the first time at the four minute mark and worked over Rose.  Rose avoided a tackle and Nicole took out Bale.  Dashwood with the tag.  Tarantula on Nicole.  Both opponents wound up seated in the corner and took the Taste of Tenille.  Rose got the blind tag and hit a choke slam on Bale.
WINNERS: Rose & Dashwood in 6:28.
(Pageot's Perspective:  I want to be supportive of all the women in Women Of Honor but there's just a notable drop from people like Dashwood, Sakai, and Purrazzo to everyone else in the division.  It's not dissimilar to the state of the tag division but the result is that this was just mostly slow and kind of clunky.  Maybe people like Mayu Iwatani simply set the bar too high in the WOH Championship tournament and now the younger novices have high expectations that it's unreasonable for us to expect them to meet.)
(6) SOCAL UNCENSORED (Christopher Daniels, Frankie Kazarian, & Scorpio Sky) vs. ROPPONGI 3K (Rocky Romero, Sho, & Yoh)
This was originally going to be for the ROH World Six-Man Tag Team Championship before SoCal lost the titles to The Kingdom on Wednesday night in Lowell.  Daniels and Kaz got into it with someone in the front row with Daniels dropping a number of f-bombs and Kaz threatening to break the person's neck.  The crowd member was never shown on camera.  Romero and Kaz started the match.  Daniels hit a knee to the back as Romero ran the ropes but Romero came back and took down all three opponents.  SCU worked over Sho for a long stretch before Yoh finally got the tag.  Dragon screw leg whips.  Shoulder block to Sky.  Tag to Romero.  Hurricanrana to Kaz.  Double hurricanrana to Kaz and Daniels.  Kaz avoided a triple-team move.  All six men met in the ring to throw punches.  Three jumping knees from R3K and three suicide dives.  Romero missed sliced bread.  Sky and Kaz teamed up for an assisted DDT on Romero.  Sho prevented a Best Meltzer Ever.  Sho and Yoh dumped to the floor.  Sky with a dive over the top rope onto both of them.  Celebrity Rehab from Daniels and Kaz on Romero.
WINNERS: SoCal Uncensored in 12:40.
(Pageot's Perspective:  A rebound win for SCU following their title loss on Wednesday and their inevitable rematch with The Kingdom for the six-man titles.)
-As Hangman Page made his entrance for his scheduled TV title match against Silas Young, Punishment Martinez appeared with a chair.  Page saw it coming and went after him but Martinez cut him off by throwing the chair at his head.  He followed with a curb stomp to Page on the seat of the opened chair.  As Page was helped to the back Young took the mic and told the referee to ring the bell, count Page out, and declare him the winner.
(7) SILAS YOUNG vs. HANGMAN PAGE – ROH WORLD TELEVISION CHAMPIONSHIP
Once the bell rang, Page staggered back to the ring but he was clearly in no condition to wrestle.  Young effortlessly took him down with a back suplex and threw him to the floor.  Page was dropped face-first on the apron.  Young with a leg drop for two as Page rolled his shoulder up from instinct alone.  Page hit a slap but Young put him back down with a headbutt.  Page with a surprise clothesline out of the corner.  Chops from Page as he ducked rights from Young.  A lariat got him two.  Page whipped off his vest and looked ready to fight.  He lifted Young for Rite Of Passage but Young escaped and hit a twisting neckbreaker.  Page kicked out again.  Young took off his t-shirt and was done playing around.  Page hit a superkick.  With Young on the floor Page started to climb for his moonsault.  He connected, landed on his feet, and rolled through.  Page threw Young into the ring  and hit Buckshot Lariat.  He set up for Rite Of Passage again but Young hit Misery instead.
WINNER: Silas Young in 7:32 to retain the television title.
(Pageot's Perspective:  I liked the idea of Young insisting on the match occurring and wanting to squash Page in three minutes to make himself feel like a big man.  The fact that the match went longer than that and gave Page a couple near falls seemed to hurt Young more than it helped Page.)
(8) "THE AMERICAN NIGHTMARE" CODY (w/Burnard The Business Bear) vs. JUSHIN "THUNDER" LIGER
Riccaboni said Liger is the only wrestler Cody has ever asked for an autograph from, at the age of seven in 1991 in WCW.  Liger got a surfboard variation early on but Cody grabbed the ropes.  Liger with another submission and Cody to the ropes again.  Cody did push-ups so Liger did some Liger thrusts.  Cody caught Burnard cheering for Liger and scolded him.  Liger locked in a traditional surfboard submission.  Burnard tripped Liger as he ran the ropes.  Cody beat Liger around the ringside area.  Riccaboni announced that Flip Gordon won't make the main event due to flight cancellations and sold out bookings.  Cody locked in the figure four on Liger.  Liger turned it over and Cody broke the hold.  Liger with a superplex.  Liger with a top rope hurricanrana.  Cody kicked out.  Liger with a dropkick through the ropes on Burnard.  Cody with a springboard splash to Liger on the floor.  Liger with a power bomb for two.  Cody shoved Liger into referee Todd Sinclair.  Cody set a steel chair up in the ring and sat Liger in it.  He picked up another chair but Sinclair took it away and Liger took the opportunity to throw the first one into Cody's face.  Two count but Cody kicked out.  CrossRhodes for the win.
WINNER: Cody in 12:06.
(Pageot's Perspective:  Cody always utilizes Burnard and his grab bag of heel tactics to maximum storytelling advantage.  He's arguably the most reliable singles wrestler in ROH at the moment.)
-Riccaboni and Whitmer spoke on camera ahead of the main event about Dalton Castle being sidelined with injuries and Flip Gordon's flight being cancelled and being unable to get to the arena in time, thus leaving Lethal and King in an unknown situation.  The first change was from an eight-man tag to a six-man tag with Bushi sitting out.  The second was Cabana putting on his wrestling boots to step up on behalf of Team ROH.
(9) LOS INGOBERNABLES DE JAPÓN (Hiromu Takahashi, Sanada, & Evil w/Bushi & Daryl Jr.) vs. JAY LETHAL, KENNY KING, & COLT CABANA
Lethal and Sanada started.  Sanada put Lethal in the paradise lock but Cabana jumped in, stopped the match, and untied Lethal.  Lethal took Sanada down and they tagged out to Evil and King.  They shoved each other.  Drop toehold and side headlock to Evil.  Tag out to Cabana.  Flying headscissor sent Evil scurrying to his corner and a tag to Takahashi.  After circling each other, Cabana said he didn't want Takahashi, he wanted Daryl.  He pointed where Daryl was seated on the ring announcer's table.  Takahashi brought Daryl into the ring but Cabana told Takahashi to leave.  Takahashi left and Cabana and Daryl faced off mid-ring.  Daryl fell over so Takahashi used the distraction to grab a roll-up while Cabana grabbed Daryl.  Cabana threw Daryl into the air, Takahashi caught him, and Cabana rolled up Takahashi for two.  Daryl lost his mask in the process.  The referee and Takahashi quickly rushed to put the mask back on Daryl  and get him out of the ring.  "This is wrestling" chant from the crowd.
Back and forth action.  Cabana caught Takahashi with a splash.  He held him up for a long vertical suplex before tagging to Lethal.  Lethal came in and took Takahashi from Cabana while still holding him upside down in the air the entire time.  Tag to King and they repeated it.  King finally dropped Takahashi with the suplex.  King with a roll-up on Takahashi for two.  Tag to Lethal.  Bushi tripped Lethal as he ran the ropes.  Bushi choked Lethal on the floor as Takahashi distracted the ref.  Evil shoved King into the ring post.  Sanada kicked the middle rope into a low blow as Lethal re-entered the ring.  Bushi raked Lethal's eyes behind the ref's back again.  When Cabana tried to chase him off Bushi took a cheap shot at him as well.  Sanada knocked King off the apron.  Sanada and Evil worked over Lethal.  Bushi tripped Lethal again.  Lethal Combination on Evil.  Hot tag to King.  Corkscrew flip over the ropes took out Bushi.  Spinebuster to Sanada for two.  Tag to Cabana.  Moonsault took out both Sanada and Takahashi.  Right hands to both men.  Flying Apple to both men.  Two count on Takahashi but Takahashi caught him with a superkick.  Tag to Evil and a clothesline in the corner.  Evil and Sanada looked for the Magic Killer but Cabana avoided it.  They hit it on the second attempt but King broke up the pin.  T-bone suplex to Evil.  Sanada with a cutter on King. Lethal with a cutter on Sanada.  Lethal with his trio of suicide dives but he expanded to four, five, six, and seven dives taking out all the L.I.J. members.  "Lethal" chant from the crowd.
Cabana with his Cubs Win! submission on Evil.  Rope break.  Takahashi with the sunset flip bomb on Lethal to the floor.  Bushi yanked King off the apron.  Bushi with the mist to Cabana's face.  Evil with Evil on a blinded Cabana for the win.
WINNERS: Los Ingobernables de Japón in 22:44.
-Naito hit the ring to join his stable mates for a post-match celebration.  The five men and their cat posed mid-ring to end the show.
(Pageot's Perspective:  Some fans might be disappointed that circumstances prevented the original eight-man tag from happening as advertised but it's not like there was any story built around that match anyway.  It likely would have turned out the same as this, which is to say just some top ROH stars and a popular NJPW faction having a match for the sake of having a match.  If anything, I became more excited about getting to see Cabana wrestle an ROH event for the first time since October.  The fans seemed unsure how to react through the middle of the match.  They wanted to cheer the Japanese stars but all the cheating and interference prevented them from fully doing so.  King's been struggling to connect with the ROH crowd for a while as a babyface and that was likely a factor here but Lethal's always good at getting support behind him when it calls for it.
I don't expect every top name to appear on every show and actually usually prefer it when that doesn't happen as it gives a breather and lets other talent step up.  Names like The Kingdom and Coast 2 Coast not appearing tonight was fine with me but I'm quite surprised that Marty Scurll never appeared considering he's one of the most popular names in ROH and one of the two top challengers to a world champion who also didn't appear.)
---
Find Harley on Twitter @talkinghonor and listen to he and Emily Fear talk all things ROH every Tuesday on the PWTorch Livecast "Talking Honor."