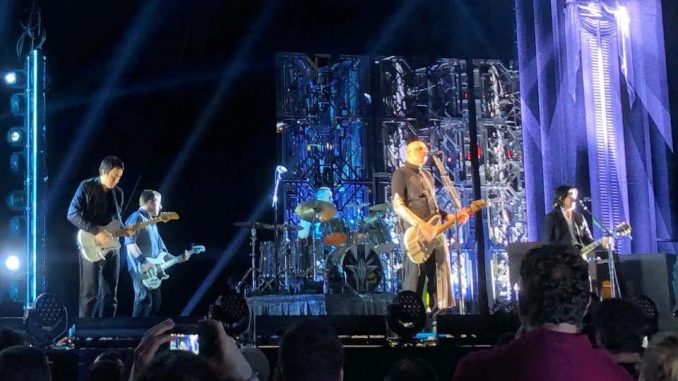 ---
SPOTLIGHTED PODCAST ALERT (YOUR ARTICLE BEGINS A FEW INCHES DOWN)...
---
Billy Corgan isn't shy about the fact that his on-stage persona is simply that, a manufactured version of himself. He's mentioned in interviews, and even recently on his Instagram page, that what fans of the Smashing Pumpkins see on stage is a creation. There are big differences between William Patrick Corgan, and Billy Corgan.
And for the most part, Billy Corgan fans (those who are fans of the music), don't want to hear about William Patrick Corgan, and what he does in pro wrestling.
In an era where kayfabe is dead and everyone knows everything there is to know about professional wrestling, the best character in the wrestling business might be the owner of the National Wrestling Alliance.
"There is NO such person as 'Billy Corgan'. He (BC) does not exist," Corgan wrote recently. "Or, if he does exist (per these times), he is a creation from my mind to yours, and no different than a cartoon drawing of Batman or Sponge Bob."
That creation has generated millions of dollars in revenue. Tonight, that creation will sell out Madison Square Garden in New York City.
On the other side there's William Patrick Corgan, the real person who, from what I can tell, is a generous family man who adores his son, and he also owns the NWA.
It's interesting in an age with social media where wrestlers can't seem to walk the line between what's good for their character and what isn't, Corgan has figured out a way to almost live two separate lives in a very public, yet peaceful and symbiotic way.
On Tuesday night, I attended the Smashing Pumpkins show at TD Garden in Boston (showing solidarity with the Chicago band by wearing a Cubs hat), and I was struck by the similarities between Corgan's music life and his wrestling life.
The Billy Corgan character was in full effect. If you're a fan of 90's rock, as I am, you know exactly what I'm talking about. From the robes to the attire, Corgan was everything I expected in my first live Smashing Pumpkins experience. The guitars were big and heavy when they needed to be, and Corgan nearly brought the audience to tears on slower acoustic sets like Disarm and Thirty-Three.
At the same time, I'm willing to bet only a small minority of those in attendance even realize Corgan's other side as a central figure in the pro wrestling industry. Corgan keeps the worlds separate. In an interview with Joe Rogan last year, Corgan said that the music fans don't like it when the wrestling part of his life crosses over with the music part of his life.
But what I found, is that the two are intertwined far more than the music fans realize.
The first part is the most obvious … Billy Corgan is a character, and with the Smashing Pumpkins fanbase, he's over. He's Steve-Austin level over, circa 1998. The very moment he appeared on stage, the crowd erupted, stood up, and never sat down. … for three hours.
The crowd adored Corgan's idiosyncrasies, including the strange (I'm sorry, but things got weird) encore, where Corgan was wearing an outfit that looked like it was a mix between a carnival barker, and the pope and the band covered a lullaby from the 1941 "Dumbo" movie ("Baby Mine") while Jimmy Chamberlin, one of the best drummers on the planet, played a ukulele. But that's what Pumpkins fans love about the Pumpkins and Corgan … you expect the least expected. I expected the show to close out with a louder, more traditional "rock" ending. Maybe "Zero" or "Bullet with Butterfly Wings" … Corgan throws those norms out the window. It was a weird ending only because it didn't conform to what you usually end a rock show with, but honestly, it worked.
All the while, Corgan and Lagana are taking some of those "traditional norms" in pro wrestling storytelling, and they're throwing them out the window, all while running perhaps the most traditional brand in the history of the business. They're ushering the NWA into the new era in a way that I don't think anyone expected they could.
Corgan's on-stage persona is so over, most of the music fans don't want to hear about the rest of his life. They don't want to know about wrestling because it doesn't appeal to them, and for the most part, Corgan "kayfabes" that section of his audience. At the very least, he protects them from William Patrick Corgan, owner of the NWA. Only once, at the very end of the show, did he show even the slightest stray from his "Billy Corgan" character, cracking a smile after fooling around with some guitar picks.
For the entire set, Corgan was in the zone and it felt like 1996. He was stonefaced for much of the performance, and James Iha was the one who would interact with the audience between songs (even that was minimal).
Oh, and by the way, this was all while playing a mega set that lasted more than three hours.
The reason the Billy Corgan creation works so well is because he created it using very real elements of his life. His upbringing is still his upbringing. The Billy Corgan character doesn't pretend that he was a rich kid growing up in a sprawling estate in Greenwich, Connecticut. He grew up in a poor family in Chicago, and that shaped him both in reality, and it shaped his creation.
You see Corgan using the same philosophy in the way he and Dave Lagana are building their stories within the NWA. Take a few minutes and watch the "Ten Pounds of Gold" series (most of you have, I'm sure). The way they're building to the Nick Aldis vs. Cody match at All-In is perfect, and all they're doing is telling the real story. There's nothing manufactured or fabricated about it.
Corgan and Lagana are building their matches the same way that the UFC builds its big fights. They're telling you real stories, and then the match sells itself.
Corgan's music character is the same way. His lyrics tell real stories.
What the music fans also don't realize is that the Smashing Pumpkins show builds like a good wrestling show. It starts hot with a well-known song ("Disarm") while "Rhinoceros" and "Space Oddity" — yes, a David Bowie cover — fill the first 30 minutes along with "Zero."
The show slows down a bit in the middle (every show has a popcorn match), but the last 90 minutes is the main event, where the Pumpkins give you everything you want to hear, including "Mayonaise," "Tonight, Tonight," "Cherub Rock," "1979," "Today," and "Bullet with Butterfly Wings." … Oh, they throw a "Stairway to Heaven" cover in there as well.
The show builds to a crescendo the same way Corgan and Lagana are building their big NWA Championship matches. By the time the Pumpkins got to the last 90 minutes of the show, I found myself getting antsy, ready to burst when I heard the first few chords of "Today."
If you're thinking about seeing the Smashing Pumpkins on tour when they hit your town, you should definitely go. Even if you're just a casual rock fan, the band has so many hits you're going to recognize at least half of the 30-song setlist. If you're a diehard fan, the show is a must.
Pumpkins fans — as dark as this sounds — want Corgan to be a dark, depressed rocker. I'm sure there have been elements of that in his life, but deep down, I don't think that's who he really is. Listen to him in interviews, and you get an real in-depth look at the real William Patrick Corgan. Billy is his character, and he plays that character well.
This morning on the Sirius XM Show "Busted Open," Corgan was in studio to talk the NWA, and he was "WPC," as he refers to himself. He was joking with hosts Dave LaGreca and Bully Ray in a way that I'm not sure he would if it was a music interview about the Smashing Pumpkins. He knows his audience, and he respects what makes Billy Corgan such an over persona in the music world. He doesn't go out of his way to belittle that character or make the Pumpkins fans feel dumb for believing in it.
That's what also makes Corgan an effective storyteller within the construct of professional wrestling. Along with Lagana, the NWA is finding ways for fans to believe in something, and feel OK about doing so. To steal a cliche, they're "keeping it real," and it works. The Pumpkins, and the Billy Corgan persona, is their blueprint.
Mike McMahon covers Impact Wrestling for the PWTorch. Listen to the post-Impact livecast every Thursday at 10 p.m. ET, follow Mike on Twitter @MikeMcMahonPW and you can also email him by using the address torchmcmahon@gmail.com