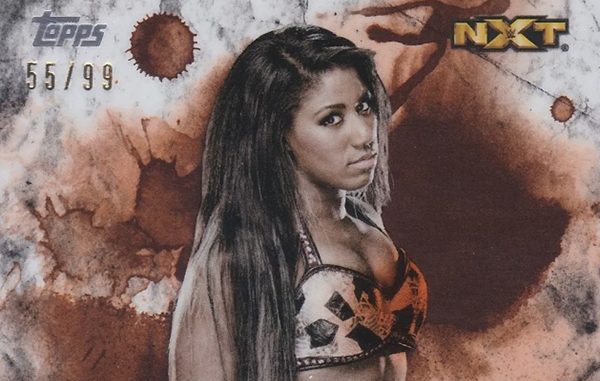 ---
SPOTLIGHTED PODCAST ALERT (YOUR ARTICLE BEGINS A FEW INCHES DOWN)...
---
For pro wrestlers, autographs can be big money earned. For collectors, autographs can be big money spent.
Autographs drive the wrestling trading card hobby. So when fans are forking over money, they're expecting a little effort in return. Many times, wrestlers will take their time and sign full, legible signatures. But many other times, collectors are left with the lazy slop that wrestlers like Dean Ambrose, Seth Rollins and Velveteen Dream call autographs.
Topps just released its 2018 WWE Undisputed product, which delivers one hit (autograph or relic card) per pack. This high end product has been the centerpiece of Topps' wrestling products each year since 2015. Opening a pack and finding an autograph of the Undertaker, Triple H or Alexa Bliss can absolutely make a fan's day, whereas being stuck with sigs from Ambrose, Xavier Woods or Big Cass can be groan inducing. The 2018 Undisputed set is a winner with a great design and a deep checklist of wrestlers. Unfortunately, some wrestlers didn't put the same efforts into signing the cards as Topps did in making them.
Overall, nearly 70 wrestlers signed cards (or in some case, stickers that were later affixed to cards) for 2018 Topps WWE Undisputed. Some are great, and some … not so much. So here's a complete list of everyone in the set, along with a brief description and a pass/fail grade (and a couple incompletes) for the signing efforts.
Aiden English. Wait, a two-letter signature from a WWE wrestler? Shocking. Grade: Fail.
Alexa Bliss. For two-plus year, Bliss has been the most popular WWE wrestler with collectors, and her autographs generally sell higher than all but a few special attractions like Triple H or the Undertaker. On top of that, she almost always signs a clean, legible signature. Grade: Pass every time.
Aleister Black. If Black was graduating from the WWE School of Lazy Signatures, he'd be an honors student. His awful "AB" signature has killed what probably would have been a lot of interest in his cards. Grade: Fail.
Adam Cole. You sometimes need a magnifying glass to read Cole's signature. He signs so small, regardless of whether he's signing a sticker or directly on the card. But overall, when you can make it out, most of the letters are there. Grade: Pass.
AJ Styles. The current WWE Champion has possibly signed more trading cards than anyone else in the company thanks to the thousands upon thousands of cards he signed for TRISTAR's TNA products from 2008 to 2014. Yet he still manages to give fans a pretty good signature every time. Grade: Pass.
Asuka. Not even sure what Asuka's signature is, if it's supposed to be English or Japanese. It's a weird mix of loops and straight lines. It's often small and gets lost on the card. Grade: Fail.
Bayley. Izzy's favorite wrestler was one of the most popular signers with collectors, until her main roster career stalled and more and more products came out. Still, Bayley has one of the nicest autographs out there, always signing her full name and usually adding an exclamation point. Grade: Pass. One of the best.
Baron Corbin. Corbin has one of the nicer signatures of all WWE wrestlers. So for that, he deserves credit. Grade: Pass.
Big Cass. Long gone and mostly forgotten, Cass is one of the most dreaded pulls for collectors who crack open boxes of Undisputed and other products. On top of that, he's got a bad signature. Grade: Fail.
Big E. "BE" – another two-letter signature from a WWE wrestler. Grade: Fail.
Bobby Fish. Fish's signature isn't entirely legible, but it's not bad either. He obviously takes his time when signing. Grade: Pass.
Becky Lynch. Becky has a weird signature, which is a backwards B attached to an L, usually with a star next to it. Not the best signature, but it doesn't seem to hurt her popularity. Grade: Pass, barely.
Bobby Roode. Like Styles, Roode signed thousands of autographs for TRISTAR's TNA products. Unlike Styles, Roode's signature has gotten progressively worse. It used to look like "B. Roode," but lately it's become more of a "B. Ro." Grade: Incomplete. Kind of depends on the card.
Braun Strowman. Braun has never really caught on with collectors the way he did with fans overall. His signature is nothing special, but it's certainly acceptable. Grade: Pass.
Bray Wyatt. From about 2014 to 2016, Wyatt had a pretty nice signature. But lately it's turned into some really sloppy version of just his first name. Grade: Fail.
Carmella. The former Smackdown Women's Champ is another one whose autograph fluctuates. Most times it's pretty good, but lately seems to be morphing into "Cll." Grade: Pass, mostly.
Cesaro. The "Swiss Superman" has consistently had one of the nicer signatures in WWE, and it doesn't seem nearly as abundant as some others. Grade: Pass.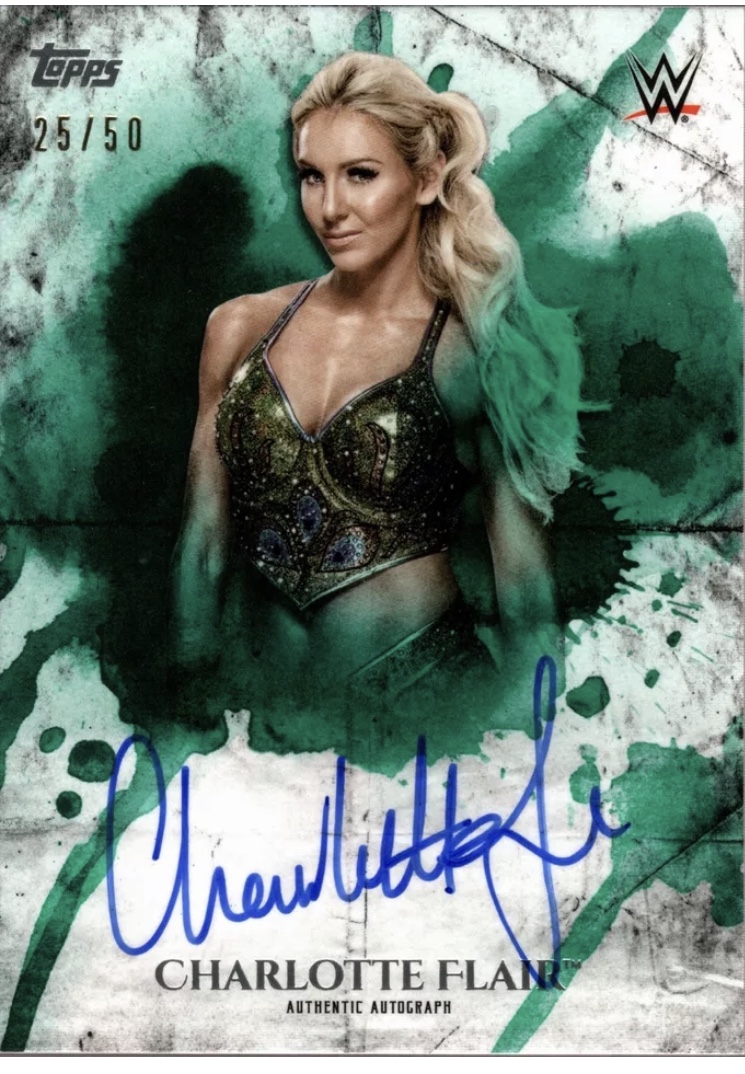 Charlotte Flair. Charlotte may have the best signature among all active WWE wrestlers. Almost every letter of her name is legible and well written, and sometimes she adds an extra heart. Grade: Pass, with flying colors.
Chad Gable. He usually signs just his last name, which is OK because it's usually well signed. Grade: Pass.
Dean Ambrose. Ambrose consistently had the worst signature in WWE from 2013 to 2017, until someone took that dubious honor away in 2018 (more on that in a bit). It's bad enough that he only signs "DA," but it's even worse that his signature is often so small that it gets lost on the card. Grade: Fail. Major fail.
Daniel Bryan. Bryan has had a consistently good signature since his first autograph cards were released in 2011. There's nothing too special about it, but sometimes all fans want is a clean, legible autograph from their favorite wrestler. Grade: Pass.
Drew McIntyre. Drew's signature is tough to read, but he at least puts some effort into it. Grade: Pass.
Dash Wilder. Wilder signs a pretty simple "DASH," but lately some of his sticker autos just look like a capital R. Grade: Pass, for the most part.
Elias. Elias' sig is ugly, but most every letter is there, anyway. His WWE signature seems to have improved over his NXT signature, when his attempt at "The Drifter" often looked like "The Datu." Grade: Pass, barely.
Ember Moon. Ember is right up there with Charlotte, Alexa Bliss and Bayley for having the best auto in WWE. Every letter is crisp and clean. Grade: Pass. One of the best.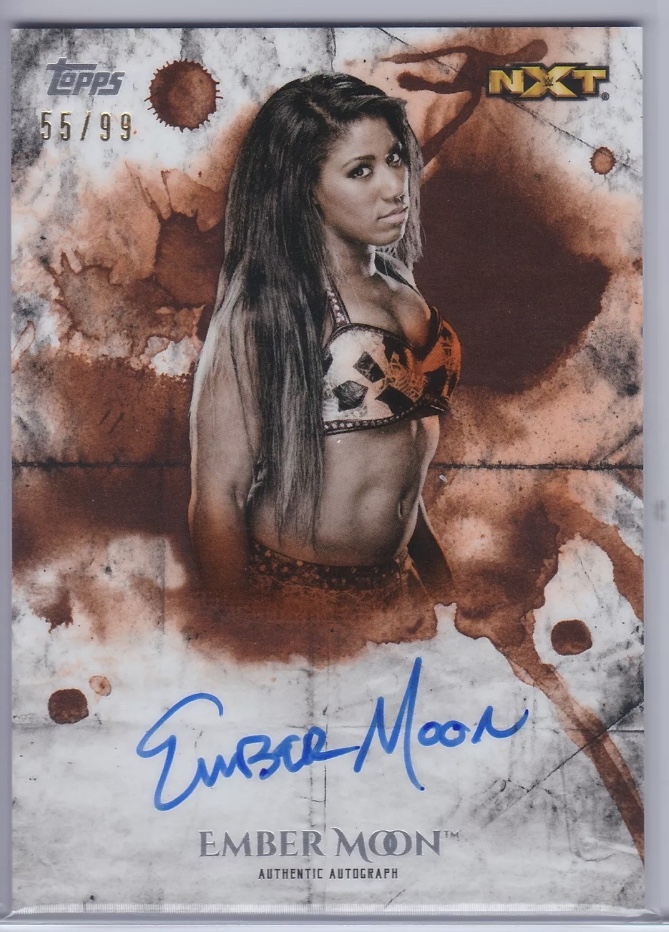 Eric Young. Like Styles, Roode and others, Young signed thousands of TNA autographs. It's been fun to watch his autograph evolve over the years, from "Showtime EY" to "Super Eric" to plan old "Eric Young." Young has a really nice sig. Grade: Pass.
Fandango. If you like collecting lower card comedy wrestlers who sign one letter and then basically a long dash, then this is the one for you. Grade: Fail.
Finn Bálor. Not quite sure what Balor's signature is supposed to be. It basically looks like two cursive Ms, or just an up and down squiggle. Grade: Fail.
Hideo Itami. The former KENTA has a decent enough signature made up of Japanese characters, but good luck finding anyone who wants it. Grade: Pass.
Jeff Hardy. Jeff's artistic side has always shone through on his autographs. While it's not your typical autograph, Hardy puts time into each one of his signatures that look more like a little sketch. Grade: Pass.
Jason Jordan. Jordan's signature is essentially two cursive Js with a couple of lines. It's funny how similar it looks the signatures of one-time New Orleans Saints prospect Garrett Grayson and current Kansas City Chiefs running back Alvin Kamara. Grade: Minor pass.
Jinder Mahal. Jinder's signature is inconsistently bad. Sometimes it looks like a number 2 with some squiggly lines attached, and other times it's a smooshed up "2ml." Grade: Fail.
Karl Anderson. The former Bullet Club member's signature looks something like "Kan." It's not the worst auto out there, but that's hardly a compliment. Grade: Fail.
Kofi Kingston. Kofi's signature isn't the best, but it's OK. He at least takes the time to sign most of his name, and puts some effort into his autographs. Grade: Pass.
Kevin Owens. "KO" – so whose autograph are you getting, Kevin Owens or Kassius Ohno? Grade: Fail.
Kassius Ohno. See Owens, Kevin. Grade: Fail.
Kairi Sane. Tough to read but overall pretty nice, with obvious effort put into it. Grade: Pass.
Kurt Angle. Angle's autograph first appeared in 2005 Topps WWE products, and it hasn't changed much since. Most of his autographs are pretty good. The only problem with his 2018 Topps WWE Undisputed autograph is that he didn't sign in the white space on the card, but signed right over his picture. Grade: Pass.
Kyle O'Reilly. The former ROH World Champion has one of the best on-card signatures out there. He typically signs a big, bold "K. O'Reilly." When limited space on a sticker to sign, however, O'Reilly shortens his sig to "K. O'R." Grade: Pass.
Lana. A clean, concise, cursive signature. With a name like Lana, that's all it takes. Grade: Pass.
Luke Gallows. Another inconsistent signer. Sometimes he signs his full name, other times it's an abbreviated "L. Gall." Still a nice sig either way. Grade: Pass.
Maryse. Miz's better half has a nice, clean signature of her own. Grade: Pass.
Matt Hardy. Matt's signature is more traditional looking that than of his brother Jeff. But it's a great, clean, legible signature. Grade: Pass.
Maria Kanellis. Maria signed her share of Topps WWE cards from 2005 to 2007, and has signed even more for the Benchwarmer glamour model sets. Her signature returns in 2018 Topps WWE Undisputed, and it's a nice, clean, cursive signature. Grade: Pass.
Mojo Rawley. "Mojo" with no last name. Not an exciting signature, but passable. Grade: Pass, barely.
Naomi. Like many other one-name wrestlers, Naomi has a nice, clean signature. Every letter is legible. Grade: Pass.
Natalya. Natalya's signature varies a little bit. Sometimes it's "Natalya" followed by a heart, and other times it's simply "Nattie." Either way, it's a good signature. Grade: Pass.
Nia Jax. Nia's signature is a lot like that of Alexa Bliss. She clearly prints every letter, and usually splits it over two lines. Grade: Pass.
Ruby Riott. Ruby's first name is usually cleaner than her last on her signature, but it's still a good looking autograph overall. Grade: Pass.
Roderick Strong. Strong's signature is a little sloppy and quick, but overall a nice one. Grade: Pass.
Rusev. R-U-S-E-V. Sometimes all fans want is a simple, clean autograph, and Rusev almost always gives it to them. Grade: Pass.
Sasha Banks. Sasha's autograph is sometimes better than others. She always signs a clean "$" and "B," but how much time she puts into the rest of the signature varies almost every time. Grade: Pass.
Shelton Benjamin. Benjamin's signature has been a consistent "Shelty B" for over 15 years. Grade: Pass.
Scott Dawson. Like tag team partner Dash Wilder, Dawson usually signs just one name. It's an elongated capital D followed by mostly legible letters, depending on the signature. Grade: Pass.
Sheamus. Sheamus' signature isn't quite as crisp as that of Bar partner Cesaro, but it's still generally a good looking signature. Grade: Pass.
Samoa Joe. Joe's auto can vary wildly. Sometimes he signs a mostly full "Samoa Joe." Other times it looks like "Sam J." Lately he's fallen into the WWE two-letter trap by just signing "SJ." Fortunately, there are plenty of TNA and WWE autos out there, so you should be able to find a good one. Grade: Incomplete.
Stephanie McMahon. Stephanie's signature isn't quite as clean as her "Stephanie McMahon-Helmsley" autograph from the early 2000s, but it's generally a pretty nice signature. The downside is that Stephanie hasn't hard-signed any cards for Topps, so all of her autographs are stickers, which limits the amount of space she has to sign. Grade: Pass.
Shinsuke Nakamura. The former New Japan star had a nice autograph in Japanese BBM trading card sets up until 2011. But since then his signature has become WWE-ized: a lower case n wrapped in an S, which seems to just get worse and worse. Grade: Fail.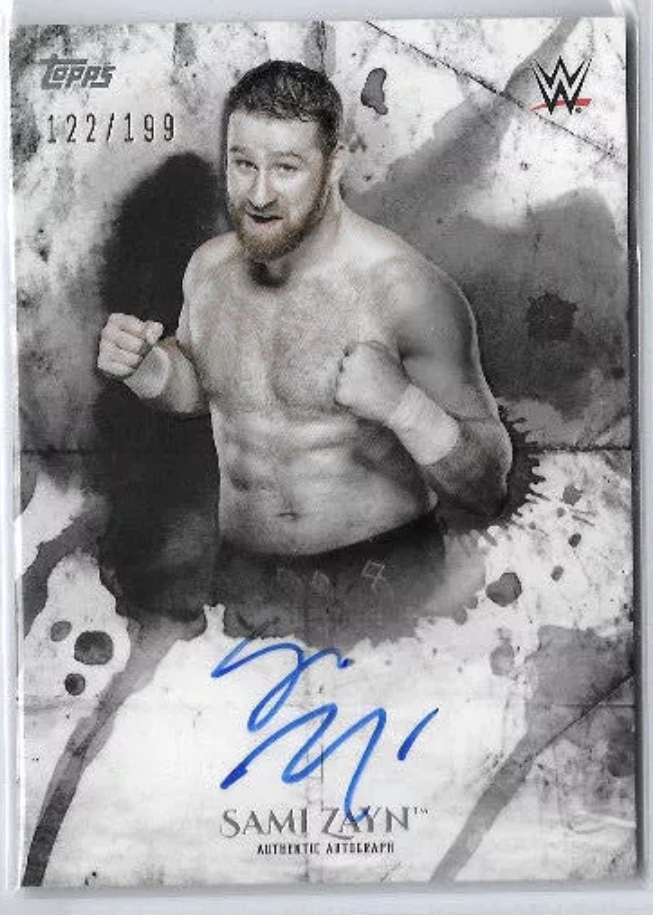 Seth Rollins. Rollins has never had a great signature, but it used to be better than those of his Shield buddies. Now though, he simply signs "SR," and that's in the best case. Many of his autographs have become just a letter S with a squiggle dropping off the end. Grade: Fail.
Sting. Whether it's a 1998 Topps WCW auto, a 2008 TRISTAR TNA auto or a 2018 Topps WWE auto, Sting's signature has always looked the same: clear, simple and completely legible. Grade: Pass.
Sami Zayn. Like a lot of others, Zayn's autograph has gotten worse over time. It used to be a mostly legible "Sami Zayn!," but some of his most recent autographs look like "SM." Grade: Fail.
Tyler Breeze. Breeze's auto is better than Fandango's, but that's not saying much. It typically looks like "TBZ." Not great, but if you're one of the few people looking to buy a Tyler Breeze autograph, it's probably OK. Grade: Pass, barely.
Tye Dillinger. TD10. Next. Grade: Fail.
Triple H. Like Stephanie McMahon, Triple H has only signed stickers for Topps, so his "HHH" signature often appears cramped, and "The Game" inscription he sometimes adds on larger items can become a little tough to read. Overall though, a nice signature. Grade: Pass.
The Miz. Miz's signature has been good for more than a decade. It's usually a simple "Miz" followed by a dollar sign. Grade: Pass.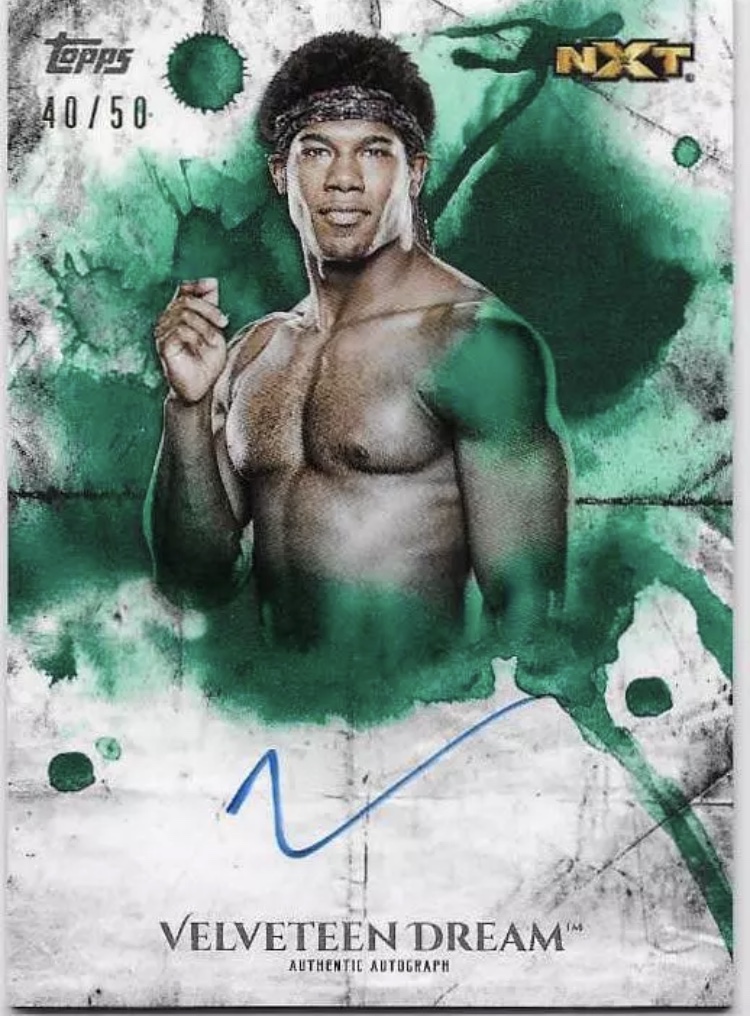 The Undertaker. The Dead Man has long had one of the best and most sought after autographs out there. Like Triple H and Stephanie, Undertaker has only signed stickers for Topps, so some of the artistry of his signature gets lost. Still a great autograph. Grade: Pass.
Velveteen Dream. If you were waiting to see an autograph worse than Dean Ambrose, the wait is over. With a decent signature, Dream's autograph probably would have been one of the top cards in 2018 Topps WWE Undisputed. Instead, all he signed was a V. Lazy and inexcusable. Grade: Fail. Absolute fail. FAIL in all capitals. The failiest of fails.
Xavier Woods. Woods' signature is basically an "XW" with a couple lines, and sometimes not even that much. Grade: Fail.
Zack Ryder. Ryder's autograph is … well … a big "ZR?" Maybe? Whatever it is, it's big and ugly. Grade: Fail.
NOW CHECK OUT THE PRIOR COLUMN: COLLECTIBLES COLUMN: Iconic Wrestling T-shirts and Their Action Figure Connections
---
PWTorch Collectibles Specialist Michael Moore can be reached at michaelmoorewriter@gmail.com. Follow him on Twitter @MMooreWriter.