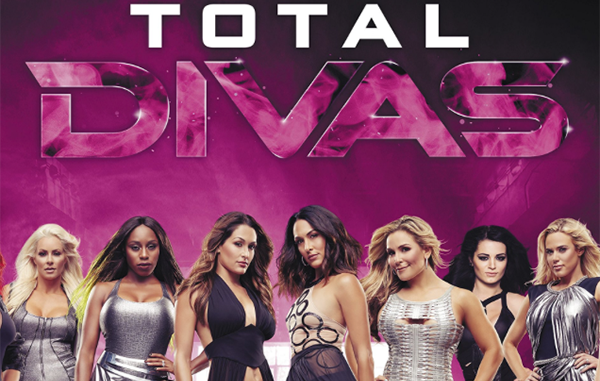 ---
SPOTLIGHTED PODCAST ALERT (YOUR ARTICLE BEGINS A FEW INCHES DOWN)...
---
TOTAL DIVAS – EPISODE 10
NOVEMBER 28, 2018
AIRED ON E!
BY SARAH K., PWTORCH CONTRIBUTOR
The show opens with random footage from the Raw before the Money in the Bank PPV. Brief Mojo Rawley sighting. Hey, he hasn't been on TV since feuding with No Way Jose. Nia and Ronda faced off at MITB; Nia lost, for anyone who doesn't remember this, although it hasn't happened yet on this show. Nia and Nattie discuss Nia being nervous about the match. Then Jimmy Uso and Naomi look at rings at a Jewelers. Naomi's vehicle was broken into and her wedding ring was among the items that were taken. Evidently, the two of them have to have a talk about a lost piece of jewelry. I seriously hope this doesn't veer into John Cena territory since I like Jimmy Uso. And then we get the last Jim "The Anvil" alive appearance on the show. Evidently Jim had Alzheimer's disease, which they decided to keep to themselves for as long as possible. Commercial.
Ugh, the Bella Twins. It's the clip that's available on YouTube of the twins sitting in a car asking Bryan what year Albert Einstein died. Yes, this really happened. Einstein died at the ripe old age of 76 in 1955 – for anyone who wonders. The shining example of why teenage girls should read books and find better role models is that the Bella twins thought that Einstein and Socrates were around at the same time, meaning that I can only speculate that they have never seen "Bill and Ted's Excellent Adventure" where Socrates was featured wearing a toga (and Ted repeatedly called him "So-crates"). Socrates died around 399 BC. Anyway, read a book, kids. Bryan is training, so this is almost a mercifully short… except for the part where Nikki mentions having a "comeback," which makes me wonder if she knows what the hell "comeback" really means. I honestly wonder who has unsubscribed and then resubscribed to the "WWE Network" based on whether or not the Bella Twins are on TV.
Nattie is going to train for the MITB ladder match with her father. Nattie and Jim do curls and toss a yoga ball while Nattie wears a headband with cat ears. Apparently Alzheimer's runs on the Neidhart side of the family, so Nattie is maybe going to take a test to see if she carries the gene. And now back to Naomi and Jimmy arguing over the principle of a wedding ring lost to theft. On the surface, since I had to just formulate that thought and type that sentence, here's the thing – the ring was stolen, it wasn't lost of misplaced, and, quite frankly, in a relationship it's the bond and interaction between two people that makes the relationship, not the symbol of the union. While I do understand "sentimental" value, unless this ring cost half a cajillion dollars,  it can be replaced. So, there better be some story about this thing belonging to someone's great grandmother, because these two have enough income to replace a ring. Yes, supposedly the ring has a story. Anyway, hopefully the resolution to the story is that Jimmy Uso buys Naomi a new ring and also picked out an apartment in Atlanta.
So, Nattie gets her Alzheimer's gene test results. And then Nattie doesn't really want to know if she does, in fact, have the gene. Five seconds later, as it turns out, Nattie doesn't have the gene. She'll now have to die of something other than Alzheimers. Nattie then says that "my dad doesn't even know that he has Alzheimer's." Which I would take to mean that Jim has never actually gone to a doctor and gotten a test. Interesting. Oh, hey, 20 some odd minutes into the show and Lana and Rusev appear. More talk about the women's MITB ladder match. I had to google it yet again, because that's how memorable Alexa Bliss's win was, I guess… Meanwhile, Naomi wants her and Jimmy to get wedding band tattoos, which is a bit of a fad among the wrestlers. Off the top of my head, Cody Rhodes and Dean Ambrose have them. Jimmy is not that high on this idea, but they appear to be doing it anyway.
Back from commercial, they get their tattoos. There's a "that's what she said" joke. Onto MITB. Lana is still talking about winning for whatever reason. For whatever reason we are shown footage of the Bellas watching this PPV at home on a TV. Footage of Big Cass tapping to Daniel Bryan is shown.
Footage of the ladder match is shown… and again, we're "treated" to the Bellas watching the match on TV. Yeah, that was unnecessary. Anyway, Alexa Bliss won and, honestly, who remembers that? Anyway, it's time for Nia Jax to lose her title. Oh, wait, now I remember why no one remembers Alexa Bliss winning that MITB, because she cashed in that night to interrupt the Nia Jax vs. Ronda Rousey match.
So, the day after MITB, Jim Neidhart died. This is 50 minutes into the show. Evidently the weekend before his death, Jim got a visit from his sister, Debbie, who brought with her various items and videos from their youth. The family had a good time reminiscing. "It was almost like my dad was spending that weekend with us, spending the weekend with his sister, watching that highlight reel of his life, and my dad was saying goodbye to us without even knowing he was saying goodbye." They show footage from the family setting up for the funeral with photos and mementos.
"It's so hard to wrap my head around the fact that I'm not going to see my dad again," says Nattie. Highlights of the Anvil are shown as Nattie delivers a eulogy. Nattie decides to go to Summerslam. Thus everyone is shown hugging Nattie backstage. Nattie is shown wearing her father's ring jacket. That was bittersweet. And then they ruin it by reminding me that there is a fourth season of Total Bellas.
---
CHECK OUT THE PREVIOUS REPORT: 11/14 TOTAL DIVAS REVIEW: Nia Jax is afraid of not fitting in, Nikki the Poet, Naomi and Nia cook, Paige can't swim and gets sunburn, Lana subject of gossip