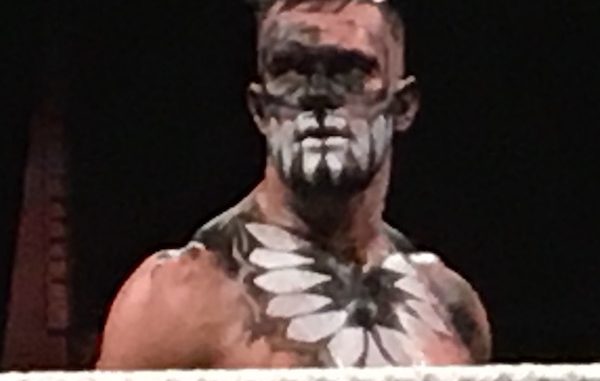 ---
SPOTLIGHTED PODCAST ALERT (YOUR ARTICLE BEGINS A FEW INCHES DOWN)...
---
DAVID VS GOLIATH…
Recap: After a Martin Luther King tribute, the show opened with Paul Heyman and Brock Lesnar coming to the ring. Heyman spent the entire first portion of the promo building up Finn Balor, saying he deserved his opportunity after beating "second greatest of all time" John Cena. He said he believed in Finn Balor.
He then changed tone, saying that even miracles end, and that Finn Balor would be sacrificed to Brock Lesnar.
Vince McMahon then came to the ring. He commented on Heyman's buildup of Finn, noting that he didn't believe that Finn stood a chance because he didn't believe in miracles. He told an alternate version of the David and Goliath story where David was delusional from mushrooms in challenging Goliath, who beat the hell out of him.
Braun Strowman then came to the ring. He told Brock that if he still had the title after Sunday, he'd tear him apart like one of Vince's limos.
Finn Balor then hit the ring. He said that he knew Vince didn't believe in him, and then retold the real David and Goliath story. He said he believes and the Balor Club believes. Braun said he didn't think that Finn could win, but that he's better win. Finn told him to stay out of his business.
Vince then set a David and Goliath match between Balor and Strowman, inviting Brock to sit ringside.
During the match, Braun threw Finn out of the ring, where Brock caught and suplexed him, Brock then hit the apron for a staredown, but Finn took advantage by pulling him off the apron and following up with a flip dive. Finn took care of both Braun and Brock for a while. Eventually, after a coup de grâce, Brock entered the ring and hit Finn with an F5 for a disqualification.
Evaluation: This segment took up most of the first hour, which was necessary due to the compressed timeline to build up FInn Balor. The segment was successful in hyping the David-Goliath angle while still building up Finn as a strong contender.
Forecast: While this segment made the title match look more interesting, I'd still be shocked if Finn won.
SETH DEFEATS DREW…
Recap: At the top of the second hour, Seth Rollins came to the ring for a promo. He quoted Martin Luther King and said he was inspired by him. He said that without a title, he focused on what he did have, rather than didn't have. He recounted coming from a working class background, and said he might be working in a factory or driving a truck if it weren't for the wrestling business. He said what kept him in the business was his heart.
Drew McIntyre then interrupted. He said that if you took Seth's heart and drive and put it into a Terminator, you'd have Drew McIntyre. He said there was a zero percent chance that Seth could win the Rumble.
The two then had a match. At the end of a long, solid match, Seth rolled up Drew for the win.
Recap: Seth's promo was a great, old-school face promo. Drew's rebuttal was a classic heel promo as well. Both could've been given in Crockett in the 1980s, and still worked well with the crowd tonight.
Forecast: I expect these two to tangle in the Rumble and feud afterwards.
SASHA AND RONDA…
Recap: Before the main event began, Ronda Rousey was interviewed backstage. She said she'd been racking her brain for a reason to owe Sasha Banks an apology from last week, but determined she didn't owe her anything. She said she used her time on Moment of Bliss to talk up Sasha. She vowed to win on Sunday, and then made her way to the ring for a tag match with Natalya against Sasha and Bayley.
Before the match began, Sasha got on the mic and said she didn't need Ronda's compliments on Moment of Bliss, as she was a four time champion who had earned her opportunities.
Sasha opened the match with a cheap shot on Ronda while Ronda was on the apron. Sasha eventually tapped out Natalya for the win.
Evaluation: Sasha seemed heelish tonight, intentionally pushing Ronda's buttons and taking a cheap shot. If that's what WWE was going for, it did work as Ronda seemed to get cheers.
Forecast: Ronda retains.
NOW CHECK OUT LAST WEEK'S COLUMN: TOP 3 DEVELOPMENTS – RAW 1/14: Braun Loses His Shot, Finn as Title Contender, Lashley Wins IC Title