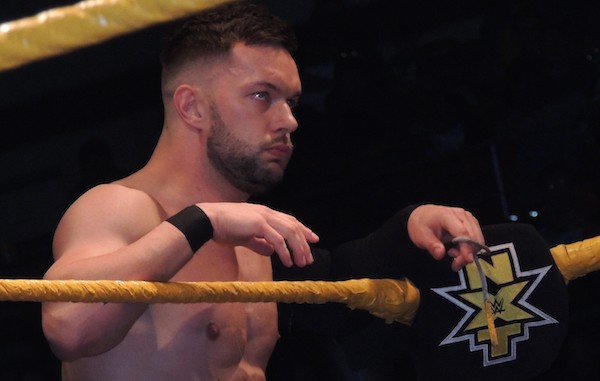 ---
SPOTLIGHTED PODCAST ALERT (YOUR ARTICLE BEGINS A FEW INCHES DOWN)...
---
BRAUN LOSES HIS TITLE SHOT…
Recap: The show began with Braun Strowman in the ring threatening Brock Lesnar. He said that with Corbin out of power, Brock had no one left to protect him.
Baron Corbin then appeared. He told Braun to stop lying to the fans since he always lets them down. Braun dropped the mic and ran toward Corbin. Corbin fled, and Braun chased him backstage.
Braun caused mayhem backstage, tossing Sunil Singh across a room. Eventually Elias informed Braun that Corbin was hiding in a limo. Braun trashed the limo as Corbin escaped. Vince McMahon witnessed the incident and was visibly upset.
After a commercial, Vince told Braun he'd be fined $100,000. Braun said the "piece of crap" limo wasn't worth $100,000. An angry Vince then stripped Braun of his title shot. After Vince left, Braun overturned the limo.
Evaluation: I assume this was done due to Braun's health. If not done for health reasons, it's a sign that Vince may have lost faith in Braun.
Forecast: I'm still guessing this is an injury issue, so I would expect Braun to be back in the picture after Royal Rumble.
NEW TITLE CONTENDER…
Recap: At the top of the second hour, Vince came to the ring to announce the fate of the title match at Royal Rumble. He was quickly interrupted by John Cena, who reminded him that when Steve Austin and the Rock bailed on WWE, he stepped up. He detailed the amount of life sacrifices he had made for WWE. He then broke out his old "ruthless aggression" tagline from the early 2000s.
Cena was quickly interrupted by Drew McIntyre, who said Cena did not have ruthless aggression. The two bickered, and then Baron Corbin came out. He subtly threatened a lawsuit on account of Braun's death threats if he didn't get a title shot. Finn Balor then came out, saying he was tired of being left out of these conversations, and that Vince has never believed in him. Balor said nothing he said would change Vince's mind, and then attacked Corbin. Drew then hit Cena with a Claymore. Vince set a Fatal 4 Way for the title shot.
Later backstage, Jinder Mahal complained about not being in the title picture. Vince told him he could have a match against one of the four contenders, and if he won, could replace him. Jinder chose Finn Balor and lost the match.
In the main event, Finn Balor ended up pinning Cena to win the title shot.
Evaluation: This all felt very thrown together, and I imagine it was. As mentioned above, I'm assuming an injury issue with Braun.
Forecast: I see Finn as a placeholder here to fill a spot on account of an injury. I expect him to lose. He likely won tonight because WWE is comfortable with him being a sacrificial lamb.
NEW IC CHAMP…
Recap: Early in the night, Dean Ambrose cut a promo about always being right and took a cheap shot at the Memphis fans.
Lio Rush then cut a promo saying that Lashley was a true fighter and would dominate.
Right before the triple threat for the IC Title, Seth Rollins cut a backstage interview. He was asked if this was his last shot at the title. He promised to make the most of the opportunity. He said he'd never forgive Dean for betraying Roman.
At the top of the third hour, Lashley won the match and the title when Lio Rush knocked Seth off of the top rope. During the match, Seth and Dean actually briefly worked in tandem.
Evaluation: Having Seth and Dean work in tandem totally detracted from Seth's promo promising never to forgive Dean. Otherwise, this was not good, not bad, just ok.
Forecast: Lashley never seems to build much passion in fans one way or the other; I don't expect that to change with the title.
NOW CHECK OUT LAST WEEK'S COLUMN: TOP 3 DEVELOPMENTS – RAW 1/7: Hogan Returns, Cena Returns, Lashley Costs Seth the IC Title, Bizarre Ronda Promo