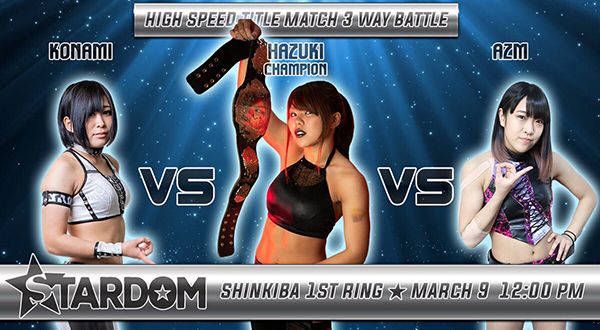 ---
SPOTLIGHTED PODCAST ALERT (YOUR ARTICLE BEGINS A FEW INCHES DOWN)...
---
STARDOM
MARCH 9, 2019
TOKYO, JAPAN AT SHIN-KIBA 1ST RING
AIRED ON STARDOM WORLD
REPORT BY HARLEY R. PAGEOT, PWTORCH CONTRIBUTOR
Hina said this was her first three-way match ever. Rina said she hadn't fought her sister in a while. Kashima said she was going to represent as the Artist champion.
(1) ARTIST OF STARDOM CHAMPION SAKI KASHIMA vs. HINA vs. RINA
The twins worked together against Kashima at first but quickly turned on each other when it came time to try to pin her. Kashima came back against both and made Rina tap to a Boston crab.
WINNER: Saki Kashima in 4:00.
(Pageot's Perspective: Opening matches with the twins being flung around and beat up are always a lot of fun.)
-Kimura was teaming with visiting Mexican wrestler Goya Kong. Kong cut a promo in Spanish. Kimura closed by saying "por favor." Kyona said Kong is joining Kimura's international force. On the next show Iida challengers for the Future Of Stardom title so she wants to build momentum.
(2) JAN (Jungle Kyona & Saya Iida) vs. HANA KIMURA & GOYA KONG
Kyona put her strength up against the 187-pound Kong but couldn't budge the larger woman. The "little giant" had even less luck and Iida wound up flattened by a Kong splash for the pin.
WINNERS: Kimura & Kong in 9:25.
(Pageot's Perspective: Another fun one with JAN going up against the giant Kong. Lots of funny moments with Kyona and Iida trying to Irish whip or team up on Kong to no avail.)
-Onozaki said she couldn't sleep because she was so excited about their amazing opponents. Nakano said she was teaming with the ROH champion and the pretty champion, NXT UK star Xia Brookside!
(3) STARS (Women Of Honor World Champion/Artist Of Stardom Champion Mayu Iwatani, Artist Of Stardom Champion Tam Nakano, & Xia Brookside) vs. JAN (Natsuko Tora, Kaori Yoneyama, & Leo Onozaki)
Brookside brought matching headbands for her teammates. Things were very even throughout. In the end Stars Irish whipped their three opponents into each other in the center of the ring and dumped Tora and Yoneyama to the floor. Onozaki took the DDT + German suplex combo from Nakano and Iwatani. Brookside followed with the Brookside Bomb for the win.
WINNERS: Stars in 13:27.
-Brookside said she's back and she wants the high speed title. She challenged Hazuki to a match on March 28 at Korakuen Hall. Tora said that she wants the Women Of Honor title. If Iwatani leaves the ROH 17th Anniversary Pay-Per-View still the champion she wants next. She said if she loses it to Kelly Klein, Tora should go to ROH and bring it back to Stardom herself. She can't agree to a title defense until she knows she'll still be champion but she thanked Tora for the confidence in her retaining.
(Pageot's Perspective: Lots of energy here. Brookside vs. Hazuki will be great. I can't see Brookside winning and defending the title in NXT UK like the way Iwatani defends the ROH title here but that would be really cool if Triple H was open to that. Iwatani did end up retaining against Klein last week so it appears her and Tora will be meeting for the WOH title someday soon.)
-Oedo Tai said there was nothing to say about the next match. Hayashishita said Oedo want the trios titles but they (QQ) made that claim first.
(4) OEDO TAI (World Of Stardom Champion Kagetsu, Andras Miyagi, & Natsu Sumire w/Nao Yamaguchi) vs. QUEEN'S QUEST (Wonder Of Stardom Champion/Goddess Of Stardom Champion Momo Watanabe, Future Of Stardom Champion/SWA World Champion/Goddess Of Stardom Champion Utami Hayashishita, & Bea Priestley)
Sumire tried to spit water on Hayashishita early but she saw it coming, covered her mouth, and turned her head, causing Sumire to spray onto some front row fans. With the ref distracted Sumire whipped Hayashishita. With an assist from Kagetsu Miyagi got a sustained period of offense on Watanabe and a couple near-falls. With the other two pulled to the floor, Sumire sprayed Watanabe with water, Kagetsu hit her with the placard, and Miyagi hit a tombstone on the white belt champion to pin her.
WINNERS: Oedo Tai in 11:30.
-Miyagi officially issued a challenge to Watanabe for the white belt. Watanabe said she doesn't know who she is and it's a sudden request but okay. She lost for the first time in a while and she's mad. "Get ready for tomorrow."
Suddenly Goya Kong walked down to the ring. She called Miyagi a chibi and addressed Kagetsu in Spanish. Kagetsu said she's been studying English lately, not Spanish, but she knew Kong had her eyes on the red belt. Kagetsu said it's normal for her to challenge her but her answer is no. She's sure Rossy Ogawa thought it was a good idea to bring in a AAA star like Kong because he sees the dollar signs. She agreed after all. They shook, Kagetsu got a cheap kick in, and Kong knocked her to ringside. Oedo Tai begged off.
(Pageot's Perspective: Wow. Stardom booking always has the weak link in the match getting pinned, which would have been Sumire in this case. Watanabe taking the pin, even after cheating, was surprising and big for Miyagi. Kong stepping up to challenge Kagetsu this quickly is also an interesting development. I was expecting a quieter house show vibe to this show but we've had four great matches already and a bunch of noteworthy developments. Color me surprised.)
-AZM said this was her chance to win the high speed title again. Konami said Hazuki says you need a six-pack to hold the title but she's going to prove her wrong. Hazuki said she'd tell us why she made this a three-way after the match.
(5) HAZUKI vs. KONAMI vs. AZM – HIGH SPEED CHAMPIONSHIP
This one definitely fit the title as it was nothing but high speed the entire time and no woman ever really spent any time taking a powder at ringside. In a short one, though, Hazuki caught AZM with a roll-up.
WINNER: Hazuki in 5:00 to retain the high speed title.
-Hazuki said she's defended the title for a third time. Why did she make it a three-way? Because she knew she could beat them both at the same time. She's smarter than them. She'll be defending the belt forever but she needs challengers. Xia Brookside came out. In Japanese she confirmed a title match between them on March 28 at Korakuen Hall. Hazuki admitted that Brookside has a six-pack and said she's looking forward to it. Brookside left.
Hazuki said she and Kagetsu have their defenses set and Miyagi has her challenge issued. But what about Sumire? Sumire called out Utami Hayashishita and demanded to face her for the Future Of Stardom title. Hayashishita said, "You can't challenge me for the Future, granny! You don't meet the qualifications." (Only those under the age of 20 or with less than two years as a professional wrestler can hold the Future title.) Sumire suggested the Pro-Wrestling: EVE title but Hayashishita said that's up to that promotion, not her. Sumire suggested her Goddess Of Stardom title instead. But that's a tag title. Does she have a tag partner? Sumire said yes and then looked around quickly. She saw Miyagi on the apron and called her into the ring. She asked her to shake hands. When she did, Sumire yelled "partner!!" to Miyagi's consternation. Nao Yamaguchi took the mic and said Sumire needs this as she doesn't have any awards. Please let her have it. Hayashishita and Watanabe agreed because they felt sorry for her.
(Pageot's Perspective: The match was surprisingly short but the post-match was great. I stand by my belief that Sumire has the best character work of anyone in Stardom. Lots being set up for Korakuen but still nothing for the big New York City show on April 6.)