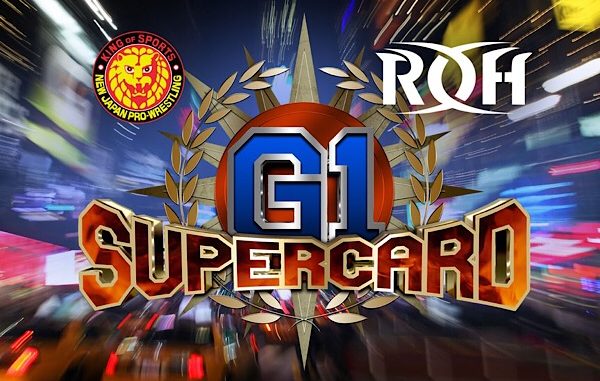 ---
SPOTLIGHTED PODCAST ALERT (YOUR ARTICLE BEGINS A FEW INCHES DOWN)...
---
ROH/NJPW G1 SUPERCARD
APRIL 6, 2019
NEW YORK, NY AT MADISON SQUARE GARDEN
AIRED ON ROH HONOR CLUB
REPORT BY HARLEY R. PAGEOT, PWTORCH CONTRIBUTOR
Commentary: Kevin Kelly, Ian Riccaboni, Colt Cabana
ROH advertised the pre-show as starting at 6:30 EST but things apparently started well before then.  Jenny Rose entered first, alone.  Hazuki and Kagetsu were out next and did a duo version of the Oedo Tai entrance dance while Rose posed on the middle turnbuckle.  Sumie Sakai was out first for the opposing team, joined by Hana Kimura and Stella Grey.  Sakai was dressed in tribute to Hiromu Takahashi.
(1a) JENNY ROSE & OEDO TAI (World Of Stardom Champion Kagetsu & High Speed Champion Hazuki) vs. SUMIE SAKAI, HANA KIMURA, & STELLA GREY
Rose and the heels attacked to start.  Rose hit a sidewalk slam on Sakai for two.  Hazuki tagged in and hit her facewash kicks on Sakai.  Neckbreaker to Hazuki.  Tag to Kimura.  She and Grey double-teamed Hazuki.  Hazuki with a guillotine choke but Kimura powered her up and over into a vertical suplex.  Triple submissions from the faces to the heels.  Spear from Rose to Sakai.  Double suplex countered into double DDT's to Kagetsu and Rose.  Brainbuster from Sakai to Kagetsu.  Missile dropkick from Kimura.  Smash Mouth from Sakai to Kagetsu but Rose broke it up.  High crossbody from Sakai onto everyone on the floor.  Stereo suicide dives from Oedo Tai.  Falcon arrow from Kagetsu to Sakai.  Springboard dropkick from Hazuki to Sakai.  Sambo suplex from Rose.  450 from Kagetsu to Sakai.
WINNERS: Rose & Oedo Tai in 6:48.
(Pageot's Perspective:  Lots of energy here.  The women seemed determined to make the most of every second.  Rose in particular stood out as really being jubilant.  I'm quite surprised to see Sakai take the pin but maybe pinning the former world champion instead of the rookie Grey is setting up Kagetsu as being in WOH title contention in the future.)
(2a) HONOR RUMBLE
Kenny King was #1 at his request.  #2 was (as I called it) Minoru Suzuki.  King with a chop.  Suzuki laughed.  Shoulder tackle but Suzuki sprang back up.  Suzuki with an elbow that dropped King.  Entrant #3 was out, 66 seconds in, and it was Cheeseburger (accompanied by Eli Isom and Ryan Nova).  Burger tried to get involved as they ignored him.  He chopped Suzuki only for the other two to advance on him.  Suzuki dropped him with an elbow.  #4 was Beer City Bruiser with keg and cigar.  He unloaded with jabs to "Beer!" chants from the crowd.  He bit Suzuki's forehead, then Burger.  #5 was IWGP Junior Heavyweight Tag Team Champion Sho.  Sho and Burger battled.  #6 was former ROH tag team champion and current L.I.J. member Shingo Takagi.  Sho went after Takagi.  Right hands and clotheslines from Takagi.  His fellow L.I.J. member, Bushi, was #7.  Bushi also went after Sho.  #8 was the other IWGP Junior Heavyweight Tag Team Champion, Yoh.  He went after Bushi.  Roppongi 3K battled with L.I.J. as Suzuki and the ROH wrestlers rested in the corners.
Bruiser charged Roppongi 3K and tumbled over the top rope for the first elimination.
At #9 was Shaheem Ali of Coast 2 Coast.  #10 was Rhett Titus.  He posed and flexed center-ring.  Ali went after him and took a punch and hip-toss.  His former tag partner, King, took him out with a kick.  Out at #11 was Ali's tag partner in Coast 2 Coast, LSG.  #12 was Never Openweight 6-Man Tag Team Champion Ryusuke Taguchi with rugby ball and selfie camera in hand.  #13 was the return of Will Ferrara?!  "Little Willy" has been found!  His "Big Dawg" Titus hugged him and they went to work on C2C.  #14 was Chase Owens.  He unloaded on Ferrara and Taguchi.  #15 was the final Roppongi 3K member, Rocky Romero.  He and Taguchi squared off.  Taguchi directed Romero in his 4ever clotheslines on all the other men in the ring.  Taugchi sent Sho and Yoh onto the train and soon C2C, Titus, and Burger were hopping on board too.  Hilarious.
Bushi was tossed by Romero.
#16 was Brian Milonas of The Bouncers.  C2C went after him.
Ali and LSG were both shoved over the top rope by Milonas.
#17 was Bad Luck Fale.
Sho and Yoh were dumped by Fale.
Fale threw Burger over but Isom and Nova caught him New Day-style to prevent an elimination.  Fale pulled the 3S members into the ring, then tossed them out just for fun.  #18 was Jonathan Gresham.
Titus eliminated by Takagi.
Takagi eliminated by Suzuki.
#19 was "Hot Sauce" Tracy Williams of Lifeblood.  He went after Suzuki.  They traded strikes.  #20 was Yoshi-Hashi.
Taguchi eliminated by Gresham.
#21 was "Darewolf" PJ Black.
Ferrara was eliminated.
Williams eliminated by Suzuki.
#22 was the legend Jushin Thunder Liger to the biggest reaction of the night by far.
Milonas tossed out by Liger.
#23 was The Kingdom's TK O'Ryan.  O'Ryan dumped Black to the apron.  They tussled in the ropes.  #24 was The Kingdom's Vinny Marseglia.
Williams eliminated by The Kingdom.
#25 was Delirious.  He ran laps around the ring.  Delirious with a chest rake to Marseglia.  #26 was Tomohiro Ishii.
Black suplexed out by Ishii.
#27 was Never Openweight 6-Man Tag Team Champion Toru Yano?  No, Yano joined Cabana at the announce table and they switched places. #27 was Colt Cabana!  Cabana with elbows for everyone.  "Colt Cabana!" chants.  #28 was Hirooki Goto.
Yoshi-Hashi eliminated by Fale.
Everyone ganged up to dump Fale.
The Bullet Club music played and the commentators were confused.  #29 was King Haku.  The wrestlers in the ring backed up out of fear.  Cabana went after Haku first and took a throat punch.  Haku grabbed him with the Tongan death grip.  Yano ran down to help.  #30 was The Great Muta?  Fans didn't believe it when the music played.  Muta walked out in full regalia to "holy shit" chants.  The music stopped to huge "Muta" chants.  We were informed that Yano officially joined the match as well, sharing slot #27 with Cabana.
Delirious eliminated by Muta.
Yano pulled off a turnbuckle and charged Suzuki, who ducked, causing Yano to hit Cabana by mistake.
Cabana and Yano eliminated by Suzuki.
Gresham eliminated by Muta.
Goto and Suzuki battled on the apron.
Goto eliminated by Suzuki.
Ishii and Suzuki threw hands.  Ishii dropped Suzuki onto the apron.  Leglock from Ishii.
Suzuki eliminated by Ishii to loud boos.
Burger fought with The Kingdom.  House Of A Thousand Horses.
Burger eliminated by The Kingdom.
Haku went after The Kingdom.  O'Ryan tried to clothesline him over but failed.  Marseglia helped.
Haku eliminated by The Kingdom.
Ishii with headbutts to both men.
Ishii eliminated by The Kingdom.
The final four appeared to be Liger, Marseglia, Muta, and O'Ryan.  The heels soaked in the boos.  Liger avoided House Of A Thousand Horses.  Shotei!
Marseglia eliminated by Liger.
O'Ryan eliminated by Muta.
The legends, Liger and Muta, squared off.  Shotei!  Dragonscrew leg whip from Muta.  Corkscrew elbow.  Kenny King appeared out of nowhere and tossed both men from behind.
WINNER: Kenny King in 42:22 to earn a future ROH world title match.
-Muta returned to mist King.  He rolled to the floor to avoid a shotei from Liger.  Liger bowed to "Thank you, Liger" chants.
(Pageot's Perspective:  This was a whole lot of fun.  Wrestlers entered every 60-75 seconds, which was a fast clip that kept things moving.  Tons of surprises because we had no idea which NJPW wrestlers had been flown over.  Haku seemed like a big surprise at the time but he was nothing compared to Muta.  The Cabana-Yano stuff was brief but funny as was Romero's forever train.  I thought for sure we'd get a face off between Ishii and Shane Taylor.  The absence of Taylor and Silas Young means we definitely see those two in the Bully Ray match later tonight.  King winning was perfectly conniving and sneaky and the ring was so crowded at so many points that it wasn't super obvious that he hadn't been eliminated.  I genuinely thought I had missed it during the commotion of entrances and everything else.  Liger winning would have been loved by the crowd but no one would buy Liger as ROH World Champion in 2019 so King raining on his parade puts some solid heat on him.  It definitely makes me doubt my prediction on who leaves the ladder match with the title tonight, though.)
-Video packages officially kicked off the main show and the commentators ran through the card.
(1) JEFF COBB vs. WILL OSPREAY – ROH WORLD TELEVISION CHAMPIONSHIP & NEVER OPENWEIGHT CHAMPIONSHIP
Cobb's left shoulder was taped up.  They fought to ringside immediately.  Cobb tossed him into the crowd but Ospreay springboarded back out.  Ospreay with a flip over the ropes onto Cobb.  Cobb sort of caught him but Ospreay turned it into a DDT on the floor.  Springboard into a bearhug.  Delayed vertical suplex from Cobb standing on the second turnbuckle.  He hurled Ospreay across the ring.  Cobb blocked a hurricanrana into another bearhug.  Ospreay with a handspring into a kick to the head.  Tiger feint kick.  Springboard clothesline.  Cobb powered out of a Stormbreaker attempt.  Fallaway slam from Cobb.  Samoan drop.  Kip-up into a standing moonsault for two.  Ospreay threw some forearms but Cobb put him down with one blow.  Hook kick from Ospreay.  Spanish fly.  Missile dropkick.  Ospreay countered Tour Of The Islands into a sunset bomb.  Cobb went up top for a frog-splash but Ospreay moved.  Robinson Special from Ospreay.  Cobb blocked an OsCutter and threw him off and into the corner.  Ospreay immediately sprang back and nailed it!  The fans counted one, two, three but Cobb kicked out at 2.9.  Hook kick from Ospreay.  He lifted the bigger Cobb for Stormbreaker but Cobb slid out.  Kick to Cobb's face.  Ospreay looked for Stormbreaker from the second rope.  Instead Cobb hit a Tour Of The Islands off the second rope.  He dropped the straps and hit a second Tour!
WINNER: Jeff Cobb in 13:09 to retain the ROH TV title and capture the Never openweight title.
(Pageot's Perspective:  Great match, great mix of styles, lots of energy and fun counters and reversals.  This is exactly my type of wrestling.  Cobb continues to be perhaps the #1 stand-out wrestler of ROH in 2019.  All he needs now is some more stories to go with his terrific matches.)
-Six Boys appeared on stage in anticipation of Dalton Castle, who was wheeled out by two other boys on a big platform painted like a prism.  The entourage of Boys held up cardboard peacock feathers behind him.  Rush entered in a white suit and his usual mask.
(2) RUSH vs. DALTON CASTLE (w/The Boys)
One of the Boys left one of their fans in the ring.  As he moved to fetch it Castle glanced over.  Rush with a shotgun dropkick that sent Castle into the corner.  More running dropkicks and that was it.
WINNER: Rush in 0:16.
-Rush left.  Castle was shaken.  The Boys tried to fan him calm.  They formed a chair for him.  Castle destroyed Brent.  Brandon was devastated.  Bang-a-rang to Brandon.
(Pageot's Perspective:  Ugh.  I can't believe we're actually trying a full heel Castle.  The Boys were always treated like children/pets.  You're going to have one of your most beloved babyfaces basically whip their dog/smack their kids around just to get heat?  I can't believe this is the only post-world title story they could come up with for Castle.)
-Mandy Leon joined commentary for the Women Of Honor match.  The cameras cut backstage where Juice Robinson was laid out in the locker room.  Kelly Klein had new pink and gray gear with fishnets and skimpy trunks.  It was… interesting.
(3) MAYU IWATANI (w/Sumie Sakai) vs. KELLY KLEIN (w/Camp Klein) – WOH WORLD CHAMPIONSHIP
Iwatani was hesitant to follow the code of honor, knowing what Klein is like.  Klein sent her trainees to the back, saying she wanted to do this one on one.    Chain-wrestling to start.  Klein kicked out her knee.  Bow and arrow lock.  Samoan drop.  More targeting of Iwatani's left knee.  Iwatani into a rear naked choke.  Klein stood up with her on her back and ran her into the corner.  Iwatani with a crossbody but Klein caught her and threw her.  High crossbody from Iwatani on the top turnbuckle to Klein at ringside.  Klein hit Iwatani's wrist off the ring post.  They traded forearms.  Klein blocked a headscissors.  Iwatani with a poisonrana.  Superkick.  Release German suplex from Klein.  Iwatani sprang back up but ate a clothesline.  Both women were down at 8:20.  Kicks from Klein.  Dragon suplex but Klein's height resulted in her foot landing on the bottom rope to prevent a pin.  Iwatani with a moonsault but Klein moved.  Lariat from Klein.  Klein with a powerbomb.  Iwatani kicked out.  K-Power.  A second.
WINNER: Kelly Klein in 11:10 to capture the WOH title.
-Fans booed as Klein hugged Cary Silkin, who presented her with the title.  Klein helped Iwatani to her feet and hugged her.  Iwatani left.  Suddenly Angelina Love and Velvet Sky strolled down the ramp. They did their stripper entrance on the ropes.  Leon left commentary and joined Klein's side.  The two duos faced off, only for Leon to club Klein in the back of the head with her high heel.  Love with a pump kick to Klein.  Jenny Rose ran out and also ate a kick.  Stella Grey was next but Sky sprayed her in the eyes with hairspray and Leon DDTed her.  The new Beautiful People drew an anarchy symbol on Klein's forehead with lipstick and held her up for a selfie.  The videotron changed to reveal a name and logo for the new stable.  They're called The Allure with an anarchy symbol for the A.
(Pageot's Perspective:  The match was good, I don't know about great.  I would have liked five more minutes but I say that about every WOH match.  The hints about Klein turning face have come to fruition.  I just don't know about where we stand now.  The Stardom/NJPW approach to WOH wasn't getting them much TV time or attention so maybe a T&A approach will.  Huge LOL at Love and Sky showing up after Rayne left.  We know the former Beautiful People can be relied on for promos and character work and there's a certain amount of "worked shoot" heat knowing that Leon is dating the ROH booker and Sky is dating Bully Ray.  But if you were hoping for longer women's matches with better work rates I just don't see that happening with a stereotypical mean girls clique at the top.)
-Caprice Coleman joined the commentary table.
-Mega Ran was introduced to perform his original song "Going To The Garden."  Bully Ray interrupted again.  The fans chanted "we want tables" for the heel.  Ran begged off and said he's actually from Philly.  Ray shoved him down.  Ran got back up and got in his face but Ray whipped him with his steel chain.  Ran left and Ray mocked what happened to Robinson backstage.  He said his open challenge is still open.  Flip Gordon's music hit.  The fans actually popped.  Gordon looked more like John Cena Jr. than ever.
(4) BULLY RAY, SHANE TAYLOR, & SILAS YOUNG vs. FLIP GORDON & LIFEBLOOD (Juice Robinson & Mark Haskins) – NEW YORK CITY STREET FIGHT
Yes, Todd Sinclair was the referee.  Gordon with a superkick.  Right hands.  Half a 3D from Ray.  He found a table and slid it into the ring.  Gordon with another kick.  Gordon found a kendo stick.  Silas Young and Shane Taylor hit the ring and stomped on Gordon.  They lay Gordon on the table.  Ray looked for a kendo shot but the lights went out and Lifeblood's music hit.  Robinson (attacked earlier tonight) and Mark Haskins (attacked backstage on Sunday at Road To G1 Supercard: Baltimore).  They had a dumpster on wheels full of weapons and Robinson asked Sinclair to make this three on three.
Haskins pulled the table away to avoid Ray powerbombing Gordon through it.  Robinson and Ray threw hands.  Robinson came out on top but Young hit him with a chair across the back.  Milwaukee Plunge onto a chair on Robinson's chest.  Haskins with a fireman's driver to Young.  Taylor took out Haskins.  Gordon and Haskins dumped Taylor to the floor.  Stereo suicide dives from Haskins and Gordon.  Ray with a kendo stick to the babyfaces.  Taylor and Young grabbed two as well.  Gordon stood there and let them hit him.  Gordon was sliced up across the back.  The six men faced off with sticks.  Young dispatched.  Taylor dispatched.  Ray high-tailed it.  Robinson grabbed him and dragged him back to the ring.  Ray begged off. Low blows.  Kinder Surprise to Ray holding a trash can lid.  Gordon springboarded into a garbage can from Taylor.  The heels brought a table back into the ring.  Bully Bomb to Gordon through a table.  Ray crotched on the ring post by Lifeblood.  Haskins with a double stomp onto Young on two chairs.  Taylor with Greetings From 216 to Haskins.  Taylor slid a skid into the ring.  It ended up propped in the corner and Robinson hit a cannonball on Taylor through the pallet.  Haskins hit Whassup? on Ray.  Spinebuster from Robinson.  450 from Gordon to Ray.
WINNERS: Gordon & Lifeblood in 14:52.
(Pageot's Perspective:  This was fine.  I don't know if it was necessary on this show or what it really accomplished and I feel like it takes away from the expected weapons and brawling in the world title match later but it was mostly harmless.)
(5) TAIJI ISHIMORI vs. DRAGON LEE vs. BANDIDO – IWGP JUNIOR HEAVYWEIGHT CHAMPIONSHIP
(Pageot's Perspective:  Until this point I had been using Google Chrome to cast Honor Club from my laptop to my TV as I do with most ROH events but the feed kept crashing and glitching, causing me to fall further and further behind.  I thought it might be an issue on my wi-fi's end but I switched over to the Fite app on my phone here instead and the stream was flawless so it appears the issue was with Honor Club.  The only issue with Fite is an inability to rewind or pause.  As such I missed a half hour or so including the entirety of the junior heavyweight match.  Apologies to the luchadors.  I'll try to fill in whatever I missed later on once the show is over.)
-Back live PCO sat in an electric chair on stage, being electrocuted by Destro.  He powered up and ran down to the ring to join Brody King.  The other three teams were already waiting and the bell rang.
(6) VILLAIN ENTERPRISES (PCO & Brody King w/Destro) vs. GUERRILLAS OF DESTINY (Tama Tonga & Tanga Loa w/Gedo) vs. THE BRISCOES (Jay Briscoe & Mark Briscoe) vs. LOS INGOBERNABLES DE JAPÓN (Evil & Sanada) – ROH WORLD TAG TEAM CHAMPIONSHIP & IWGP TAG TEAM CHAMPIONSHIP
Not sure if this is an official tornado tag match or not but the first five minutes were just people flying in and out and all over the place.  Sanada distracted the referee as Evil clocked Tonga with a chair.  Jay Driller and froggy-bow to Sanada but PCO broke it up.  VE took out Mark.  Gonzo Bomb from King.  Top rope moonsault from PCO.  Loa broke it up.  G.O.D. powerbombed PCO over the ropes and into a straight back bump on the floor.  PCO sat right up.  King took out G.O.D.  Cutter from Tonga.  Gedo cracked King with a kendo stick.  Super powerbomb to King from G.O.D.
WINNERS: Guerrillas Of Destiny in 9:48 to retain the IWGP tag titles and capture the ROH tag titles.
-Toru Yano appeared on stage with the IWGP tag titles.  He hijacked them and left.  Cabana teased Yano needing a tag partner.
(Pageot's Perspective:  The match was a mess, as you'd expect.  Just eight men doing ten minutes of high spots.  I'm not saying that's a bad thing, but it definitely was what it was.  I don't remember L.I.J. doing anything at all.  Guerrillas as ROH tag champions is one of the first truly interesting developments tonight for ROH going forward.  It shakes up that division a lot and leaves lots of questions, even if they do just end up dropping the belts again on the May ROH/NJPW Global Wars tour.)
-Taka Michinoku accompanied Sabre and welcomed us to Zack Sabre time.  Anyone, anywhere, any time all they can do is just tap out.  He announced Sabre as the winner.  Sabre pie-faced Tanahashi.
(7) ZACK SABRE JR. (w/Taka Michinoku) vs. HIROSHI TANAHASHI – RPW BRITISH HEAVYWEIGHT CHAMPIONSHIP
The match was much more Tanahashi's speed and style in the first half than Sabre's.  By 7:00 the ace was standing tall.  They traded abdominal stretches.  Dragonscrew leg whip on Sabre in the ropes.  Texas cloverleaf to Sabre.  Sabre countered into a choke.  Back into the cloverleaf.  Slingblade.  Sabre with an arrogant pin.  He and Michinoku began to get cocky.  Tanahashi avoided a Michinoku Driver and did the same bridging pin Sabre just did.  Series of neckbreakers from Tanahashi.  Slingblade.  Sabre blocked a dragon suplex into another submission.  Tanahashi was forced to submit.
WINNER: Zack Sabre Jr. in 15:15 to retain the RPW British heavyweight title.
(Pageot's Perspective:  Good match.  Sabre was so smarmy that I thought he was due for getting his comeuppance here but I guess that's just his character in general.  I know the length of the show is beginning to come into play for me.  We're past the three and a half hour mark after I consumed six hours of wrestling yesterday.  We still have three more matches to go.)
(8) TETSUYA NAITO vs. KOTA IBUSHI – IWGP INTERCONTINENTAL CHAMPIONSHIP
Naito whipped Ibushi into the laps of the front row fans at 4:30.  Ibushi with a dropkick at 6:30.  Both men were down to dueling chants.  Standing moonsault from Ibushi.  Naito with a single-leg dropkick.  Inverted DDT onto Naito's knee.  Dropkick to the spine of a seated Ibushi.  They fought on the apron.  Ibushi with a hurricanrana to Naito off the apron to the floor.  Springboard double-stomp.  Tornado DDT to Ibushi.  Top rope hurricanrana.  Gloria.  Ibushi kicked out.  Enziguiri from Naito.  Forearm from Ibushi.  Ibushi with a deadlift German suplex from the second rope.  Ibushi dropped his kneepad.  Straitjacket German suplex.  Naito kicked out but Ibushi held on.  They traded forearms at 18:00.  Naito spat on Ibushi and kicked him in the face.  Ibushi with a huge chop that rattled Naito.  Palm strikes.  Poisonrana from Naito. Destino!  Ibushi kicked out at 2.95.  Ibushi blocked a second Destino and connected with a kick to the head.  Shinsuke Nakamura's Bomaye connected but Naito kicked out.  Powerbomb.  Kamigoye.
WINNER: Kota Ibushi in 20:53 to capture the IWGP intercontinental title.
(Pageot's Perspective:  Great match.  I don't follow NJPW regularly and I'm exhausted and feeling very burnt out on wrestling right now but even I was hooked by the halfway point and on the edge of my seat by the end.  As someone who doesn't see Ibushi wrestle all that often, it's nice to be reminded how surreal he is.  Half the time he seems to be gliding through the air like gravity was turned off for half a second.)
-Nick Aldis joined commentary for the ROH main event.  His friend and Crockett Cup opponent Marty Scurll was out first.  Matt Taven wore a crown and posed on a ladder in the aisle.  Jay Lethal stormed out last, fired up with the ROH world title around his waist.
(9) JAY LETHAL vs. MATT TAVEN vs. ROH WORLD SIX-MAN TAG TEAM CHAMPION "THE VILLAIN" MARTY SCURLL – LADDER MATCH FOR THE ROH WORLD CHAMPIONSHIP
Lethal brought out some steel chairs within the first two minutes. Scurll with a tornado DDT off the apron to Taven.  Scurll lay two ladders in the opposing corners of the ring and threw Taven onto them.  Lethal returned to toss Scurll  onto them.  He dropped a ladder onto Scurll and tossed another over the ropes onto Taven at ringside.  Lethal propped a ladder horizontally between the ropes in a corner. Scurll hung Lethal upside down in the corner with his head between ladder rungs and cracked the ladder with chair shots.  Scurll set up a ladder to climb and stomped Taven back to ringside.  Scurll grabbed his umbrella, thinking to use it to pull the title belt down.  Taven superkicked Scurll.  He started to climb but Lethal pulled him off and ran him face-first into the ladder.  Scurll chopped Lethal.  Lethal was left seated with a ladder around his head.  Just The Tip (of the knee) from Taven to the ladder.  Scurll  clotheslined Taven to the floor.  Superkick off the apron.  Scurll started to climb.  Lethal pulled him down and wrapped a figure four around the ladder.  Taven looked to steal it but Lethal tossed him out.  Lethal with a cutter to Scurll on the apron.  Taven with a running powerbomb to Lethal, off the apron and onto a ladder propped across the aisle.  Scurll looked to climb again but the ladder was unstable.  Taven returned.  Tiger feint kick to Taven.  Scurll milked it, taking his time to call for the chicken-wing.  Taven with a kick to the gut and a DDT.  "Fuck you, Taven" chant from the crowd.  Rolling neckbreaker from Taven to Scurll onto a ladder.  Taven climbed a ladder in the corner.  Scurll met him up top.  Superplex to Taven off the top of the ladder.
Taven and Scurll were down in the ring at 15:00 with Lethal still out cold in the aisle.  Lethal returned, only to take an umbrella to the back from Scurll.  Scurll turned a Lethal Injection attempt into a chicken-wing but Lethal ran him back-first into a ladder to break it.  Lethal set up a ladder and started to climb.  He had his fingers on the gold but Taven stopped him.  Lethal punched him off and reached for the gold.  Scurll grabbed him from the other side and locked on the chicken-wing at the top of the ladder.  Lethal fell off.  Taven climbed for Scurll.  Taven reached for the belt.  Scurll cracked his fingers on both hands.  Lethal bashed Scurll in the knee with his own umbrella.  Scurll  fell off.  Taven had the chance to grab the title but his hurt fingers left him unable to hold on and he too fell off to "you deserve it" chants.  Lethal Combination to Taven into the ladder.
Lethal charged at Scurll with a ladder but Scurll moved at 20:00.  Lethal dumped to the floor.  Scurll wound up with two ladders in a giant X.  Taven was dropped chest-first across the crotch of the X.  Lethal Injection to Scurll!  Lethal dumped the X over the top rope and it flipped over on the floor, with the end of one ladder going over the guardrail into the crowd.  It may have taken out a fan in the front row.  Referees immediately ran over.  "That's a lawsuit" chant.  Scurll with a brainbuster to Lethal on the floor.  Scurll set up a table and looked to piledrive Lethal off the apron and through it but Taven speared Scurll through the ropes and the table instead.  Lethal set up a second table and clubbed Taven onto it.  He set up an extra tall ladder at ringside next to the table at 25:00.
Lethal climbed to the top for Hail To The King on Taven through the table.  He connected.  Scurll and Lethal started to climb mid-ring.  Taven slid a purple ladder into the ring that was a good four or five feet taller than the one Scurll and Lethal were fighting on.  Taven started to climb his real world ladder but Lethal punched him off.  Scurll hit Lethal with the regular silver ladder.  He inserted his ladder as a bridge between the ropes and the purple ladder.  Lethal did the same on the other side.  Taven with a chair to Lethal's back.  Scurll yanked off by his ankle.  Taven started to climb to loud boos.  Lethal tried to stop him.  They fought at the top.  Taven swung the belt into Lethal's face and the champ fell backwards into a back bump onto his bridge ladder.  Taven grabbed the ROH world title and yanked it down with a shit-eating grin on his face.
WINNER: Matt Taven in 29:32 to capture the ROH world title.
-TK O'Ryan and Vinny Marseglia came out to celebrate.  Lethal and Scurll were shown lying among the wreckage at ringside.
(Pageot's Perspective:  Very good ladder match with some innovative spots, albeit one that may have endangered a fan.  Taven winning was the right call as I outlined in my PPV primer earlier today.  It's been a while since we've had a true full-fledged heel at the top of ROH and that ought to make things interesting going forward.  Lethal and Scurll can have rematches and people like Juice Robinson and Jeff Cobb are waiting in the wings.  Meanwhile Scurll can focus on Villain Enterprises until his time in ROH comes to a close and Lethal and Jonathan Gresham will hopefully make a serious foray into the tag division.  Like Kelly Klein Taven has worked hard to earn his way into holding the championship gold and is more than deserving.  His makeover the past six months in particular has been remarkable.)
(10) "SWITCHBLADE" JAY WHITE (w/Gedo) vs. "THE RAINMAKER" KAZUCHIKA OKADA – IWGP HEAVYWEIGHT CHAMPIONSHIP
The bell rang at 11:24 EST, over five hours into the show, but you wouldn't know it by the crowd.  Loud "Okada" chant from the 20,000 people in attendance.  Gedo provided a distraction early on.  Okada kicked White into the crowd at 5:00.  White ran him back-first into the ring post.  Catapult sends Okada throat-first into the bottom rope.  DDT.  Muta lock.  Okada fired up at 10:45.  Running back elbow.  Okada whipped White into the guardrail.  Gedo prevented another draping DDT so Okada tossed him into the crowd too.  Running crossbody over the guardrail takes out White and Gedo among the fans.  Snap saito suplex from White back in the ring.  Running uppercut.  Twisting brainbuster.  Neckbreaker from Okada.  Okada called for the Rainmaker but White fell to the mat to prevent it.
Ura nage from White at 20:16.  He looked for the Kiwi Crusher but Okada blocked.  White dumped Okada over the top rope to the floor with another saito suplex.  Kiwi Crusher but Okada got his shoulder up.  Tombstone piledriver from Okada.  They traded strikes.  White avoided a dropkick.  Chops from White.  Dropkick from Okada.  Gedo jumped onto the apron again and got punched off.  White blocked a Rainmaker attempt into a sleeper suplex at 25:00.  Arm drag, uppercut, dropkick to the back of White's head.  Spinning Rainmaker connects.  Rainmaker!  White got his shoulder up at 2.8 to the confusion and astonishment of the crowd, Okada, and Kelly on commentary.  He looked for another tombstone but White caught him with a Blade Runner.  White was too exhausted to make the cover, though.  They traded blows from their knees.  White's strikes were empty while Okada's were strong.  Gedo jumped into the ring, the ref held him back, and White hit a low blow.
Blade Runner countered into a German suplex at 30:00.  Okada held on.  Rainmaker blocked into a backslide into a Rainmaker into a backslide into a dropkick that put White down.  Clothesline.  Okada dragged White to his feet by the wrist for a Rainmaker!  But we want one more.  Rainmak- no!  Blocked by White.  Tombstone from Okada.  Rainmakeeerrrr!!
WINNER: Kazuchika Okada in 31:49 to capture the IWGP heavyweight title.
-The commentators signed off at 11:58 EST.
(Pageot's Perspective: Another terrific match.  One thing these two main events have really shown is how powerful it is when you have a face the fans love and are desperate to see win against a heel the fans hate and for whom the prospect of them winning is horrific.
Overall this was a really great show with only a couple minor missteps or questionable decisions here and there.  This truly ended up feeling like a cross between Wrestle Kingdom and Supercard Of Honor.  It's just a shame the build was so lackluster, especially on ROH's behalf.  It didn't feel like there was nearly as much buzz going in as there should have been.  If this becomes an annual occurrence, whether at MSG or somewhere else, I'd really like to see them treat it similar to how WWE treats WrestleMania and begin building months out with the marquee matches announced at least six weeks ahead of time.  How ROH follows up on this is obviously of vested interest to me.  I want nothing more than for the promotion to continue to grow and excel and top themselves but too often their storytelling is non-existent or little more than a vague sketch of an idea.  The talent is undeniably there.  It's time for the booking to step up.)
---
Find Harley on Twitter @talkinghonor and listen to he and Emily Fear talk all things ROH every Wednesday on the PWTorch Dailycast "Talking Honor."