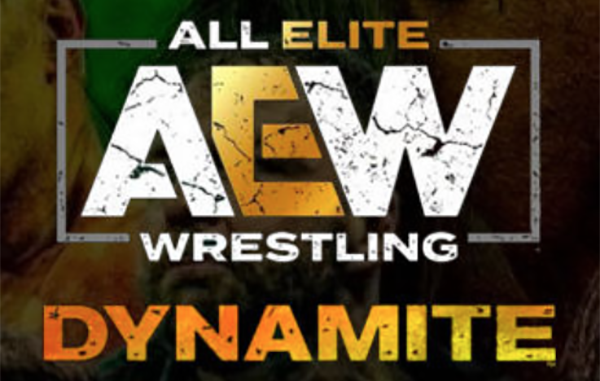 ---
SPOTLIGHTED PODCAST ALERT (YOUR ARTICLE BEGINS A FEW INCHES DOWN)...
---
KELLER'S AEW DYNAMITE REPORT
APRIL 13, 2022
NEW ORLEANS, LA. AT UNO LAKEFRONT ARENA
AIRED LIVE ON TBS
Commentators: Jim Ross, Tony Schiavone, Excalibur

Ring Announcer: Justin Roberts
---
[HOUR ONE]
-The Dynamite opening theme aired.
-As Jim Ross introduced the show and a camera panned the crowd, C.M. Punk's ring entrance began. Tony Schiavone talked about being in New Orleans after having to delay it due to the pandemic. Ross talked about his history in the city, a core part of the Mid-South Wrestling territory where he first gained fame as a top tier announcer. He referenced Junkyard Dog. When Punk entered the ring, the lights went out before Penta's entrance began.
(1) C.M. PUNK vs. PENTA OSCURO (w/Alex Abrahantes)
Schiavone said, "What a great opening match, man." A dueling chant broke out early. Punk and Penta engaged in an intense rapid-fire chop exchange that got a rise out of the crowd. A loud "AEW" chant broke out. Excalibur said fans in New Orleans had waited so long to see AEW in person. Excalibur hyped the scheduled matches with top billing going to Samoa Joe vs. Minoru Suzuki. Penta countered a Go To Sleep attempt into an anklelock at 3:00. Punk rolled out of it and sent Penta face-first into the top turnbuckle. Punk avoided a slidekick from Penta, then quickly dove through the ropes and speared Penta. They cut to a split-screen break. [c/ss]
Punk grounded Penta during the break. Penta took over and worked over Punk's leg. Excalibur said Punk tweaked his knee after the landing at ringside before the break. A "C.M. Punk!" chant started as Penta stayed in control. Penta went for a whip of Punk into the opposite corner, but it seemed Punk thought he was going to reverse Penta and, when Penta didn't go along with it, Punk just fell to the ground. It worked out since Punk sold it as a knee issue; Penta didn't skip a beat and just charged at him with a running boot to the face. Punk caught Penta with a huracanrana off the top rope and then hit a running high knee followed by another GTS attempt. Penta elbowed out of it. Punk maneuvered himself on top of Penta for an Anaconda Vice mid-ring. Penta crawled over to the bottom rope to force a break.
They exchanged punches on the ring apron. Penta set up a Fear Factor on the ring apron, but Punk blocked it and set up a piledriver. Penta slipped out. Punk round-kicked him in the head instead. Punk landed a springboard lariat. He signaled for a GTS. Fans chanted "Go To Sleep!" Punk went for it, but Penta blocked it. He landed an enzuigiri. They leveraged each others' shoulders down for two counts. Punk caught Penta springboarding at him and delivered a GTS for the win.
WINNER: Punk in 14:00.
(Keller's Anaysis: Really good match. A strong win for Punk. He continues to get his legs under him and show more fire and natural passion the longer he's back. A good win for him headed into an AEW World Title match.)
-They went to Chris Jericho, Daniel Garcia, and Jake Hager getting off a private jet. A sedan drove near them and Eddie Kingston, Santana, and Ortiz yelled that they'd see them tonight. The car drove off and 2point0 were down on the ground saying they stole their shoes.
(2)  JURASSIC EXPRESS (Jungle Boy & Luchasaurus) vs. RED DRAGON (Kyle O'Reilly & Bobby Fish) – AEW Tag Team Title match
O'Reilly and Fish came out first. Then JB and Luchasaurus. Christian came out onto the stage with them, then returned to the back. A couple minutes in, Fish and O'Reilly controlled Luchasaurus. Luchasaurus hot-tagged in JB who slammed both opponents. Fish caught him with a hard knee to the chest. JB ducked a charging Fish and then dove through the ropes and speared O'Reilly. He did the same to Fish. Then he set up a third dive onto both, but they ran away. Luchasaurus then surprised them with a flip dive. Fans chanted "AEW" again. As soon as Fish stood, JB flip dove over the top rope onto him. Fish and O'Reilly took over with a double-team before the break. They cut to a split-screen break. [c/ss]
After the break, JB hot-tagged in Luchasaurus. O'Reilly mistakenly kicked Fish in the face when Luchasaurus moved. Luchasaurus then kipped up and hook-kicked Fish in the head. He clotheslined both of them at once. Then he chokeslammed both. He landed a standing moonsault for a near fall on O'Reilly. Fish and O'Reilly took over again briefly. JB tagged in and soon scored a near fall after a top rope elbowdrop combo with a Luchasaurus side slam. Fans chanted "This is awesome!"
Fish and O'Reilly double-teamed JB with a nice sequence leading to a near fall. O'Reilly shifted into a cross armbreaker on JB, but JB got his foot on the bottom rope to force a break. Excalibur noted that Fish & O'Reilly were former three-time ROH Tag Team Champions and held the titles for nearly two years combined. Luchasaurus intervened on a double-team by Fish and O'Reilly in the corner, kicking Fish off the ring apron. They went into a sequence where O'Reilly had Luchasaurus in a hanging front chancery while Fish gave JB a top rope Falcon Arrow for a near fall. Fans cheered.
Fish and Luchasaurus stood and exchanged strikes mid-ring. Four-way action broke out. JB caught O'Reilly with a flying DDT. Luchasaurus then hook-kicked Fish. JB then landed a powerbomb on Fish as Luchasaurus flung him into the air for the win.
WINNERS: Jungle Boy & Luchasaurus in 14:00 to retain the AEW Tag Team Titles.
(Keller's Analysis: Good tag match. They fit a lot into the 14 minutes in terms of telling a story and making a lot of innovative looking moves and sequences mean something in telling that story.)
-As Luchasaurus and JB celebrated, O'Reilly attacked them with a chair. He helped Fish get up. O'Reilly threw a fit as he retreated up the ramp, yelling that it was b.s. Ross said they should be fined for that. Out came FTR onto the stage. They were wearing their "Six Star FTR" t-shirts. They got into a verbal spat with Fish and O'Reilly on the ramp.
-Clips aired of the Jon Moxley vs. Wheeler Yuta match on last week's Rampage that left Yuta covered in blood, but also accepted into the Blackpool Combat Club afterwards.
-Schiavone interviewed William Regal, Bryan Danielson, Jon Moxley, and Yuta backstage. Danielson said they're fired up about their six-man tag on Rampage. He said they're fighting the 24-0 Gunn Club. Moxley said they're a bunch of goofs, "exactly what we need less of in AEW." He said they'll bust up their faces. Yuta said, "On Friday, the real work begins."
-Excalibur hyped Samoa Joe challenging Suzuki for the ROH TV Title. He also hyped other Dynamite matches coming up. Ross hyped that MJF vs. Sean Dean was up next. [c]
-Schiavone interviewed Toni Storm and Jamie Hayter. He said the fans have spoken. He said they don't know the brackets yet, but Tony Khan has signed a Storm vs. Hayter match for the first round. Hayter said she wants this match more than the fans do. She said this will be her crowning moment in AEW. She said she'll break Storm's face. Storm just sneered at her, then smiled and turned and left.
(3) MJF (w/Shawn Spears) vs. "CAPTAIN" SHAWN DEAN
Schiavone said he's been around a lot of "bad ones," but MJF is the worst of them all. MJF's ring entrance took place. Dean was already in the ring. Excalibur noted that MJF hired extra security all over the arena. Fans chanted "Wardlow!" MJF's zipper on his ring jacket got stuck. The announcers laughed and talked about how embarrassing it was. Spears stood on the ring apron and tried to help. MJF yelled, "Just do it." Then he yelled at the fans to shut up. Dean moved toward Spears, then MJF ran around and attacked him from behind. MJF then easily unzipped his jacket, revealing it was a con all along. As MJF gloated early, they showed three security guys were laid out in the back. One of them was shirtless, and Schiavone wondered what that was about. MJF was thrown off by that. MJF beat up Dean at ringside as fans chanted, "We Want Wardlow!"
As MJF gloated while leaning against the ringside security barricade, Wardlow showed up behind him dressed as AEW security. MJF turned around and then ran up the ramp. Wardlow pursued him until Spears hit him from behind with a chair. Wardlow turned and tore off his shirt. He set up a powerbomb. A parade of security guys charged out and went after him. Wardlow easily fended them off including powerbombing one of them onto the ring apron. Wardlow was eventually held back. MJF said from the stage that he will triple whatever the referee's pay is if he doesn't count to ten. The ref counted to ten anyway, and that gave Dean a countout win. Excalibur said it's the first-ever countout victory on Dynamite. MJF was nearly in tears as he sold the idea of having a loss on his record.
WINNER: Dean via countout in 5:00.
-MJF entered the ring and shoved the ref. Spears held him back. They cut backstage to Wardlow who was breaking free from security guys. He yelled at the camera that he won't stop until MJF frees him of his personal services contract.
(Keller's Analysis: Good segment. This is a really clever and different way to get Wardlow over. It was a little cheesy that Wardlow just happened to be a few feet away from where MJF just happened to be leaning with his back turned against the barricade, but it wasn't as phony as the fake popcorn stand in the concourse a couple weeks ago.)
-A black and white vignette aired on Darby who was skateboarding down a road with an occasional car driving by. He then knocked over a frame of a coffin and said he'll put a nail in this whole thing. He challenged Andrade to a Coffin Match. [c]
-A vignette aired with Aleister Black at night outdoors near a campfire. He talked about the "main difference" between him and Darby. He talked graphically about how if you opened his throat, you'd see a dark abyss of razor blades. He said Darby has a fanbase that adores him because he allowed him that. He said what the House gives, the House can take. He said he wants Darby to be afraid of the shadows.
(4) JERICHO APPRECIATION SOCIETY (Chris Jericho & Daniel Garcia & Jake Hager) vs. EDDIE KINGSTON & SANTANA & ORTIZ
Ross said JAS might be the best six-man unit in all of pro wrestling. Fans sang Jericho's theme song as he made his way to the ring. They cut to fans enthusiastically singing along. Santana, Ortiz, and Kingston showed off 2point0's shoes. Jericho gave the crowd the middle finger and then redirected it to Santana at the bell. Jericho and Santana exchanged chops mid-ring. The crowd didn't quite as bonkers as they did earlier for that spot at the start of the Punk-Penta match.
[HOUR TWO]
A minute into the match, all six were fighting at ringside. Back in the ring, Jericho took a beating from all three opponents. Jericho eventually too over against Ortiz. JAS isolated him in their corner. Jericho stood on Ortiz's chest and flexed, getting a two count. Kingston entered and shoved Jericho aside as they cut to a split-screen break. [c/ss]
Ortiz eventually battled back and hot-tagged Kingston. The crowd popped big. Santana tagged in a minute later and hit Three Amigos on Garcia. He frog splashed Garcia for a near fall. Kingston chopped away at Garcia. When Hager began to interfere, Kingston knocked him to the floor and then dove through the ropes and speared him. When Matt Bernard and Angelo Parker ran to the ring. Ortiz leaped onto them. Kingston gave Garcia an exploder suplex. Jericho hit Kingston in the back with a bat and then Garcia scored a three count.
WINNERS: Jericho & Garcia & Hager in 9:00.
-JAS attacked Kingston after the match five-on-one. Jericho gave Ortiz a Judas Effect when he entered the ring. JAS celebrated as Jericho's song played again.
-Alex Marvez interviewed MJF who was in a rage about what happened to him earlier. He said he doesn't need anyone's sympathy because that's what makes the world go 'round. "Smart" Mark Sterling read the contract MJF has with Wardlow, which says he can decide whom he wrestles. MJF said he's matching him against Butcher. Butcher walked into the picture and made a dinosaur noise into the camera.
(5) MARINA SHAFIR vs. SKY BLUE
They showed Sterling watching a monitor backstage and taking notes. Jade Cargill stood next to him, but was looking at her phone. They showed the "Baddies" section which included Keira Hogan and Red Velvet. Excalibur wondered what that meant. Ross said, "There's no reason to guess." Shafir tossed Sky around methodically. She also looked over at the Baddies section. Shafir eventually won with a triangle. She adjusted her breasts in front of the Baddies after the match, which was a strange sight on national TV.
WINNER: Shafir in 3:00.
(Keller's Analysis: That wasn't a good debut. Shafir was just boring in her attempt to seem "above it all.")
-Lexi Nair interviewed Hook earlier in the day in a gym backstage. She asked how he was doing. As he was about to talk, Sterling and Tony Nese interrupted. Nese said they should be interviewing someone who actually worked for their success. Hook stood. Sterling and Nese left. Danhausen stood behind Hook and made a noise. Hook blindly threw a 12 pound ball over his head and knocked Danhausen over and into a wall. Hook then walked away. [c]
-A backstage promo aired with Dan Lambert, Scorpio Sky, and Ethan Page. Ethan called Tay Conti the "future ex-girlfriend" of Sammy Guevara. He said Sammy begged for a TNT Title match and when that happens, it will be the final time they get booed out of a building. Lambert called them the most obnoxious couple in the history of AEW, but did so in a way that implied that Cody & Brandi Rhodes used to be. He asked what happened to the mixed tag match that Conti wanted so badly. He said it'll be yet another Saturday night she goes unsatisfied. Sky said at Battle of the Belts, the only thing getting bigger in Texas is his winning streak.
(6) RICKY STARKS & POWERHOUSE HOBBS vs. KEITH LEE & SWERVE STRICKLAND
Starks got a big pop coming out in front of his hometown fans. Starks looked genuinely emotional as he stood on the ropes and saluted the fans. Excalibur said Starks and his family were displaced from their home due to Hurricane Katrina. Swerve came out to his music followed by Lee to his music. Hobbs opened against Swerve. Ross said Lee should have taken off his ring jacket before the bell, not slowly while playing to the crowd as Swerve began the match. He said it also might be a sign that "Keith Lee has an abundance of confidence." Fans sang "Bask in his glory." Starks tagged in a minute in and got a nice pop. Schiavone noted the pop. Starks strutted on the top rope as he did the Spoiler walk before leaping down with a forearm to Strickland's arm. Swerve made a comeback and tagged in Lee. Lee and Swerve double-teamed Starks. Lee double-chopped Starks's chest. Fans loudly chanted "Ricky! Ricky!" Lee threw both Hobbs and Starks to the floor. Swerve then leaped off the top rope and pushed off of Lee's chest and flip dove onto both Hobbs and Starks. Swerve danced up the ramp as they cut to a split-screen break. [c/ss]
Starks and Hobbs took over against Swerve during the break. Back from the break, Lee fended off both Hobbs and Starks. Lee leapfrogged Hobbs and then threw Starks into Hobbs. Lee tagged in Starks. They double-teamed Starks for a near fall. Spears caught Swerve with a spear out of mid-air a minute later. He shook the ropes and showed fire, then scored a near fall on Swerve after a flipping DDT. Lee tagged in and gave Starks a pounce out of mid-air. Hobbs broke up the cover and then went chest-to-chest with Lee. The ref separated them. Starks caught Lee with an enzuigiri. Starks tagged in Hobbs. Taz then walked out toward the ring as Starks tried a gut-wrench suplex. Lee reversed it. Fans chanted "ECW!" when Taz arrived at ringside. Hobbs knocked Swerve off the top rope. Starks head-scissored Lee over. Hobbs tried to ram Swerve into the ringpost, but Swerve broke free and shoved Hobbs into the post. Starks leaped off the ropes with a spear of Lee. Swerve landed on Starks with a 450 splash to break up his cover. Hobbs splashed Swerve in the corner. Fans chanted, "This is awesome!" Lee back-elbowed Hobbs. Taz tripped Lee running the ropes. Hobbs then powerslammed Lee for the win. Taz entered the ring and fist-bumped Starks and Hobbs. Ross said the old Taz might be reemerging.
WINNERS: Hobbs & Starks in 13:00.
(Keller's Analysis: Interesting crowd reaction as they really wanted to cheer Starks, but they also liked Lee and Swerve. The match told a good story and was well-executed. It could be a match that elevates both Starks and Hobbs.)
-Excalibur hyped Rampage: Hangman Page vs. Adam Cole, Blackpool Combat Club vs. The Gunn Club, Ruby Soho vs. Robyn Renegade. Then Battle of the Belts on TBS on Saturday night features Scorpio Sky defending the TNT Title against Guevera, Jonathan Gresham defends the ROH Title against Dalton Castle, and Thunder Rosa vs. Nyla Rose for the TBS Title.
-Schiavone interviewed Rosa backstage. Nyla and Vickie Guererro interrupted her interview. Nyla held a cake. Vickie said they were there to celebrate the world's shortest title reign. Rosa asked if they think she's stupid. She then shoved the cake into Nyla's face. Nyla elbowed toward Rosa, but Rosa moved and Nyla, blinded by cake, elbowed Vickie. Nyla then beat up Rosa against a storage crate.
-Excalibur plugged next week's Dynamite: Butcher vs. Wardlow and the Dynamite debut of Hook plus Owen Hart Tournament Matches with Britt Baker vs. Danielle Kamela and Jungle Boy vs. Kyle O'Reilly, and Andrade vs. Darby. Excalibur said Tony Khan will have a "massive announcement" next week, too. [c]
-A video package aired hyping Hangman vs. Cole on Friday.
(Keller's Analysis: Really well done video package. This match should have been talked about more during the rest of the show, though.)
(7) MINORU SUZUKI vs. SAMOA JOE – ROH World TV Champion

Joe marched out first as fans chanted, "Joe! Joe!" Bobby Cruz, ROH's ring announcer, handled this match. They showed Jay Lethal and Sonjay Dutt cheering at ringside. As Suzuki came out, Ross said he has a cult following. Suzuki put his boot on the bottom rope to force a break. Suzuki took over again including a running kick to Joe's chest for a two count. Fans chanted "Joe is gonna kill you!" Suzuki set up a Gotch-style piledriver, but shifted to chops instead. Joe fired back. Suzuki applied a sleeper, but Joe lifted and side-slammed Suzuki to break free. They showed Lethal and Dutt acting suspiciously enthusiastic at ringside. Suzuki dropkicked Joe and let out a big yell. He then applied a rear naked choke. He set up the piledriver again. Joe powered out and then lifted Suzuki onto his shoulders and delivered a Muscle Buster for the win. Ross called it "one hell of a match."
WINNER: Joe in 12:00 to capture the ROH TV Title.
[OVERRUN]
-As Joe celebrated, Lethal and Dutt stood at ringside. Lethal said they have a special present they know Joe will appreciate. Dutt removed the lid. Lethal then gave Joe a middle finger through a hole in the box. The lights went dark. When they came back on, Satnam Singh was standing behind Joe. Schiavone said he's a basketball player and has been working out under the guidance of Dutt lately at the AEW training facility. He beat up Joe. Lethal and Dutt entered the ring. Joe began choking Lethal. Singh grabbed Joe from behind. Dutt and Lethal kicked Joe as Singh squeezed Joe's head. Lethal then gave Joe a Lethal Injection. Excalibur called it a despicable scene. He shifted to a final plug for Hangman vs. Cole.
(Keller's Analysis: Yea, another lights out angle. AEW hasn't really marketed "larger than life" green wrestlers in the way WWE has. I'm still not a fan of ROH's titles being a presence in AEW long-term, or really even for the short-term. It's watering down everything else in AEW, and it's not as if ROH was a major national brand anywhere near the level of WCW. If it's just to give a boost to the brand before splitting it off entirely, that might justify this in the mean time.)
FINAL THOUGHTS: The AEW World Title match on Friday deserved much more attention than it got. Too often AEW presents everything with a small standard deviation of importance. The show was a blast to watch start to finish, with the exception of whatever it was Shafir was going for in her match, but this isn't just about "good shows" and "AEW" chants, it's about building stars and popping big ratings, and the Hangman-Cole match should have felt like the biggest thing by far in AEW since the last PPV, and it just didn't