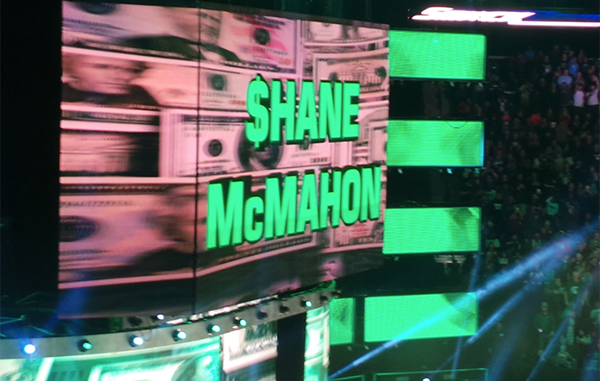 ---
SPOTLIGHTED PODCAST ALERT (YOUR ARTICLE BEGINS A FEW INCHES DOWN)...
---
The following report was originally published 20 years ago this week here at PWTorch.com…
---
WWE Smackdown house show
September 26, 2003
Fargo, N.D.
Report by Andy Soucek of Litchfield, Minn., PWTorch.com correspondent
The building was maybe a fourth full, but a pretty energetic crowd.
(1) Spike Dudley defeated Rico. The match was pretty back and forth, with Rico pulling some stalling techniques, and failed interference by Jackie Gayda. The match went to a 10 minute time limit, and Rico left. Spike Dudley called him back out, and the ref restarted the match. It went a couple more minutes until Spike jumped off the top rope on him, landing feet first, and then pinning him cleanly.
(2) Test (w/ Stacy Keibler) defeated Tommy Dreamer. Test wouldn't allow Stacy to enter the ring with him, which lead to some healthy boos from the crowd. Test ended up missing a big boot, and ended up hurting his groin on the ring ropes. This lead Stacy to shake the ropes, hurting him even more. The match ended with Dreamer attempting a double axe handle off the rope, and Test countering with the big boot.
(3) Rodney Mack & Mark Henry (w/ Theodore Long) defeated Hurricane and S.H.I.T. Not a very long match, or very good either. Long did some pre mic work, that had some people in the crowd laughing. However, this match was no laughing matter as it wasn't very good. Henry and co. pick up the win with his new finisher on the Hurricane.
(4) Randy Orton defeated Lance Storm. Storm came to the ring to zero reaction, while Randy came out to a pretty decent pop. The match consisted mostly of Storm applying rest holds to Orton, and working over his legs and arm. Finish came when Orton reversed Storm into an exposed turnbuckle, and finished him with the RKO.
(5) Dudley Boyz defeated La Resistance (Dupree and Conway) in a tables match. Dudley Boyz came out to a great ovation, and Resistance to some decent heat. There was a lot of comedy in the match, and the crowd was really into it. Finish came when Bubba powerbombed one of the Frenchmen through a table. Afterwards, Bubba took a piece of the table and they gave it to a young boy and posed with him. It was very touching.
Intermission. They try to shoot off some t-shirts into the crowd, but the gun only shot it like 10 feet so Fink, and some guy started throwing them to the crowd.
(6) Christian defeated RVD. RVD controlled the offense for the majority of the match, but came up short when Christian rolled him up and used the ropes for leverage. After the match Christian attacked RVD, but was quickly beat down, and then given the 5 star.
(7) Lita & Trish defeated Jacqueline & Victoria with Val Venis as special referee. The Victoria and Jackie attacked the faces at the start of the match. It was really good for a woman's match, and the crowd was solidly behind Lita and Trish. Finish came when Lita connected with the twist of fate on Victoria. Venis added nothing to the match, except post-match Lita and Trish posed, as the Big Valbolski faked a Big ValBoner.
(8) Shane McMahon defeated Kane in a street fight. As Kane made his way to the ring Shane attacks him from behind. They used garbage can lids, and a kendo stick. They brawled their way into the crowd, and made they're way back to the ring. Shane-O Mac finished off Kane with a Van Terminator.
Post match Kane did some mic work and vows to come back to Fargo.
Notes: Very disappointing show. There were ads on TV for over a month saying that Kevin Nash vs. Triple H was on the card and RVD vs. Kane in a cage was the main event. Yet neither Nash nor Triple H showed up and there was no cage. Also, on the posters outside Eric Bischoff was scheduled, as was Ric Flair. Yet neither of them showed. I still can't believe that Shane McMahon won his match. I'd say half the crowd was cheering for Kane. Dudleyz vs. Resistance was the best on the show. Worst was the ridiculous main event.
---
RECOMMENDED NEXT: Tony Khan addresses rumors that he has purchased New Japan Pro Wrestling
OR CHECK THIS OUT AT PROWRESTLING.NET: Tony's Takes: The increasing number of AEW pay-per-views, ROH titles on AEW TV, Jade Cargill joins WWE and whether others will follow, WWE television rights deals