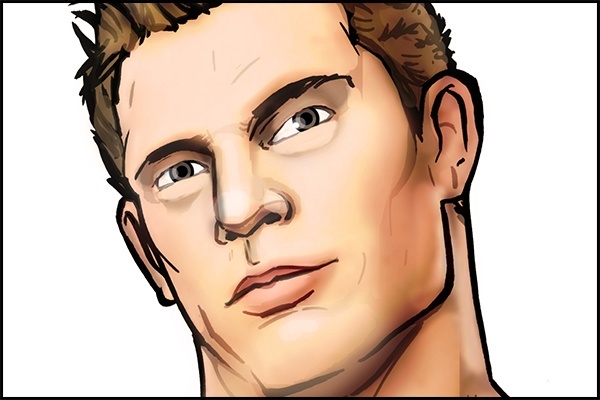 ---
SPOTLIGHTED PODCAST ALERT (YOUR ARTICLE BEGINS A FEW INCHES DOWN)...
---
The following report was originally published on PWTorch.com ten years ago this week…
---
WWE Smackdown review
September 27, 2013
Taped 9/24/13 in Milwaukee, Wisc.
Aired on SyFy
By Greg Parks, PWTorch Columnist
– WWE Open.
– Inside the arena in Milwaukee, Lilian Garcia introduced Triple H, who came to the ring. At ringside, Michael Cole and JBL were standing (JBL applauding) while Hunter made his way to the squared circle. Triple H said that a lot of ugly words have been thrown around by fans and those backstage in the last month, like "favoritism" and "abuse of power." He said some would rather blame management than accept their own shortcomings. He talked about the criticism continuing even after he and Stephanie gave the fans 11 of the fans' favorite Superstars against The Shield. He showed a clip of how the match ended. Triple H thought the angst in the locker room was settled in that match, a match that was made because it was best for business. Before he could go further, The Miz's music interrupted and he walked out.
Miz came to the ring and said he disagreed with Hunter saying he was being fair. Hunter used the opportunity to talk about Miz being one of the wrestlers he was talking about at the beginning as far as not being able to accept their own failures. Triple H said he gave Miz the opportunity against Randy Orton two weeks ago, and we saw Orton's attack on Miz before the match. "I suppose that's management's fault, huh?" said Triple H. Triple H said this past week, he needed to protect Miz from himself. Instead, he gave Miz time for Miz TV, and what happened? Another opportunity squandered, one in which Big Show knocked Miz out. We saw that too, after Show was ordered to KO Miz by Stephanie. Miz replied that he was set up by Hunter. He compared Hunter and Stephanie to playing good-cop, bad-cop. Triple H asked Miz what he called his wife on Monday. Miz repeated the phrase and said he should've switched the "w" in "witch" to a "b." Hunter said it's just Miz running his mouth when he can't back it up.
Hunter said he can understand Miz being upset after the beating he took in front of his parents. Triple H said Stephanie regrets doing what she did to Miz. Hunter offered to give Miz another opportunity. He also offered to fly Miz's parents in last-minute tonight so that they can watch Miz take on Randy Orton again. "Go get'em, tiger," said Hunter as he left the ring to his music.
– Also tonight, Dolph ZIggler vs. Dean Ambrose in a United States Championship Match.
– Backstage, Alberto Del Rio was walking. He's in action, next.
[Commercial Break]
1 – R-TRUTH vs. ALBERTO DEL RIO
No entrance for Truth. As Del Rio came to the ring, they showed Del Rio attacking Rob Van Dam after RVD's match on Monday night. Truth went after Del Rio in the corner to the point that Del Rio had to cower between the ropes to create a break. A missed shoulder charge in the corner by ADR led to a back heel kick by Truth. Suplex into a stunner by Truth for two at 1:10. Axe kick missed and Del Rio responded with superkick to a kneeling Truth for the pinfall.
WINNER: Del Rio, at 1:34. Just a match to allow the announcers to hype RVD vs. Del Rio at Battleground, while also putting Del Rio over as a credible champion.
After the match, Del Rio, bleeding from the mouth, applied a cross arm-breaker to truth. RVD charged the ring to make the save, with Ricardo Rodriguez in tow. Rodriguez retrieved a chair for Van Dam, who hit the skateboard, a running dropkick that sent the chair into the fallen Del Rio. As RVD celebrated, Vickie Guerrero and Triple H were shown watching the monitor backstage. Vickie said after this, they should make RVD vs. Del Rio extra-special. Hunter suggested a Hardcore Match, "straight out of the ECW handbook." He said it should be called a "Battleground Hardcore Rules Match." An unsuspecting RVD and Rodriguez continued to celebrate in the ring.
– The Prime Time Players were walking backstage. They came upon two production assistants and implored them to do the Millions of Dollars dance. They did it, but the Players razzed them and showed them how to do it correctly. The PA's did a little better the second time. The Players are in tag action next.
[Commercial Break]
– In the ring, Zeb Colter and The Real Americans did the truncated version of their speech. Too many people were on the Americans' bandwagon apparently, as Colter told the fans to stop mocking them and that he, Antonio Cesaro, and Jack Swagger were the only ones who could say "We the People." Usually, when heels say the fans aren't supposed to say something, it's an invitation for them to do so.
2 – THE REAL AMERICANS vs. THE PRIME TIME PLAYERS
Titus O'Neill took on both Swagger and Cesaro to start and was successful until Swagger caught him with a back elbow. Cesaro tagged in and put the boots to O'Neil. O'Neil and Swagger brawled in the heel corner. Cesaro did the giant swing to Cesaro as the camera panned in and out quickly to the point it could make those watching at home seasick. It's one thing to do that to Santino, but 22 revolutions on a guy the size of O'Neil is even more impressive. The two struggled with their equilibrium after that move until Darren Young tagged in at 2:37 of the match. The crowd didn't seem to be as into the Players as other crowds have been. Cesaro slammed Young and the match broke down when O'Neil interfered on a pin attempt. Young rolled Cesaro up for three, but Swagger had the ref distracted. Swagger made the blind tag and Young gave Cesaro his finisher. Patriot Lock by Swagger caused Young to tap.
WINNERS: The Real Americans, at 3:47. So much for the momentum the PTP had. I guess it falls in line with all the other babyfaces getting taken down a notch.
– Tonight, Miz vs. Randy Orton.
– The Wyatt Family came to the ring. Bray Wyatt is in action, for the first time on Smackdown, next.
[Commercial Break]
3 – BRAY WYATT vs. ZACK RYDER
Ryder got to be the punch-line for Cole saying that he felt bad for the poor soul who had to face Wyatt tonight. Luke Harper and Erick Rowan greeted Ryder on his way to the ring and put him into the ring. Nothing overly physical, though. Wyatt methodically took Ryder apart until Ryder hit the Rough Ryder leg-drop after the Broski Boot. A pin didn't even get one though and Wyatt put Ryder away with Sister Abigail.
WINNER: Wyatt, at 2:20. Wyatt is the money part of this group, so WWE had to get him in a TV match sooner rather than later.
– The announcers laid out as a graphic aired for Ziggler vs. Ambrose taking place tonight.
[Commercial Break]
4 – DEAN AMBROSE vs. DOLPH ZIGGLER – UNITED STATES CHAMPIONSHIP MATCH
As Ambrose and the other Shield members came to the ring, they showed Ziggler's pinfall win over Ambrose two weeks ago on Raw. Before Ziggler came down the ramp, he brought some reinforcements, in Kofi Kingston and Rob Van Dam. It's nice to see a babyface show a hint of intelligence. The match began with a fast pace and back-and-forth action. Cole once again name-dropped Billy Gunn in noting Ziggler's fameasser move was made famous by Gunn. Seth Rollins pulled Ziggler off of the apron, leading to RVD and Kingston brawling. The bell was called for here, presumably due to Rollins' interference.
WINNER: Ziggler, via DQ, at 2:02. Disappointing that we couldn't get a full-fledged match here.
Triple H came out and told referee Mike Chioda he needed to get control. Hunter restarted the match as a six-man tag. The bell rang right as they went to break.
[Commercial Break]
5 – THE SHIELD vs. DOLPH ZIGGLER & ROB VAN DAM & KOFI KINGSTON
The show returned with 3:06 of the match gone. RVD was in the ring with Rollins, and RVD gave him a spin kick in the corner. Rollins went after the taped-up arm of Van Dam. Ambrose tagged in and kept up the arm work. Van Dam knocked Ambrose down and made the tag to Ziggler. A distraction by Rollins during Ziggler's series of elbowdrops led to Ambrose taking control. Roman Reigns came in and toyed with Ziggler. Ziggler made the hot tag to Kingston at 9:16 of the match. Cross-body off the top by Kingston onto Ambrose for a pin, but everyone started interfering. It was back to Kingston and Ambrose and Kingston readied for the Trouble in Paradise. He gave the move to Reigns, who tried to come in, then rolled up Ambrose. As the ref ushered Reigns out of the ring, Rollins came in and stomped on Kingston's head, allowing Ambrose to pick up the pinfall.
WINNERS: The Shield, at 11:10. Good match. The finishing sequence really got over how on the same page each member of The Shield is.
Said finishing sequence was replayed.
– Renee Young was backstage with Big Show. She asked Show how he's been holding up over the last few weeks. He said every decision he's made lately has been has been keeping him up at night. He said he's a wreck. Almost in tears, he said he needed to do what was best for his family and that he needed the job. Triple H walked up and told Show that if he's having this hard of a time, maybe he should just walk away. He said he'd help Show find another job. Show said that's not what he meant. Hunter suggested jobs like doorman, paper boy, or airport baggage guy. Hunter said Show is "special" due to his size and he needs this job. Show towered over Hunter and brought a closed fist to Hunter's face while Hunter mocked Show's previous tears. Hunter said he's not scared of Show. Show yelled in Hunter's face then walked away. Hunter grinned.
– The Miz faces Randy Orton in tonight's main event.
[Commercial Break]
6 – CAMERON vs. A.J. LEE
Tamina Snuka, dressed all in black, accompanied A.J. to the ring. An inset interview aired where A.J. explained that she enlisted the help of the only other Diva as feared as she is, to protect her. A.J. attacked Cameron while Cameron's attention was diverted. A.J. missed a corner charge and Cameron rolled him up for two. A few clotheslines followed. A one-footed dropkick, reminiscent of Kelly Kelly, connected. Split into a pin for a near-fall. Second-rope cross-body, in which her legs connected with Lee, got two for Cameron. Cameron was tossed to ringside, right in front of Tamina. A.J. argued with Naomi, who was also at ringside, so Tamina took her out. Roll-up by Cameron for two, then a Shining Wizard by A.J. for the win.
WINNER: A.J., at 2:41. A.J. certainly held this one together.
– Paul Heyman appeared to be carrying on an animated (but not heated) conversation with Curtis Axel backstage. Heyman walked away, as he's apparently out next.
[Commercial Break]
– The exterior of the Bradley Center in Milwaukee was shown.
– WWE's newest video game, from 2K Sports, was advertised via clips from the video game.
– Paul Heyman walked onto the stage with a mic. Without saying a word, he cued up footage from Night of Champions where Ryback interfered and allowed Heyman to pin C.M. Punk. Heyman asked if the fans were really surprised that he beat Punk. He gave away one of his trade secrets: Every single time Punk faces Heyman, he's going to lose. Well, that wasn't really a secret that allowed him to win. Heyman revealed that the whole "failing scooter" schtick on Raw was a set-up for Ryback and Axel's attack. They then showed the clip from that attack. Heyman thanked Axel for helping him put the plan together, as well as Ryback for helping to execute it. But most of all, he wanted to thank the fans, who played their own part by encouraging Punk to attack Heyman. Heyman said Punk has signed on for a match against Ryback at Battleground. Heyman played it as if Punk has no shot against Ryback. He said history will repeat itself and Punk will be flat on his back, looking up at the winners: Ryback and Paul Heyman, the Best in the World. Another fantastic outing from Heyman. I can't decide if I like despondent Heyman or gloating Heyman best.
– Miz vs. Randy Orton, still to come.
[Commercial Break]
– Cole plugged WWE's upcoming partnership with the Susan G. Komen Foundation during October, Breast Cancer Awareness Month.
7 – HEATH SLATER vs. SANTINO MARELLA
No entrance for 3MB. The Great Khali and Hornswoggle came to the ring with Santino. Slater grounded Marella early on. JBL said this match wasn't exactly Dick The Bruiser vs. The Crusher. Knee-drop by Slater, who then went to the top rope. Marella crotched Slater, then applied the Cobra. Jinder Mahal got on the apron with an instrument and tried to charm the cobra. Sonmehow, Khali had one as well. He was calling it via the music on the apron and the cobra was confused. Mahal convinced the cobra to attack Santino. Santino tried to hold him at bay and Hornswoggle pulled Mahal off the apron, breaking the instrument. Slater knocked Santino down and Khali again got on the apron, waking the cobra up with the sweet melody. The cobra connected with Slater for the win.
WINNER: Marella, at 2:58. There are no words…
– The Miz vs. Randy Orton is next.
[Commercial Break]
– A Los Matadores vignette aired. They debut Monday on Raw.
– JBL and Cole talked on camera about the latest with the Rhodes Family. Video was shown as it pertains to what has gone on with them in WWE over the last month. Triple H's reaction on WWE.com in his interview with Cole was shown as well. He said all three Rhodes men are invited to Raw Monday night to hear a lucrative proposition that he'll offer. A Tout with Cody and Goldust confirmed their appearance on Raw.
– Randy Orton made his way to the ring. The main event is next.
[Commercial Break]
8 – RANDY ORTON vs. THE MIZ
Miz was aggressive in going after Orton, but Orton fought out of the corner with a headbutt. Miz blocked a punch and came at Orton with lefts. He clotheslined Orton over the top and to ringside. The fight went outside the ring where Miz threw Orton into the barricade. Miz missed a corner clothesline, taking the bump on his shoulder. He sold it well. The ringside doctor checked on Miz's condition. As he did so, Orton pulled Miz onto the apron and gave him the rope-assisted DDT. He mounted Miz and pounded him with rights. The ref tried to break it so the doctor could check on Miz, but Orton threw the ref aside. He called for the disqualification.
WINNER: Miz, via DQ, at 3:11.
Triple H came out and accused Orton of getting intentionally disqualified to get out of the match. He said Miz deserves this chance. Hunter restarted the match as no-DQ, and it must end by pinfall or submission.
9 – RANDY ORTON vs. THE MIZ – NO DISQUALIFICATION MATCH
Orton tossed Miz over the announce table, then into the ring steps. Then into the barricade. Then into the timekeeper's area. Cole protested, saying this match should've been stopped a long time ago. Miz responded with a chair to the gut of Orton. He hit Orton over the back with it, but walked into a big boot. Still outside the ring, Orton dragged Miz by the arm and placed his feet over the barricade. He gave Miz the DDT at ringside. Cole snuck in the clunky "no absence of malice" phrase to describe Orton. Orton shoved Miz into the ring. RKO by Orton, then the pin.
WINNER: Orton, at 3:36.
Immediately after the match ended, the doctor re-entered the ring to check on Miz. As the show went off the air, Cole asked if Orton is the man we want as our WWE Champion.
---
RECOMMENDED NEXT: 10 YRS AGO – NXT TV Report (9-25-2013): Enzo & Big Cass vs. Tyler Breeze & C.J. Parker (Juice Robinson), Bayley vs. Sasha, plus Sami Zayn, Triple H, Dawson, Rusev, more
OR CHECK THIS OUT AT PROWRESTLING.NET: WWE NXT media call: Live notes on Shawn Michaels speaking with the pro wrestling media ahead of Saturday's NXT No Mercy