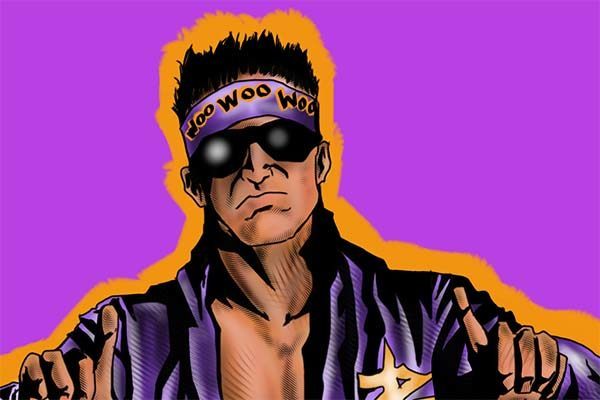 ---
SPOTLIGHTED PODCAST ALERT (YOUR ARTICLE BEGINS A FEW INCHES DOWN)...
---
The following report was orignally published 10 years ago this week here at PWTorch.com…
---
WWE Raw TV Results
September 30, 2013 – Episode #1,061
Live in Biloxi, Miss.
Aired on USA Network
Report by James Caldwell, PWTorch assistant editor
[HOUR ONE]
The final Raw before the WWE Battleground PPV started with a live crowd shot and Michael Cole introducing the show. Cult of Personality played to a big reaction, which brought out C.M. Punk dressed to wrestle to start the show. As Punk made his way to the ring, Michael Cole plugged WWE's partnership with Susan G. Komen for breast cancer awareness.
Before Punk began his promo, WWE replayed events from last week's Raw, where Paul Heyman watched as his man, Ryback, dismantled C.M. Punk. Back in the arena, Punk waited out a "C-M-Punk" chant before saying there are people in this world who say this show thrives on unpredictability. But, he's okay with predictable sometimes. Like, last week, where he got beat up in his hometown. It was also predictable that he would go after Heyman for opening his big fat, insert adjective, insert adjective mouth. And everyone knew he would get jumped if he tried to attack Heyman.
Punk said that's all okay because he knows how this story ends when he gets his hands on Curtis Axel, gets his hands on Ryback, and when he finally gets his hands on Paul Heyman and realizes there's no one left to save him. He said that could be Sunday at Battleground when he faces Ryback, next Monday on Raw, or right here (pop), right now on USA Network on Raw.
Punk continued that he's been in a fighting mood for months and he won't leave the ring until he gets a fight. He said the history books might say that Heyman pinned him in this ring, but everyone knows that he is going to put Paul Heyman out of his misery.
The *predictable* interruption was provided by Brad Maddox to dead-silence. Brad came out on-stage without music, prompting some good-natured ribbing from Punk. Maddox walked to the ring to address Punk's request for a fight, but it's not good for business. Maddox said Punk knows he's getting Ryback one-on-one at the PPV, but he does have the power to give Punk a match tonight. If he would like one (what?). Punk tried to save Maddox by saying he is looking for an outlet for his aggression.
Suddenly, Big E. Langston's music played to bring out Langston. In the ring, Langston took the mic and asked Punk if he wants aggression. Langston then popped Punk in the head with the mic. Langston dismantled Punk, but Langston missed a shoulder tackle and ate the ringpost. GM Maddox then motioned for a referee to show up and restore order for a match.
[ JC's Reax: Not a strong start to the PPV lead-in show. The promo material was paper-thin and Maddox looked very uncomfortable. Way over-scripted and very unnatural, sounding and feeling like a junior-high play. ]
[Commercial Break at 8:10]
1 — C.M. PUNK vs. BIG E. LANGSTON
The match was in-progress back from break. On the floor, Langston missed a corner attack and ate the ringpost. Back in the ring, Punk wanted a top-rope cross-body and he connected. Punk then teased the GTS, but Langston easily escaped and followed with a Samoa Joe frontslam out of the corner. Langston followed with a big splash to Punk's back, which resulted in a two count.
[Q2] As Langston slowed the pace, JBL broke down Punk's journey from The Undertaker at WrestleMania to Ryback at Battleground. Punk tried to fight back from his knees before landing a kick to the head from his feet. But, Langston escaped a pin attempt. Langston came back with a clothesline for a nearfall. As Punk made his comeback, Cole randomly inserted a comment about Punk being upset today because his Cubs team fired their manager. Odd timing for that line. Punk then went to the top turnbuckle and delivered a Macho Man elbow to the heart.
Punk called for GTS to end the match, he lifted Langston on his shoulders, and he delivered the GTS. Punk covered for the win. On commentary, Cole said this proves that Punk can get a big guy (Ryback) in the air for GTS to win on Sunday. JBL said he's sure that Heyman is getting Ryback ready for Battleground after watching this.
WINNER: Punk at 5:56. Fine use of Langston to demonstrate Punk's GTS on a big-man ahead of Sunday.
Tonight: Orton vs. Bryan in a Face to Face ahead of their title match at the PPV on Sunday. Also tonight: Rhodes Family returns to hear a "business proposal" from Triple H. The graphic labeled it a "Family Summit" with Hunter & Stephanie on one side and Cody, Dusty, and Goldust on the other side.
[Commercial Break at 8:21]
Back live, Fandango's music played to bring out Summer Rae. Next out was Fandango sporting a pink Fandango logo t-shirt for breast cancer awareness. FandangoRae slowly made their entrance to give the announcers time to hype the BCA program. Kofi Kingston was then introduced as Fandango's opponent.
2 — FANDANGO (w/Summer Rae) vs. KOFI KINGSTON
Fandango controlled early on with a series of moves strung together to ground Kofi as the crowd sat quietly.
[Q3] Kofi made a comeback, but ate the top turnbuckle to stop his momentum. Fandango wanted a top-rope move, but Kofi moved across the ring, which drew Fandango into the corner. This allowed Kofi to nail him with Trouble in Paradise for the pin and the win.
WINNER: Kingston at 3:01. Uninspired, matching the tone of the show thus far.
Post-match: The Wyatt Family video "interruption" cut off Kingston's celebration. Bray Wyatt noted they're here, then the Wyatts appeared in the arena. Kofi remained in the ring, now with a chair in-hand ready to fight off the Wyatts. On the mic, Bray said he has spent the majority of his life trying to understand why these horrible things happen to him. Bray said he finally understands what he must do. Take out WWE Superstars? Bray said "one by one, they will all fall down." Bray closed: "Follow the buzzards." The video suddenly cut out.
[Commercial Break at 8:34]
Battleground pre-show: Dolph Ziggler vs. Damien Sandow was announced for Sunday.
Backstage: The Bella Twins were shown talking about Brie Bella getting a Divas Title shot at the PPV. Randy Orton then walked in (females popped) and said he heard the "big news" about Brie and "little Daniel" getting engaged. Orton asked when the "big day" is because if they have a wedding after Battleground, Daniel Bryan might not make it down the aisle. Because he won't be able to walk. Because he's going to dismantle him. Because then he won't be able to walk if he dismantles him. The Bellas remained silent as Orton walked off.
Announcers: Cole and Lawler recapped Bryan and Brie getting engaged over the weekend. Full story later in the show.
Backstage: Renee Young was standing by with a "very special guest." It was Paul Heyman, whose remaining hair was super-slicked-back. Renee asked Heyman about C.M. Punk desperate to get his hands on him. Heyman said it's so sad to watch Punk break down in this manner. He said Punk will never be able to intimidate or bully him again because he is a "nobody who became a Paul Heyman Guy. A Paul Heyman Guy who became WWE champion. A WWE champion who forgot what made US! … us … the Best in the World."
Renee switched gears to asking if Heyman is trying to set another trap for Punk because Ryback and Axel are hiding off-camera. (The camera did not expose these potentially-hilarious hiding spots.) Heyman laughed off Renee's assertion, then vowed to have a big night planned for Punk tonight. He dared Punk to make a move.
Vignette: Los Matadores debut tonight.
[Commercial Break at 8:42]
[Q4] Back from break, some people were in the ring. It was revealed as 3MB members Jinder Mahal and Heath Slater. Justin Roberts then gave a formal ring introduction for "Fernando and Diego," Los Matadores. The crowd was quiet as the bullfighters came out on-stage and did a choreographed dance routine. A mini wrestler dressed in a bull suit then ran through their capes. The "bull" did some acrobatics in the ring before posing with Los Matadores. After the routine ended, the crowd politely applauded.
3 — LOS MATADORES (FERNANDO & DIEGO w/mini bull) vs. 3MB (HEATH SLATER & JINDER MAHAL)
The bit for Los Matadores is setting up for a move, pausing for the crowd to shout "Ole!," and then execute the move. Slater cut off Un Matador, but Matador fought back with a head scissors. Matador tagged in the other Matador, who executed some high-flying offense. Los Matadores then entered the ring together, did their side-standing pose, and delivered a double-team sit-out slam for the pin and the win.
Post-match, the camera focused on the bull posing in the ring. Cole described his suit as "mini Giant Gonzalez." The announcers tried to play this up as the greatest thing in Raw history as the trio continued to pose in the ring.
WINNERS: Los Matadores at 4:01. Could you imagine if TNA got their act together and put together a competent show? There is a huge opening for an alternative to WWE after the first hour of this show.
Up Next: The McMahons and Rhodes Families get together for a summit.
[Commercial Break at 8:54]
Raw returned two minutes before the top of the hour with Michael Cole talking seriously about WWE's Breast Cancer Awareness program. Lawler and JBL echoed Cole's thoughts before Justin Roberts introduced "an owner of WWE" and "COO of WWE" Stephanie McMahon and Triple H, respectively.
Hunter and Stephanie came out on-stage and did a twirl before holding hands on the way to the ring. Once in the ring, the crowd booed somewhat. Hunter then asked for the Rhodes Family to come down to the ring.
[HOUR TWO]
[Q5 — second hour] After a pause, Dusty Rhodes's WWE music played to bring out Dusty, Cody, and Goldust all in suits. Goldust was sporting his Goldust "warpaint" for the occasion. Dusty led the trio to the ring as Steph kind of moved to the beat of Dusty's entrance music, making it seem like the McMahons are ready to play nice.
Stephanie opened the discussion acting nice and so glad to see them. Hunter asked why the Rhodes seem angry right now. He asked how many opportunities they're on. "Like, four now?" Hunter said. Hunter recapped the deal with Cody losing his job to Randy Orton, Dustin (Goldust) failing to win back Cody's job, and Dusty making it about himself. Hunter asked Dusty if he's still bitter about not being able to make it out of Florida or the NWA on a national stage.
Hunter said this is Opportunity #4, then Stephanie talked directly to Dusty. She noted Dusty trains and develops WWE stars at the Performance Center in Orlando and holds the future of WWE in the palm of his hand. Ironically, they hold the future of Dusty's sons in the palms of their hands.
Stephanie told Cody they would like to give him his job back and would like to give Goldust a job. Well, the opportunity to get jobs. Stephanie said they will face WWE tag champions Seth Rollins and Roman Reigns at Battleground. Hunter echoed Steph's comments, but said there's "always a but." Hunter said if they lose, then Cody and Dustin will never work in WWE again. And not only that, but Dusty will joint hem on the unemployment line.
Dusty got tired of standing off to the side giving Hunter and Stephanie the spotlight, so he grabbed the mic from Hunter and got in Hunter's face. Dusty said he'll be in his boys's corner on Sunday and be their Huckleberry all night long. Stephanie said he's on, but it sounds like he's itching for a fight tonight. Steph and Hunter exited the ring as Goldust and Cody protected their dad.
The Rhodes Trio remained in the ring as the announcers recapped the match made for Sunday. Suddenly, The Shield hit the ring out of nowhere. Goldust tried to block it, but he ate a big spear from Reigns. Cody tried to fight back, but got knocked down. Dusty tried to bring a chair into the ring, but Shield cut him off. Shield then set up Cody for a Triple Powerbomb and connected center-ring. Shield stood tall in the ring before Rollins delivered another boot to Dusty's gut for good measure. "You Suck" chant from the crowd as Shield surveyed the damage done in the ring. On commentary, Cole said this could be the same scene Sunday at Battleground, but much worse.
Still to come: Orton vs. Bryan face-to-face ahead of Sunday's PPV main event.
[Commercial Break at 9:10]
In-ring: R-Truth rapped his way to the ring for the next match. Curtis Axel's music then played to bring out the Intercontinental champion, flanked by Paul Heyman. Before the bell sounded, Cole said he hopes JBL floats away into outer-space so they never have to hear from him again.
[Q6]
4 — IC champion CURTIS AXEL (w/Paul Heyman) vs. R-TRUTH — non-title match
Truth, apparently mistaking Axel for Fandango, did some dance moves to try to intimidate Axel to gain an advantage early on. Axel got mad at this demonstration, confronted Truth, and took a slap to the face for good measure. Truth tried to follow up with Ten Punches in the corner, but Axel cut him off. Heyman grinned ringside before Axel punted Truth in the gut.
Truth, inspired by "C-M-Punk" chants, made a comeback before dropping Axel on his head for a nearfall. Lawler tried to quote John Lennon, but the line floated over Cole and JBL. Suddenly, Cult of Personality played. No sign of C.M. Punk, though, as Heyman paced nervously ringside. Suddenly, Truth spun Axel around and dropped him with his finisher for the win.
Post-match, Heyman squinted his eyes and made an "ah ha, I get it" facial reaction that he sees what Punk did here. Lawler said there's an old saying that you can't con a conman, but Heyman just got conned. Heyman continued to contemplate his next move as Truth celebrated and Axel tried to figure out what happened.
WINNER: Truth at 4:24.
Backstage: The Bella Twins were shown walking down the hallway. Brie Bella is in Divas action next.
[Commercial Break at 9:22]
Back on Raw, Michael Cole congratulated Trish Stratus on the birth of her son, Maximus. JBL said with a name like Maximus, he better learn how to fight. Cole then transitioned to a look at Daniel Bryan and Brie Bella getting engaged in California over the weekend. The video package included fun photos, videos, and music, which tried to "babyface" the heel Bella Twin. Did it also set up for a "mood change" involving Randy Orton later on the PPV lead-in show?
In-ring: Alicia Fox was standing by for singles action. Brie and Nikki Bella were then introduced to the ring. After a review of Randy Orton's message to Brie about Daniel Bryan earlier in the show, the bell sounded.
[Q7]
5 — BRIE BELLA (w/Nikki Bella) vs. ALICIA FOX
Michael Cole said Sunday could be a big or sour night for Bryan and Brie since they're in title matches at the PPV. A. Fox quickly knocked Brie to the outside and controlled the action. Fox controlled in the ring until Brie made a comeback and won with the X Factor.
WINNER: Brie Bella at 3:19. Basic tune-up match for Sunday.
Still to come: The Shield in tag action.
[Commercial Break at 9:34]
Locker Room: Curtis Axel was shown pacing back and forth, upsetting Paul Heyman. Heyman snapped at Axel, telling him to calm down and see what games C.M. Punk is trying to play. Ryback then walked in and smiled. Pause for more smiling. Ryback spoke about a plan and Heyman hung on every word. Axel tried to figure out what's going on with Heyman, who said everything smells and tastes better since Ryback saved him at Night of Champions. Heyman vowed to come out to the ring and do what he should have done back then: propose to Ryback. Axel did a double-take in reaction to Heyman.
Announcers: Cole and Co. reacted to Heyman being smitten with Ryback, then transitioned to a look at Big Show knocking out The Miz last week on Raw. Cole suggested Stephanie is using Big Show to do her dirty work as of late.
Backstage: Renee Young welcomed in a suited Big Show. Show muttered that he's holding up as well as he can right now. Renee asked Show about being ready to explode, which led to a video replay from Smackdown when Triple H dressed down Big Show.
Back live, Show talked quietly about his financial situation. Show said people tell him to be the man and do the right thing, but that's real easy to say when it's not their neck on the line. Show said he's being forced to choose between the lesser of two evils. Show said he's a good person trying to do what's right for his family. And he's forced to do every sick, horrible thing, like knocking out Dusty Rhodes. Show said Rhodes is here tonight, he watched Shield attack him, and he couldn't do anything about it. Show shouted that he can't even look Dusty in the eyes now. "There's only so much they think I can take!" Show shouted. Show blurted out that he can't take it anymore. "I'm not going to take it anymore!" he shouted. Show made a big fist with big eyes and said he's going to show Hunter exactly how he feels. "I'm going to knock Triple H the hell out." The camera followed Show as he turned and walked down the hallway. Raw cut to break with Show on the move.
[Q8] [Commercial Break at 9:45]
GM Office: R-Truth wanted an IC Title shot against Brad Maddox, who said he will take it under advisement. Big Show then stormed in, threw Maddox against the wall, and demanded to know where Triple H is. Show let Maddox down to go find Hunter as Show stood in the office, dress shirt untucked.
In-ring: Zack Ryder was standing by for singles action. World Hvt. champion Alberto Del Rio was then introduced as Ryder's opponent. Before the bell sounded, Cole plugged Del Rio vs. Rob Van Dam in a Battleground Hardcore Rules match at Battleground. Or, as the graphic simplified "Hardcore Match." Cole offered a generalized comment that it's just like ECW where there were hardcore matches "practically every other match."
6 — World Hvt. champion ALBERTO DEL RIO vs. ZACK RYDER — non-title match
Del Rio quickly turned Ryder into a punching bag to display his aggression and viciousness heading into the PPV. Ryder tried to fight back with a missile dropkick, followed by a corner forearm. Ryder followed with a Broski Boot, but Del Rio escaped a pin attempt.
Ryder wanted Rough Ryder, but Del Rio blocked and executed a German Suplex with a bridge for a nearfall. Del Rio followed with the cross arm-breaker for the win. Post-match: Del Rio kicked Ryder in the mid-section to add insult to injury.
WINNER: Del Rio via submission at 4:08. Another basic enhancement match before the PPV.
Up Next: Paul Heyman and Ryback. "PROPOSAL???" read the graphic.
[Commercial Break at 9:55]
[HOUR THREE]

Raw returned one minute before the top of the hour with a look at the McMahon-Rhodes Summit at the top of the second hour that led to Cody Rhodes & Goldust vs. The Shield booked for Battleground and Shield beating down the Rhodes Trio.
[Q9 — third hour] Over the PA system, Justin Roberts introduced breast cancer survivors positioned ringside for special acknowledgment.
In-ring: Ryback's music played to bring out Ryback dressed in street clothes. Paul Heyman followed behind Ryback as Cole cautiously said Heyman is planning to "propose" to the man who saved his life at Night of Champions.
In the ring, Heyman introduced himself to boos. Heyman said not only was he man enough to pin C.M. Punk one, two, three to prove that he is the Best in the World, but he is always a world-renown expert in Political Science. Take, for example, it is his theory you cannot put down insurgents on their own soil. Therefore, he knew it was his obligation to squash the rebellion Punk attempted on his own home turf of Chicago last week.
Heyman presented Exhibit A: Last Monday when Heyman pretended to be stuck in his scooter, which drew out C.M. Punk for an ambush from Ryback and Curtis Axel. Back live, Heyman said he'll give Punk credit for being committed to breaking his face. But, the only reason why this face is here tonight smiling on worldwide television is because of the actions of one man acting independently, Ryback.
Ryback took the mic and said if there's one thing he hates in this negative world is a bully. He said C.M. Punk took all the knowledge, friendship, and sacrifices from Heyman and hurled it back in Heyman's face. Ryback lightly stroked Paul's face and said he cannot let that stand. He called him a genius and said he would do anything for him.
Heyman said he's glad to hear that from Ryback. He said he wants to be progressive and express how he truly feels about Ryback. Not in a client/advocate relationship, but more. Heyman said he feels invigorated and alive ever since Ryback saved him. He said that here tonight in front of the world, he wants to — the crowd interrupted with catcalls. Heyman said this needs to become an official commitment. He said it's about mutual understanding and sacrifice. And the commitment he wants to make is from the opening match to the main event and in sickness and in health. Heyman grabbed Ryback's hand and got on one knee as Ryback waited for Heyman to speak. Heyman tried to find the words. "Ryback, will you … Ryback, will you become a Paul Heyman Guy?" The crowd shouted, "No!" before Cult of Personality interrupted the moment.
No sign of C.M. Punk as Lawler offered a "Ryback Mountain" joke, referring to "Brokeback Mountain" from a few years ago. Punk suddenly came flying over the barricade to sneak-attack Heyman, but he fell down to the floor, selling a knee injury. In the ring, Heyman wasn't sure whether to buy it or not as the crowd went quiet. Punk asked for help as Heyman continued to sell concern in the ring. Ryback seemed to be contemplating matters, as well, then Punk tried to hop on the ring apron, but fell down to the floor.
The ringside doctor came over to check on Punk as the crowd bought it. Heyman eventually came over to lean against the ropes, allowing Punk to bring a Kendo Stick out from under the ring and legsweep Heyman from the outside. Punk continued the assault in the ring, including Curtis Axel, who charged the ring. Punk unloaded on Heyman's designated fall-guy as Ryback and Heyman retreated to the stage. Punk destroyed Axel, then dropped him with a GTS. On-stage, Heyman sat down on the floor clutching his leg, selling Punk's initial attack. The announcers hyped Punk vs. Ryback at Battleground as Punk celebrated in the ring.
GM Office: Big Show was still in the GM's Office pacing back and forth, waiting for Triple H.
[Q10] [Commercial Break at 10:15]
Back live, The Shield was in the ring for six-man tag action. Dolph Ziggler's music then played to bring out their first opponent. WWE plugged Ziggler vs. Damien Sandow on the Battleground pre-show before The Usos were introduced as Ziggler's partner.
7 — THE SHIELD (U.S. champion DEAN AMBROSE & WWE Tag Team Champions SETH ROLLINS & ROMAN REIGNS) vs. DOLPH ZIGGLER & THE USOS

On commentary, Cole noted The Usos are #1 contenders to the Tag Titles, but Shield has a date with the Rhodes Brothers at Battleground on Sunday. Leading into a mid-match commercial, The Usos went flying over the top rope for stereo splashes on Shield. Babyface trio in control heading to break.
[Commercial Break at 10:23]
Back on Raw, Shield amazingly took control of the match on the Usos during the break. Reigns entered the ring and pointed to Ziggler, taunted the "Show-Off," and did Ziggler's trademark standing elbow drop. Nice deal to break up the monotony of the babyface isolation sequence. Reigns was then dumped over the top rope, allowing Uso to reach the face corner to tag in Ziggler.
[Q11] Ziggler and Ambrose were the legal men here. Ziggler delivered corner punches to Ambrose followed by a neckbreaker. Ziggler, fired up, delivered three elbow drops, then turned around and dropkicked Seth Rollins. Next was a Fameasser for Ambrose, but Reigns broke up a pin. Chaos. Bodies everywhere. Ambrose found himself on the outside as the announcers noted Reigns made a tag during the chaos. Ziggler dropped Rollins with a Zig-Zag, but he popped up to his feet and was destroyed by a Reigns spear. Reigns pinned Ziggler for the win.
Post-match: The announcers noted it doesn't look good for the Rhodes Family on Sunday with The Shield working well together in this match. Cole asked if the same spear from Reigns on Sunday could end the careers of Cody, Dusty, and Goldust on Sunday.
WINNERS: Shield at 12:04. Fine match to set up the Shield vs. Rhodes match on Sunday.
GM Office: Big Show was still in the office waiting for Triple H. Show removed his suit jacket and rolled up his sleeves before going back to pacing.
[Commercial Break at 10:33]
GM Office: Back live, Big Show continued preparing for Triple H, even smelling a fake plant. No sign of Triple H. Suddenly, police officers arrived. A non-police officer told "Mr. Wight" that he needs to come with them after threatening a WWE employee. Stephanie McMahon barged in and tried to defend Show, saying Show doesn't know the consequences of his actions. Steph said Show is just trying to put food on the table and he has a big mortgage payment coming up. Steph thanked the officers and detective for their assistance, but she will vouch for Big Show.
Steph then said she spoke to Show's wife earlier today and she noted Show hasn't been "measuring up" to her expectations as of late. The officers slowly walked off, leaving Big Show to seethe in the office. Or cry. Show sat down on the faux leather couch and contemplated matters before starting to cry again. Show suddenly got an Angry Face as he looked across the office. Show walked toward the Triple H DVD cover art on the wall, then punched it out, putting a hole in the fake wall. Show walked off as the crowd kind of reacted.
Announcers: Cole lowered his head to sell disdain over Stephanie's actions, then Lawler said this got too personal. Cole transitioned to another "very special guest" interview backstage.
Backstage: Renee Young was with Rob Van Dam to talk about his World Title match against Alberto Del Rio at Battleground. RVD said he could talk about Hardcore Rules, but he would rather show it. WWE cut a YouTube clip of RVD's Top 10 "Extreme" moments. Included was WWE and ECW stock footage with soundbytes from Cole, Jim Ross, Joey Styles, and Paul Heyman. So, are people supposed to order the PPV to see a bunch of tape library footage?
Back to the interview, RVD called the video pretty impressive. Van Dam said Del Rio is vicious and loves to…pause…"leave no mercy," but he doesn't know what Hardcore Rules means. Van Dam said you throw the rulebook out and use your imagination. He said they're going hardcore for the World Title at Battleground.
Backstage: Santino, Great Khali, and Hornswoggle were shown walking down the hallway. Santino faces Antonio Cesaro next.
Video Game plug: WWE 2K14 video game featuring Ultimate Warrior.
[Q12] [Commercial Break at 10:44]
Smackdown plug: The Shield vs. Big Show in a handicap match. Lawler said it's convenient that Hunter didn't show up to confront Show, but instead put him in a handicap match on Smackdown.
In-ring: Zeb Colter was standing by with the Real Americans. Colter cut a promo on Mississippi, then said they have a new rule about only saying their catchphrase if you live it and believe it. Some fans joined in with "We The People," before Santino's music played to bring out Santino, Great Khali, and Hornswoggle. Swoggle tried to get Khali to power-walk to the ring, but that wasn't happening. Santino checked his imaginary watch to encourage Khali before WWE cut to a replay from Smackdown when Cesaro did the Big Swing on Titus O'Neil. After Cole endorsed a Feat of Strength by the heel, the bell sounded to begin Cesaro vs. Santino.
8 — SANTINO (w/Great Khali and Hornswoggle) vs. ANTONIO CESARO (w/Jack Swagger and Zeb Colter)
Is this deal going to lead to a six-man tag match on Smackdown? Santino sold an early shoulder injury, suckering in Cesaro, but Cesaro responded with a European Uppercut. The commentary broke down as Cesaro continued to work on Santino. Cesaro then got things back on-track with a multiple-revolutions Big Swing. Ten, 15, 20, 25 revolutions as the vocal males stood up and applauded. Santino then stood up and collapsed on his back, losing his snake in the process.
Cesaro tried to follow up, but Santino suddenly busted out a takedown and rolled up Cesaro for the win. JBL said Santino has no idea what he just did because he was so dizzy. Post-match: Khali did the trumpet celebration, looking like he was taking a giant sip from a glass.
WINNER: Santino at 2:50.
Up Next: Orton-Bryan Face-to-Face.
[Commercial Break at 10:53]
Bryan-Orton Face-to-Face
Back live, Jerry Lawler's music was playing. Lawler was standing by in the ring to offer congratulations to Daniel Bryan and Brie Bella. WWE showed photos of Bryan and Brie getting engaged, further setting up for something to happen with this. Lawler said the full story will be on "Total Divas" this November, then Lawler brought out Daniel Bryan.
After Bryan entered the ring, Lawler introduced Randy Orton to shrieks from the females in the crowd. Orton very slowly made his way down to the ring as Raw hit the top of the hour.
[Q13 — over-run] Lawler stood in between Orton and Bryan, noting this is supposed to be a verbal confrontation only, saving the physicality for Sunday. Lawler recapped Triple H stripping Bryan of the WWE Title a few weeks ago, prompting Orton to speak first. Orton said he was initially upset that Hunter did not give him the title back, but it motivated him to reach his potential, no longer a "watered-down Viper" who cared what the "idiots" think.
Orton said he's a new Viper. He said he will beat Bryan for the WWE Title on Sunday because he is genetically superior to a "small, pathetic, weak, B-Plus, goat-faced troll" like Bryan. Lawler spoke that those are some strong comments, then asked Bryan for his response.
Bryan said Orton talks a great game. A little monotonous and the product of practicing in front of a mirror a few times, Bryan said, "evaluating" Orton's promo. Bryan accused Orton of not being able to reach his full potential without the marketing push behind him. Bryan said he might be all the things Orton said, but he has never needed motivation to reach his full potential. Some of the crowd shouted, "Yes!" before Bryan vowed to achieve even more when he regains the WWE Title on Sunday.
Orton shouted, "No!" over "Yes!" chants before adding "Shut Up!" Orton said just because the crowd chants "Yes!," he thinks he can be champion? Orton said Bryan must think he's on a roll because he's marrying a Bella. Orton asked what's wrong with her to settle for Bryan. He said Brie will wake up one day and realize she's not sleeping with a man like him, but with a barnyard animal. That was enough for Bryan, who blasted Orton in the mouth before taking him to the outside and landing Yes! kicks. But, Orton reversed a whip into the ring steps and took out Bryan.
The fight continued ringside, including Orton posting Bryan. Orton sent Bryan shoulder-first into the ringpost, then again. Orton waved off the cameraman, then draped Bryan across the guardrail. Sign Guy tried to encourage Bryan before Orton took Bryan back into the ring. He wanted a DDT, but Brie Bella jogged down to ringside. Brie begged with Orton not to do it, but Orton dropped Bryan face-first on the floor. Brie covered her mouth in horror before Orton walked away. Or not.
Orton returned to the scene, sending Brie scurrying away. Orton then examined the announce table before tearing it apart. Orton taunted Brie from a distance before placing Bryan on the announce table. Some smaller voices pleaded with Daniel to fight back before Orton lifted Bryan on the table. Orton delivered an RKO through the table as little voices freaked out near the audio. Orton then stood over Bryan as Brie shouted, "Stop!" from a safe distance. Refs came over to check on Bryan as Orton slowly walked away. Brie checked on Bryan and Raw signed off 10 minutes past the top of the hour with Orton stretching his ankle to ensure it was okay.
[ JC's Reax: As Greg Parks and I discussed on last Thursday's Livecast, WWE booked themselves into a corner where their only remaining selling point for Orton-Bryan was to "make it personal." The WWE Title on the line isn't enough because they've already pulled the rug out from under the audience twice in the last two months, and Bryan-Orton isn't a strong-enough feud since Orton is Hunter's puppet and WWE has reinforced the idea of Bryan being "B-Plus" over and over for weeks without much of a sustained comeback from Bryan. So, WWE had to build up the Bryan/Brie engagement on the show, then use it to try to get people so angry that they'll order Battleground to see Bryan get revenge on Orton. ]
FINAL THOUGHTS: Overall, a weak show. A Creative mess with a parade of emasculated heels and faces in meaningless matches over the course of three hours. The only real selling points for Battleground are whether the Rhodes Family beats The Shield and if Bryan gets revenge on Orton. Punk vs. Ryback doesn't seem like much of a selling point since the main focus this week was on TV-related business.
---
RECOMMENDED NEXT: 10 YRS AGO – WWE Live Event Report (9-28-2013): The Shield vs. Miz & Kofi vs. Tons of Funk, Bryan vs. Orton, plus Ambrose, Punk, Cesaro, Santino, Big Show, Heyman
OR CHECK THIS OUT AT PROWRESTLING.NET: Adam Copeland comments on his arrival in AEW and his departure from WWE