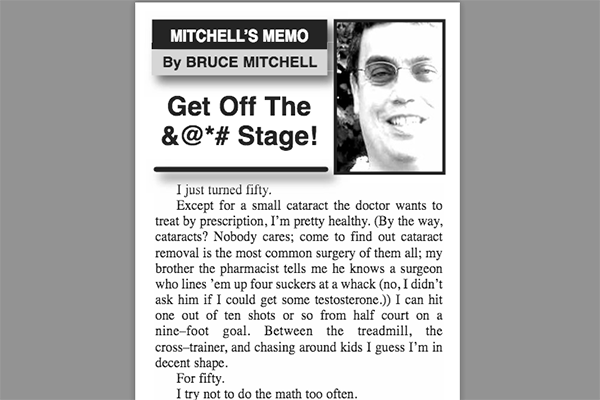 ---
SPOTLIGHTED PODCAST ALERT (YOUR ARTICLE BEGINS A FEW INCHES DOWN)...
---
This month marks the 25th Anniversary of Bruce Mitchell becoming a Pro Wrestling Torch Newsletter columnist. No single person has influenced the editorial tone and direction of the Torch brand over the years than Bruce, who brought a hard-hitting, supremely well-informed, speak-truth-to-power approach to his writing. He went after sacred cows out of the gate, such as the beloved among "smart fans" (today's "Internet fans" or "IWC," I suppose) Eddie Gilbert and Jim Cornette. He also went hard after people in positions of authority and power who were abusing or misusing that power, or just not delivering a worthy product. He has also applauded and paid tribute to the greatest moments and movements in pro wrestling over the last 25 years, with a style of writing that has yet to be matched anywhere, I contend (despite Bill Simmons's arrogant and uninformed contention last year that no one wrote at a high level about pro wrestling until his "Masked Man" columnist came along).
To celebrate and highlight Bruce's stellar 25 years of influential and eloquent truth-telling about this fascinating industry, we'll be featuring a single column from each of the last 25 years each of the first 25 days this month. His long-form columns were a pioneer approach to pro wrestling journalism, and the next 25 years you'll experience a slice of what it is that has earned Bruce Mitchell widespread recognition within the industry over the years as being "Pro Wrestling's Most Respected Columnist." We began on Oct. 1st with his very first column, from Pro Wrestling Torch Newsletter #89 (cover dated Oct. 5, 1990).
Today we feature his column from the December 26, 2009 edition of the Pro Wrestling Torch Weekly Newsletter (#1123/1124) titled "Get Off The &@*# Stage!," Bruce writes about why he wanted the older wrestler to, well, get off the f'n stage. Nobody listened.
NOTE: VIP members can access hundreds of Mitchell columns instantly in the BRUCE MITCHELL LIBRARY here, part of the massive unmatched online archives of insider wrestling coverage from over the past 28 years.
This entire issue including full staff coverage of Lesnar's win is available as a PDF for VIP members at this link.
===
HEADLINE: Get Off The &@*# Stage!
TORCH NEWSLETTER #1123/1124
COVER DATE: December 26, 2009
I just turned fifty.
Except for a small cataract the doctor wants to treat by prescription, I'm pretty healthy. (By the way, cataracts? Nobody cares; come to find out cataract removal is the most common surgery of them all; my brother the pharmacist tells me he knows a surgeon who lines 'em up four suckers at a whack (no, I didn't ask him if I could get some testosterone.)) I can hit one out of ten shots or so from half court on a nine-foot goal. Between the treadmill, the cross-trainer, and chasing around kids I guess I'm in decent shape.
For fifty.
I try not to do the math too often.
Also, I haven't been back-dropped thousands of times, slammed into hard mats, thrown through tables, tossed off ladders, cracked in the head with steel chairs, had my head knocked off by an ex-NFL musclehead, had eighteen or more knee operations, smoked everything there is to smoke, closed down every bar every night for decades, had hip replacements, done more PED research than the Olympics, or had more concussions than John Mackey.
Hell, I've never even been married.
So, in light of recent events, I guess I should be thinking about up-staging Dallas Page and starting my own wrestling career.
I'm not, though. That would be ridiculous.
Instead. I'm thinking a whole lot of guys my age and older need to get the &@*# off the stage and stay off.
I'm looking at you, 52 year-old Bret Hart. You've had a major concussion and a stroke, and you haven't had a wrestling match since Bill Goldberg knocked you into retirement ten years ago. You've got no business in a wrestling ring, particularly with someone you can't trust.
And, yeah, I'm looking at you, 64 year-old Vince McMahon. You spent the last twenty years up all night doing god knows what, and you never could wrestle. You make everyone, including yourself, miserable. Shouldn't you be hiding under a rock until after the election?
I don't care if you do own the ring, get out.
And there's that lying rug, the 56 year-old Hulk Hogan. You jumped in the ring in Australia and your hip jumped out. What does that tell you? Oral Roberts got called home last week, so there's a spot open. Isn't it time Hulkamania became a religion for someone beside Jimmy Hart?
Word has it Hogan's old ATM Eric Bischoff has talked the rest of the NWO into reforming. That's 50 year-old musclehead Kevin Nash (yeah, I heard you complaining, you're not bluffing me), he of the eighty year-old knees, the fifty one year-old Scott Hall (is this one of those times where the family-friendly Dixie Carter is doing it for the good of the talent?), and the 37 year old Sean Waltman (that's 53 in X-Pac years).
Getting the band back together, my ass. I'm old enough to remember the Blues Brothers. John Belushi and Dan Ackroyd sang like Kevin Nash wrestles, and Waltman is no Duck Dunn these days.
You know what one of the great things about turning fifty is? You don't have to worry about being "hip." Hell, it's one of the great things about being forty. (Hear me, DX? If someone young got the push you do we might get another wrestling boom.) There's nothing wrong with the NWO being "hip" in 2009 that a hail of beer bottles wouldn't cure.
Maybe I shouldn't have used that particular imagery. 44 year-old Mick Foley (and Foley years are worse than X-Pac years) might try it on the next TNA pay-per-view. Foley, whom you may remember, retired years ago thanks to all the injuries he got from matches like the one where he proudly took 18 full-on chairshots from the Rock in front of his wife and young children, is now back doing mid-card "hardcore" matches in front of thundreds of people in the Impact Zone and the thousand-plus fans on pay-per-view.
Don't worry, Mick, no one has made any connection between all those concussions and any lack of judgment or mood swings or inability to take criticism you may or may not exhibit. Everyone still loves you.
Seriously, the guy who wrote books that gained the notice of literary heavyweights like Richard Price is now penning one on some TNA angle he apparently still doesn't realize didn't get over?
Get off the stage. You're not funny, you or that Borash.
And 60-year-old Ric Flair? The Greatest Wrestler of All Time? The man who, even now, could lead the near-ambulatory Hulkster to a two-star match? You look great in that suit (not so much on the robe). You seriously want to put your career in the hands of Hulk Hogan, Eric Bischoff, and Vince Russo? Again?
Fair's fair. Get off the stage.
Enough's enough.
You're, I mean, they're fifty years old, for chrissake.