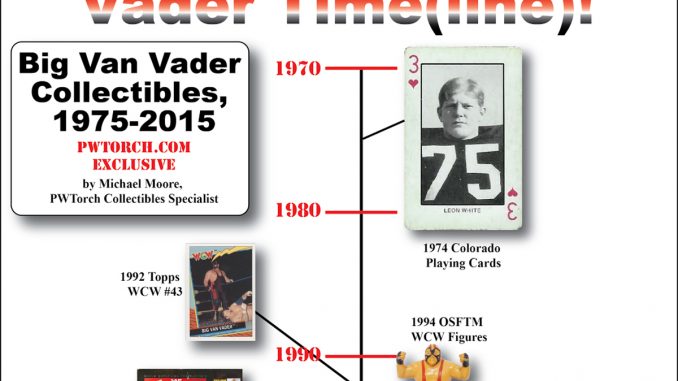 ---
SPOTLIGHTED PODCAST ALERT (YOUR ARTICLE BEGINS A FEW INCHES DOWN)...
---
For Leon "Big Van Vader" White, 2016 has been full of ups and downs, twists and turns.
Vader engaged young British standout Will Ospreay in a Twitter war, which then turned into an actual match and a surprising win for the former WCW World Champion. Vader also announced plans for an autobiography, co-written by Kenny Casanova, due out next spring; more information about that book is available at VaderTime.com.
Earlier this week, Vader related heartbreaking news to fans that two different heart doctors have given him two years to live, and former WCW rival Mick Foley took to social media to campaign for Vader's induction into the WWE Hall of Fame.
Vader's star shone brightest throughout the 1990s, where he rose to prominence in Japan, then traveled to WCW to become that company's top star. Vader had a two-year stint in the WWF that started out promising and then fizzled, but then returned to Japan to reestablish himself as a star.
Vader's trading cards, action figures, souvenirs and other merchandise and collectibles span a period of more than five decades. Here's a look at 10 key pieces of Vader memorabilia, from 1974 to 2015.
1974 Colorado Playing Cards.

A full 20 years before Owen Hart was the "King of Hearts," Leon White was the 3 of hearts in this deck, which features members of the 1974 University of Colorado Buffaloes football team. The card includes a black and white head shot of a very young looking White.





Vader's only football card can be found in two 52-card playing decks, one with a black back and the other with a gold back. This is a scarce and unique playing deck that features a handful of players who went on to have successful NFL careers. Also of note in this deck are legendary Denver Broncos broadcaster Dave Logan and Don Hasselbeck, father of former Seattle Seahawks quarterback Matt Hasselbeck.





The Leon White card on its own is very difficult to find. Full decks, which rarely pop up for sale on eBay, usually sell for around $50-$60.





More information on this set can be found at Nearmint's Vintage Football Card Blog at

http://www.nearmintcards.com/blog/2011/04/02/gallery-1974-colorado-playing-cards/

.

1992 Topps WCW #43.

Nearly 20 years after Leon White was included in the Colorado Buffaloes playing card deck, Big Van Vader made his debut on a major trading card. His cards in this set show him wearing a full mask and wrestling Stan Hansen, and the pictures appear to be taken from his early WCW matches in 1990. These cards were released exclusively in the UK, but are pretty easy to find on eBay for just a few dollars. 

 
OSFTM WCW Wrestling Figures.

By the summer of 1994, Hulk Hogan had arrived in WCW, and everything about the promotion looked like the 1988 WWF. These WCW toys were no exception; they looked like smaller knockoffs of the LJN WWF Wrestling Superstars toys of the 1980s, but without the same level of quality and detail. Nonetheless, this was Vader's first U.S. action figure.

WWF Raw Magazine, May/June 1997.

Wrestling magazines had been publishing blood and guts photos for decades by the time this issue hit newsstands, but this marked one of the first times the WWF had posted anything quite so graphic. It featured the tagline, "Vader, Bloody Vader!" with a closeup of Vader's bloodied face from the In Your House: Final Four show. The cover also teases a Sable bikini spread inside.

Jakks Pacific WWE Classic Superstars Series 8.

Jakks had made a handful of Vader figures in the late-1990s, but this marked his first real quality figure. The figure has a removable singlet and mastodon mask and can usually be found for $10-$20 loose, $25-$40 packaged. Jakks also produced a Classic Superstars figure of Vader in a two-pack with Kane; that figure has a somewhat awkward looking black singlet with big, blocky "Vader Time" text.

Mattel WWE Legends Series 3.

Mattel took over the WWE action figure license in 2010, and included Vader in its third series of the WWE Legends line. Mattel took a different turn with Vader, creating a figure that came with the white furry cape that he wore during much of 1993. This figure can be found for about $40-$50 packaged today.

2011 BBM Legend of the Champions #17.

Japanese sports card company BBM produced its last wrestling set in 2011, and included wrestlers who had won championships in different Japanese promotions over the years. Vader is featured on several cards; this particular card captures his three IWGP World Title victories.

2012 Topps WWE Heritage cards.

Vader has appeared in numerous wrestling trading card sets from 1992 to 2016. His only certified WWE autograph can (maybe) be found in this product. Vader's signature was one of several that were only available in retail packs at a rate of 1:120 packs. Because so many collectors prefer hobby packs and boxes to retail, it's likely that very few of these were ever pulled. They almost never surface online, so assigning a value to the card is nearly impossible.

2012 Leaf Originals Wrestling Autographs.

Vader's other certified autographed trading card can be found in this throwback-style product from Leaf. It features an on-card signature and an artist's rendering of Vader. There are several color variations, as well as an alternate art card. The basic autograph can usually be found for $20-$30.

Mattel WWE Elite Series 31 Flashback.

Mattel's second Vader figure, released in 2015, bears a striking resemblance to the Jakks figure from a decade earlier. It includes the mastodon mask and two removable face masks, one black and one red. Many collectors reported that this was the only figure from Series 31 they never found in stores, so it is possible it was a short-packed figure. The figure's secondary market value lends some credence to that thought; you can expect to pay upwards of $80 if you're looking for one in the package.
PWTorch Collectibles Specialist Michael Moore can be reached at michaelmoorewriter@gmail.com. Follow him on Twitter @MMooreWriter. 
NOW READ OUR PREVIOUS COLLECTIBLES COLUMN: Nakamura, Styles Drive Interest in New Topps WWE Trading Cards