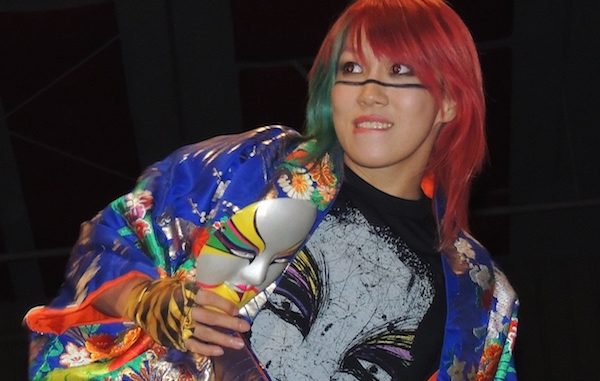 ---
SPOTLIGHTED PODCAST ALERT (YOUR ARTICLE BEGINS A FEW INCHES DOWN)...
---
NXT LIVE EVENT REPORT
DECEMBER 10, 2016
NEWCASTLE, N.S.W., AUSTRALIA
REPORT BY MITCHELL HARRIS, PWTORCH CORRESPONDENT
Long time reader, first time "reporter."
My friend and I got to the venue about 45 minutes before the show kicked off and I was surprised to see quite a few Roman Reigns and John Cena shirts floating around. The NXT-related shirts out numbered the others quite a bit with most popular being Shinsuke Nakamura, Samoa Joe, and by far, Bobby Roode (he must be making a killing with merch sales!!)
The crowd seemed disappointing in size at first, but once the first match was starting, it filled out quite nicely with only some of the upper seats tarped off, smallish venue, I'd say between 2,000-4,000 in attendance.
(1) TM61 defeated Tino Sabbatelli & Riddick Moss. Smart move having the Aussie boys open the card. They received a nice pop and got the crowd pumped up with some "Aussie Aussie Aussie" chants. Tino and Moss got almost no reaction but did well to mock the crowd and garner some heat. Nice ten minute opener and the crowd was happy with the result. As much as I enjoyed cheering the Aussie fellas, I feel they need some more character depth so crowds outside of Aus have a real reason to get behind them.
(2) Patrick Clark defeated Wesley Blake. Almost no reaction for either wrestler unfortunately because they put on a decent 6-8 minute match. The only real reactions came for Clark's flashy offense/antics and for Blake getting showered with "Tyler Breeze" chants (due to his blonde hair and feather boa.) Blakes ring gear and long dirty blonde hair really resembles early Y2J!
(3) Ember Moon defeated Aliyah. Best match of the night up to this point. Ember got the biggest pop so far. Great great showing for both women, including a fantastic roll up sequence that got the crowd on their feet and earned a "That was awesome!" chant (started by yours truly). After Ember's stunning (pun) finish, they were met with a round of applause and loud cheers when Ember met Aliyah on the ramp and raised her arm. Top stuff!
(4) DIY defeated The Revival to retain the NXT Tag Team Titles. This was an amazing surprise for all in attendance as we didn't know these two would be meeting in a rematch from their fantastic Takeover match. Match of the night by far in my opinion as all involved put on a clinic. Both teams received great pops. The Revival are just fantastic at getting heat, just the little mannerisms are top notch (even though they got regular cheers throughout as well). Johnny Wrestling submitted Dawson for the win. Just a great match.
(5) Asuka beat Peyton Royce (w/Billie K) to retain the Women's Championship. Asuka got a fantastic pop and was well welcomed and the 'hometown' girls from Sydney (two hour drive south of Newcastle) got booed to all hell! I loved it! Because as great as it is having Aussie wrestlers on an international scale, I cannot stand them! They had a decent match, nothing memorable. The crowd decided to sing the national anthem mid-match which was strange because Peyton and Billie got nothing but boos for their actions. Asuka is a star but she needs some real competition and soon!
*Intermission*
Following Intermission they did a countdown from 30 to give the crowd time to get back to our seats and then… WILLIAM REGAL'S music hit to a huuuuuge ovation! My friend and I flipped out as we hadn't heard of him being at any of the other shows so it was a nice surprise to us! He was met with loud "William Regal" chants which he appreciated but said it wasn't about him it was about us, the fans. He thanked us for coming and left to loud "NXT" chants.
(6) Andrade "Cien" Almas defeated Akira Tozawa. Really great match that showed off both competitors abilities. Fun back and forth match that the crowd was really into. Both competitors got a great reception as they left the ring. Top notch.
(7) Buddy Murphy & Tye Dillinger & NXT Champion Shinsuke Nakamura defeated "The Drifter" Elias Samson & Bobby Roode & Samoa Joe.
Elias Samson was out first to huuuuge heat (most of the night by far!). He mislead the crowd by complimenting our city and then saying he couldn't wait to leave. Then we got "treated" to a song by him insulting AC/DC, our beaches, and our faces. Got showered in boos, well played to him. Bobby Roooooooode was out next to a glorious reception, the crowd loved to sing along and he milked it all the way! Joe came out next to a nice pop and respectful applause. Not as much reaction as I expected.
Buddy Murphy was out first for the face trio and got a nice pop but not as much as I was expecting being Australian and I was a little disappointed with how he was received. The Perfect 10's music hit and the crowd exploded in 10 chants! Great response from an appreciative crowd. Finally The King of Strong Styles's music hit and the place exploded! Biggest reaction of the night by far!! Nice sing song from the crowd soaking up Nakamura's amazing entrance!
Fun match that was really just what you'd expect from a six-man house show tag match. Everyone got their offence in and the crowd was eating up every bodies actions. Well done from all. A Kinshasa to Samson ended this one. Some fun following the match with the face Trio. Tye joined Nakamura in doing his backwards pose on the ropes which the crowd loved. Buddy just stood watching but Tye and Nakamura encouraged him and got the crowd to pump him up and Buddy obliged and joined in for a nice pop. Once Tye and Nakamura headed to the back, Buddy's music played as he did a lap around with the ringside fans which was nice.
FINAL THOUGHTS: Overall, this was a fun show and exactly what I expected. Great wrestling and great entertainment. The night was filled with crowd chants, '10' being the far and away winner. The crowd took every possible chance to say it. Patrick Clark got some "Sexual Chocolate" chants from the crowd and during that match one fan tried to start a C.M. Punk chant but got showered in boos, which was great. A few "Yes" chants here and there, some "What?" chants for the Drifter, and some Woo's for Tozawa's stiff chops. I hope NXT or maybe the main roster come back to Newcastle in the future as this was the first "WWE" brand show in our city since 2006 (!!!!!) and it was great not having to drive hours to see a big show. So thank you NXT, you lived up to the hype!
NOW CHECK OUT THIS RECENT REPORT: 12/8 NXT in Melbourne, Australia: Party-like atmosphere full of chants, Joe vs. Nakamura, Asuka, Revival, DIY, more
---
Please send any news tips and results to: pwtorch@gmail.com. For instance, let us know if you hear a pro wrestling reference on a popular talk show, see a pro wrestling related Tweet or Instagram from celebrity, hear an ad for matches advertised for an upcoming WWE event, or anything else pro wrestling related that'd be of interest to our readers. If you attend a live event, please send results. We don't set up correspondents ahead of time and count on readers like you to send an email with a report on live events you attend – not just WWE, but also ROH, NXT, international groups. and anything else.