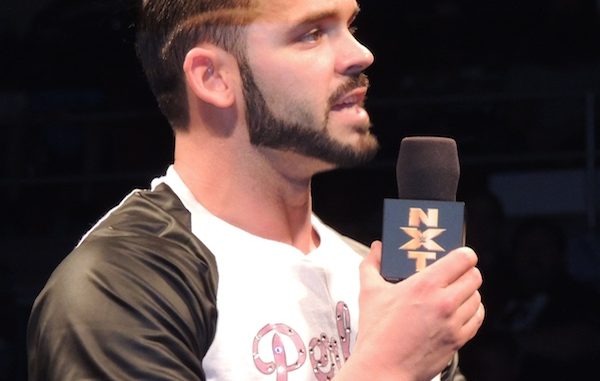 ---
SPOTLIGHTED PODCAST ALERT (YOUR ARTICLE BEGINS A FEW INCHES DOWN)...
---
Hello, gang, and welcome back to the NXT TRACKER, where I pick an NXT talent, assess their progression to this point and make bold, sure-to-look-hilarious-in-retrospect predictions about their future prospects. Last week I opened with international superstar Shinsuke Nakamura; tonight, we look at the somewhat homegrown Tye Dillinger.
The Man
While Tye still comes off as a fresh face to some degree, he's been around for a while. For the six of you who faithfully watched WWE's ECW brand, you may remember him as Gavin Spears, a heel who jobbed a few times to bigger names before disappearing. I remember thinking he had a lot more potential than we saw, but all the same, his time in the company was brief in the first go-round. He came back as Tye Dillinger three years later, and was placed in a tag team with Jason Jordan. The two had a ton of talent but were given the worst of all gimmicks: talented guys with a lot of upside who "might be the best pure athletes on the roster." So, guys who don't win much. After the team dissolved, both found success with new attitudes. Tye became "The Perfect 10," and although the template of getting a one-syllable chant over was a bit derivative, Tye brought the work and charisma to fulfill his end of the bargain, and in his mid-thirties finally was given the chance to shine as a singles star.
Signature Wins in NXT
This is where it gets tricky – Tye's signature matches have almost all been losses. As much as the crowd loves him, he seems to constantly be in the wrong place on the card at the wrong time. He enhanced Andrade Almas in his debut. He enhanced Bobby Roode in Roode's climb toward the top. He and Roode suffered a very quick loss in the Dusty Rhodes Invitational Tag Tournament this year when Roode walked out on Tye. This past Wednesday, Tye beat Eric Young to advance to a Fatal Four-Way to determine the #1 contender for Shinsuke Nakamura's NXT Championship; this could have been a big win for Tye, but he won by disqualification when he was jumped by Eric's second, Nikki Cross.
Live Reactions
It's impressive where Tye stands in this area. Nobody remembers Gavin Spears and nobody would have remembered Tye Dillinger if he'd quietly left the company after he and Jordan were split. Instead, Tye crafted the rare kind of cocky charm that can make a wrestler a successful babyface despite an occasionally heelish attitude. The "10" chant is over to the point where audiences use it even in other matches.
The best thing I can say for Tye in this area involves his match with Bobby Roode at a live show I attended. The two of them didn't have what you would normally call a match. They probably made physical contact for fifteen total seconds out of the first eight minutes, spending most of that time coming up with clever ways to taunt one another. Yet the audience chanted "This is awesome" as if they were having a five-star classic, and I even saw reviews of the show the next morning praising this as one of the matches of the night, as it seemed that reviewers were so invested in the character work that they didn't even notice the fact that the two were barely wrestling.
The Booking
Tye could stand to win some matches, certainly. Cockiness works for heels in most situations, but a cocky babyface should be able to back it up. At some point, audience engagement will wane if a face is talking himself up all the time only to fall short at every Takeover. When Tye walked into William Regal's office a couple of weeks ago to tender his resignation because he couldn't beat Samoa Joe, I cringed. Seeing Tye lose his confident edge might be the natural progression of the story given his high-profile losses, but I think his character can easily be damaged if he shows himself to be overly insecure.
The Future
Like with Nakamura last week, Tye isn't young and doesn't have his whole career ahead of him. This might be why the powers that be have decided not to put their eggs in his basket, but I'd argue that Tye could be a huge asset as an Intercontinental Title contender at the very least, and I'd love to see a call-up out of nowhere with a huge opening match against an established heel like The Miz, Randy Orton or even someone like A.J. Styles.
Predictions
If Tye gets that call, I think we can reasonably expect a career along the lines of Dolph Ziggler, which is essentially what he's having now. Talks big, wrestles well, loses the big one, repeat. Tye is a sympathetic character that the audience rallies behind but I can see him stalling out in the midcard as other acts finish the job for him, although I'd greatly prefer to see him head up to the main roster, make a huge splash, and immediately find himself in the mix for World title contention.
As for this coming week, I expect Bobby Roode to walk out of the Four-Way match victorious (I obsessively avoid spoilers, so if this match has happened already, leave me in the dark) as I'm already on record saying that I think he'll be the next NXT champion. Or maybe Andrade Almas could be a one-off fall guy. Either way, it leaves Tye as losing the big one again, and he could end up going to Regal's office once more. Hopefully this time it ends with a promotion.
NOW CHECK OUT LAST WEEK'S NXT TRACKER: SHINSUKE NAKAMURA: A weekly assessment and predictions on the prospects of an NXT wrestler's main roster future
---
(Kelly Wells will present the NXT TRACKER every week with a categorical look at a particular wrestler or other talent on the NXT roster and predict their main roster prospects.)